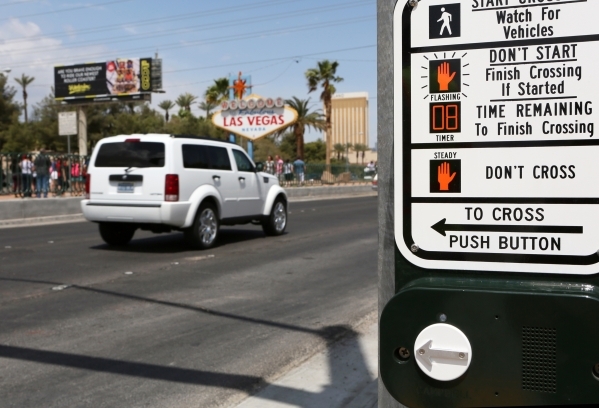 Las Vegas Valley drivers be warned: Major changes to the state's traffic laws take effect Thursday.
Penalties for hit-and-run crashes resulting in injuries will be more severe, and there are more restrictions involving school zones.
Those who pushed for the new laws call them common sense reforms that closed dangerous loopholes.
Before Thursday, a person who drove off after a crash that involved substantial bodily harm or death would be eligible for probation. However, that was not the case for people who cause crashes with injuries or deaths while under the influence. The dichotomy often encouraged impaired drivers to flee the scene of a crash.
"We have some of the toughest DUI laws in the nation," the legislator who sponsored the bill to close the loophole, Sen. Mark Manendo, D-Las Vegas, said.
Manendo said the public's awareness of the disparity between the state's DUI and hit-and-run penalties "created a culture" and an incentive for fleeing the scene.
By the time police would catch a hit-and-run offender, it was often impossible to prove they were under the influence at the time of the crash, said North Las Vegas police Lt. Timothy Bedwell.
"Many times, people who flee the scene, it's because they're impaired. For us, as law enforcement, this is a big deal," He said.
"I think we have a model law now," he said. "You will do time in prison if convicted."
Offenders will face between two and 20 years behind bars and will no longer be able to bargain for probation.
Bedwell said there's also an opportunity to save lives, because the new law should encourage drivers to stay on the scene, render aid and call for emergency crews.
"Those initial minutes are so critical," Manendo said. "Getting them to the hospital sooner could save lives."
Drivers should also be aware of the changes to the state's school zone restrictions.
As of Thursday, the law forbids making U-turns in school zones and changing lanes to pass other vehicles in school crossing areas, explained UNLV pedestrian safety expert Erin Breen.
"Kids are not prepared for you to be coming from the curb. Even if they follow everything you taught them," she said of the dangers of making U-turns near a school when children are present.
She said Southern Nevada drivers generally do a good job of regulating their speed near schools but not at crossing areas — segments of busy streets, often marked by flashing signs, where there are reduced speed limits near mid-block crosswalks for 30 minutes before and after school.
She said the school zone reforms will help protect children and the elderly.
"Those are the people that die in a low-speed crash," she said.
Contact Wesley Juhl at wjuhl@reviewjournal.com and 702-383-0391. Find him on Twitter: @WesJuhl