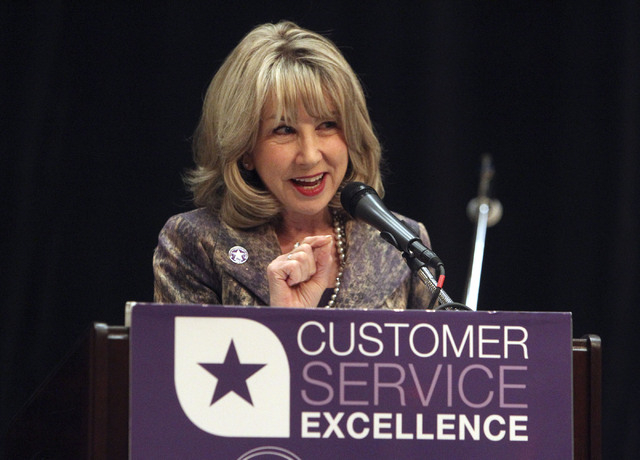 Southern Nevada got a lesson from Mother Nature about how fragile the region's transportation infrastructure is when a flash flood wiped out its primary highway corridor earlier this month.
That and the need to protect Las Vegas' lifeblood tourism industry with better ways to move 40 million tourists and the residents who live here illustrate the importance of transportation to the valley, a panel of industry leaders concurred on Thursday.
Addressing the Southern Nevada chapter of NAIOP, the Commercial Real Estate Development Association, the four panelists agreed that it will take a multimodal transportation strategy, some changes in attitude and thinking about how people get from where they live to where they work and play and innovative ways to pay for desired improvements.
The urgency to address transportation issues is being driven in part by the formation of a transportation steering committee planning the development of the Las Vegas Global Business District, a $2.5 billion transformation of the Las Vegas Convention Center campus which will include a major transportation component.
About 30 committee members have been meeting for more than a year and guiding a consultant in the adoption of a plan to better manage resort corridor transportation and develop a means to pay for it. If Las Vegas doesn't get a better grip on moving visitors in and out of their resort and convention destinations, meeting planners may look elsewhere to stage their events.
"We can't add lanes to our roadways forever," said Kristin McMillan, president and CEO of the Las Vegas Metro Chamber of Commerce, one of the panelists. "There are limitations, there are physical constraints, there are engineering constraints and there are political considerations."
As a result, McMillan said the community needs to think more broadly than it does today. That means considering multimodal solutions — how cars and buses on roadways, light rail and the Las Vegas Monorail can work in tandem to move people.
Panelist Tracy Larkin-Thomason, deputy director of the Nevada Transportation Department in Southern Nevada, said there's limited road access to Las Vegas — Interstate 15 and, some day, Interstate 11 — and local residents got a look at what happens when a route is cut.
"Last week, when I-15 was shut down, we got an indication of how fragile our system is and how much we need to invest in it," Larkin-Thomason said. "For a truck, it's $67 an hour to operate. When you get a detour that's 77 miles long or it takes an extra nine or 10 hours, it's a huge cost to industry.
Larkin-Thomason challenged the crowd of about 100 at the lunch session at The Orleans to consider how every time individuals leave home they make a transportation choice.
"Is the sidewalk wide enough? Is it broken? Are you in a place where you want to bring up your family and does it have adequate access? Can you get to the neighborhood store easily? How do you get the clothes you're wearing? We're talking about 40 million visitors that we're sharing our transportation with, but we also need to consider our own lifestyle needs," she said.
When decisions are made about transportation needs, panelist Tina Quigley, general manager of the Regional Transportation Commission of Southern Nevada, said leaders must not only consider the immediate needs of millions of tourists but the transportation habits of future generations.
Quigley said mass transit is a key to the future and the decisions of where and how to move people would also provide a path toward the city's economic development goals.
All those elements are under consideration in the development of the steering committee's plan — a plan that also will have a realistic assessment of how to pay for it.
Panelists say the best route will be through private-public partnerships since they don't expect the federal government to step in with grant money for the city's needs.
Local leaders also expect the public to chip in by paying higher gasoline taxes. Transportation officials have kept the I-11 project moving and speeding up completion of the Las Vegas Beltway through a fuel-tax indexing program that runs through 2016.
Planners are conscious of the return on investment transportation projects provide and one of the key needs that will be addressed is transporting visitors to the resort corridor from McCarran International Airport.
Panelist Ingrid Reisman, vice president and chief marketing officer of the Las Vegas Monorail, said that as much as she would like to announce an extension of the monorail line to the airport, it's premature to consider that until the transportation plan is completed.
But McMillan sounded the warning if the city waits too long.
"If they (visitors to Las Vegas) have a bad experience, especially business travelers, it's going to make them think twice about revisiting Las Vegas," she said.
Contact reporter Richard N. Velotta at rvelotta@reviewjournal.com or 702-477-3893. Follow @RickVelotta on Twitter.