Union taxi drivers plan anti-Uber demonstration on Strip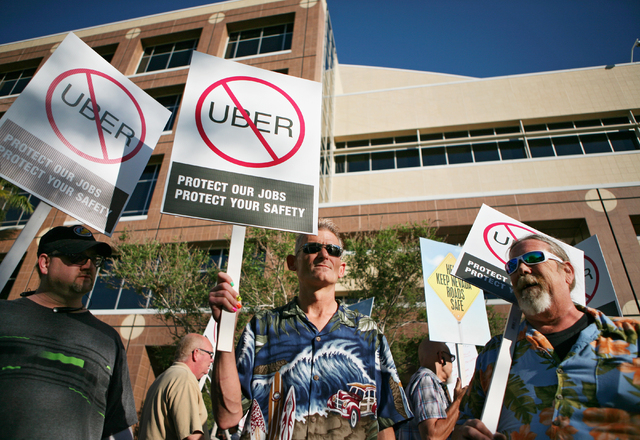 Union taxi drivers for Yellow Checker Star plan a demonstration that could block traffic on Las Vegas Boulevard this afternoon as the weekend arrives and temperatures rise.
Drivers represented by the Industrial, Technical and Professional Employees Union Local 4873 say they will protest the Nevada Legislature's approval of the regulation of transportation network companies, including Uber.
The work stoppage is planned for 2-5 p.m.
The chief of enforcement for the Nevada Taxicab Authority said there's not a lot the regulatory body can do if a protest occurs.
"It's a lawful assembly protected by the First Amendment," said Ruben Aquino, who heads the Taxicab Authority's enforcement arm.
"At this point, all we can do is coordinate with Metro (Police Department) and by that, I mean we've exchanged information so that they're prepared," he said.
The protest would occur in the middle of the Valley National 8-Ball League Association World Pool Championship, where 10,000 people are gathered at Bally's Las Vegas, and the kickoff of the JCK annual jewelry trade show at Mandalay Bay, which 37,500 people are expected to attend.
"Our members are professional drivers," Local 4873 President Dennis Arrington said. "They are experienced drivers, fully insured and have passed comprehensive background checks.
"The same cannot be said for Uber drivers," Arrington said in a statement. "These so-called drivers can be hired without any driving experience, are not insured by the company and are let loose on the streets without any sort of background check."
Visitation normally swells in Southern Nevada on weekends, and today is expected to be the hottest day of the year so far, with temperatures closing in on triple digits.
A Yellow Checker Star official said that if only his company's cabs participate, there would be 700 vehicles idled, but if other cab companies working with the same union are involved, it could be as many as 850, nearly one-third of Clark County's fleet.
A spokeswoman for the union said the protest only involves Yellow Checker Star drivers for now, "but that could morph" and expand to union drivers at other companies.
Bills approved by the Legislature require transportation network company drivers to be insured and given background checks but not at the same levels as taxi drivers.
Gov. Brian Sandoval has yet to sign the two bills approved Saturday morning and Tuesday afternoon by the Assembly that enables companies hailed through a smartphone application to operate in the state and be regulated by the Nevada Transportation Authority.
Jonathan Schwartz, a director for Yellow Checker Star the second-largest cab group in Southern Nevada, said he was not aware of the demonstration until contacted by a reporter. He said he will try to persuade drivers not to participate.
"From management's perspective, this could negatively impact drivers as well as the riding public," Schwartz said. "I did contact the union and tried to step in, but it's hard to tell what's going to happen."
Cab company protests against Uber are nothing new.
About 180 cabdrivers honked horns as they drove around City Hall in San Jose, Calif., on Wednesday, protesting a proposal to allow Uber and Lyft drivers to pick up passengers at the city's airport.
Large cab protests also have occurred in New York, London and Mexico City.
Contact reporter Richard N. Velotta at rvelotta@reviewjournal.com or 702-477-3893. Follow @RickVelotta on Twitter.