Gaming Control Board chief talks about secret recording of Laxalt
Updated May 12, 2017 - 8:09 pm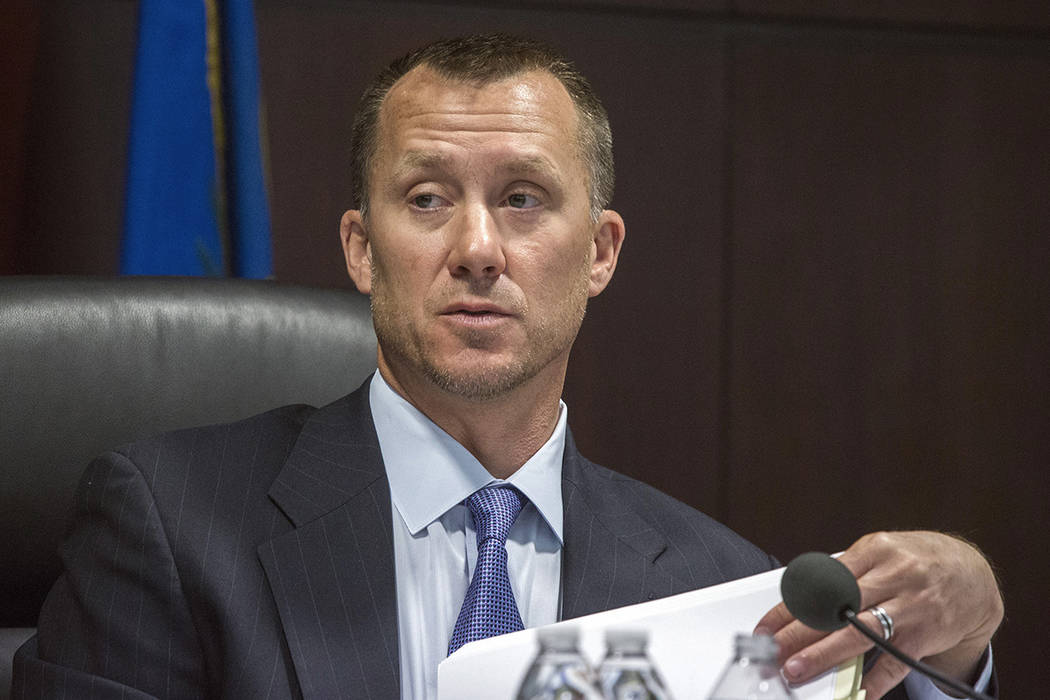 The state's top gaming regulator said Friday that he's concerned about political influence on the oversight of Nevada's dominant industry and has nothing against Attorney General Adam Laxalt, a prospective Republican candidate for governor.
State Gaming Control Board Chairman A.G. Burnett said he believed he took appropriate measures in early 2016 to resolve a concern about regulators being asked to file a "friend of the court" brief on behalf of licensee Las Vegas Sands Corp. involving the confidentiality of state records. Sands and its chairman and CEO, Sheldon Adelson, contributed to Laxalt's campaign.
Burnett secretly recorded a conversation with Laxalt about the Sands request and sent the recording to federal authorities for review.
Once federal authorities determined that no crime had been committed by Laxalt in making the request, Burnett considered the case closed. He said he was shocked when the entire issue resurfaced nearly a year later.
"I have nothing against the attorney general in any way, shape or form," Burnett said Friday. "I'm a Republican. I didn't want anything bad to come of it, but as you know, in my job, I have to make sure everything is done absolutely appropriately. So after that, we moved on, and this all came as a huge shock to me when it was made public. It was something that we had moved on from."
Burnett said once he and his staff had dismissed the matter, information was leaked, a tip that the matter had possibly turned political.
"In the busyness of the day-to-day, we moved on to continuing our duties," he said. "I did not leak it to the press, I don't know who did to this day, so I had nothing to do with that."
Assemblywoman Maggie Carlton, D-Las Vegas, subpoenaed the recording and an affidavit from Burnett. He said his affidavit, also leaked to the media, explains his entire course of action.
"You can see from the affidavit that I discussed the whole thing with my staff and determined how to approach the conversation to make sure that we were doing everything right and making sure everything was done appropriately," he said Friday.
Now the matter is expected to be the subject of a hearing in the Assembly Ways and Means Committee, chaired by Carlton. A bill is being drafted that could provide the Gaming Control Board with independent legal counsel. The attorney general's office currently represents the board on legal matters.
On Friday evening, Senate Minority Leader Michael Roberson called for a counter-investigation into Burnett's actions in a statement released on on Twitter.
"Legislative Democrats have partnered with a rogue regulator to unfairly tarnish the reputation of our attorney general for crass, political purposes," the tweet reads. "This apparent collusion has caused me to lose faith in our chief gaming regulator and I call on my legislative colleagues to demand an investigation into the actions of gaming regulator Andrew G. Burnett."
Mari St. Martin, spokeswoman for Gov. Brian Sandoval, said in a statement issued Friday that the governor would monitor the progress of the bill, saying it's an issue that has been debated for years.
Independent counsel
"There are some regulatory bodies, including the PUC (Public Utilities Commission), state Boards of Medicine and Dentistry and the Ethics Commission that retain their own independent legal counsel," St. Martin's statement said.
"In fact, whether gaming regulators should also have their own independent attorneys has been an ongoing discussion/debate for decades. It was even at issue when the governor served as attorney general. The governor was aware that the GCB has wanted its own counsel for some time but did not include an appropriation in his budget. The current bill is not the governor's legislation, it belongs to the chairwoman of the Assembly Ways and Means Committee. The governor will monitor its progress."
Asked if he believes he has the governor's support, Burnett said Friday, "You'd have to ask him."
Virginia Valentine, president of the Nevada Resort Association, said the newly drafted bill hasn't been reviewed by her association.
"We're still reviewing it and have no opinion on it just yet," she said Friday.
Carlton said the purpose of the late-session bill is to ensure that the Gaming Control Board has the resources it needs to maintain its worldwide reputation as the gold standard for gaming regulation.
Carlton said the measure probably will be heard jointly by her panel and the Senate Finance Committee. The bill is coming forward with about three weeks left in the legislative session. A hearing date has not been set.
The Review-Journal is owned by the family of Las Vegas Sands Corp. Chairman and CEO Sheldon Adelson.
Contact Richard N. Velotta at rvelotta@reviewjournal.com or 702-477-3893. Follow @RickVelotta on Twitter.
A.G. Burnett Affidavit by Las Vegas Review-Journal on Scribd
Related
Affidavit details Nevada gaming chief's recorded conversation with Laxalt
Lawmaker wants hearing after hearing recording of Nevada attorney general