Hilton's Waldorf Astoria to debut on Las Vegas Strip
August 30, 2018 - 3:00 pm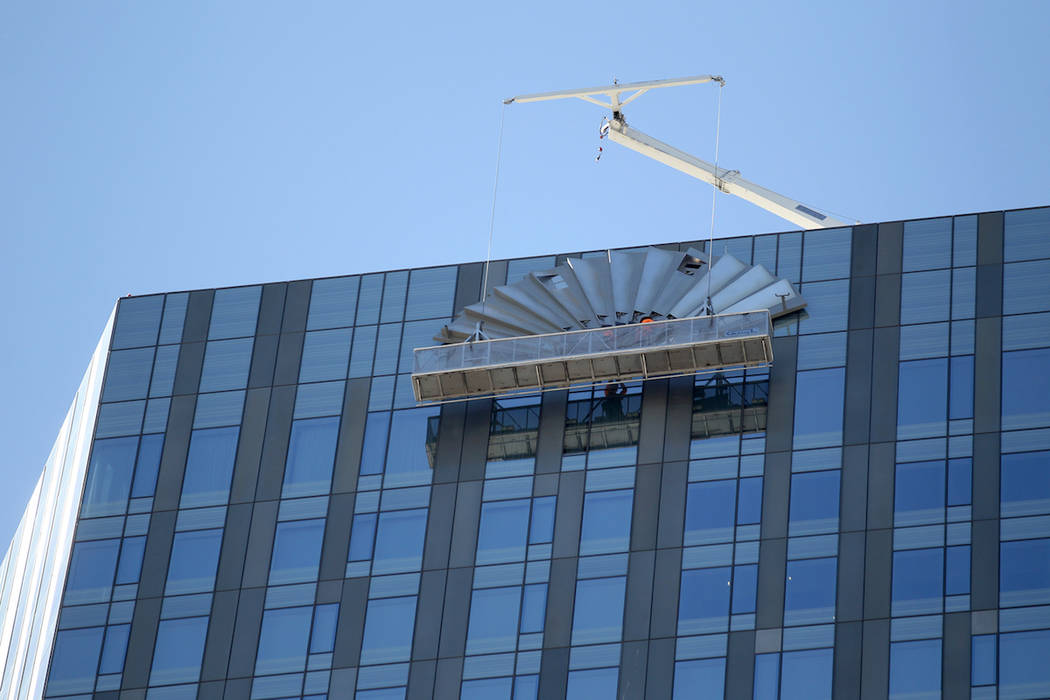 Hilton will begin rebranding the Mandarin Oriental hotel on the Strip as a Waldorf Astoria on Friday, a transition for the 389-room, non-casino property that will lead to renovations and mark the debut of another luxury brand on the world-famous corridor.
The name change this week will come after a company with ties to a California-based commercial real estate developer and the founders of Panda Express restaurants finishes the purchase of the property for about $214 million from a subsidiary of MGM Resorts International. The property also has 225 residential units.
"We've been looking to enter the Vegas market for some time," Dino Michael, global brand head of Waldorf Astoria Hotels and Resorts, said in an interview. "It just felt (like) somewhere we needed to be."
The property is part of a complex that includes the Aria casino-resort, Vdara hotel, Veer Towers condominiums and an upscale shopping mall.
The Mandarin Oriental's management agreement was canceled as a result of the property's sale. Under that brand, the hotel featured a strong Asian flair, which Hilton intends to change over time.
"First and foremost, what we want when you arrive into our hotels is to have a real sense of place," Michael said. "I think if you arrive to our hotel and you don't get a sense of geography or location, I think we've probably failed to meet the luxury guest expectation."
Michael declined to say what the investment will be to renovate the hotel. Some signage changes will be done immediately, but guests won't see any significant changes to rooms and suites until next summer.
The property was purchased by CCLV Luxury Hotel, LLC, whose owners include commercial real estate developer Tiffany Lam and the co-founders of the Panda Express restaurant chain Andrew and Peggy Cherng.
Current employees will remain on staff. General Manager Donald Bowman said being a nonsmoking, casino-less luxury property in a destination known for its gambling establishments is not necessarily a reason for travelers to overlook the property.
"That, very often, is a draw in itself," he said, adding that a two-floor, 27,000-square-foot (2,500-square-meter) spa and restaurants also attract people to the hotel.
The Waldorf Astoria Las Vegas will not be the only luxury hotel on the Strip. Competitor JW Marriott is also expected to arrive to the tourist corridor when a hulking bluish building that has sat unfinished since 2009 opens in late 2020 as a casino-resort under a partnership between Marriott International and New York-based global real estate firm Witkoff.
David Schwartz, the director of the Center for Gaming Research at the University of Nevada, Las Vegas, said Hilton clearly sees an opportunity in the market.
"I think Las Vegas is a very attractive market for a lot of companies right now. I'm not surprised they are trying to get into the market," he said.