Mandalay Bay, MGM Grand sold to Blackstone in $4.6B deal
Updated January 14, 2020 - 7:26 pm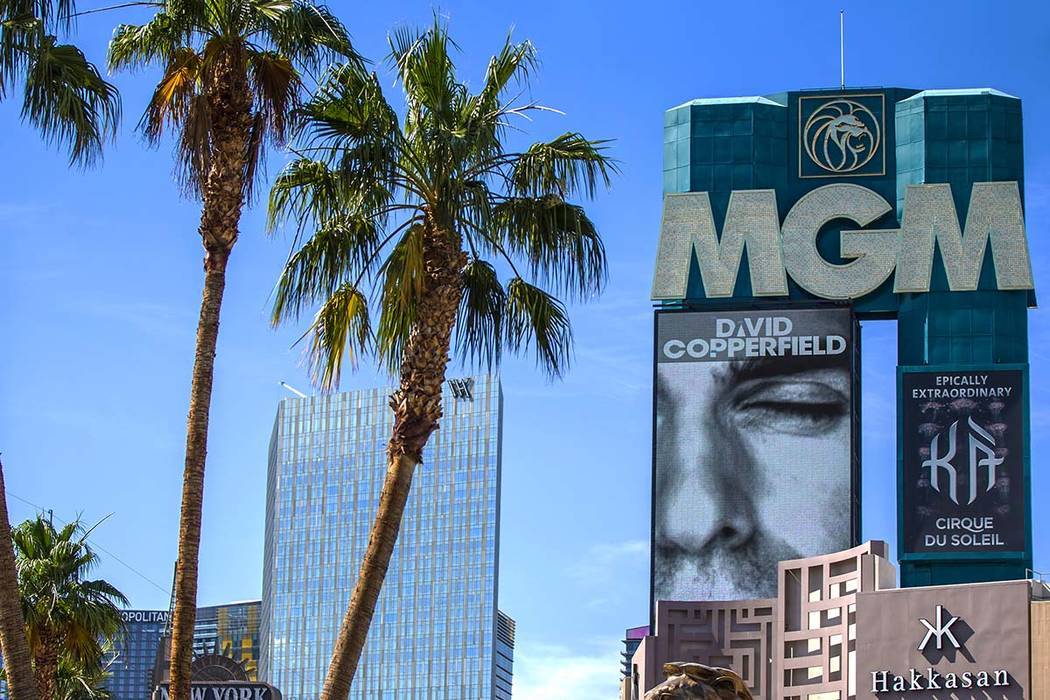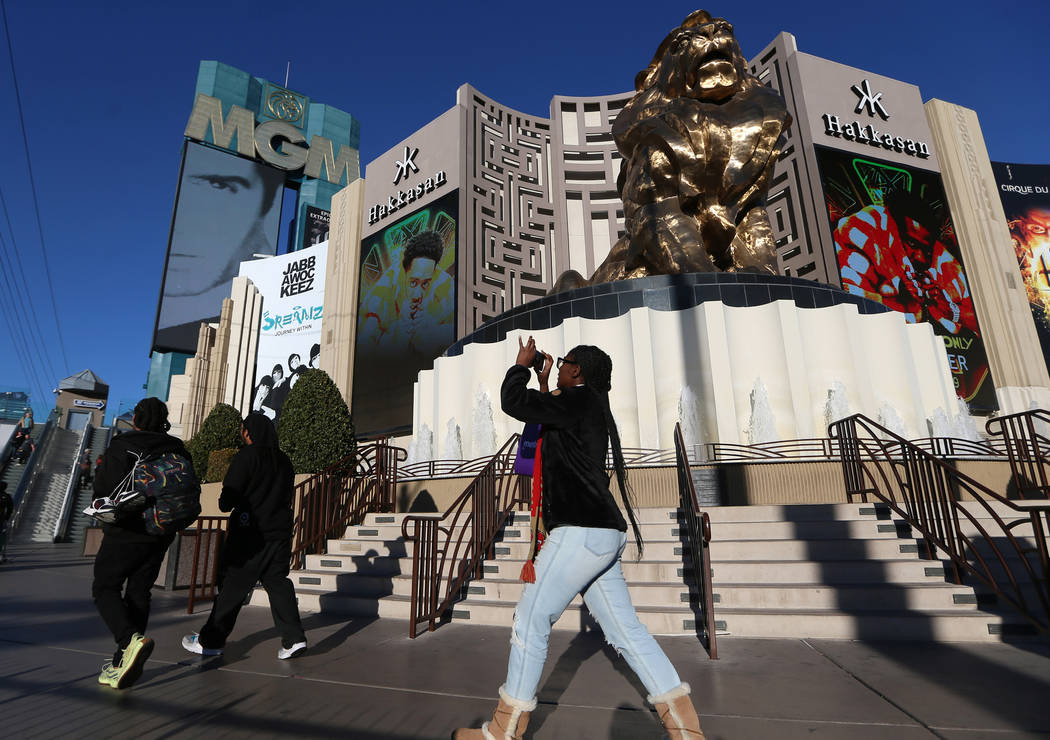 MGM Grand and Mandalay Bay are getting a new landlord in a $4.6 billion deal, just a few months after the Bellagio sold for billions.
New York financial giant The Blackstone Group, the Bellagio's new landlord, announced Tuesday it agreed to form a joint venture to acquire the additional MGM Resorts International properties on the Strip. The deal is expected to close this quarter.
MGM's real estate investment trust, MGM Growth Properties, will own 50.1 percent of the joint venture and said the deal values the resorts at $4.6 billion. Blackstone, which has been on a real estate buying binge in Southern Nevada for years, will own 49.9 percent of the venture.
MGM Resorts will lease back MGM Grand and Mandalay Bay and continue to operate the hotel-casinos, as it does with the Bellagio.
The sell-off is the latest move by MGM to bolster its balance sheet. The casino operator eliminated more than 1,000 jobs, mostly in Las Vegas, last year as part of its "MGM 2020" cost-cutting plan; sold the Bellagio's real estate to Blackstone for around $4.2 billion in cash; and sold Circus Circus and 37 acres of adjacent land for $825 million to Treasure Island owner Phil Ruffin late last year.
These sales, combined with the deals announced Tuesday, are expected to provide total net cash proceeds of $8.2 billion to MGM Resorts, according to the company.
MGM said it plans to use a substantial portion of the proceeds for stock buybacks and dividends.
More sales ahead?
Under the deal, MGM Resorts is selling MGM Grand's real estate to the joint venture, and MGM Growth is selling the Mandalay Bay property to the partnership.
MGM Resorts spokeswoman Debra DeShong confirmed the Mandalay Bay sale includes the adjacent Four Seasons property, whose rooms are inside the Mandalay Bay tower, and the neighboring Delano hotel tower.
Jefferies analyst David Katz said the announcement was expected. A securities filing in November revealed that MGM Resorts was in preliminary discussions with MGM Growth over the sale-leaseback of MGM Grand.
While the sale could provide a boost to MGM Resorts' shares, Katz said the long-term valuation of the repositioned company is uncertain.
"Overall, we expect neutral reaction to the news," Katz said in a note Tuesday.
According to a statement from MGM Resorts, this likely won't be the last time it sells off assets.
Chairman and CEO Jim Murren said the company will "continue to monetize" its owned real estate to pursue growth initiatives, including sports betting and a resort in Japan.
Following the transaction, MGM Resorts' remaining real estate assets would be MGM Springfield, its 50 percent ownership in CityCenter and its 56 percent stake in MGM Macau, according to a note Tuesday from Macquarie Research analyst Chad Beynon.
But even those may not stay in MGM's portfolio for long. Beynon said a sale-leaseback of MGM Springfield and CityCenter could be "forthcoming."
It could take years before investors gauge whether MGM Resorts' so-called asset-light strategy was a success, according to a note Tuesday from SunTrust Robinson Humphrey analyst Barry Jonas.
He said it could take a recession and a Japan casino, which he believes would be completed no earlier than 2025, to assess the merits of MGM's shift.
MGM Resorts spun off MGM Growth in 2016 and previously owned about 68 percent of the publicly traded company. According to Tuesday's statement, it is now set to own 55 percent.
MGM Growth's portfolio includes The Mirage, Luxor, Excalibur, New York-New York and Park MGM.
The real estate company is not the only one to take part in casino-leaseback deals. Ninety casino properties across the U.S. have been involved in about $22 billion of real estate investment trust transactions over the last seven years, according to an October report from Macquarie Research.
Sale-leasebacks give casino operators cash injections that, among other things, can help them make payouts to shareholders, pay down debt or focus on expansion opportunities.
Blackstone's buying spree
Led by billionaire Stephen Schwarzman, Blackstone has bought properties all over the Las Vegas Valley since the economy imploded.
Blackstone owned nearly $12.8 billion of real estate in Nevada as of November, the company said.
Tyler Henritze, head of U.S. acquisitions for Blackstone Real Estate, said in a statement, in part, that the company has "a long history investing in Nevada, and today's acquisition of the iconic MGM Grand and Mandalay Bay properties illustrates our continued confidence in the Las Vegas market."
Blackstone acquired tens of thousands of houses around the country to rent out after the market crashed, launching Invitation Homes for the venture. Invitation owned more than 900 homes in the Las Vegas area by the end of 2016, not long before its initial public offering, and nearly 3,000 by the end of September, securities filings show.
Outside of housing, Blackstone acquired the 68-acre Hughes Center office park east of the Strip for $347 million in 2013 and The Cosmopolitan of Las Vegas for more than $1.7 billion in 2014, scooping up a trendy hotel-casino that was deeply in the red at the time.
It also purchased downtown's 5.4 million-square-foot World Market Center furniture-showroom hall for an undisclosed sum in 2017 and has shelled out hundreds of millions of dollars for apartment complexes over the past few years.
Its purchase of the Bellagio — the deal called for MGM to still have 5 percent ownership of the real estate — closed in November. By all appearances, it was the most expensive sale ever of a Las Vegas resort, with the closest competitor being Blackstone's purchase of the Cosmopolitan.
MGM Resorts shares closed down 0.2 percent Tuesday to $33.29. MGM Growth shares closed up 0.4 percent to $30.97, and Blackstone Group shares closed down 0.6 percent to $58.11.
Contact Eli Segall at esegall@reviewjournal.com or 702-383-0342. Follow @eli_segall on Twitter. Contact Bailey Schulz at bschulz@reviewjournal.com or 702-383-0233. Follow @bailey_schulz on Twitter.