MGM Resorts shelves marketing in response to Las Vegas shooting
October 5, 2017 - 12:39 pm
Updated October 5, 2017 - 6:39 pm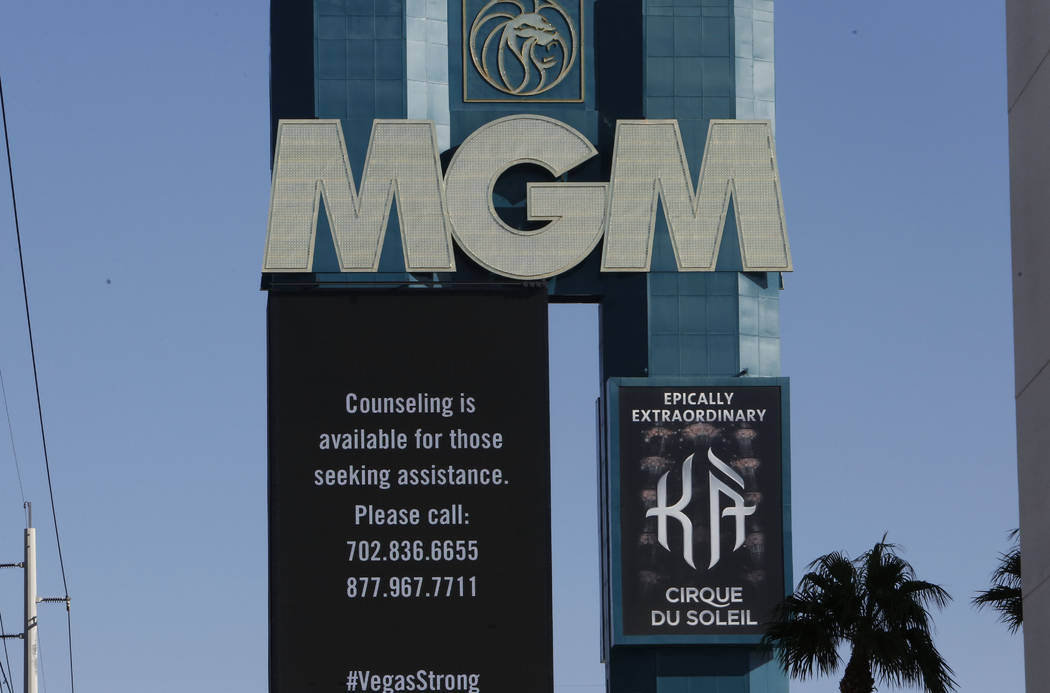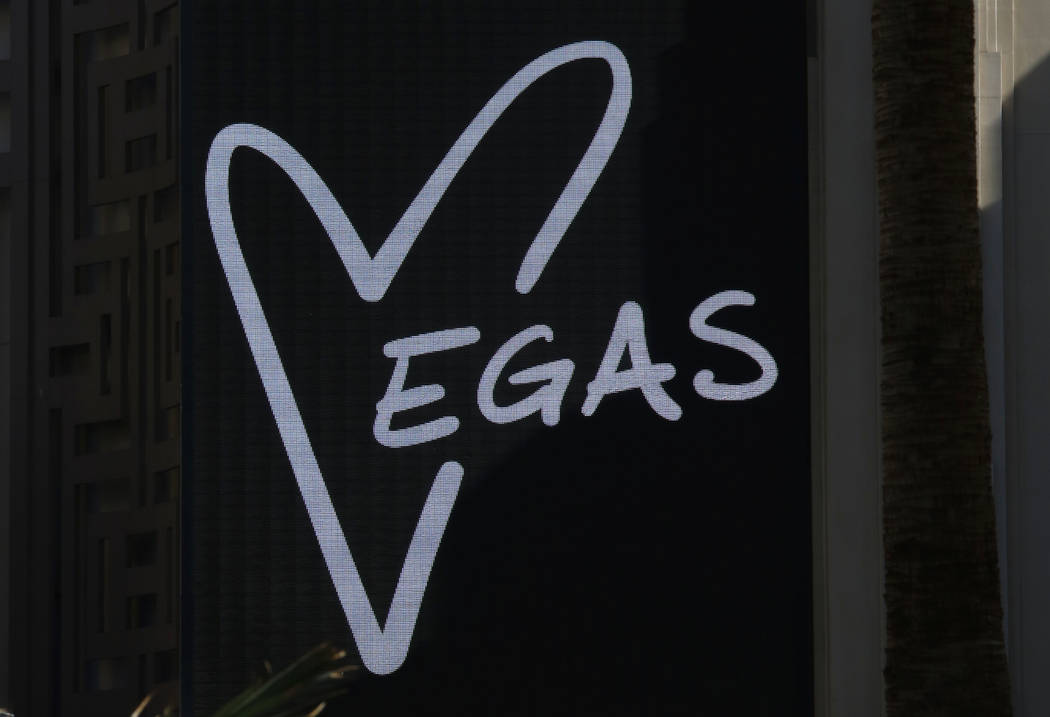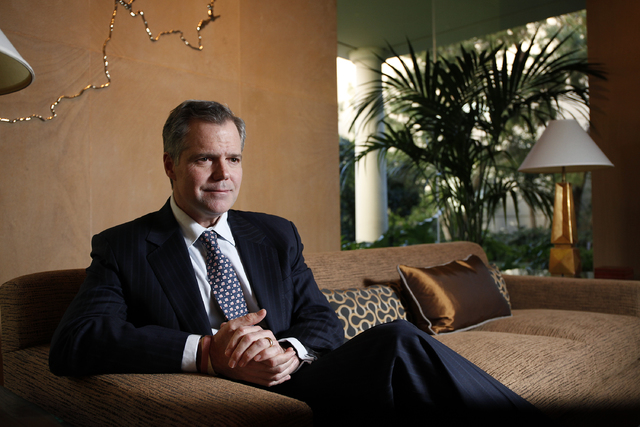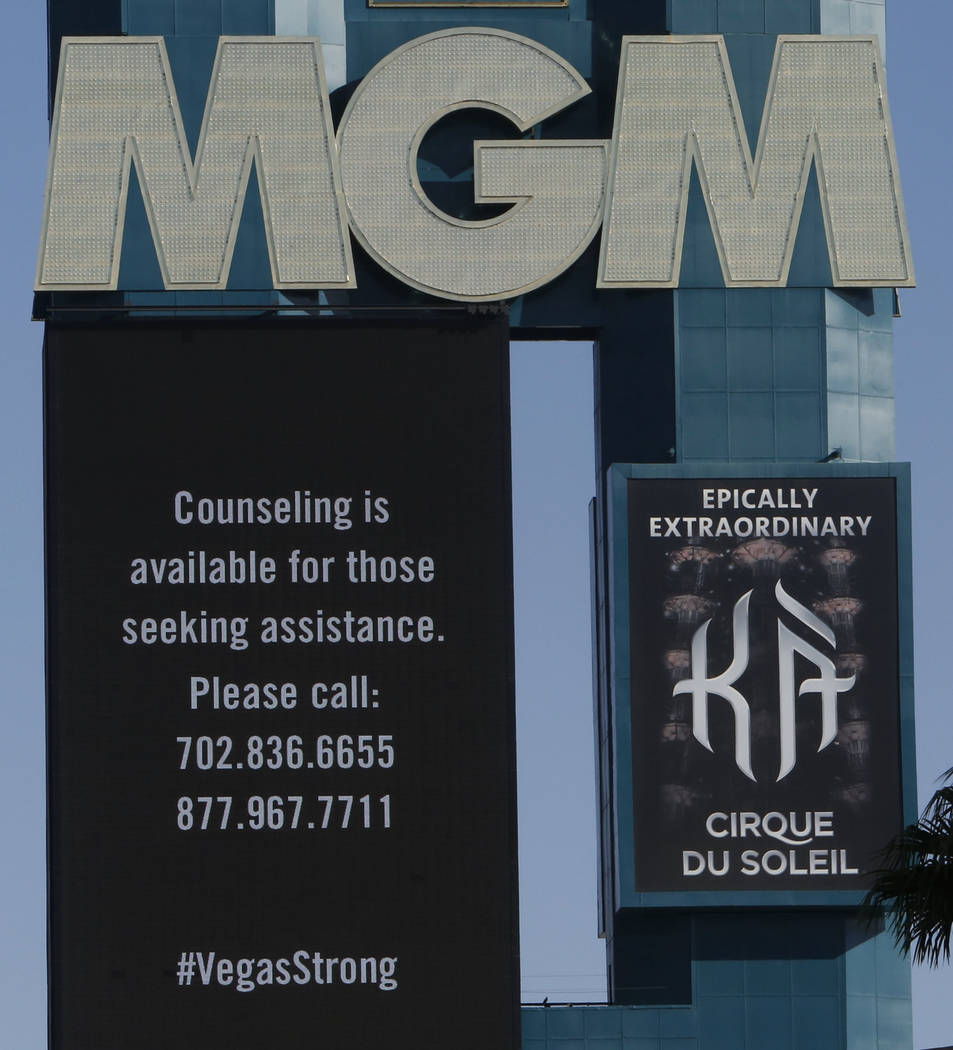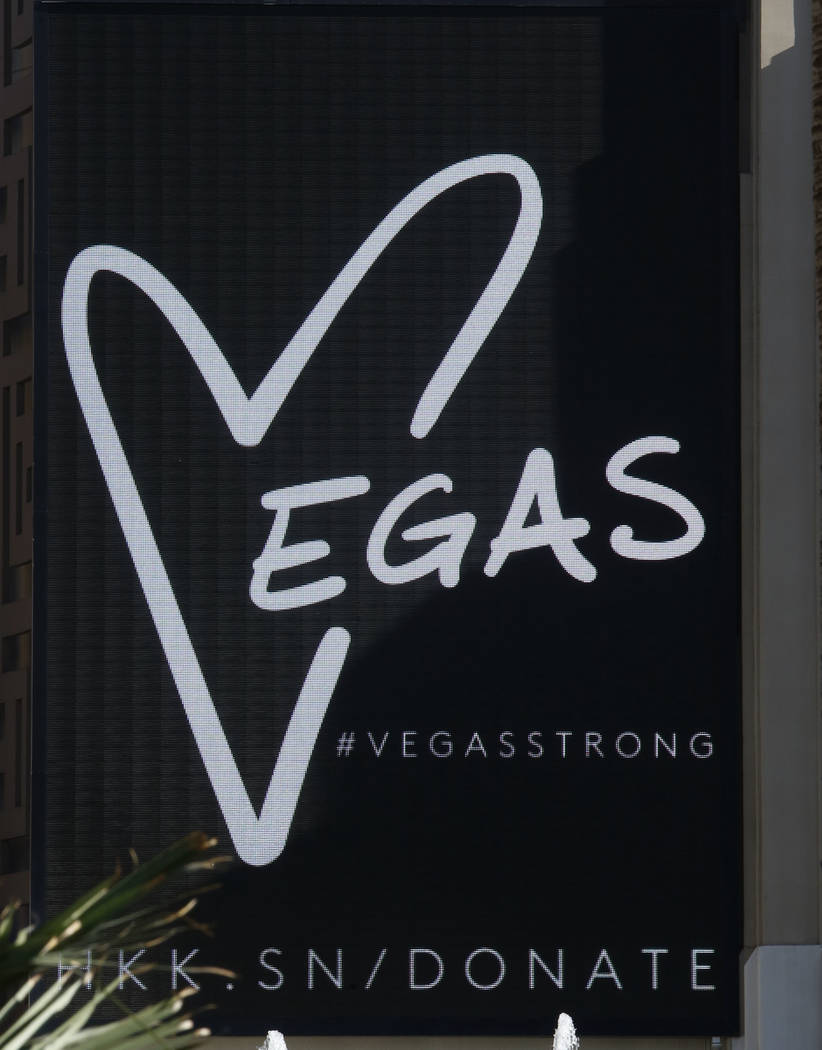 Just a few weeks ago, MGM Resorts International launched a branding campaign that highlighted its shows, restaurants and cage fights and declared: "We are not in the hotel business, we are in the holy sh*t business."
Today, the casino giant has shelved marketing pitches as it grapples with the aftermath of the deadliest mass shooting in modern U.S. history — a massacre launched from, and against, its properties.
A gunman, identified as 64-year-old Stephen Paddock, of Mesquite, broke two windows on the 32nd floor of Mandalay Bay and sprayed hundreds, if not thousands, of bullets Sunday night at the Route 91 Harvest country music festival across the street.
The barrage lasted 10 minutes. With 22,000 people at the concert, 58 were killed and nearly 500 were injured.
MGM, which owns the 3,200-room Mandalay Bay and the 15-acre Las Vegas Village, the open-air venue where the concert was held, has posted somber messages on digital hotel signage this week, as well as more than two dozen messages to its Twitter account since early Monday morning, all related to the shooting.
Among other things, it said on Twitter that crisis counselors were available for any guest or employee and that it had set up a hotline for victims, their family members and others.
It sent out a statement at 4 a.m. Monday, six hours after the shooting, from Chairman and CEO Jim Murren expressing condolences and saying the company was "working with law enforcement and will continue to do all we can to help all of those involved."
MGM also announced Tuesday that it would donate $3 million to help victims and first-responder groups. The company ran a full-page ad in Thursday's Review-Journal saying, in part, "Our hearts are broken and the words are hard to find," and expressing its "deepest gratitude and love" to police, medical personnel, its employees and others.
The company has said that it's deferring all communication on the case to the FBI and Las Vegas police. Murren has issued statements this week but has been virtually invisible compared with Metropolitan Police Department Sheriff Joe Lombardo.
A handful of public relations executives on Wednesday offered views about MGM's response and what they would advise clients in a similar situation. For the most part, they agreed with its reaction of issuing statements, cooperating with law enforcement and, at least in the short run, avoiding public appearances.
Response by the book
"A lot of what they've done is textbook crisis communications," said Ross Johnson, founder of Johnson Public Relations in Beverly Hills, California.
He would advise clients to contact every victim and, if it's financially feasible, ensure their medical expenses are paid for. But given the scope of Sunday's shooting, he also said that "we're in uncharted territory," and that any tort lawyer would recommend being "very careful about what you say after something like this."
Corporations are often "super cautious" about what they say anyway, said Jason Mudd, owner of Axia Public Relations in Florida, adding, "We're in such a litigious society."
He has a 10-step process for managing and preparing for a crisis, and the final step is "ride out the storm."
"I'm guessing that's what they're doing right now," he said.
Representatives of Las Vegas-based MGM did not respond to a request for comment for this story.
When people are hurt or killed on or near a company's property, or an incident involves employees or customers, the general advice is to defer comments to law enforcement or other authorities, said George McCabe, director of PR at Las Vegas-based B&P Advertising Media Public Relations, whose clients have included MGM.
He said that when PR people, chief executives and attorneys get in a room to discuss these matters, "the lawyers often win the argument."
"Human nature is probably to go with the safer approach, and that's probably not a bad thing," he said.
William Mills Agency account director Mary York, who oversees the Atlanta firm's crisis communications work, said there "may be legal reasons" why MGM has focused on putting out written statements.
But, she added, given the emotions involved with the tragedy, it's "always best to add a human element" by giving a face and voice to the response through interviews or news conferences.
Event canceled
MGM had been scheduled to hold an event Wednesday at The Mirage for a responsible-gambling program it's implementing at its hotels, but it canceled on Tuesday, saying its "attention this week is more appropriately focused on (its) customers and (its) community."
Meanwhile, Metro has been holding briefings to discuss the shooting. The Professional Fire Fighters of Nevada held a news conference Tuesday, where it emerged that 12 off-duty firefighters had been shot at the concert, and the Clark County Fire Department scheduled a news conference for Thursday morning to talk about the emergency-services response to the massacre and to display its firefighters' tactical gear.
Contact Eli Segall at esegall@reviewjournal.com or 702-383-0342. Follow @eli_segall on Twitter.