No severance pay for Steve Wynn, must leave property by June 1
February 16, 2018 - 8:09 am
Updated February 16, 2018 - 5:46 pm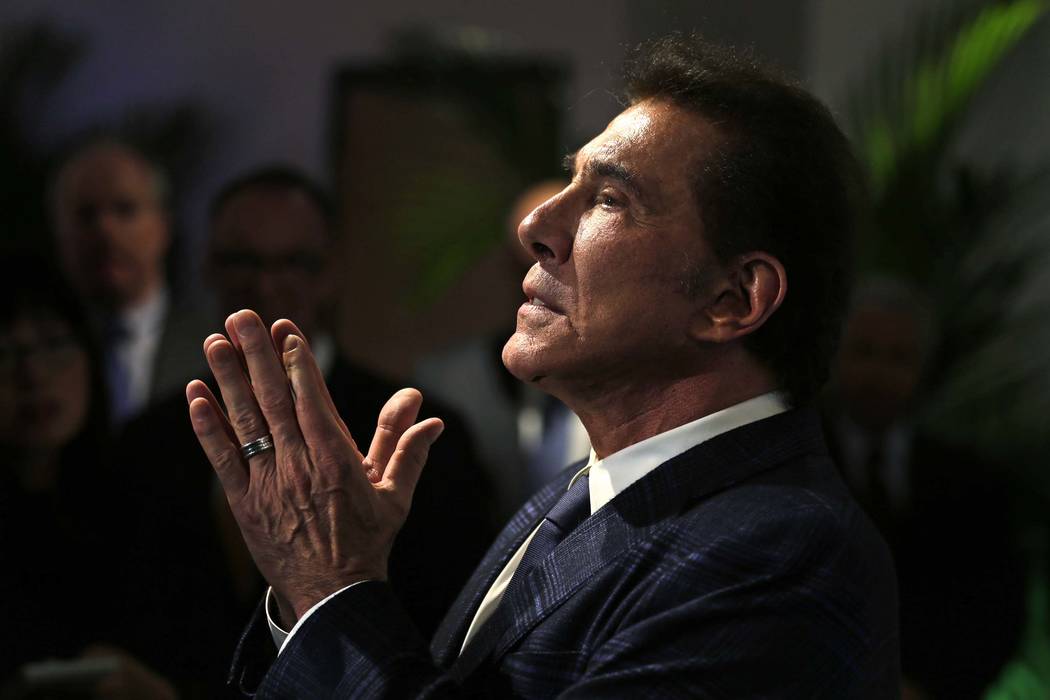 Steve Wynn's separation agreement with Wynn Resorts includes no "golden parachute" for the 76-year-old former chairman and CEO and started a two-year period during which he can't compete with the company.
The document also contemplates reassigning the Wynn brand and trademark back to Steve Wynn if the company decides to stop using the name.
Wynn and the company signed a "surname rights agreement" in August 2004, but the termination agreement says "in the event that the company ceases to use the Wynn name and trademark, it will provide written notice" to him, return the rights to him and terminate the 2004 agreement.
In a filing with the Securities and Exchange Commission dated Thursday, the company confirmed that "Wynn is not entitled to any severance payment or other compensation from the company under the employment agreement."
Some analysts had speculated that Wynn would receive a $330 million severance package had the board of directors fired him.
Residential villa lease
The agreement also on June 1 terminates a lease Wynn has had at a residential villa at Wynn Las Vegas but gives him the ability stay there at the same rate he's paid until that date. For whatever time he stays there through May 31, he'll continue to pay the company rent at fair-market value as determined by a third party.
Wynn resigned as chairman and CEO on Feb. 6, releasing a statement at that time that said, "I have reached the conclusion I cannot continue to be effective in my current roles."
He quit in the wake of numerous media reports alleging sexual misconduct occurring over three decades. Wynn has called the allegations of sexual harassment and assault "preposterous" and said the claims were orchestrated by his former wife, Elaine Wynn. She has denied the accusation.
According to proxy statements filed in the past with the SEC, Wynn was paid $28.2 million in 2016. Fortune magazine reported Wynn has earned $111.6 million over the past five years.
Fortune estimated Wynn's net worth at $3.4 billion and he continues to be the company's top shareholder with 12 percent of the company's holdings.
The separation agreement includes plans to write a customary registration rights agreement that would place some limits on Wynn's ability to buy or sell company stock.
The company's administrative support of Wynn also will terminate May 31 and his health care coverage will end Dec. 31, according to the agreement.
Cooperation with company
The separation agreement also said Wynn has agreed not to compete in any capacity, even as a consultant, against the company for two years. The agreement also says Wynn would provide "reasonable cooperation and assistance to the company in connection with any private litigation or arbitration" against the company. It also stipulates that Wynn must cooperate in the board of directors' investigation involving activities in his time with the company.
At least three lawsuits have been filed against the company and its board of directors alleging they breached their fiduciary responsibilities to shareholders by failing to act when allegations surfaced.
Regulators in Nevada, Massachusetts and Macau are investigating allegations reported by numerous publications.
In addition to his Wynn and Encore resorts on the Las Vegas Strip, Wynn Resorts controls Wynn Macau and Encore in Macau and Wynn Palace near Macau's Cotai Strip. His company is building a $2.4 billion resort near Boston Harbor in Massachusetts.
Several Boston-area community leaders have called for the removal of Wynn's name from the property.
Wynn shares closed up 27 cents, 0.16 percent, to $164.28 a share on average volume. But nearly all of those gains were surrendered in afterhours trading with the issue down 25 cents, 0.15 percent, to $164.03.
Contact Richard N. Velotta at rvelotta@reviewjournal.com or 702-477-3893. Follow @RickVelotta on Twitter.