Station Casinos files plans for new 600-room resort in Henderson
When Station Casinos bought a big land tract in Henderson for $71 million in 2007, it had no immediate plans to develop the site.
After sitting on the spread ever since, Station is now pushing ahead with its envisioned resort.
The Henderson Planning Commission is slated to consider Station's proposed 600-room hotel-casino in the Inspirada community, at the southern edge of the Las Vegas Valley, on Feb. 16. The Henderson City Council vote would follow on March 7, according to the city's website.
Station previously outlined plans for the resort in a letter to the city, as part of its bid to buy some adjacent land. It later submitted a package of documents, all dated last month, with site plans, renderings, water and traffic impact statements, parking analysis, and other details.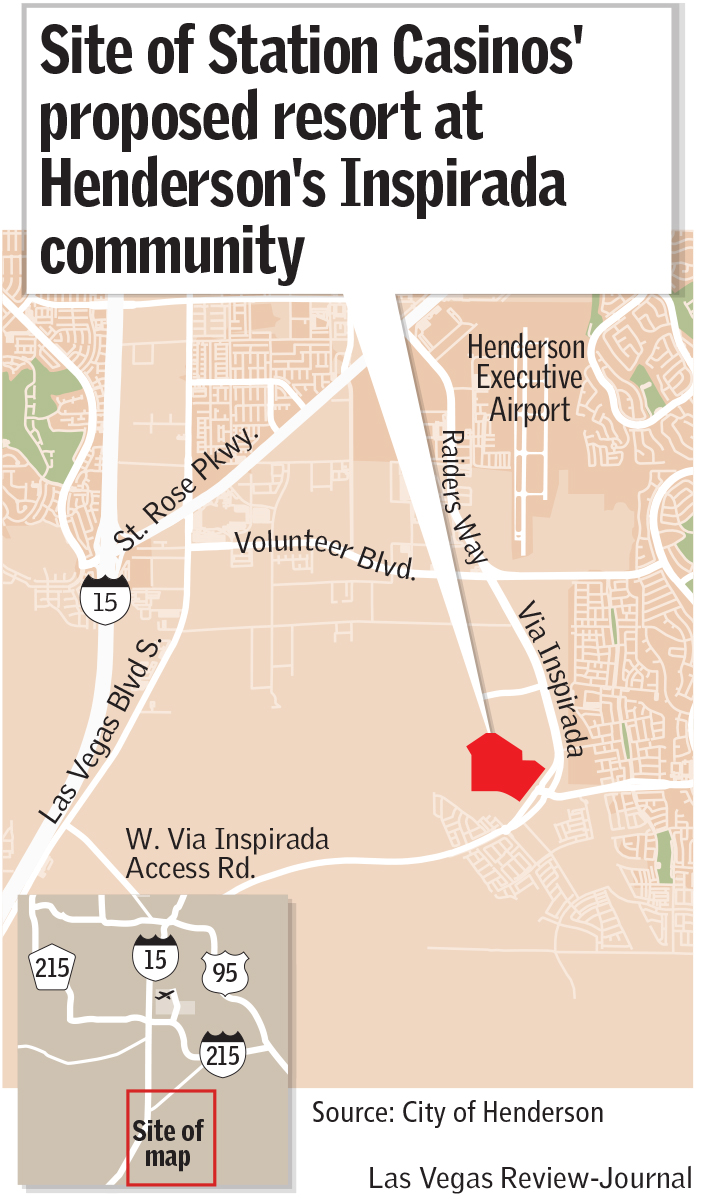 It expects to begin construction in January 2024, the plans show.
Station did not provide a comment for this story.
Real estate moves
The project would be built in three phases and feature more than 80,000 square feet of casino space, as well as retail, restaurants, bars, a bowling alley, movie theater and meeting space, according to project plans.
At full build-out, it would generate 1,685 peak-hour vehicle trips in the evenings, one of the filings indicates. Under its "water supply impact statement," the filing calculated almost 82.9 million gallons per year for the site.
Station, which has extensive land holdings in Southern Nevada, has been overhauling its real estate portfolio. The locals-focused casino chain sold some properties recently, bought others, and is pushing ahead with plans for a new crop of resorts, all part of an effort to double its portfolio by 2030.
Last summer, Station parent Red Rock Resorts announced it would tear down three hotels that had been closed since the onset of the pandemic — Fiesta Henderson, Fiesta Rancho and Texas Station — and sell the sites.
Days later, it purchased roughly 126 acres at Las Vegas Boulevard and Cactus Avenue — across the street from a nearly 57-acre spread it already owned — for more than $172 million.
It later unveiled plans to demolish the Wild Wild West hotel-casino near the Strip and redevelop the property. After that, it announced plans to open a newly built, 21,000-square-foot Wildfire casino in the downtown area in early February.
Station then ended the year with a flurry of real estate activity. In late November, it sold 21 acres next to its under-construction Durango resort, in the southwest valley, for nearly $24 million to an apartment developer. Station then purchased 67 acres in North Las Vegas for $55 million in December, after it secured approvals for a 600-room project on that site.
Also last month, the Henderson City Council approved the city's purchase of the 35-acre former Fiesta Henderson property for $32 million, with plans to build a recreational sports complex. Soon after, Station sold its older land tract at Las Vegas Boulevard and Cactus for nearly $62.3 million to hospital chain HCA Healthcare.
Waiting for 'timing to be right'
Station has not formally announced which resort it will build after the $750 million Durango project, which is slated to open in the fourth quarter this year.
But in an interview with the Review-Journal last month, Red Rock Resorts President Scott Kreeger cited three areas where Station owns big plots of land: Inspirada, Skye Canyon in the upper northwest valley, and the newer spread at Las Vegas Boulevard and Cactus.
Still, Station has shown it has no qualms about letting its land collect dust. It acquired the Durango site more than 20 years ago, and it purchased 45 acres in Inspirada more than 15 years ago.
When it bought the Henderson land, a spokeswoman said Station did not have any immediate plans to develop the property.
"We wait for the timing to be right," Kreeger said.
Contact Eli Segall at esegall@reviewjournal.com or 702-383-0342. Follow @eli_segall on Twitter.