Sisolak confirms state eviction moratorium lifts Thursday
Updated October 14, 2020 - 5:55 pm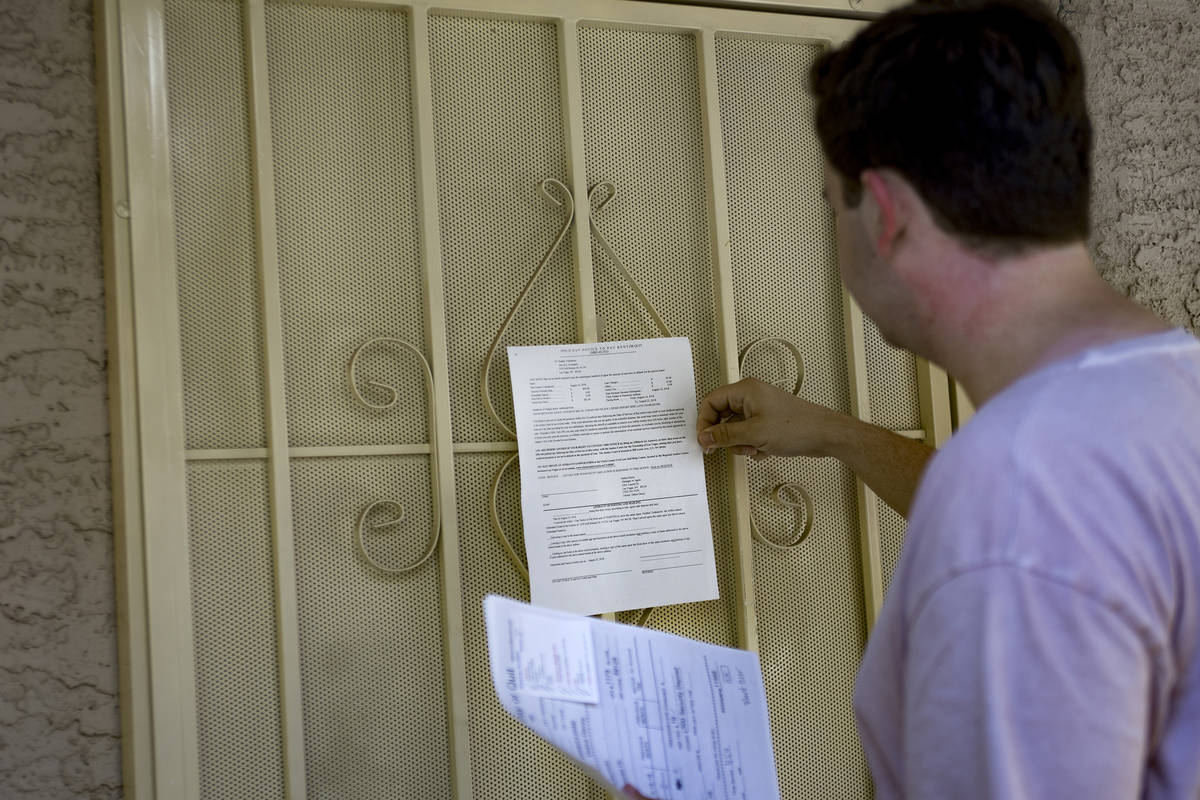 State protections for residential tenants unable to pay their monthly rent will expire Thursday.
Gov. Steve Sisolak confirmed Wednesday afternoon he would not extend Nevada's nonpayment of rent eviction moratorium. Sisolak had previously extended the moratorium in a last-minute move when it was initially supposed to end Sept. 1.
The temporary order was aimed at making sure Nevadans could stay home, minimizing their exposure to the novel coronavirus, and kept landlords and property managers from evicting tenants for nonpayment of rent. Tenants were still required to pay back missed rent payments, and if tenants could afford to pay rent, they should have, according to state guidance.
Sisolak said because there is a federal eviction moratorium in place until the end of this year extending the state's moratorium "would just be duplicative."
The federal order was put in place by the Centers for Disease Control and Prevention, except its protection is not automatic.
Backup plan
The federal order, implemented last month by the CDC, serves as the final safety net for the thousands of Nevadans who have been unable to pay their rent.
The CDC order stops landlords and property managers from evicting an eligible tenant for nonpayment of rent until Dec. 31, when the order expires.
If renters believe they are eligible, they must sign this CDC declaration form and give it to their landlord or property manager. Landlords aren't required to notify their tenant about the CDC order but "must comply with all requirements of the order," according to CDC guidelines.
"The burden is now on the tenant," said Guinn Center Director of Economic Policy Meredith Levine. "And that could create obstacles and may create some situations where tenants find themselves in sticky situations."
Nevada State Apartment Association Executive Director Susy Vasquez said the organization's goal is not to evict tenants.
"Our communities housing goal is to keep tenants in their apartments and we are not happy to see anyone evicted," she said in a statement. "The CDC order falls in line with other state's eviction moratoriums and continues to protect those impacted by the pandemic."
The number of Nevadans facing an eviction by then end of this year is an estimated 418,523 people, or 181,966 households, according to a September report by the COVID-19 Eviction Defense Project and Aspen Institute. Clark County's eviction risk is pegged at about 136,000 households by the end of December.
Nancy Brune, Guinn Center's executive director, said in a statement updated numbers have not been released by the CEDP but it has suggested the number of households facing eviction in Nevada could be lower.
The CDC makes it clear tenants are still required to pay their monthly rent as it will accrue along with any fees. Landlords can also still charge late fees, which in Nevada is no more than 5 percent of a tenant's monthly rent.
But that could be worrisome for many jobless workers.
Nevada Department of Employment, Training and Rehabilitation, which oversees the unemployment office, has received a record 710,347 initial claims this year through the week ending Oct. 3 with nearly 97 percent of those claims filed after the week ending March 14.
Las Vegan Josuah Smith has been unable to pay his rent since September, after he was laid off from his job at inventory management firm RGIS LLC in August.
Smith said Sisolak's order has eased some of his stress but he knows the CDC order still protects him from being evicted.
"I do need to find a new job (but) I'm not ducking and dodging (my landlord)," he said, adding that he's made attempts to pay at least half of what he owes. "I want to be able to pay what I can pay."
Contact Subrina Hudson at shudson@reviewjournal.com or 702-383-0340. Follow @SubrinaH on Twitter.