Las Vegas Metro Chamber to pursue local issues on DC trip
September 19, 2017 - 11:19 am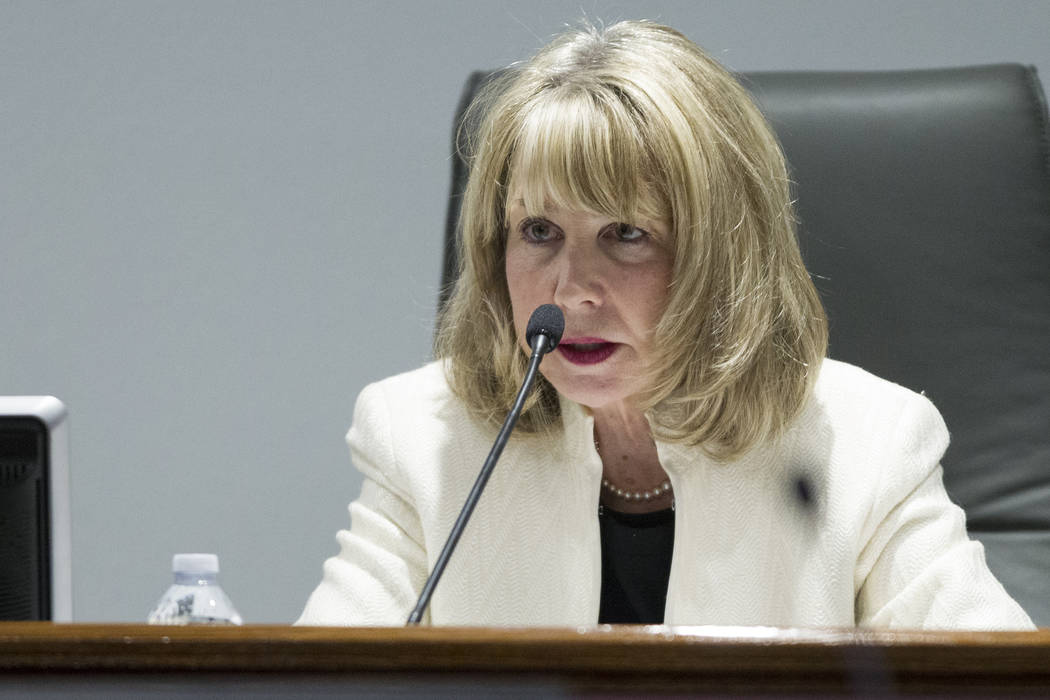 Some 100 business and government leaders representing the Las Vegas Metro Chamber will travel to Washington, D.C., next week to give a local voice to federal projects.
This trip will be the first since Sen. Harry Reid retired after 12 years as leader of the Senate Democrats and the last for Chamber CEO Kristin McMillan.
McMillan, who announced in July she will leave the chamber on Dec. 31 after six years as CEO, said the annual trip comes at an important time.
Nevada needs to fill a gap in federal influence with Reid's retirement at a time when multiple federal projects either directly affect the state or hold opportunity for the state, McMillan said.
In her first year, 10 people went on the trip. Its growth reflects its value to business owners and members of state and local government agencies.
People going on the trip this year include state Secretary of State Barbara Cegavske and Henderson Mayor Debra March.
"Washington can seem focused on the East and sometimes the middle part of the U.S.," she said. "The West can be forgotten in the mix. But we're there, and we want to make sure they know we're here."
The group is focused on infrastructure, security and health care.
Infrastructure
Everything from water supply to federal funding of the Interstate 11 project is on the agenda for the Nevada group.
They will meet with members of the I-11 caucus, U.S. Reps. Dina Titus, D-Nevada and Paul Gosar, R-Ariz. The chamber played a role in the designation of I-11 and $318 million in federal funding toward the highway connecting Nevada and Arizona.
Previous successes related to the Chamber's D.C. trip include a national monument designation for Tule Springs, McMillan said.
"These are huge economic development projects," she said. "These will continue to shape Nevada's role in the nation."
Security
Part of the trip is dedicated to asking federal officials who deal with homeland security funding about how tourism can become a greater part of the formula.
McMillan said Las Vegas area businesses fear that a terror attack on one property on the Strip could have a chilling effect on the local economy.
Previous D.C. trips have helped with so-called terrorism risk insurance for casinos and hotels, which required an act of Congress because of the amount of money needed if a terror attack stopped the flow of tourism in the Las Vegas Valley.
McMillan's group will also gather information on efforts to return Yucca Mountain as a waste repository.
The chamber opposes the project for fear it will harm locals and frighten tourists and wants to know where politicians in D.C. stand, McMillan said.
One person the group plans to meet with is U.S. Rep. John Shimkus, R-Illinois, who chairs the House Energy and Commerce subcommittee.
Health care
While in D.C., the chamber group will seek out federal resources to help the new medical school at UNLV.
While the school is an important step, McMillan and her group want more federal resources to combat some of the state's poorer health rankings.
Earlier this year, a survey ranked Nevada last in children's health care. A report last year found that the state's number of medical specialists hasn't kept up with population growth.
Contact Wade Tyler Millward at wmillward@reviewjournal.com or 702-383-4602. Follow @wademillward on Twitter.