Nevada competes in 'hotly contested' federal drone program
December 6, 2017 - 8:01 am
State officials are hoping to get Nevada one of five guaranteed spots in a federal drone program.
The Federal Aviation Administration sees the program as a way to speed innovation in integrating drones with national airspace. Nevada officials see the program as another way to solidify the Silver State as a key hub for the drone industry.
In response to a White House executive order, the FAA developed an Unmanned Aircraft System Integration Pilot Program. It aims to have state, local and tribal governments partner with private-sector drone entities to test advanced drone operations, like flying over people or flying a drone outside an operator's direct visual line of sight.
"Under this pilot program, the Department of Transportation will enter into agreements with State, local, and tribal governments to establish innovation zones for testing complex UAS operations and to attempt different models for integrating drones into local airspace," according to a statement from the White House press office.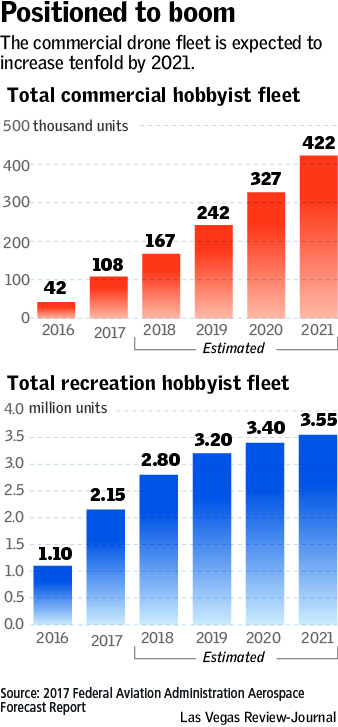 'Secret sauce'
Paul Anderson, incoming director of the Governor's Office of Economic Development, said he and others are working to find partners "from homegrown companies to Fortune 50 corporations" for the state's project proposal.
He said he could not give details on the proposal, because he does not want to tip off the competition. Anderson said he is expectng "a hotly contested bid process."
"With only five awards guaranteed, we can't reveal our recipe for the secret sauce," said Chris Walach, senior director at the Nevada Institute for Autonomous Systems. The institute acts as a clearinghouse for unmanned aerial system-related business opportunities and works with the GOED.
The program's application process began Nov. 28 with the deadline to submit a notice of intent to apply to the program.
An FAA spokesman declined to say how many letters of intent the agency received, but he did say, "The initial response indicates very strong interest to be a part of this landmark drone pilot program. The FAA is still processing notices of intent for eligibility to apply."
Street cred
The program does not provide any funding, but it opens "a whole new world" for drone policy and is a chance for communities "to be on the cutting edge," said Lisa Ellman, partner and chair of the Global Unmanned Aircraft Systems Group at Washington law firm Hogan Lovells.
"The real benefit of this program (is being) able to provide services that people want in their communities through moving drone policy forward," she said.
The FAA will look at projects in various communities to inform possible national policies to integrate drones into national airspace.
As one of seven FAA-designated UAS test sites, Nevada already is working closely with the FAA to inform national policies, and it is already considered a drone innovation zone, testing different types of drone technologies and applications. This year the NIAS participated in a test of self-flying gliders in rural Nevada and took part in the longest-ever drone package delivery in Texas.
Still, landing a spot in the program would give Nevada a boost, Anderson and Walach said.
Walach, who is working to make Nevada "the global location of choice" for the drone industry, said the program provides "a major avenue to advance" Nevada's UAS industry by giving the national industry greater awareness of Nevada.
The also program means "streamlined attention" from the FAA and the Department of Transportation for selected parties.
"Having this FAA focus and the ability to test out these safety cases in real-time is not something everyone will be granted in the future," Walach said. "The IPP creates the ability for entities to step forward and be a UAS industry thought leader. We believe Nevada makes the most compelling case to continue to be a UAS industry thought leader."
Anderson said he wants to see Nevada stay on cutting edge and see UAS innovation continue to develop in the state.
"From an economic development perspective, we want those research and development partners," Anderson said, adding that R&D will ultimately lure additional talent, innovation and UAS-related businesses.
The application process will end Jan. 4. An FAA spokesman did not return a request for comment regarding when the agency will announce those selected to participate in the program.
Contact Nicole Raz at nraz@reviewjournal.com or 702-380-4512. Follow @JournalistNikki on Twitter.