Nevada launches drone center focused on public safety
Updated July 31, 2018 - 5:56 pm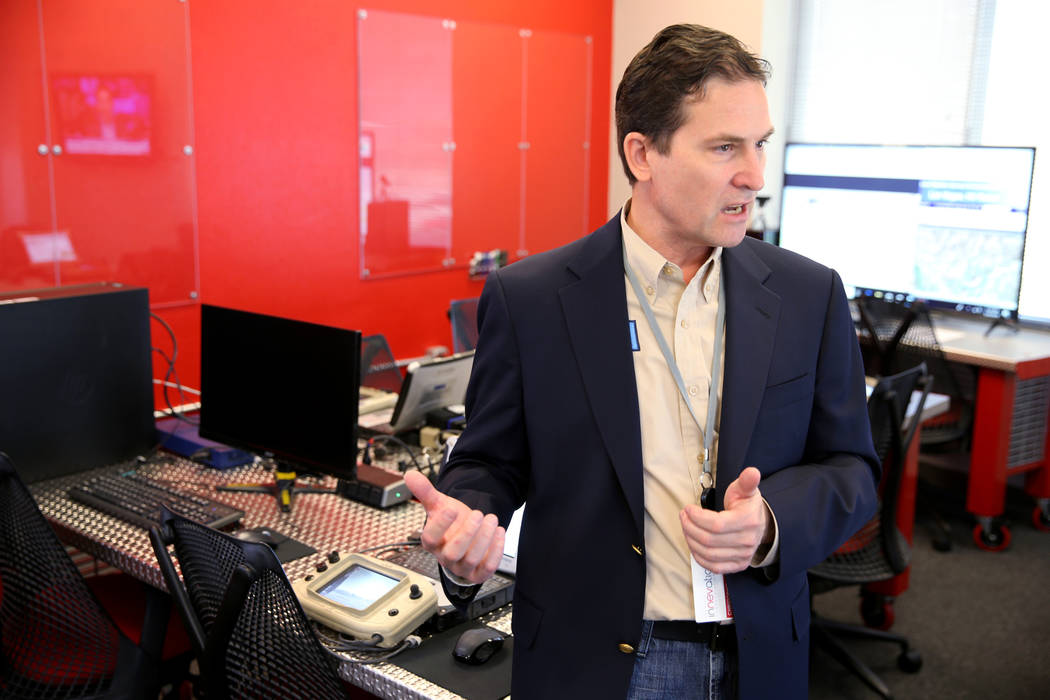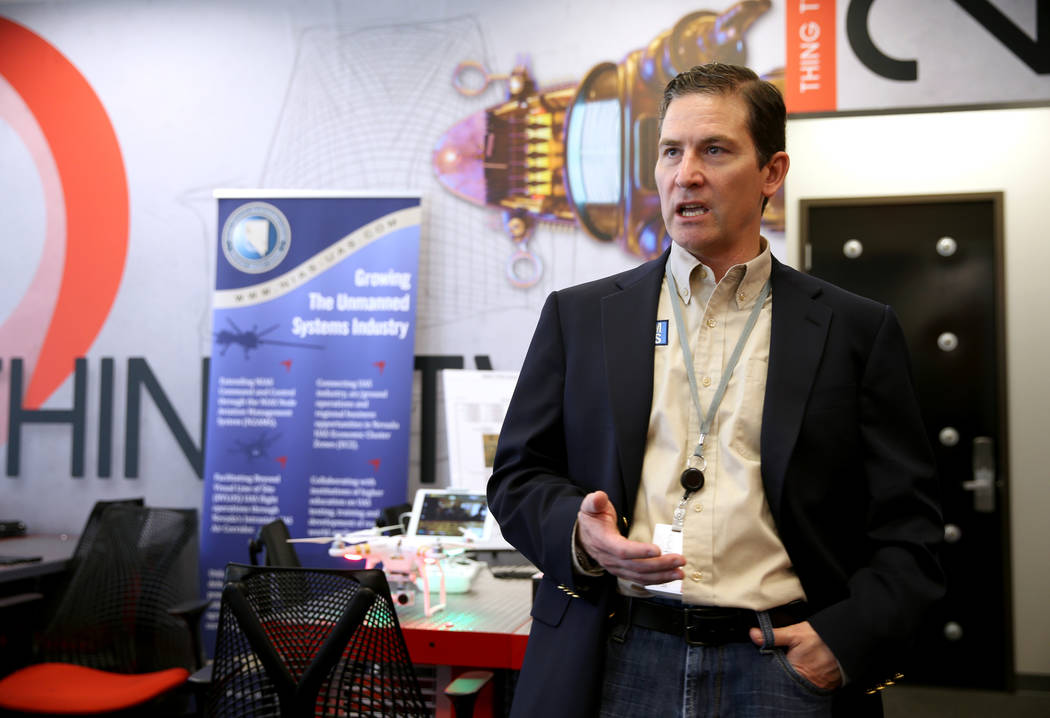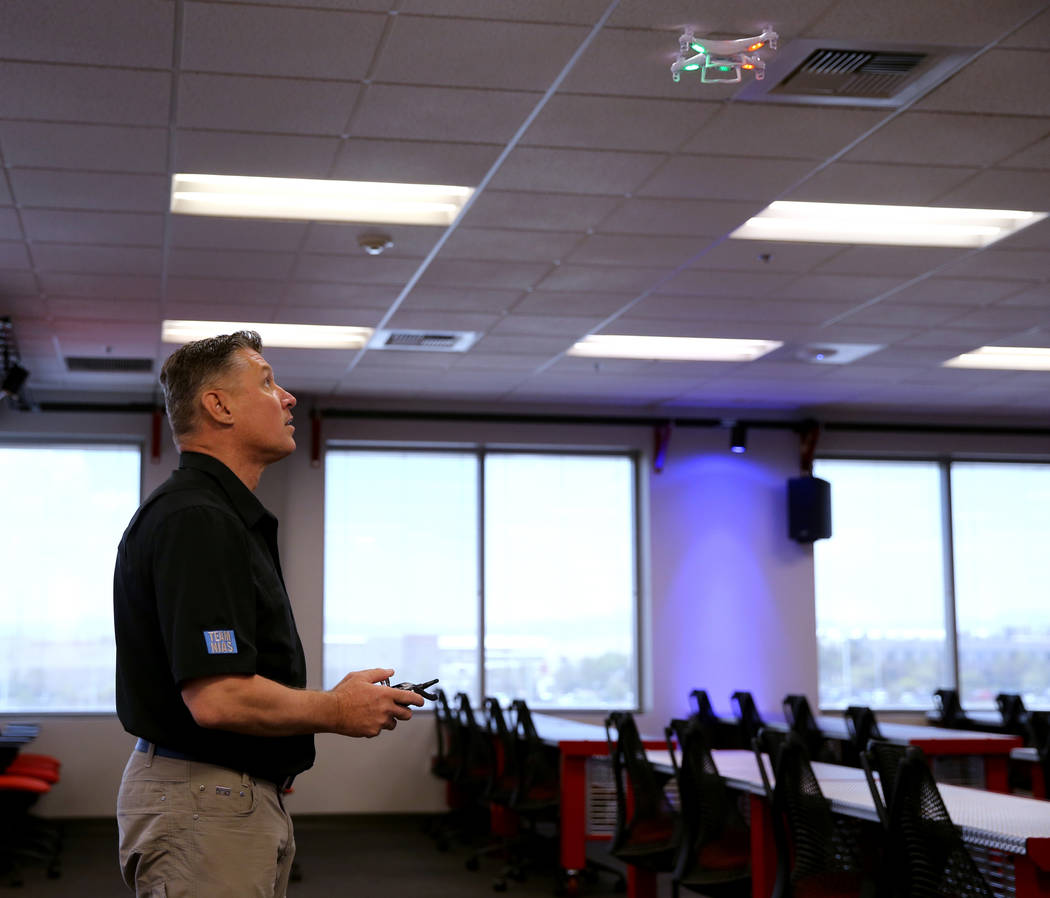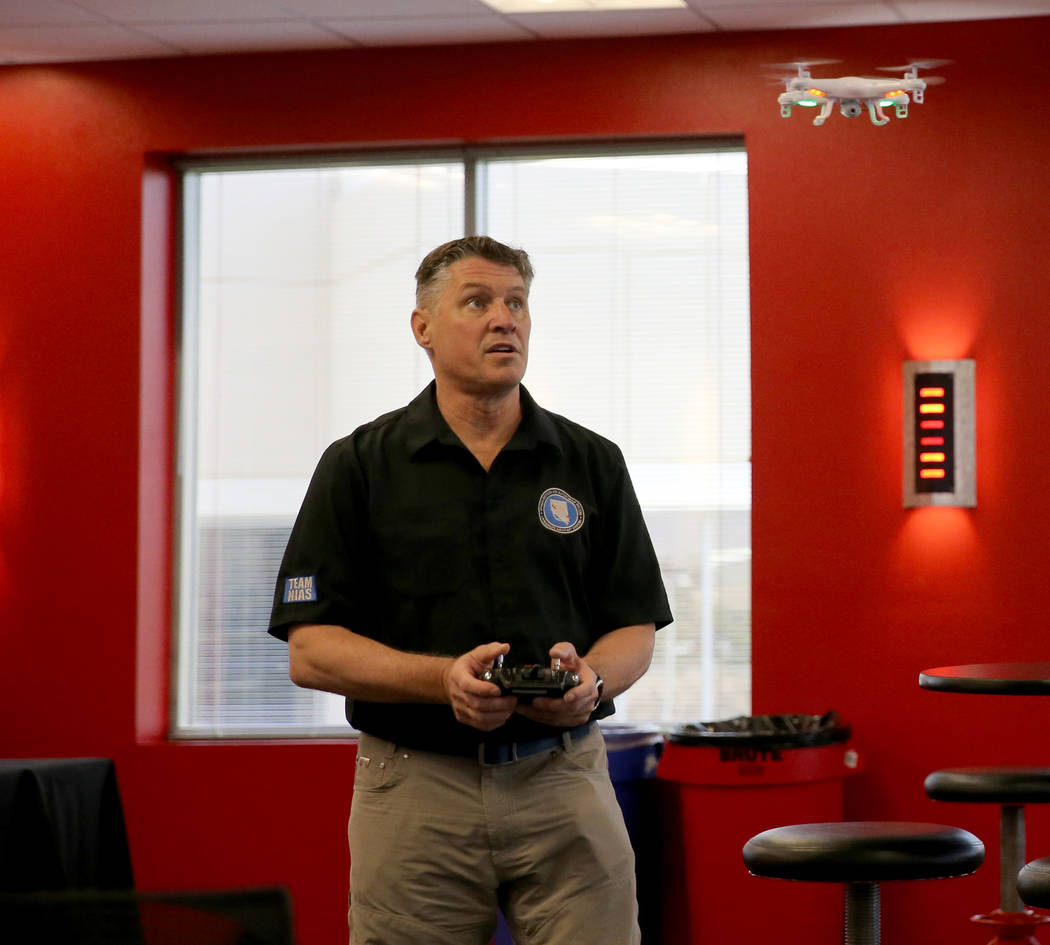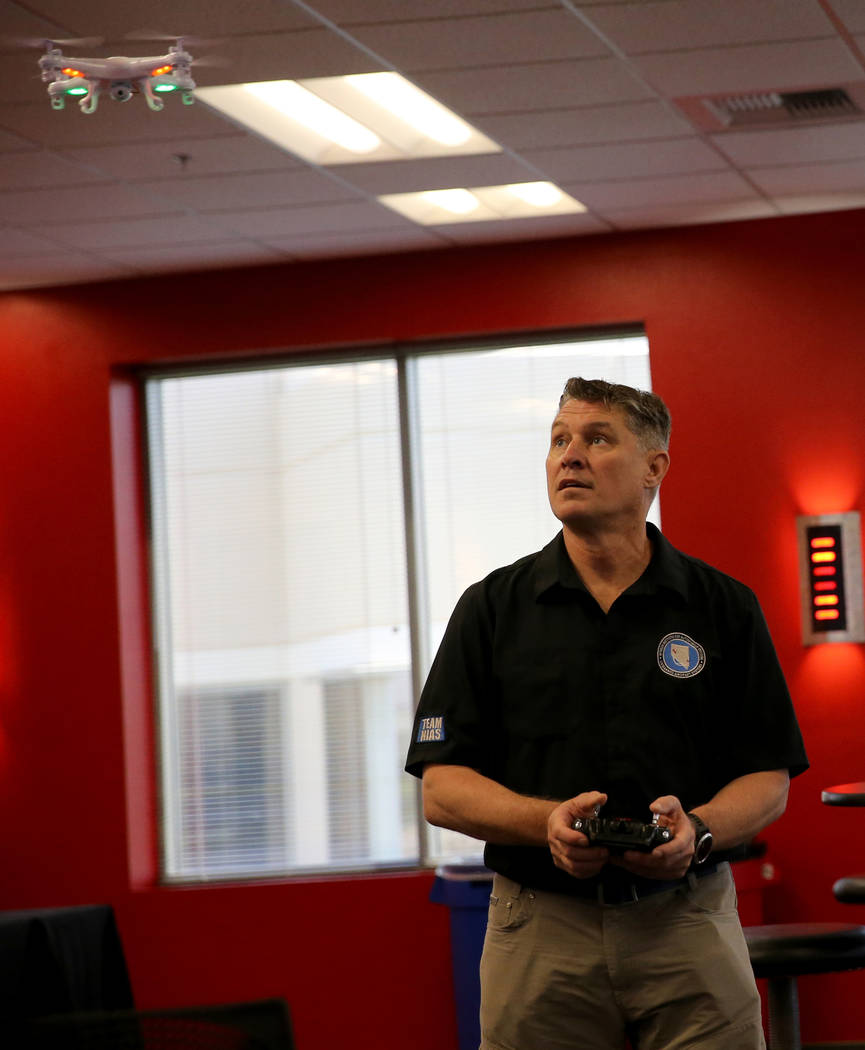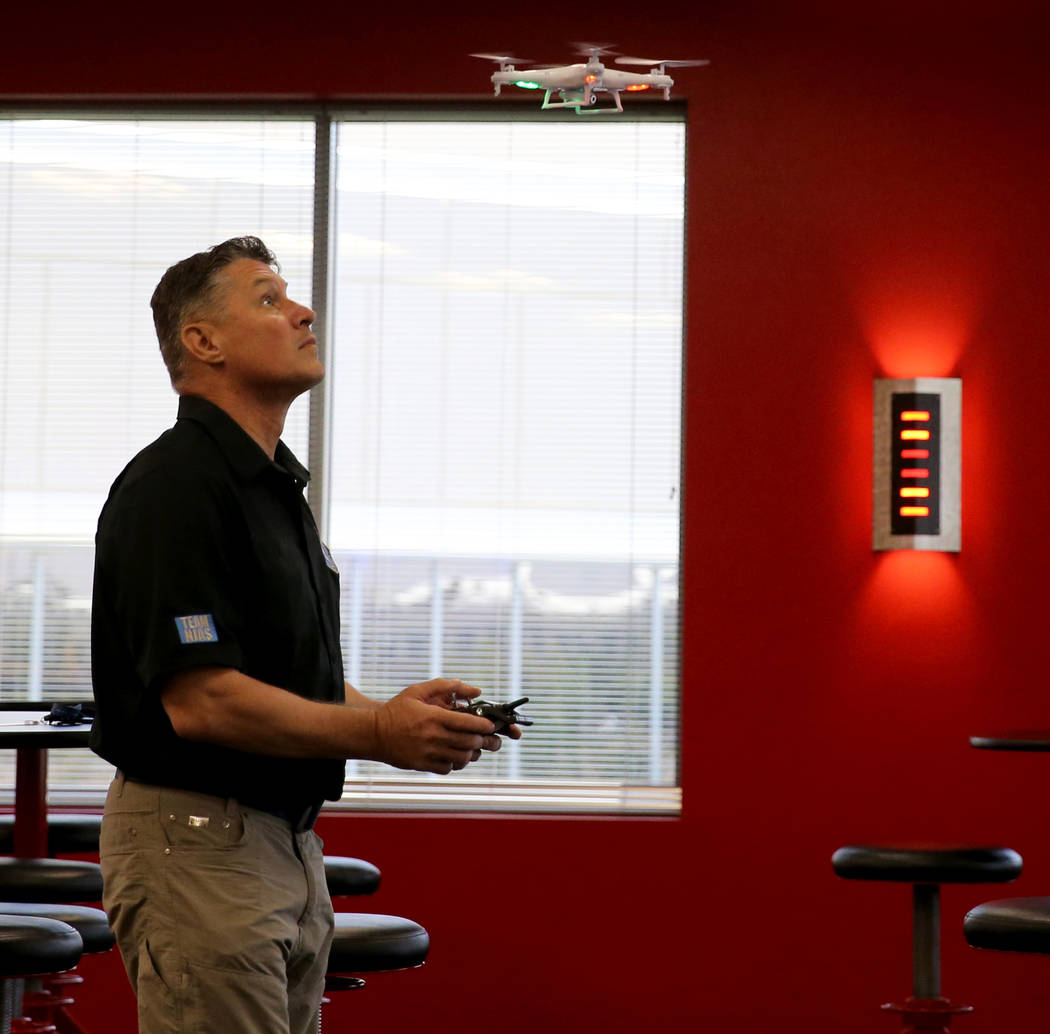 In February, a YouTube video surfaced showing an unmanned aerial system illegally flying above a landing passenger jet at McCarran International Airport.
The incident could have ended in disaster.
"If that drone would've got sucked into the engine … immediately, the plane does a left bank. What's left over there? The Las Vegas Strip," said Chris Walach, senior director of the Nevada Institute for Autonomous Systems. "It was a very near miss."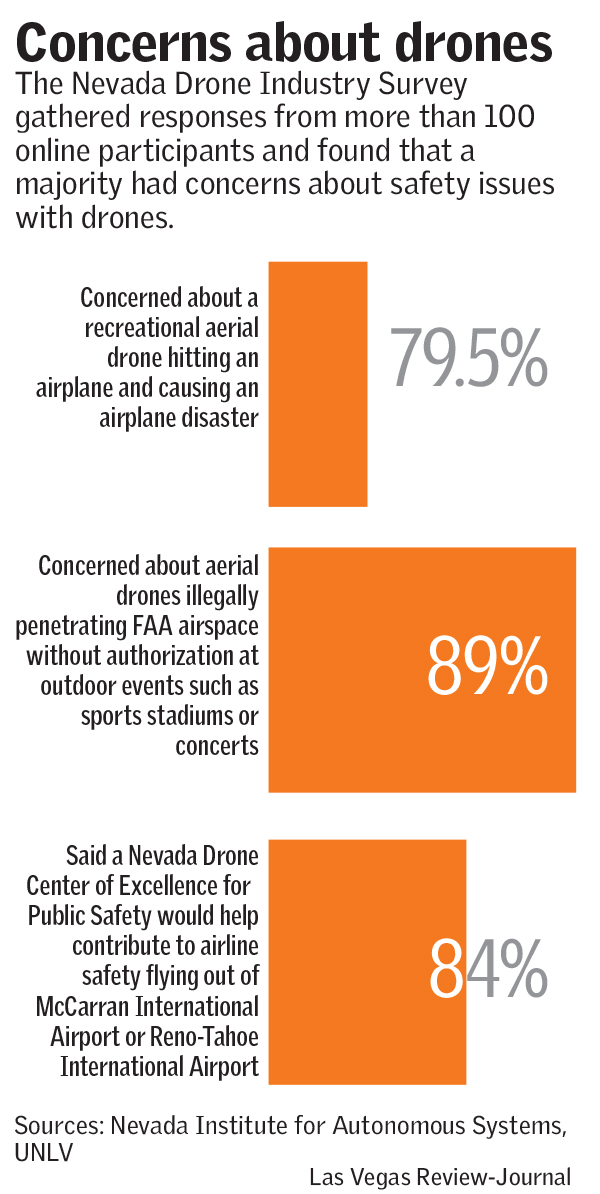 Through its new Nevada Drone Center of Excellence for Public Safety, NIAS hopes to make the skies safer. The center, located inside the Switch Innevation Center near South Decatur Boulevard and Roy Horn Way, provides data, drone technology best practices, educational materials and conducts public workshops.
"We were looking at all the things happening out there in the industry, and we said what is the FAA's number one problem? It's drone mitigation. Incursions into the airspace," Walach said. "We want to make the biggest difference we can (in public safety), not only in the U.S., but globally."
Growing concern for safety
The Federal Aviation Administration said in June that it receives more than 100 reports of drone incursions every month. With more and more drones registered each year, this is growing concern, especially in areas like Las Vegas, which has the zip code with the highest number of registered drone hobbyist in the country as of Oct. 31.
The Nevada Drone Industry Survey, an internal report conducted by UNLV and NIAS and completed in June, found nearly 80 percent of respondents were concerned about a recreational drone hitting and airline and causing a disaster. Almost 90 percent were concerned about drones illegally penetrating FAA airspace in areas such as sport stadiums, concerts and other public gatherings.
Walach said the center will be addressing solutions to both of these issues.
The Center of Excellence, which launched Tuesday, "is a natural step as drones increasingly become a bigger part of our daily lives," Walach said. "I think the center's going to be a big addition here in Nevada and to the national UAS industry."
Gerald Van Hoy, an Oregon-based consultant who focuses on industries such as drones and robotics, said the center will offer a unique approach to drone safety.
"I think the drone industry has understood and known that (safety is) a potential problem," he said. If "you have a meeting place where all things converge, taking advantage of that would only boost Nevada as far as beeing this kind of place for (drone) innovation and safety."
Nevada topping the ranks
The center is just one of many moves Nevada has taken to propel itself as a leading state for drone testing. A recent report from Business Facilities ranked Nevada as second among states for its drone industry. New York took the lead, with the report crediting its 50-mile air corridor that allows drones to fly beyond line of sight for testing and development.
"I think Nevada has an excellent chance to emerge as the primary UAS (unmanned aerial systems) in the country," said Jack Rogers, the editor-in-chief of Business Facilities. "Clearly, it's hard to find a better place in the country to test drone systems than Nevada."
The state of Nevada is one of seven FAA UAS test sites, and the only site in the program to encompass an entire state. Most other test sites are universities.
With both the aerospace industry and Air Force present in the state, Rogers said "Nevada is clearly going to be one of the hubs for UAS."
Contact Bailey Schulz at bschulz@reviewjournal.com or 702-383-0233. Follow @bailey_schulz on Twitter.