Nevada's unemployment rate in April near 30 percent
Updated May 22, 2020 - 8:45 pm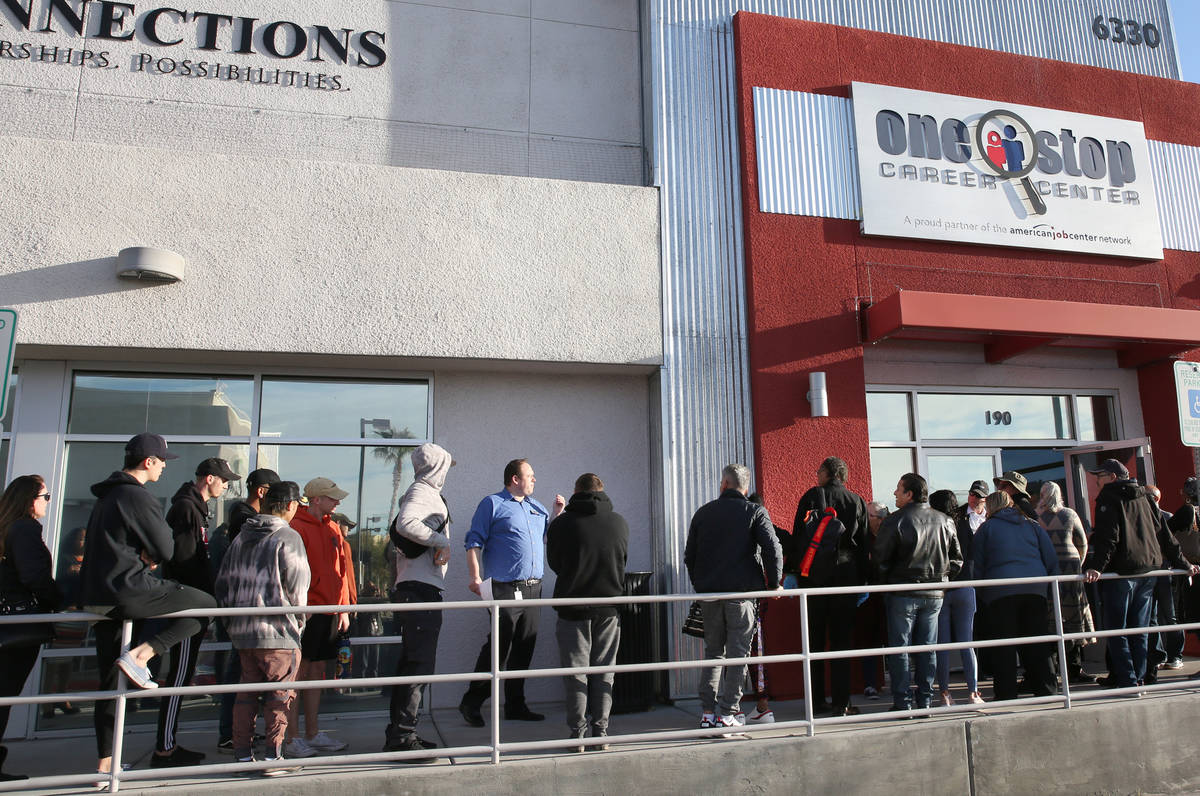 Nevada's April unemployment rate was the highest in state history and the worst of any state in the country, data released Friday show.
The state unemployment rate reached 28.2 percent in April — higher than the estimated national unemployment rate of 25 percent in 1933, the heart of the Great Depression. During this staggering April, Nevada lost 244,800 jobs for the biggest over-the-month decline since records began in 1990, according to the Nevada Department of Employment, Training and Rehabilitation.
"It's the highest rate that any state has ever seen," DETR chief economist David Schmidt said in a Friday morning news conference. Consistent unemployment data first became available in 1976.
Nevada's April unemployment rate nearly doubled the national average of 14.7 percent and led second-worst Michigan by 5.5 percentage points and third-worst Hawaii by 5.9 percentage points, according to the U.S. Bureau of Labor Statistics.
The hospitality industry was hit particularly hard by the pandemic-related shutdown. Four out of every 10 accommodation and food service industry jobs were lost compared to the number of such jobs April 2019, DETR said.
Even though the numbers are striking, they were not unexpected — and they may remain high for months, experts say.
'Ground zero'
Gov. Steve Sisolak ordered casinos and other Nevada businesses closed in March to help contain the spread of the coronavirus, shutting down much of Las Vegas' economy virtually overnight.
Job losses skyrocketed just after a February that marked an all-time low for the state's unemployment rate at 3.6 percent, as reported by the statistics bureau.
It's an economic crisis unlike anything else Nevada has seen, said economist Jeremy Aguero of Applied Analysis. At the downturn of the Great Recession, he said, the room occupancy rate neared 70 percent: Today, it's at zero, and it plummeted in an instant.
"We have gone from what was essentially the peak of our economy to the trough of our economy within 45 days of each other," Aguero said.
Stephen Miller, director of UNLV's Center for Business and Economic Research, said the state is in the same position now as it was when the Great Recession hit, with an economy overly reliant on hospitality and tourism.
"It just shows that we're ground zero for the COVID-19 recession," Miller said.
The question, Miller said, is: How long is this going to last?
"And that's going to depend on how successful we are in opening up the economy," he said. "My fear is that as we open up we may get a second wave and may have to close down again."
Some jobs may never return as businesses practices and industries change, Aguero warned.
"I think we have to be realistic in understanding that the unemployment rate in Nevada will be this high for some time," Aguero said.
'Hopelessness'
Sisolak himself said Friday in a Vegas Chamber webinar that the tourism-reliant state can't expect to bounce back until people feel comfortable traveling.
"I don't think there's any hope of getting back to where we were until we have a vaccine," he said.
The pandemic isn't over, and 37-year-old Jeni Vincent worries that the worst is yet to come. She's one of the thousands that make up a historic group who are out of work and struggling to get unemployment benefits in record numbers. The system is overloaded with processing a number of claims that is nearly six times its previous record of claims in December 2008.
"How do I feel about being in that group?" Vincent vented, "I feel like it's kind of hopelessness. I think how can they fix this?"
Contact Mike Shoro at mshoro@reviewjournal.com or 702-387-5290. Follow @mike_shoro on Twitter.