Community benefits plan for Las Vegas Raiders Stadium praised
December 14, 2017 - 12:11 pm
Updated December 14, 2017 - 6:35 pm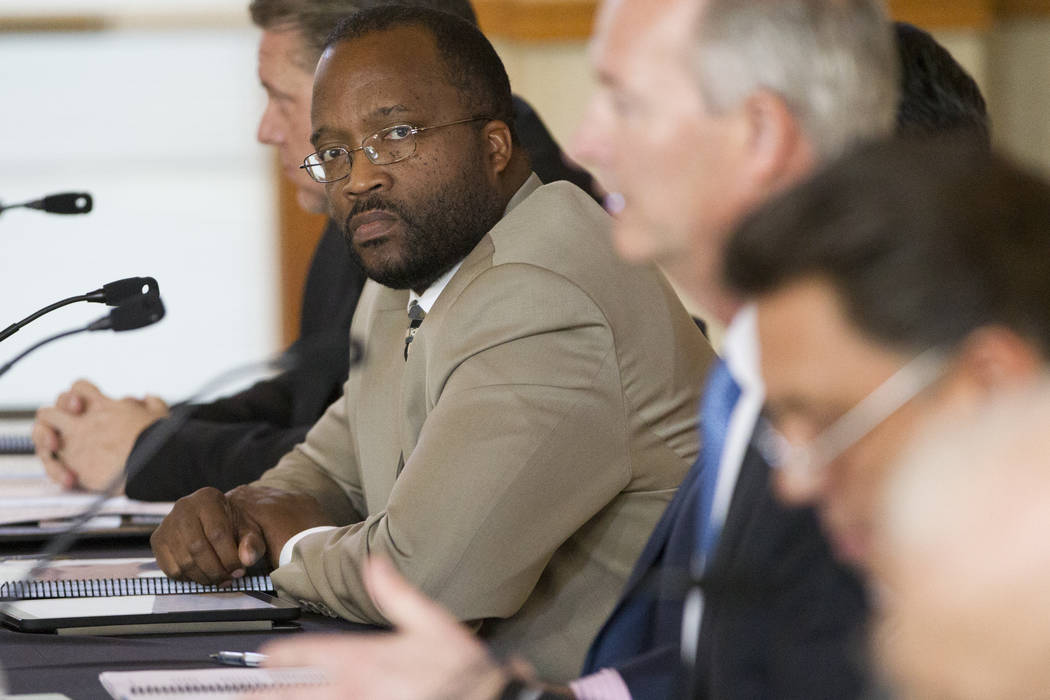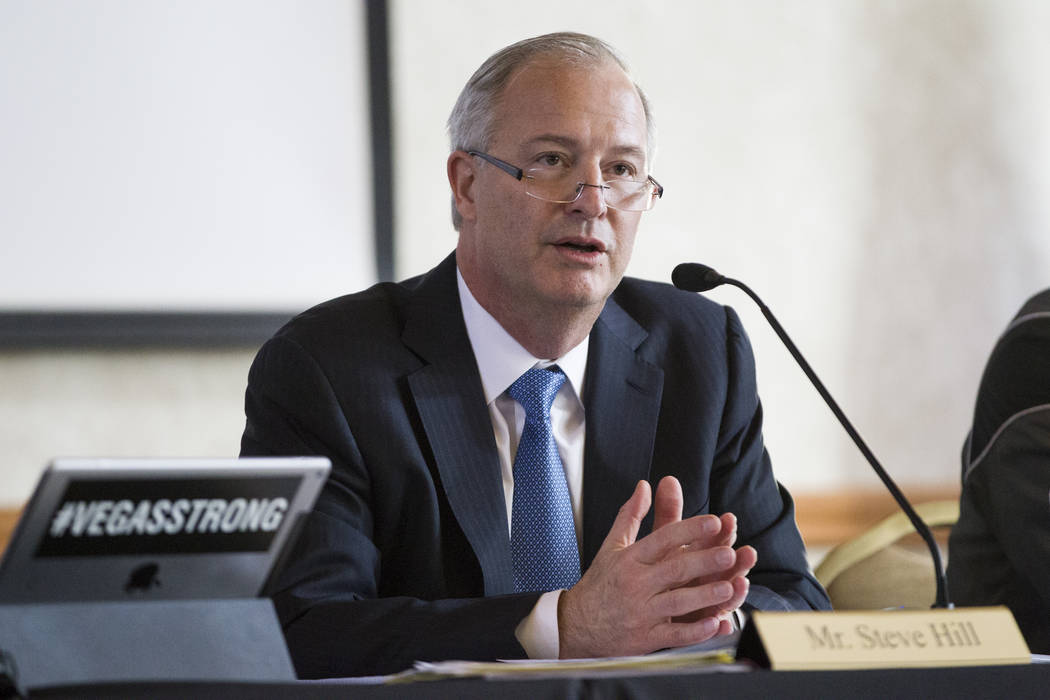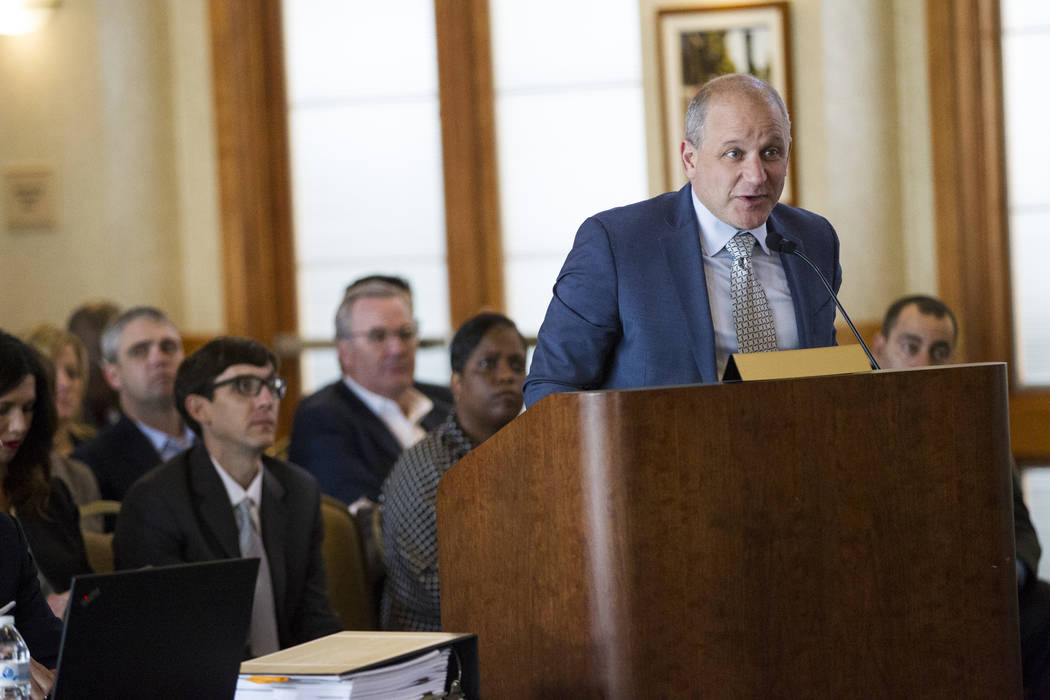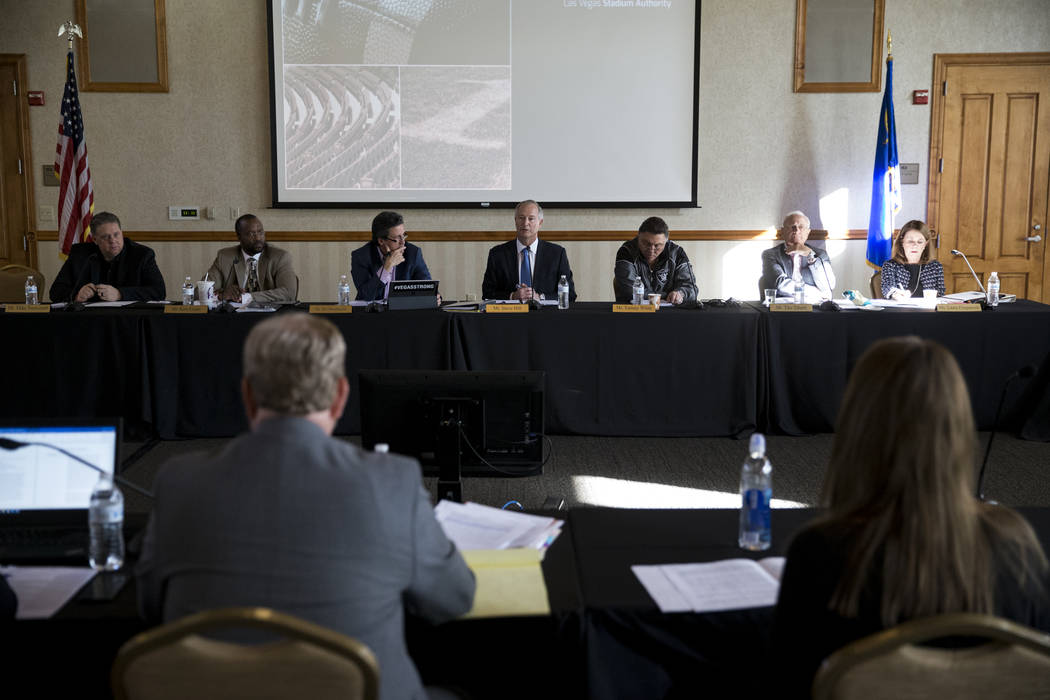 Football guys admit that it sometimes takes a little forceful motivation to get something accomplished.
Oakland Raiders President Marc Badain told the Las Vegas Stadium Authority board that's exactly what happened to push the team to move ahead on stalled negotiations on key points that eventually would lead to the signing of a stadium development agreement for the Raiders' new 65,000-seat domed home in Las Vegas.
"I want to thank (Clark County) Commissioner (Steve) Sisolak for inserting himself into the project and giving us a swift kick in the ass, which I think we needed," Badain said in a brief status update on the stadium project Thursday.
The board zipped through a 1½-hour meeting Thursday with a last look at the Raiders' community benefits plan and updates on three proposals critical to completing a stadium development agreement by February.
The board doesn't have to vote on the community benefits plan, but gave the Raiders high marks for the document that describes how the team will include minority and women subcontractors on construction and professional services for the stadium.
A much-anticipated update on the UNLV Joint-Use Agreement yielded no new information about the process, and no one from UNLV addressed the board Thursday. The Review-Journal reported Thursday that the agreement would be introduced to the Nevada Board of Regents on Jan. 4. Jeremy Aguero of Las Vegas-based Applied Analysis, which serves as staff to the authority board, echoed Nevada System of Higher Education Chancellor Thom Reilly's comments Wednesday that nearly every issue in that agreement has been resolved.
After the meeting, Badain offered some insights into how Sisolak motivated the Raiders and other shareholders to move ahead on the community benefits plan and the UNLV agreement.
"I think he (Sisolak) saw some stagnation in the process," Badain said. "He asked everybody to get together. You know him, he's not shy. We all got together last week and had some discussions and he took part in those discussions. His involvement was very helpful on all sides."
Board member Ken Evans praised the Raiders, attorneys and community groups that redlined a proposed 11-page document, adding language that specifies a collaborative process to assure that minorities, women, veterans, gay and lesbian organizations, faith-based groups and union laborers be qualified to win priority as subcontracts for stadium construction and for provisions and game-day jobs.
The document sets a goal of no less than 38 percent of construction workforce hours performed by minority and female workers through prime contractors Mortenson Construction and McCarthy Builders.
Board Chairman Steve Hill asked members to consider which one of them would represent the authority on a seven-member oversight panel that will monitor how the plan is enacted. The selection of the panel leader could come in January.
Board members also received an update on the land dedication agreement that will turn the stadium over to the authority once it is built and a non-relocation agreement that ensures the Raiders will stay in Las Vegas for at least 30 years.
The 11-page land dedication document includes five additional exhibits with a legal description of the land, terms of the deed and a list of definitions.
The Raiders own the land and will build the stadium, but once it is completed, the land will be turned over to the authority and the stadium will be leased back to the team at no charge.
The 17-page non-relocation agreement spells out that the Raiders must play all but one of its home games at the stadium, giving the team the ability to play in Mexico or London as the league looks to become more popular internationally.
Terms say the agreement would be transferred to a new owner if the franchise is sold, and it imposes stiff penalties on the team if it is found in violation.
Badain called the agreement fair to all sides and said the agreement provides long-term assurances to the public.
Contact Richard N. Velotta at rvelotta@reviewjournal.com or 702-477-3893. Follow @RickVelotta on Twitter.
Getting together with UNLV
Raiders President Marc Badain gave new insights into how the UNLV Joint-Use Agreement finally came together.
"They're protective of their interests, we're protective of ours, but it was important to us to have UNLV be a part of this," Badain said. "(Raiders owner) Mark's (Davis) developed a very strong relationship with (UNLV) President (Len) Jessup, as have I. Their athletic director (Desiree Reed-Francois) worked for us at one point and we have a lot of respect for (UNLV football) Coach (Tony) Sanchez, so it's important to us for this stadium, this project, to really elevate UNLV to that next level, so we wanted to get it done," he said.
"It was a long negotiation, it's still ongoing, but we've made a lot of progress and there's a very good relationship between the parties."