Gov. Sandoval plans to call special session for proposed Raiders stadium
September 21, 2016 - 8:06 pm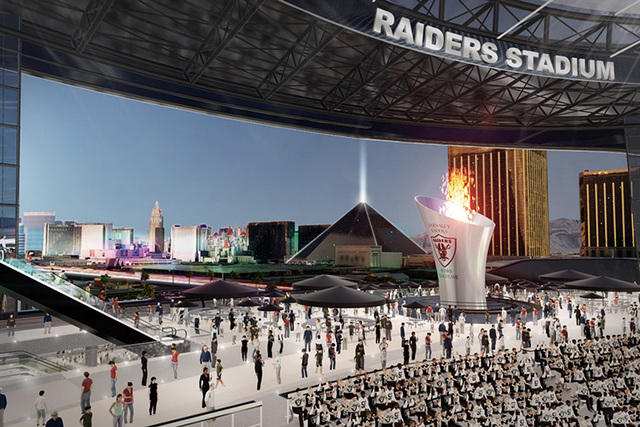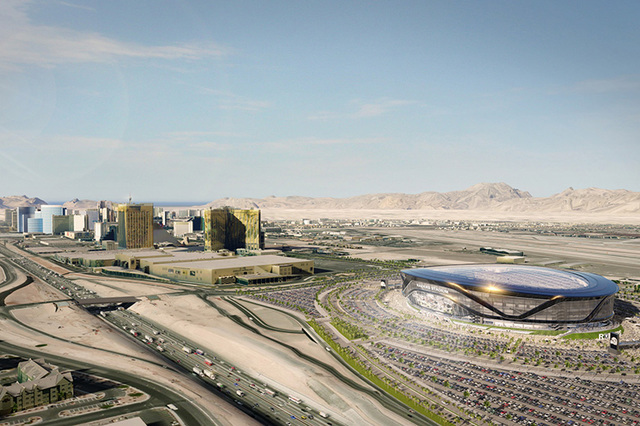 CARSON CITY — Gov. Brian Sandoval on Wednesday said he will call a special session of the Legislature in early October to consider a package of recommendations for Clark County that include building a 65,000-seat football stadium, expanding the Las Vegas Convention Center and paying for more police officers.
In a statement, Sandoval endorsed the proposals sent to him last week by the Southern Nevada Tourism Infrastructure Committee. They call for an increase in the county hotel room tax to finance $750 million in stadium construction costs over 33 years. The deal would require the family of Las Vegas Sands Corp. Chairman Sheldon Adelson, Majestic Realty and the NFL's Oakland Raiders to pay the remainder of the construction costs and any cost overruns.
The special session would begin "no earlier than Friday, Oct. 7 and no later than Thursday, Oct. 13, pending conversations with legislative leadership," Sandoval said.
Any tax increase would require a two-thirds vote for passage — 14 votes in the Senate and 28 in the Assembly.
"I am convinced that, given the circumstances and timing with regard to public safety, the convention center, and the NFL, there is an opportunity to significantly improve the tourism infrastructure of Southern Nevada — already the best in the world," Sandoval said.
"Based on the current environment, I believe a special session of the Legislature is warranted and should be called as soon as can be practicably accomplished," he said.
Adelson has pledged at least $650 million, while the Raiders would pay $500 million. The stadium could also become home to UNLV's football team.
Sandoval said he met with Raiders owner Mark Davis this week, and called Davis "committed and resolute in the team's interest in relocating to our state."
Sandoval also said he spoke with Clark County Commission Chairman Steve Sisolak, Clark County Sheriff Joe Lombardo, Las Vegas Convention and Visitors Authority President Rossi Ralenkotter, along with gaming and labor leaders.
The proposal would increase Clark County's room tax by 0.88 percentage points along the main casino corridor and 0.5 percentage points in outlying areas. The current rate is 10 percent to 12 percent, depending on location and type of lodging facility.
Another piece of the package is a 0.5 percentage-point room tax increase to fund a $1.4 billion expansion and upgrade to the convention center.
The tourism infrastructure committee also recommended a sales tax increase to pay for more police officers in Las Vegas.
"We have before us the opportunity to invest in Nevada's most foundational industry, tourism, by providing for the infrastructure and public safety needs of the 21st century," Sandoval said. "We can and must usher in a new era for tourism in the Las Vegas market, while keeping our citizens and visitors safe, and ensuring our position as the global leader in entertainment and hospitality."
The Clark and Washoe county commissions next week are scheduled to appoint members to fill the five vacant legislative seats in anticipation of the special session, prompting Sandoval to push the possible dates into October.
"I feel strongly that any newly appointed or current legislators should be given enough time to review the recommendations and conduct their own due diligence and to allow for ample time to prepare for a special session of the Nevada Legislature." Sandoval said.
The Review-Journal is owned by the family of Sheldon Adelson, chairman and CEO of Las Vegas Sands Corp.
Contact Sean Whaley at swhaley@reviewjournal.com or 775-461-3820. Follow @seanw801 on Twitter. Contact Sandra Chereb at schereb@reviewjournal.com or 775-461-3821. Follow @SandraChereb on Twitter.
RELATED
Nevada legislators awaiting more details on Las Vegas stadium issue
Investment group offers to buy Oakland Coliseum to keep Raiders from moving
Oakland Raiders owner Mark Davis says 'everybody wins' in Las Vegas stadium vote
Las Vegas committee sends Raiders stadium plan to governor