Land for proposed stadium site in Las Vegas being sold by bank group
August 26, 2016 - 4:34 pm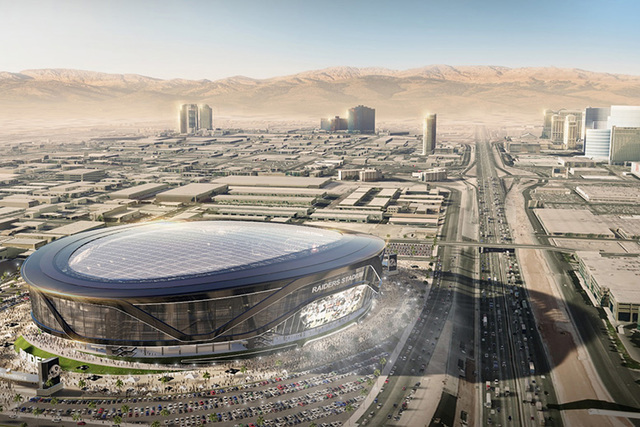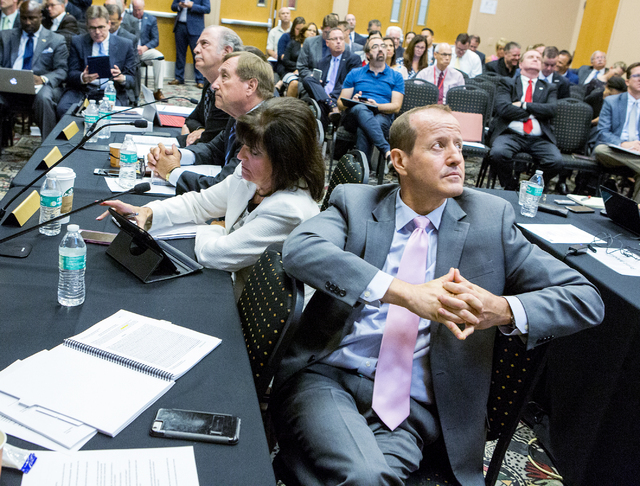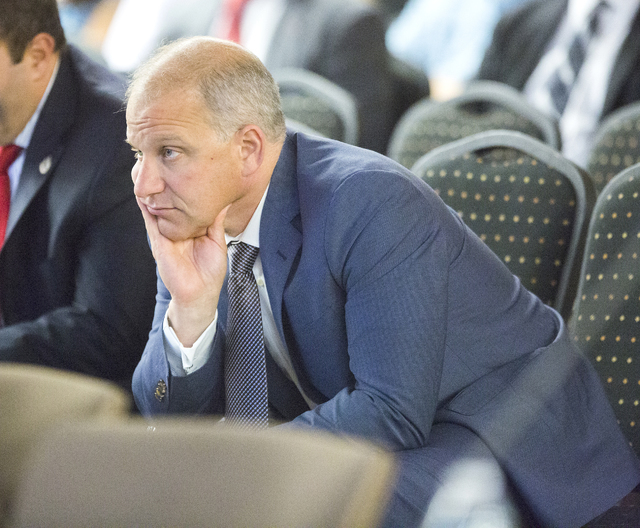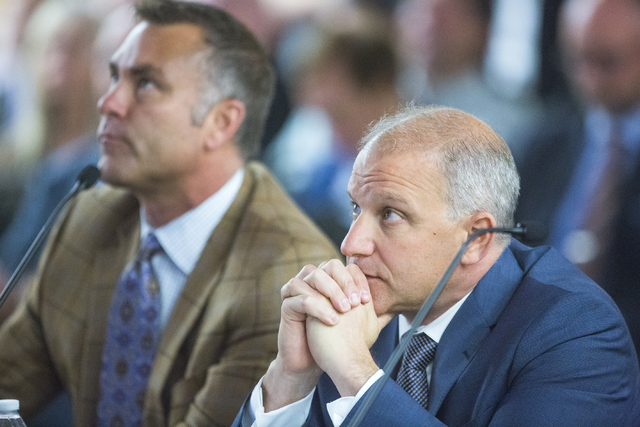 The 62 acres identified as the top choice for a $1.9 billion, 65,000-seat domed football stadium is being sold by a consortium of banks that foreclosed on the land in 2009.
The Oakland Raiders reportedly have an option to buy four parcels between Russell Road and Hacienda Avenue between Polaris Avenue and Dean Martin Drive. It's just west of Interstate 15 and Mandalay Bay.
The sale includes parcels that include 29.2 acres on the south portion, 26.51 acres on the north portion, a 4.16-acre lot on the northwest corner and a 2.71-acre lot on the northeast corner. The unoccupied land had a listed value of $40 million, but the Raiders have not announced a purchase price.
The Raiders are partnering with Las Vegas Sands Corp. and Majestic Realty to build a stadium in Southern Nevada. The Raiders would ask the National Football League for permission to relocate the franchise from Oakland to Las Vegas if a stadium could be built.
In Thursday's meeting of the Southern Nevada Tourism Infrastructure Committee, the Raiders indicated their intent to spend $375 million on land, infrastructure and site costs.
The managing members of Nevada Land Group LLC, as filed with the Nevada secretary of state's office, include Barclays Bank PLC, New York; Credit Suisse Management LLC, New York; High Floating Rate Opportunities Fund of Highland Capital Management LP, Dallas; and Nexbank SSB, Dallas.
According to county records, the banks foreclosed on the land after a breach in December 2008 by Weststate Land Partners.
In the past, the land has been identified as a site for a 2-million-square-foot International Fashion Center with 2,000 showrooms, developed in a concept similar to the World Market Center for furniture in downtown Las Vegas.
In recent years, it also has been viewed as a potential site for a train station for the XpressWest high-speed rail line that would link Las Vegas with Southern California via Victorville and Palmdale, California.
Representatives of XpressWest could not be reached for comment.
When the train station was under consideration, planners had eyed extending the Las Vegas Monorail south from the MGM Grand to the Mandalay Bay Convention Center and across I-15 to the train station.
A spokeswoman for the monorail said the company would explore extending the line to the stadium if it's built.
The Review-Journal is owned by a limited liability corporation owned by the family of Sands chairman and CEO Sheldon Adelson.
Contact Richard N. Velotta at rvelotta@reviewjournal.com or 702-477-3893. Find him on Twitter: @RickVelotta
RELATED
Developers identify preferred site and proposed budget of $1.9B stadium
Reid declares support for stadium, Raiders' move to Las Vegas
Adelson challenges Murren, calls Las Vegas stadium higher priority than convention center upgrade