Las Vegas Raiders stadium 30% complete a year after groundbreaking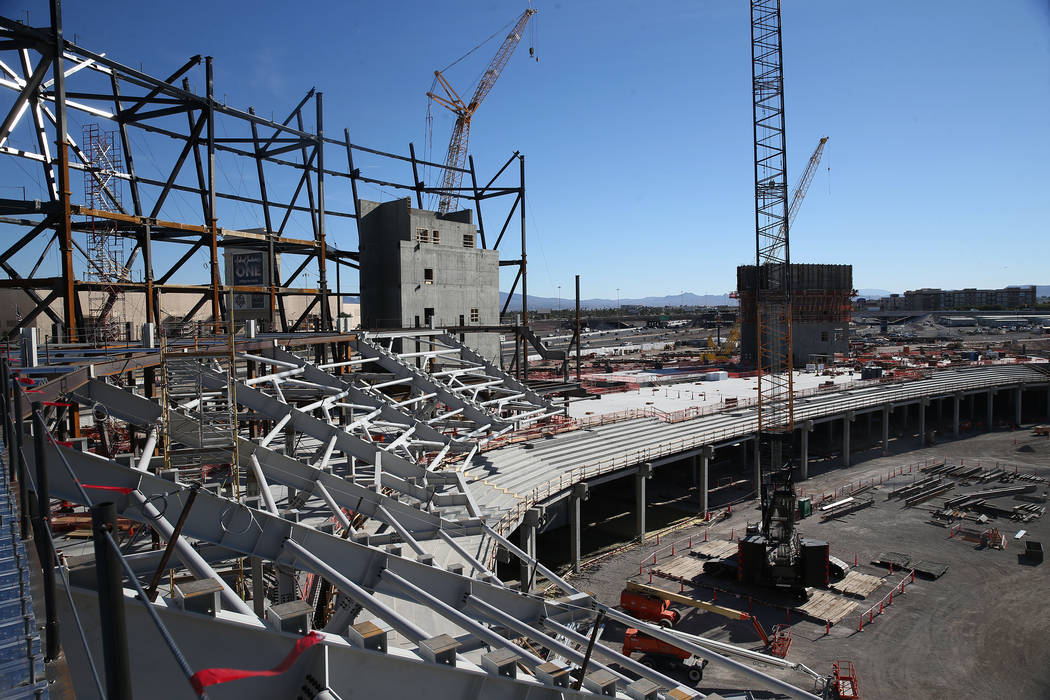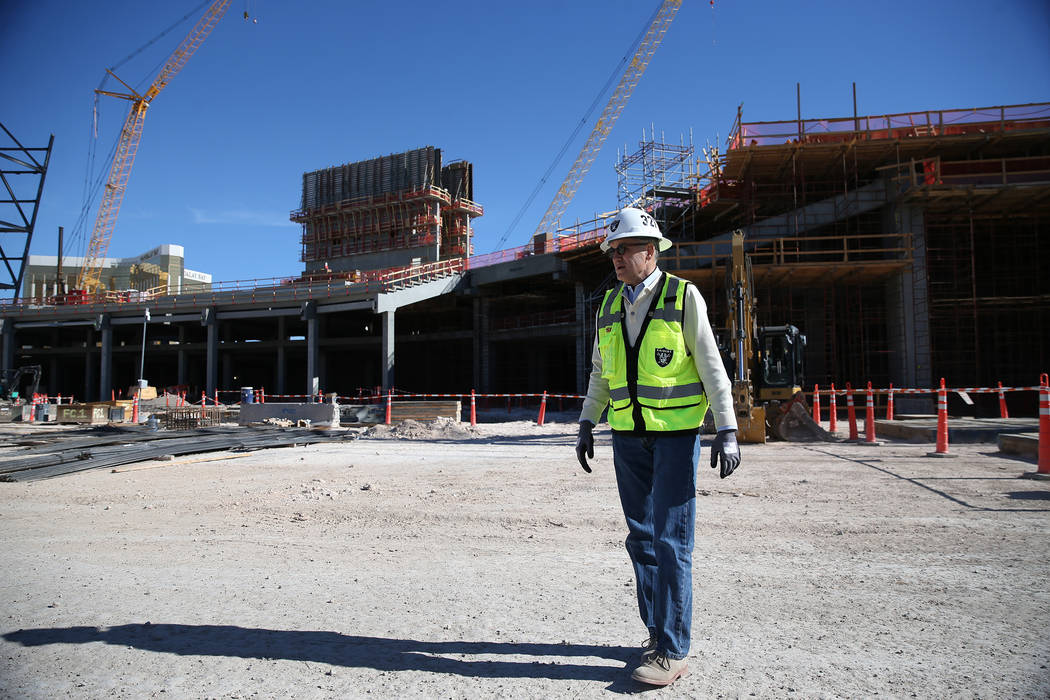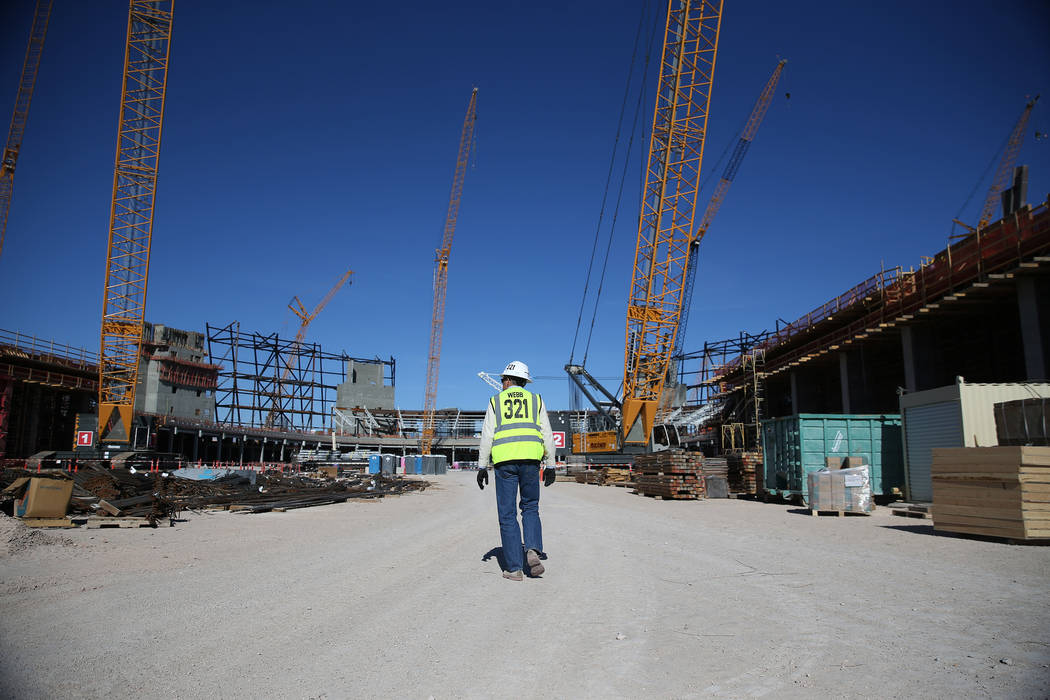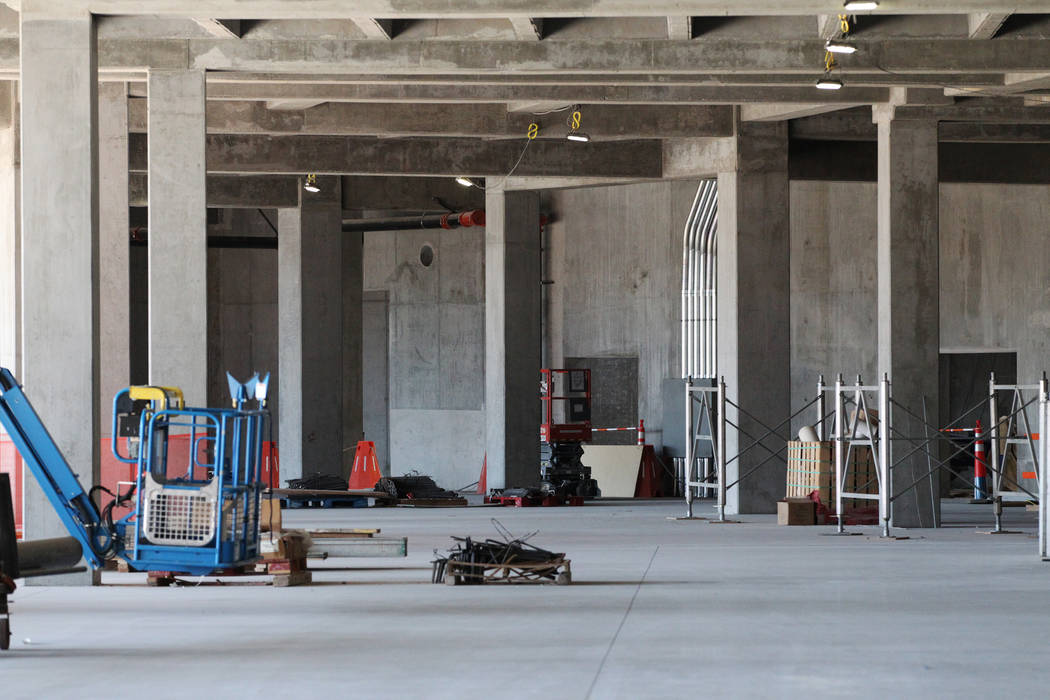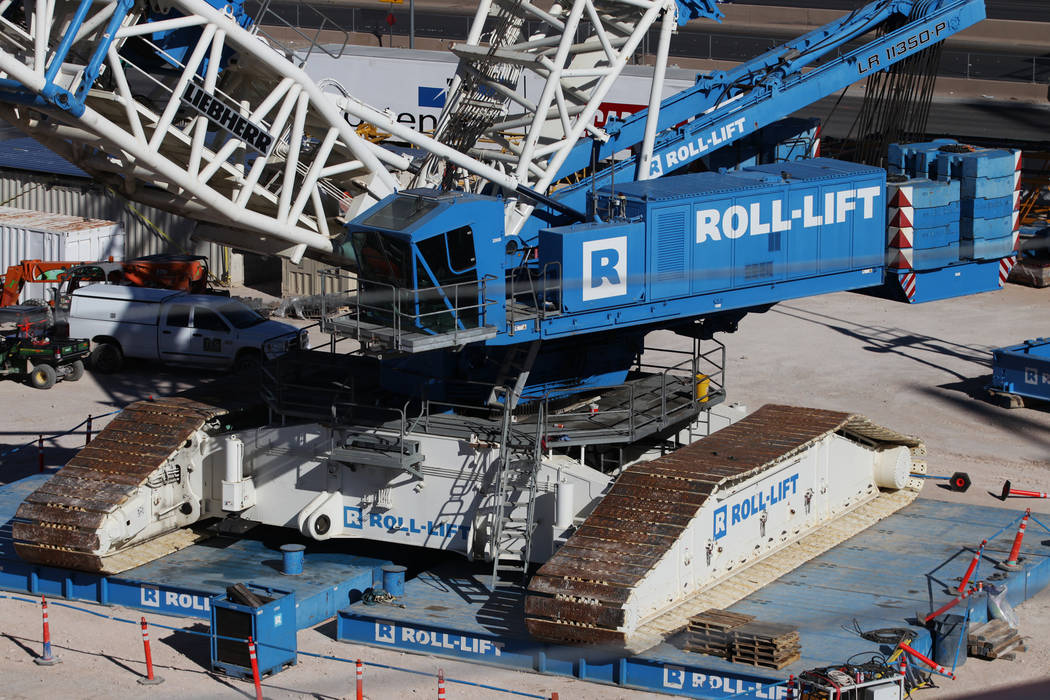 It was eerily quiet at the Las Vegas stadium construction site Monday.
A few surveyors combed the area, taking readings.
But construction workers were able to take the Veterans Day holiday off on a day of the week usually filled with pounding, pouring and moving tons of steel into position for the next job sequence.
The sound of cranes and earthmovers was replaced Monday with bird songs emanating from hidden perches within the inner reaches of three levels of stadium features now in the earliest stages of completion.
The building, currently about 80 feet high, is only half as tall as it eventually will be. Cranes are positioned to begin assembling the first of the two biggest cranes in the world that will be needed to lift the stadium's feature attraction — the translucent ceiling that will soar 150 feet above the stadium floor.
LIVECAM:
Monitor the progress of Las Vegas Stadium in this view looking south toward the construction site.
A year since the celebration
Don Webb, chief operating officer of StadCo, the Raiders' stadium construction subsidiary, can't believe that it was one year ago Tuesday that hundreds of people gathered for a ceremonial groundbreaking of the $1.8 billion project that will turn Las Vegas into an NFL city and provide a venue that could host dozens of events the city has never before been able to invite.
"It's almost Dickensian, you know, 'A Tale of Two Cities,' the best of times, the worst of times," Webb said from his trailer office Monday. "It seems like in one respect it's been only a month or two, and then in another respect, it seems like eight or 10 years. It has gone by really quickly and in some respects, it just seems like, 'Wow, has it only been a year since we broke ground?'"
But it has.
It was Nov. 13, 2017, when team executives joined Gov. Brian Sandoval and NFL Commissioner Roger Goodell in an hour-long ceremony that included a stirring tribute to the 58 people who died a month and a half earlier less than a mile away at a country music festival.
"Only in Vegas can you turn a groundbreaking ceremony into a show," Goodell said at the time. "The Raiders hold a special place in the hearts of football fans around the world, and we appreciate how they've been embraced by the state of Nevada and the city of Las Vegas."
A year later, the stadium project is about 30 percent completed, right on schedule, according to Webb. He's confident enough in the schedule that workers were granted the Veterans Day holiday off as planned. Webb said there's enough elasticity in the schedule to do that, but if work were to get behind, crews could work weekends or in second shifts to catch up.
About 900 workers are on the site daily and another 100 administrators are in offices in temporary trailers just south of the stadium.
Webb said work is continuing to go vertical and pieces of one of two cranes capable of lifting 2,000 tons are being assembled just north of the stadium for one of the most challenging parts of the job — assembling the roof structure.
That won't occur until next year, and once the stadium is enclosed another 250 craftsmen and women will join the stadium workforce for the detailed work inside.
Two boards meet Wednesday
In the meantime, administrators will continue to guide direction and policy for the stadium.
On Wednesday, the Southern Nevada Sporting Event Committee is scheduled to have its penultimate meeting to make recommendations to Gov. Brian Sandoval, Gov.-elect Steve Sisolak and the Nevada Legislature on how the scheduling of major events at the stadium and other venues should occur.
Wednesday afternoon, the Las Vegas Stadium Authority will have its last scheduled meeting of 2018 with a discussion on management plans for the stadium's two big openings — the lanai doors opening out toward the Strip and the field tray that will be wheeled into place for Raiders home games.
Those two features won't be built until sometime in 2019.
But construction is well on its way.
Contact Richard N. Velotta at rvelotta@reviewjournal.com or 702-477-3893. Follow @RickVelotta on Twitter.