Raiders stadium project for Las Vegas clears Nevada Senate in 16-5 vote
October 11, 2016 - 7:05 pm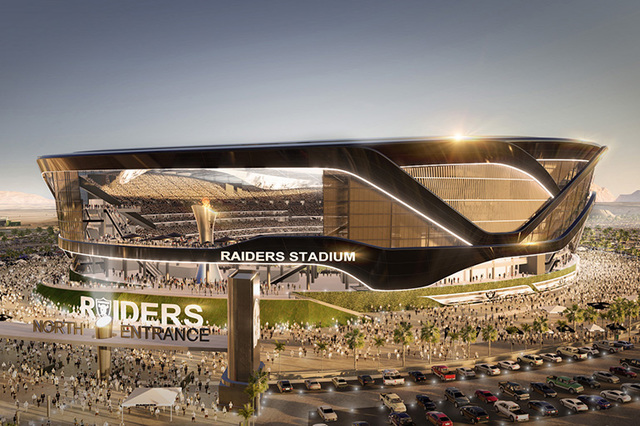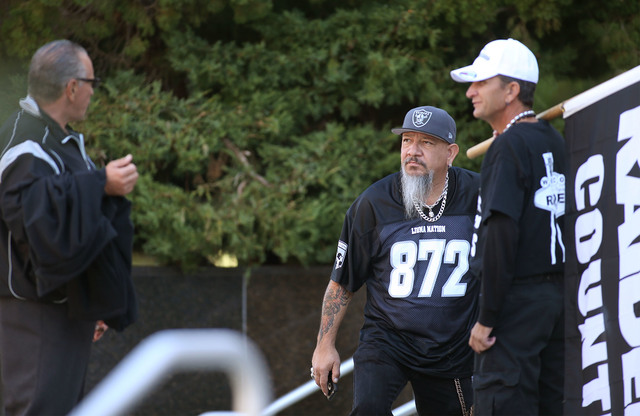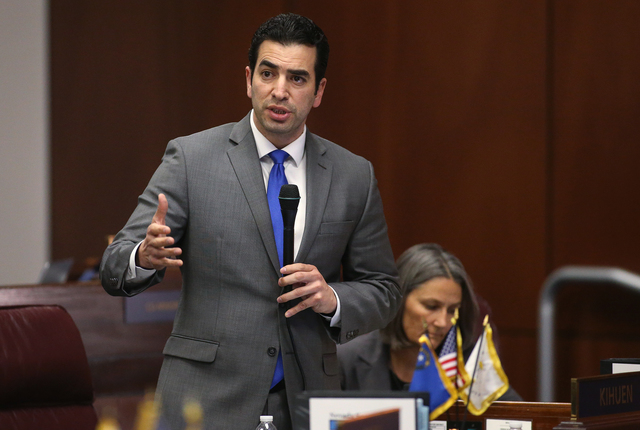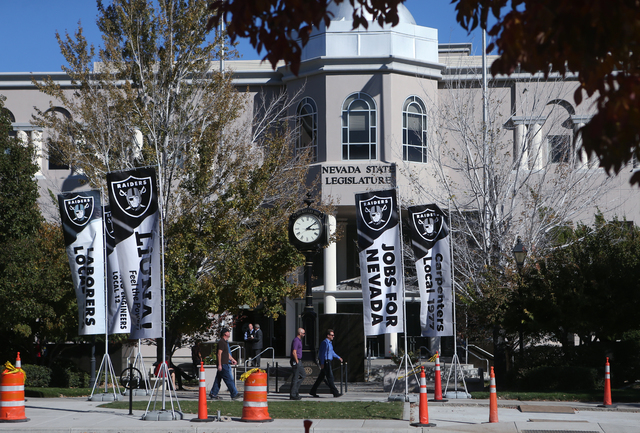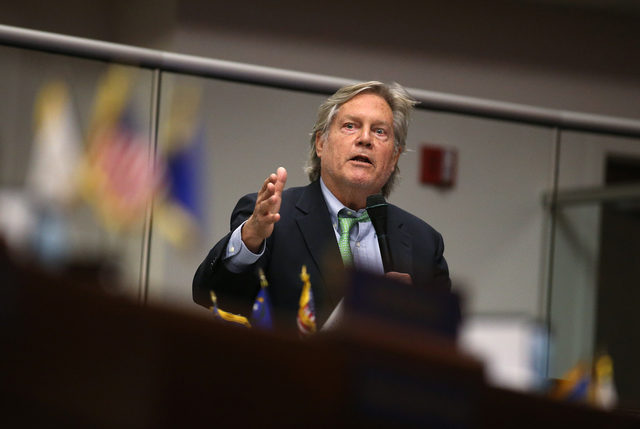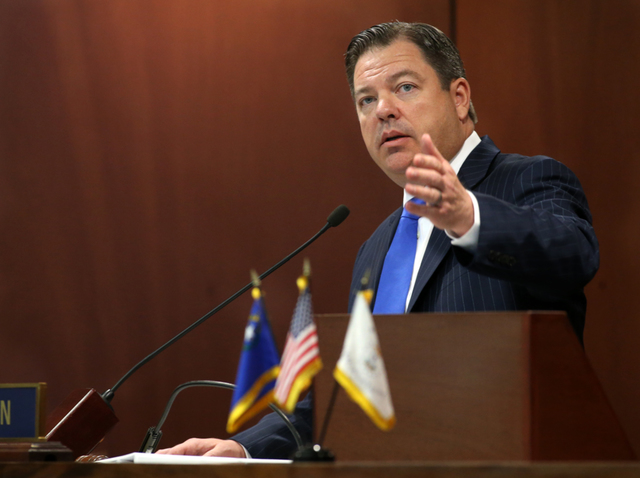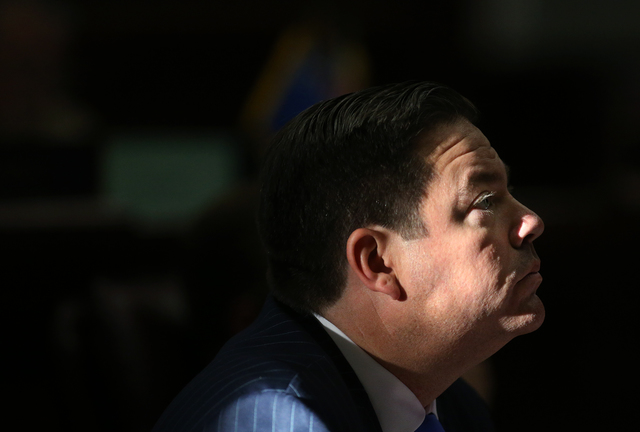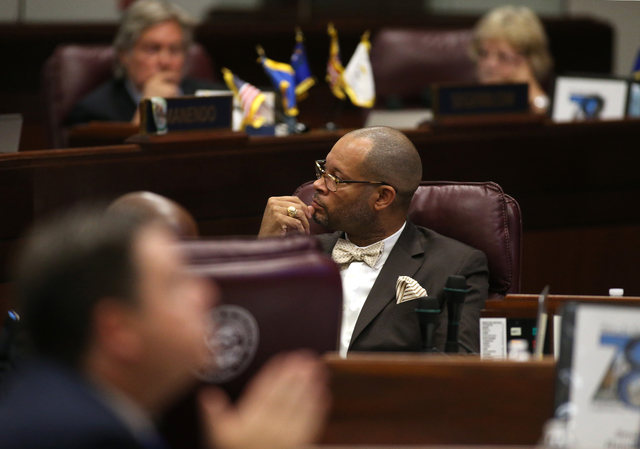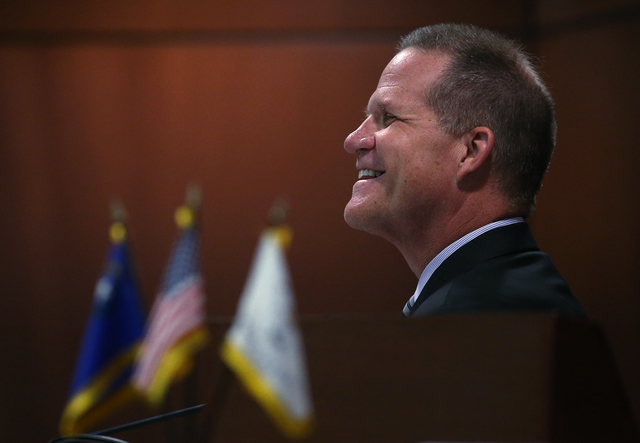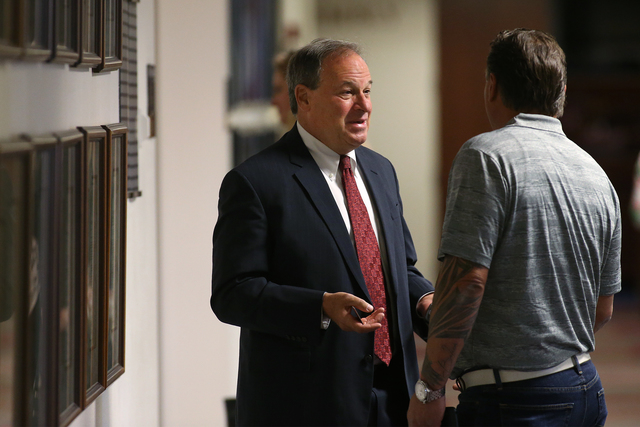 CARSON CITY — The Nevada Senate on Tuesday amended and passed a bill raising room taxes in Clark County to help fund a domed stadium and convention center improvements in Las Vegas.
Senators approved Senate Bill 1 on a vote of 16-5, clearing the 14-vote threshold needed to pass a tax increase. The bill now moves to the Assembly.
Tuesday's action capped the second day of a special session called by Gov. Brian Sandoval to consider the tax hikes and usher in what the Republican governor described as an opportunity to take Las Vegas to a new level as an international entertainment destination.
It also ended a long day of behind-the-scenes negotiations and passionate discussion as critics derided the public financing as corporate welfare and supporters hailed the thousands of jobs the projects would generate.
SB1 raises lodging taxes mostly paid by tourists to help pay for a $1.9 billion domed stadium backed by the family of Las Vegas Sands Corp. Chairman Sheldon Adelson. The 65,000-seat stadium, to be built at a yet to be determined site, is the proposed future home of the NFL's Oakland Raiders and UNLV football teams. Mark Davis, owner of the Raiders, has said he will seek to bring the team to Las Vegas if the stadium is built.
The bill would boost the room tax rate by 0.88 of a percentage point to finance $750 million in general obligation bonds over 30 years. Adelson has pledged $650 million; the Raiders have committed $500 million.
A separate provision would add another 0.5 percentage point increase to fund $400 million of a $1.4 billion upgrade to the Las Vegas Convention Center.
Both the Senate and Assembly recessed by sunset Tuesday in observance of Yom Kippur. The Assembly must still vote on a separate bill authorizing the Clark County Commission to raise the sales tax for more police officers. Both chambers will reconvene Thursday.
SPIRITED DEBATE
But it was the stadium that sparked the most debate from the public and lawmakers, many of whom questioned why public dollars were being used to fund a project with wealthy backers.
Critics also said Nevada, facing a potential $400 million budget shortfall in the next budget cycle, has more pressing needs for its tax dollars, such as education and human services.
"This is a decision we have to make knowing that somebody's going to be mad," Senate Minority Leader Aaron Ford, D-Las Vegas, said as he spoke in favor of the bill.
He said he was moved by the testimony from laborers and construction workers who've struggled to find employment since the Great Recession crippled Nevada's construction industry.
"It's not the lobbyists who persuaded me," he said of his yes vote. "It's my constituents."
State Sen. Ruben Kihuen, D-Las Vegas, said multiple concerns with the bill prompted his no vote.
"It was bad public policy overall," he said. "We've seen in many, many studies that stadiums are not good public policy."
Kihuen said another concern was giving a $750 million "taxpayer handout to a multi-billionaire who can easily pay for this from his own pocket." Kihuen is running for the 4th Congressional District seat held by Republican Cresent Hardy.
Two years ago, Kihuen backed a publicly funded soccer stadium in downtown Las Vegas. "As I mentioned in my remarks, I am not against public-private partnerships for stadiums," he said.
The subsidy for the soccer project was far less, around $50 million to $100 million, and did not involve a subsidy for a billionaire, Kihuen said.
Democratic Sens. Julia Ratti of Sparks and Tick Segerblom of Las Vegas also voted no, as did Republican Sens. Pete Goicoechea of Eureka and Don Gustavson of Sparks.
Supporters pointed to the $620 million in annual economic activity the stadium is projected to generate, along with thousands of jobs it's expected to create.
State Sen. Patricia Farley, R-Las Vegas, initially questioned using tax dollars to fund the stadium project, but supported it because of the opportunity to bring "thousands of jobs" to Southern Nevada.
"I do rise with a divided heart, but I'm going to cast my vote as yes," she said. But Farley and others who voted in favor of the bill urged their colleagues to remember Nevada's other needs when distributing tax dollars in the 2017 legislative session that begins in February.
PROJECT MANDATES
The bill was amended to include a mandate that at least 15 percent of subcontractors hired for the projects go to local small businesses. In addition, it requires a stadium community oversight committee to ensure diversity in the project workforce.
The amendment also removed $4 million in annual room tax proceeds that would have been funneled to Clark County police. Lawmakers are debating a separate measure to raise the sales tax to hire more officers for Southern Nevada.
The decks cleared for the stadium and convention center bill on another front Tuesday when the Republican members of the Assembly, meeting behind closed doors in a caucus, rejected a proposal to hold up the measure until education savings accounts were addressed.
A number of lawmakers wanted to consider a short-term funding solution to get the ESA program up and running in the special session after a court ruled the program was constitutional. But Assemblyman Ira Hansen, R-Sparks, who pushed the suggestion in the meeting, said the effort failed.
Without the ESA issue in play, the focus of the special session continued without any other distractions.
Economic development and Nevada casino power brokers on Monday praised the legislation as a bold step needed to ensure Nevada remains a top global tourism and convention destination.
Critics had their turn Tuesday and denounced the proposal and lawmakers for rushing the process to appease wealthy backers.
Clark County Commissioner Chris Giunchigliani argued the convention center improvements were "hijacked" by Adelson to force a vote on both projects.
"There's something very, very flawed with this," Giunchigliani said in public testimony.
"Let the people who have the money build it. Don't put us on the hook with (general obligation) bonds."
The Review-Journal is owned by the family of Sheldon Adelson, chairman and CEO of Las Vegas Sands Corp.
Contact Sandra Chereb at schereb@reviewjournal.com or 775-461-3821. Follow @SandraChereb on Twitter. Contact Sean Whaley at swhaley@reviewjournal.com or 775-461-3820. Follow @seanw801 on Twitter.
RELATED
Gov. Brian Sandoval must feel confident that stadium deal will pass
Governor welcomes debate over Las Vegas stadium plan, touts project's benefits
Steve Wynn, MGM's Jim Murren believe stadium would spur sports growth
Casino chiefs urge Nevada lawmakers to fund proposed Raiders stadium in Las Vegas