Sisolak confident Las Vegas Raiders stadium will be built by 2020
Updated April 20, 2017 - 7:52 pm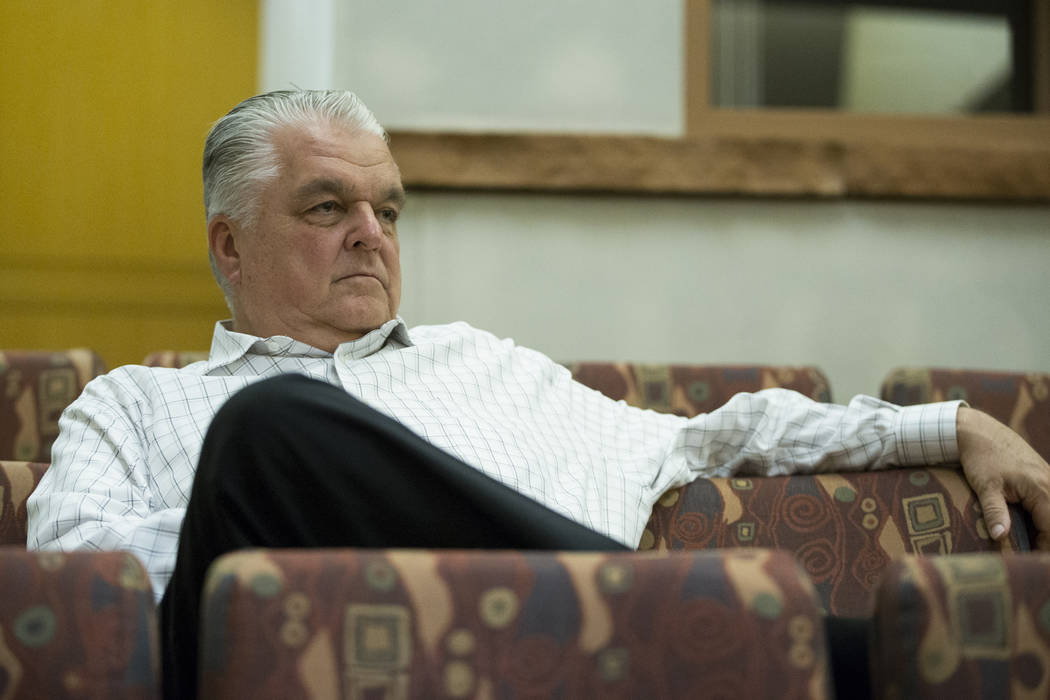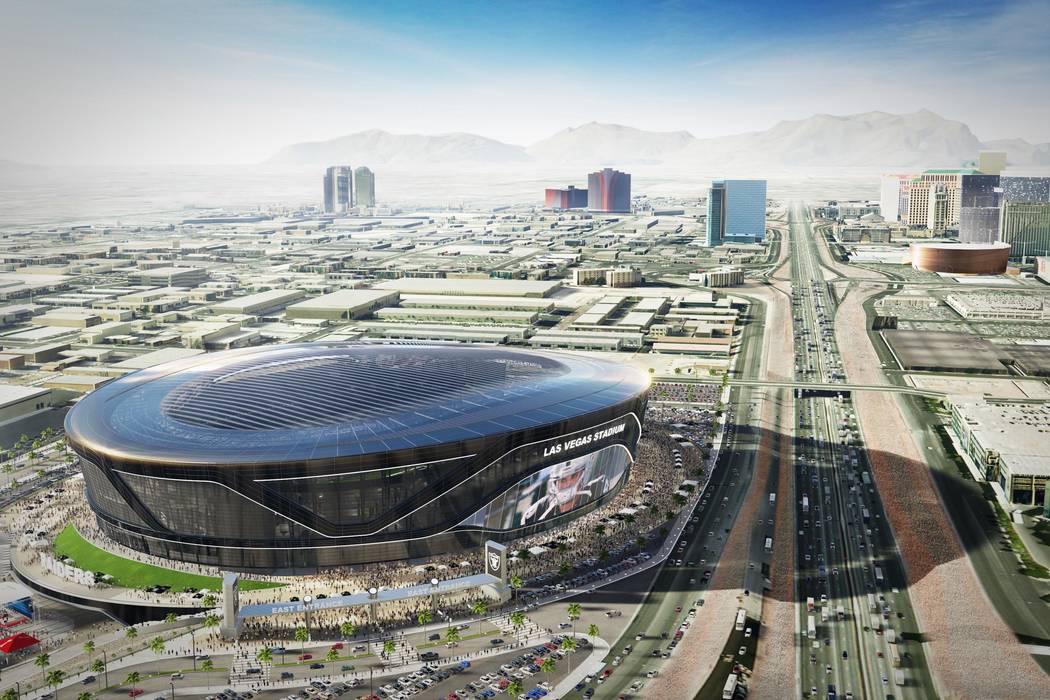 Clark County Commission Chairman Steve Sisolak emerged from a closed-door meeting Thursday and declared that he is "confident" the Raiders will play in a new stadium by the start of the 2020 NFL season.
To make that happen, Sisolak said he will "implore" local transportation agencies to accelerate previously planned road improvements, adding that the Raiders will pay a share of costs for projects specific to the stadium.
"It's tight, there's no wiggle room, there's no room for error, but it it can be done in time to be open for the 2020 season," Sisolak said after toggling between the public Las Vegas Stadium Authority meeting and a private gathering with Raiders team representatives.
"But that means we have to get to work quickly," Sisolak said. "I'm confident we can make it happen."
Additionally, the Raiders plan to file "very soon" for a height-requirement review with the Federal Aviation Administration — most likely for the team's preferred 62-acre site on Russell Road, just west of Interstate 15, Sisolak said.
Due to the site's proximity to McCarran International Airport, the report is expected to uncover potential problems related to height, lighting and after-game fireworks at the stadium.
There is not a set timeline to complete such reviews, but it took "well over a year" to resolve radar interference issues at Los Angeles International Airport that were caused by the height of the Rams' new stadium in Inglewood, FAA spokesman Ian Gregor said. In that case, the Rams agreed to install a secondary aircraft tracking system on the stadium.
"You can't draw parallels between sites because they are unique and may pose different challenges," Gregor said. "Until someone files a proposal for a stadium, we have no way of knowing what effects it might have on air traffic."
'Raiders will pay'
Roughly 70 people attended the private meeting held by Sisolak, including a dozen Raiders representatives, county workers from "nearly every department" and officials with the Nevada Department of Transportation and the Regional Transportation Commission of Southern Nevada.
NDOT spokesman Tony Illia said that roughly $200 million in improvements along Interstate 15 were "barely discussed" Thursday afternoon.
NDOT is planning to reconfigure the Tropicana Avenue interchange at I-15, along with a separate project to build a direct-access ramp that would connect a new carpool lane on I-15 to Harmon and Hacienda avenues.
Environmental assessments for those projects could take about two years, with construction starting around 2020. NDOT has said there are no immediate plans to accelerate those projects, even though construction would overlap with the Raiders' first few seasons at the new stadium.
"I'm going to implore NDOT and the RTC that the projects move up on the list," Sisolak said.
NDOT is studying whether to sell bonds for the improvements, while several RTC board members have said that the Raiders should contribute.
"The Raiders will pay for their share of the road improvements," Sisolak said. "I don't have a number on how much it's going to be. Anything additional in specific to the stadium will be their responsibility."
Separately, the RTC and Clark County Public Works Department are studying several "backdoor entrances" to the stadium for drivers arriving from Russell and Hacienda, officials said. County officials are also examining how to improve traffic flows between the 215 Beltway and the stadium.
Preliminary cost estimates for county road improvements were not immediately available.
RTC General Manager Tina Quigley said she plans to study transportation projects built in other cities with an NFL stadium. So far, she said the Raiders have recommended San Diego and Minneapolis, with more on the way.
"We asked them to give us some mentor cities we can turn to, contact and ask about lessons learned and provide us with some advice as we prepare for this really huge project for Southern Nevada," Quigley said after the meeting.
Contact Art Marroquin at amarroquin@reviewjournal.com or 702-383-0336. Follow @AMarroquin_LV on Twitter.
Road improvement costs
Clark County Commissioner Steve Sisolak says the Raiders will pay an unspecified share of costs for projects specific to the stadium. The Nevada Department of Transportation is planning $200 million in improvements on Interstate 15, near the stadium site. Preliminary cost estimates were not immediately available for Clark County's share of street improvements.