Las Vegas freeway projects would clash with Raiders stadium opening in 2020
Updated April 10, 2017 - 9:17 pm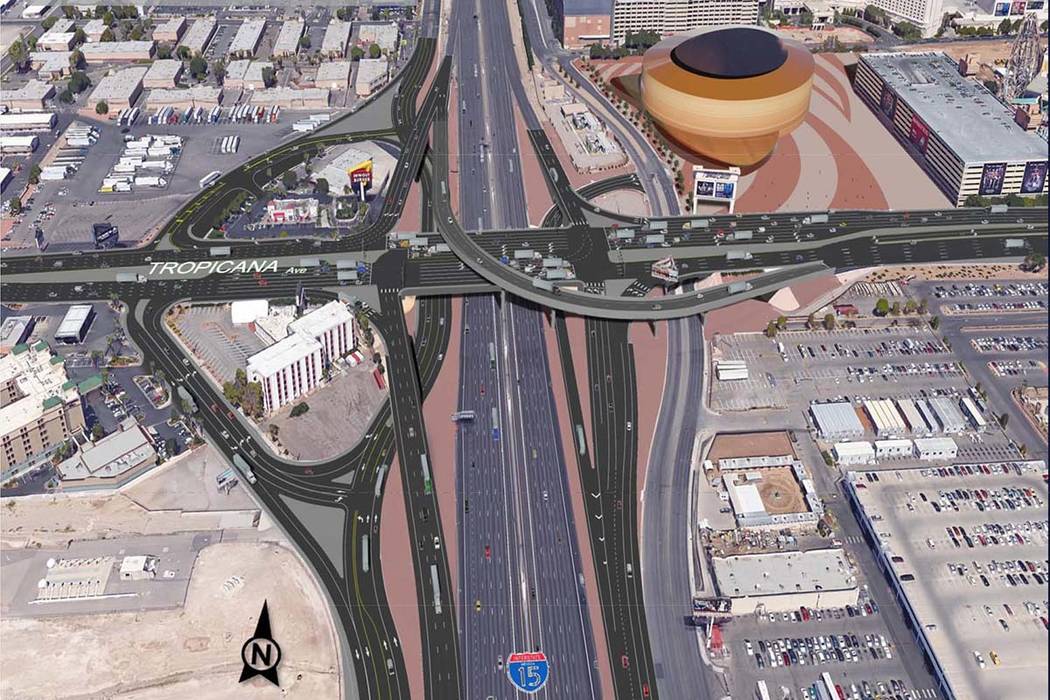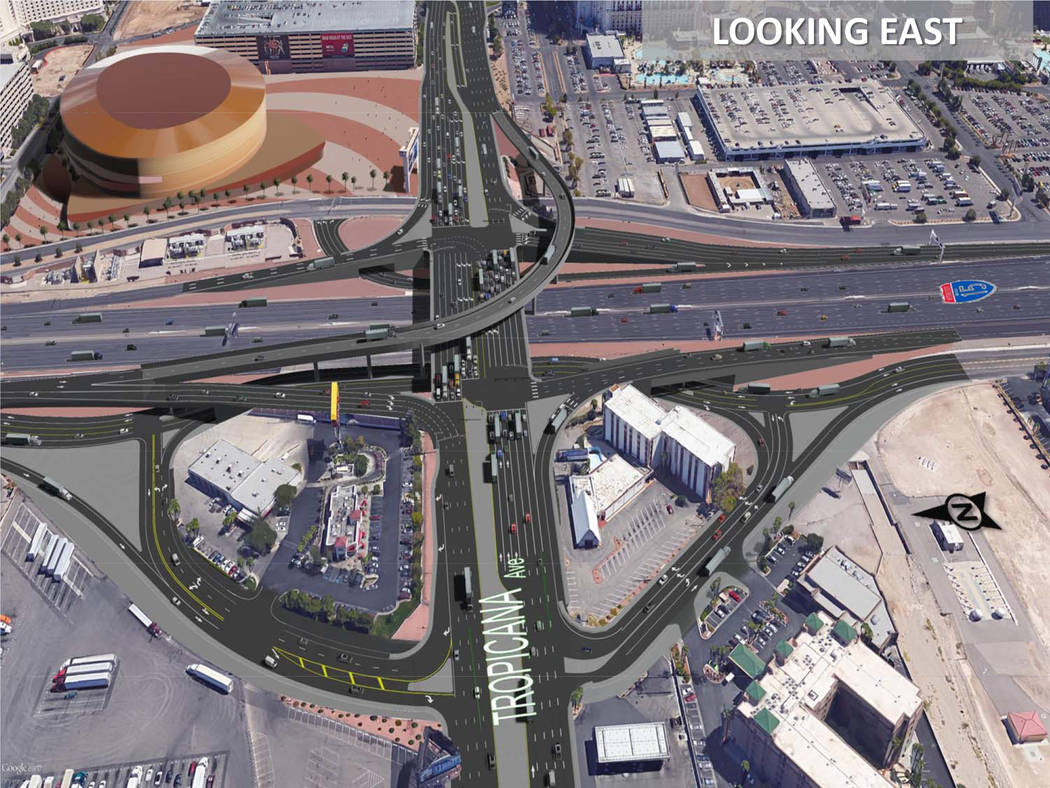 Raiders fans can expect to run into some major road work during the NFL team's first few seasons should a new stadium be built on Russell Road, just west of Interstate 15.
Construction could start as soon as 2020 on several freeway improvements meant to relieve traffic around that stadium site, coinciding with the Raiders' targeted move-in date, the Nevada Department of Transportation said Monday.
There are no immediate plans to accelerate any of the projects, estimated at $200 million, NDOT spokesman Tony Illia said.
"If we can do that for that amount of money, then we should do it," NDOT board member Tom Skancke said.
Clark County Commissioner Larry Brown, however, said Monday he believes there will soon be a call to accelerate millions of dollars worth of projects planned for I-15 and areas around the new stadium.
"Once the stadium site is selected, I'm optimistic that most of the major freeway and surface road improvements adjacent to and in support of the stadium can be completed by the time of opening kickoff," said Brown, who serves as chairman of the Regional Transportation Commission of Southern Nevada's board of directors.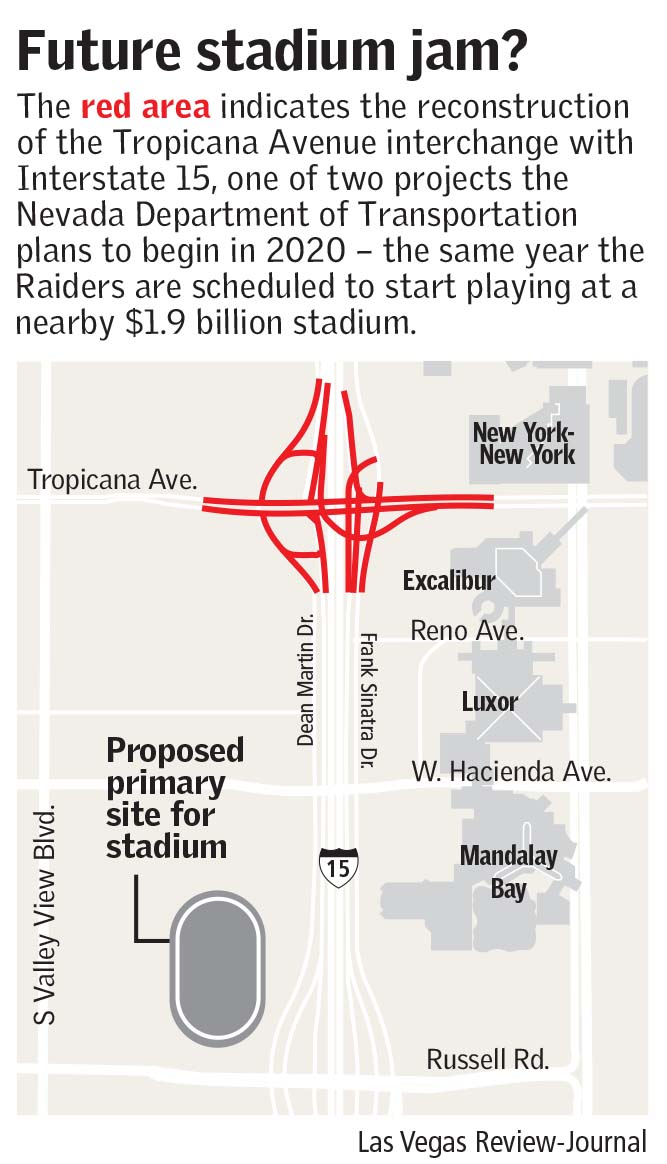 "NDOT has the money banked," Brown said. "Projects like this would be deemed critical, and we can accelerate them."
It could take about two years to complete environmental studies for a reconfiguration of the Tropicana Avenue interchange at I-15, NDOT Director Rudy Malfabon said. A separate project calls for building direct-access ramps that would connect a new carpool lane on I-15 to Harmon and Hacienda avenues.
Once the environmental clearances are granted, crews could start work by 2020 and complete the projects in about three years.
Separately, the RTC and Clark County Public Works Department are studying several "backdoor entrances" to the stadium for drivers arriving from Russell and Hacienda, Brown said. County officials are also examining how to improve traffic flows between the 215 Beltway and the stadium.
The stadium's developer is expected later this month to hold a briefing for several state and local agencies, Malfabon said. Although a site has not been announced, developers appear to prefer a vacant, 62-acre lot between Russell Road and Hacienda Avenue.
'No new dollars'
The projects will be paid for by state and federal money and possibly the county's fuel revenue indexing funds, NDOT officials said. Last month, several RTC board members suggested that the Raiders should pay for some of the freeway improvements.
"These projects were already in the pipeline … but people have been saying it's because of the stadium, so the stadium should pay," Malfabon said. "That's not the case here. These projects were in development to address traffic and growth in the next 20 years in that section of I-15 in Las Vegas."
A transportation report released in October recommended that NDOT should handle heavy stadium traffic by fast-tracking at least $899 million in freeway projects that were previously planned, including direct-access carpool ramps and a rebuilt Tropicana interchange.
At the time, Malfabon said some freeway projects planned for Clark County might be delayed in order to accelerate the proposed improvements surrounding the stadium.
On Monday, Gov. Brian Sandoval said that "no new dollars" are being spent on the freeway improvements and that the funds were already "programmed for that vicinity."
"There is a false narrative out there that, as a result of the construction of this stadium, it's going to cause a lot more expense when this was in our transportation plan already," said Sandoval, who serves as NDOT's board chairman.
"Obviously, we're going to have to change some things because there might be a stadium there versus an empty lot," Sandoval said. "But that is still the same money that is going to be going toward that."
Contact Art Marroquin at amarroquin@reviewjournal.com or 702-383-0336. Find @AMarroquin_LV on Twitter.
Stadium freeway improvements
$150 million to $170 million: Reconfigure Tropicana Avenue interchange at I-15
$28 million to $34 million: Direct-access ramps connecting a new carpool lane on I-15 to Harmon and Hacienda avenues
Source: Nevada Department of Transportation