Talks to continue on parking at Raiders stadium in Las Vegas
Updated July 12, 2017 - 12:09 am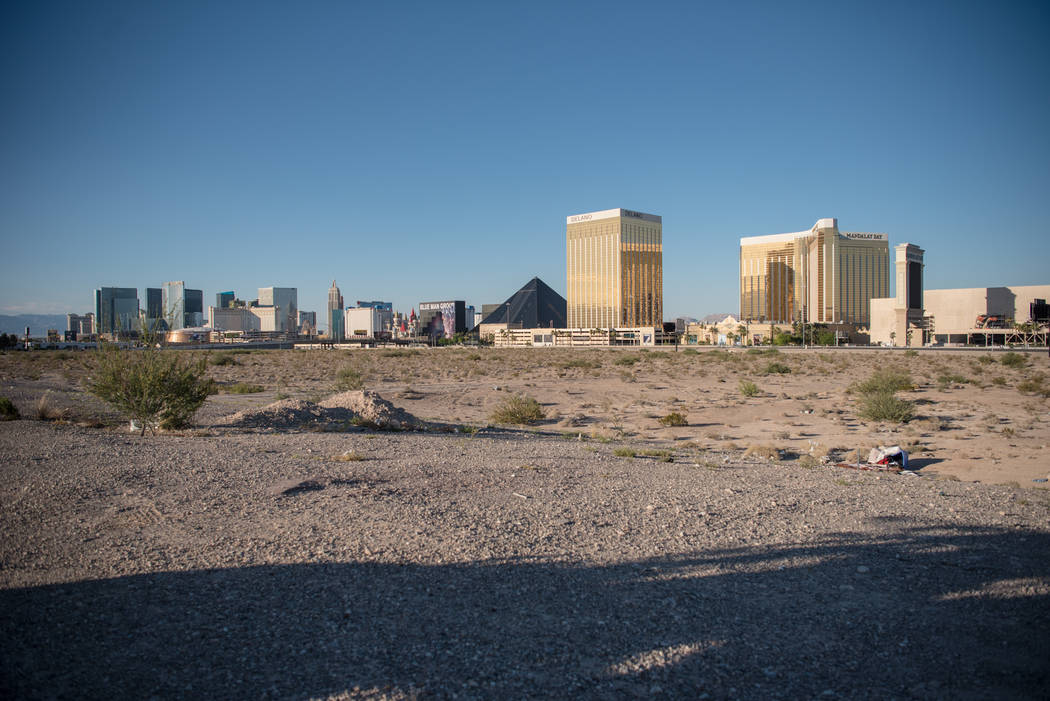 Negotiations are expected to continue this month on a Las Vegas stadium joint-use agreement between the Oakland Raiders and UNLV amid reports that the National Football League team wants fans to be allowed to park at the university and shuttle three miles to the stadium for games.
A representative of the Las Vegas Stadium Authority downplayed the published report, stating that it was based on a preliminary draft of an agreement that already has been updated.
Jeremy Aguero, whose Applied Analysis firm serves as the Stadium Authority staff, said he doesn't expect an updated draft to be presented at Thursday's board meeting, but a progress report on negotiations would be made.
"It would appear — it did not come from us, nor have I circulated that draft to my board — that somehow the draft got leaked, and I don't know where it was leaked from," Aguero said Tuesday.
"I reiterated to both the Raiders organization and UNLV that it's important that we work through this document together as opposed to debating it in the media, which I think everybody agrees to, and yet it still got leaked," he said.
As for the report that the Raiders are seeking to use UNLV lots at no cost to the team, Aguero said it was a negotiating starting point, just like the Raiders' first proposal for a stadium lease agreement that ultimately was refined several times before approval by NFL owners in March.
"In terms of the parking controversy, to be honest with you, I don't know that it's actually any kind of controversy other than parking remains an open item across the board the Raiders have said they are working on with any number of options, and those options that they are continuing to consider include using some property from time to time with UNLV," he said. "Exactly what form that takes is unclear at this time. These documents are nothing more than drafts and in some cases include placeholder provisions."
He said the Raiders could still acquire property closer to the stadium site at Interstate 15 and Russell Road for vehicles and tailgate parties. That's been made more difficult with the team's acquisition of the stadium site, since neighboring property prices have now soared.
2,400 spaces
The existing stadium site has room for an estimated 2,400 parking spaces, well below the number required by Clark County for such a facility.
"No stone is being left unturned," Aguero said. "All options remain on the table."
Representatives of UNLV did not immediately respond to requests for comment.
There are 17 different agreements that must be reviewed by various boards and entities before ground can be broken on the planned 65,000-seat domed stadium, which has an estimated $1.9 billion price. Three of those agreements have been completed, and work is underway on the rest.
The documents that have received the most attention are the UNLV joint-use agreement and a community benefits pact that assures that 15 percent of subcontracts go to small businesses, including women-, minority- and veteran-led companies.
One agreement that could be approved Thursday is a finding that the Raiders have demonstrated to the satisfaction of the authority board that they, along with their development team, can successfully develop and construct the stadium — a requirement of Senate Bill 1, which authorized $750 million in public money for stadium construction.
Contractor chosen
The Raiders already have announced and conducted a community meeting with general contractor Mortenson Construction of Minneapolis, which is working with McCarthy Building Cos. of Henderson. Architect David Manica of Kansas City, Kan., also has been identified as part of the development team. It's expected that Mortenson and McCarthy executives will be introduced to the board Thursday.
The development team and the Raiders are working to complete all the agreements by Oct. 17, a deadline imposed with the signing of Senate Bill 1 last October. Even if that deadline were missed, Stadium Authority Board Chairman Steve Hill could extend it by six months, but the stated goal is to have it done by October so that construction bonds could be sold and equipment mobilized for a November groundbreaking.
Another agreement that will be considered Thursday is a contract amendment that would enable Applied Analysis to draw from the $375,000 dedicated to the company's professional services agreement instead of from the available maximum of $25,000 a month. The company has not been compensated for some hours worked because there's more to do under tight deadlines early in the process.
Contact Richard N. Velotta at rvelotta@reviewjournal.com or 702-477-3893. Follow @RickVelotta on Twitter.
Related
RJ reporters talk UNLV-Raiders stadium agreements on ESPN Las Vegas — AUDIO
Raiders planning stadium that could rise 225 feet, FAA docs show
Crowd gets first glimpse of subcontracted jobs, supplies for Raiders stadium