'Unsafe and unsightly': Boarded-up Strip motel has turbulent history
Updated April 1, 2023 - 4:24 pm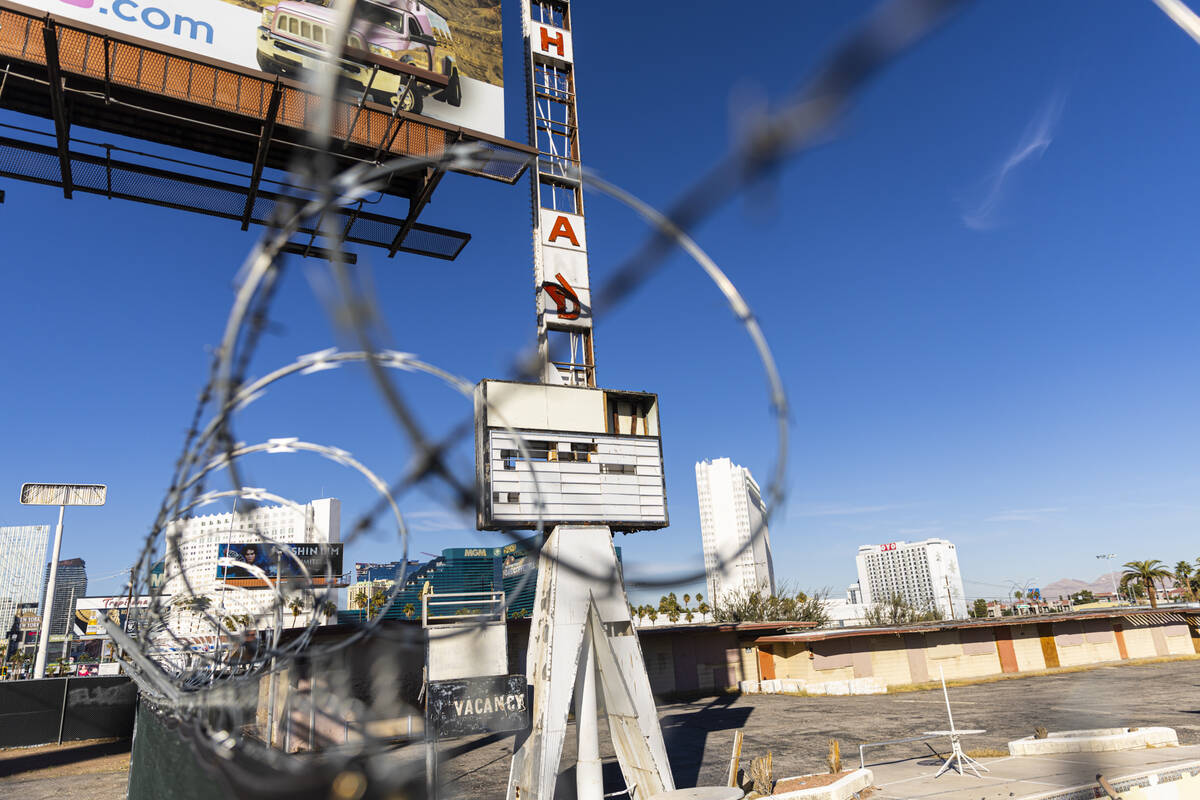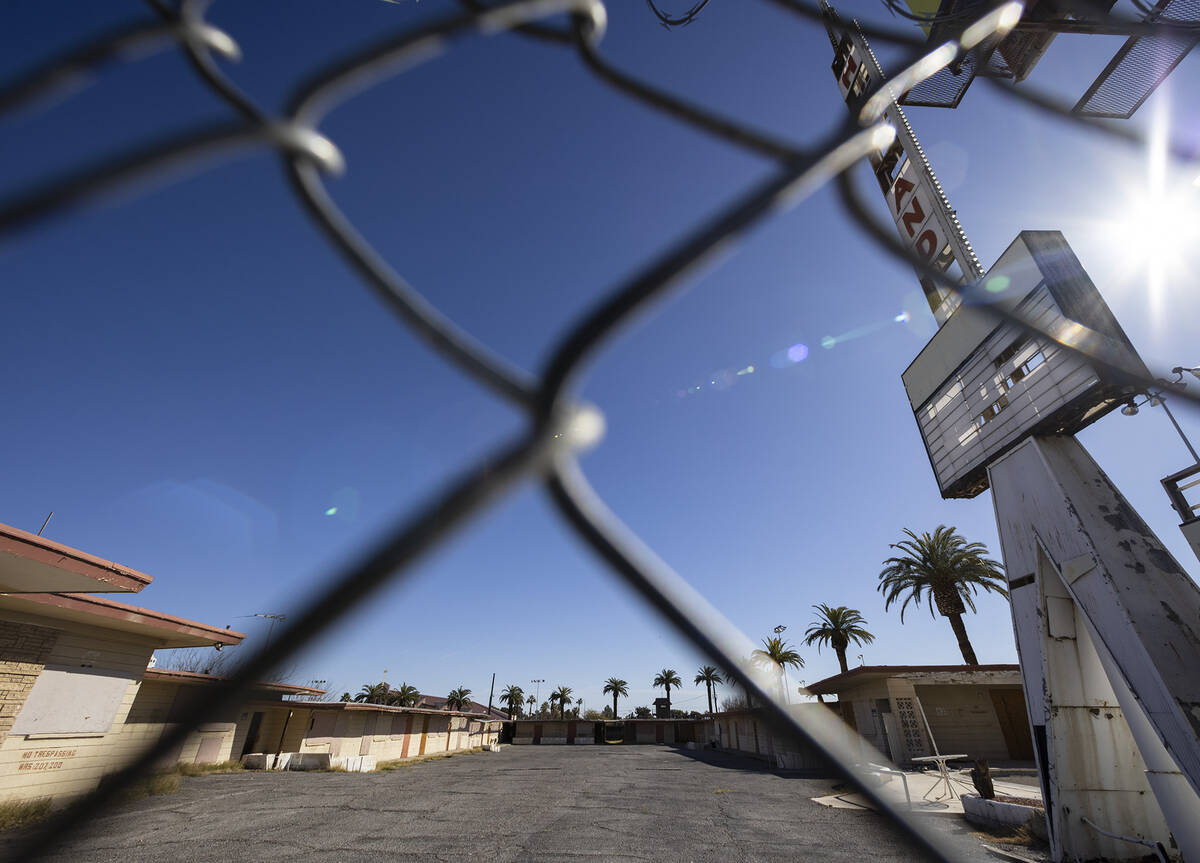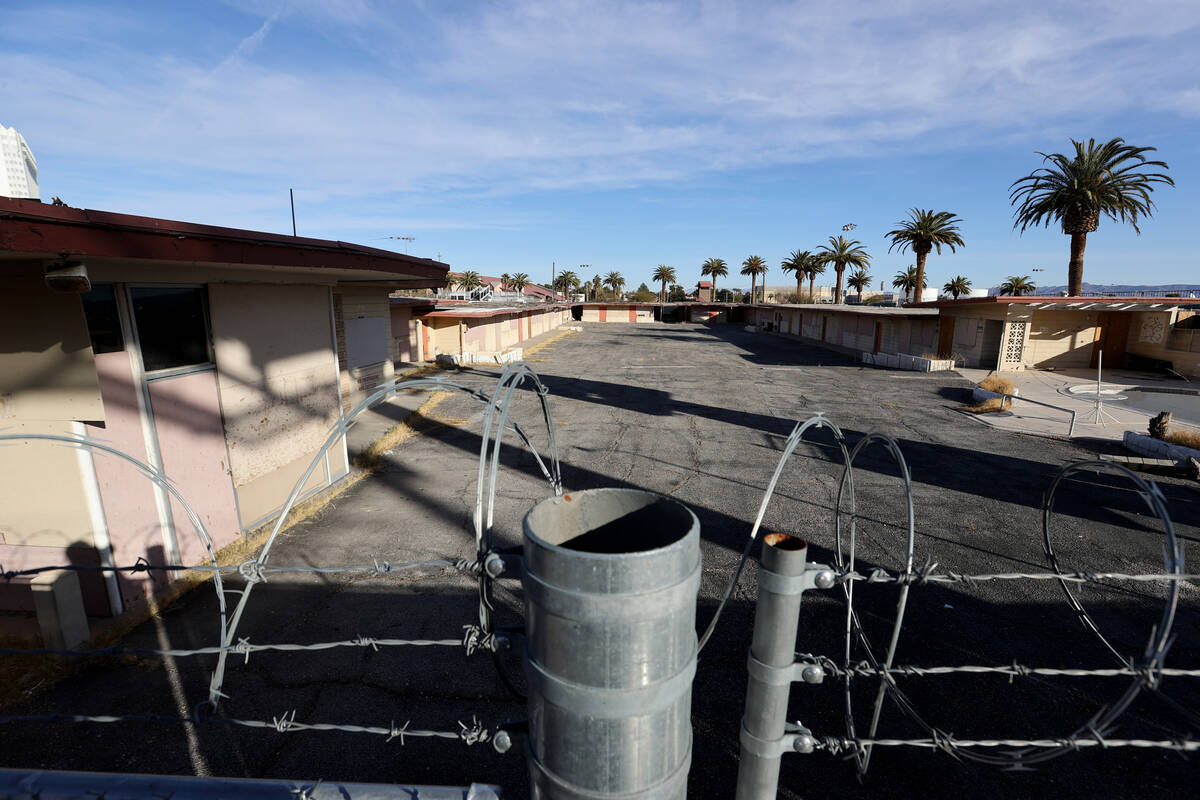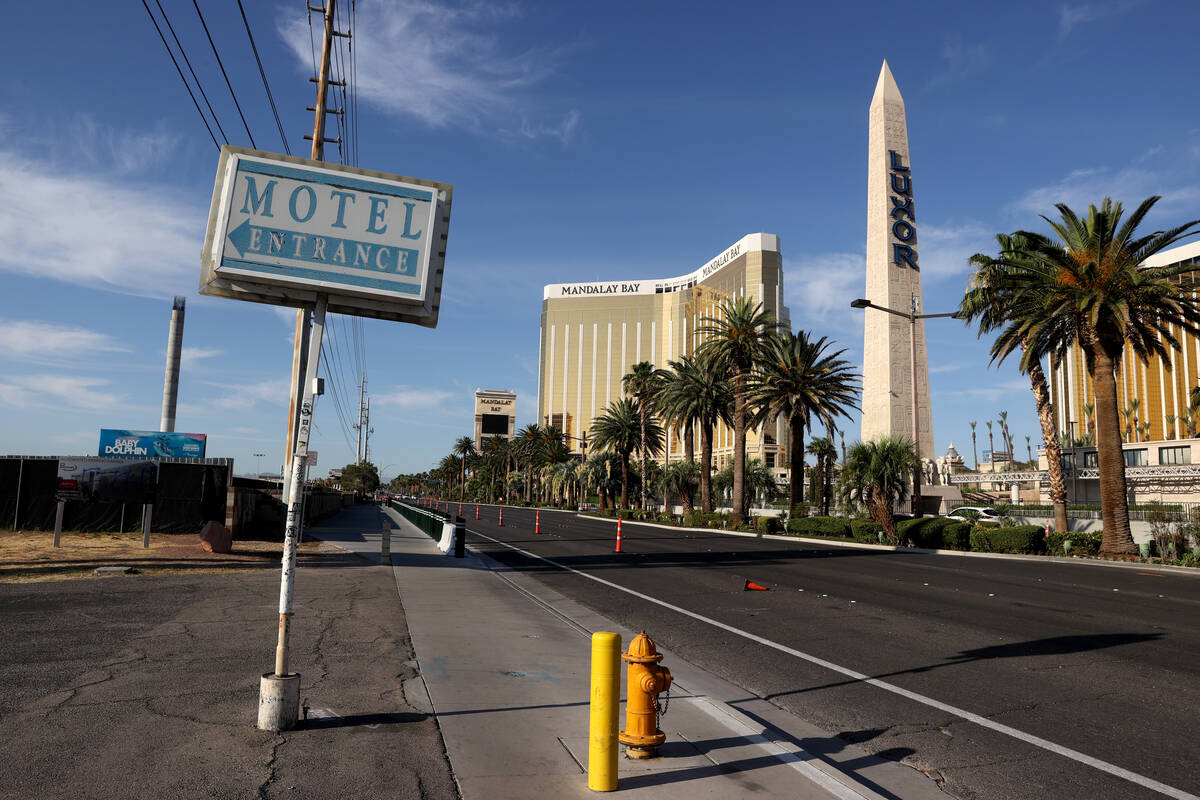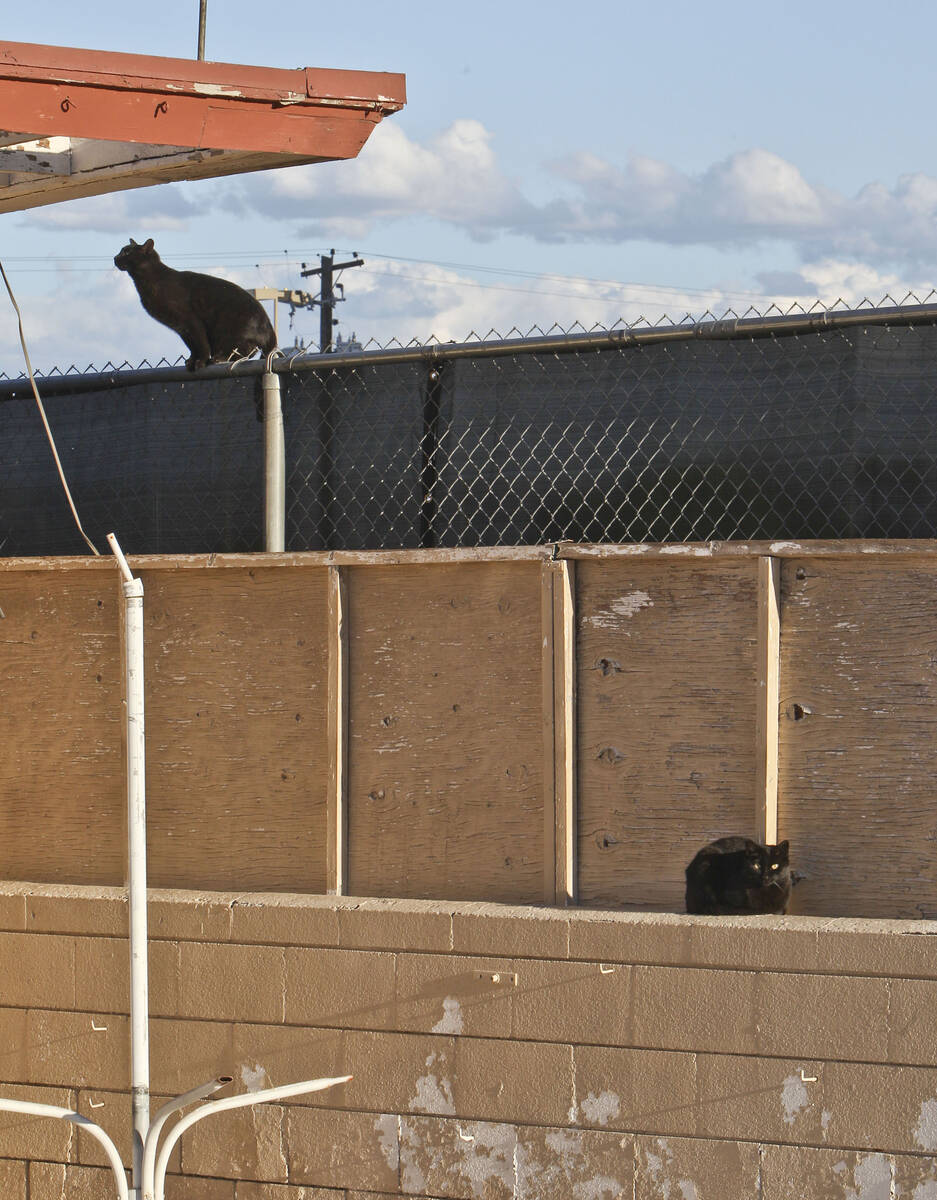 In the summer of 2013, Clark County officials got a complaint about a small, boarded-up property on the Strip.
The closed White Sands Motel had some standing water in the pool, a potential concern for mosquitoes — and a "strong odor" that smelled like a dead animal or body.
No corpse was found, but an inspector spotted around 40 feral cats, records show.
The White Sands, built in the 1950s during Las Vegas' mafia days, is a run-down property on the south Strip that many people likely don't even realize is there. But it boasts a turbulent history marked by vandalism, vagrants, an ax-wielding man, a cat colony, and huge asking prices with no takers.
Now, the long-shuttered property is set to begin a new chapter.
District Judge Gloria Sturman on March 23 approved the sale of the 1.1-acre parcel to a North Dakota tribal nation for $10.25 million. The buyer, the Three Affiliated Tribes of the Fort Berthold Indian Reservation, didn't say what it will do with the blighted motel building across from the Luxor, let alone the 20-plus acres it already owns nearby.
But given the motel's history, it has seemed destined for demolition for years.
When the property was up for sale at $18 million in 2021, then-listing broker Frank Volk said he would be "shocked" if someone paid the asking price to merely run the motel.
"It's got to be a tear-down," he said.
'Destroying the property'
Las Vegas Boulevard is known for its towering, glitzy casino-resorts. But the low-slung White Sands, which closed well over a decade ago, is one of the Strip's few remaining motel buildings and has long been in rough shape.
"Despite putting up chain-link fences and boarding up all doors and windows on the property, it has been very difficult to keep vagrants, trespassers and the animal groups from gaining access to and destroying the property," according to a letter to the county in 2015.
Today, the one-story, 30-plus-room motel structure is behind mesh-covered fencing, which is topped with barbed wire and razor wire and secured with multiple locks. The property, 3889 Las Vegas Blvd. South, is owned by the estate of former White Sands owner Spartaco Colleli, who died in 1992.
Despite the building's condition, the narrow parcel of land it occupies is still valuable real estate, given its location in Las Vegas' famed casino corridor. But over the years, its asking price fell amid the search for a buyer.
The property was on the market for $12 million last year, down from $25 million in 2016.
The tribal group, also known as Mandan, Hidatsa and Arikara Nation, was a logical buyer. The motel property is surrounded on three sides by the former Route 91 Harvest festival site, most of which was purchased by MHA Nation last year.
Bryan Lowe, attorney for a beneficiary of Colleli's estate, said at last month's court hearing the property was appraised multiple times in recent years, with three valuations above $17 million.
"The value is there. … It's just finding the right buyer," Lowe said.
Sturman, however, noted the tribal nation was "here with their money in hand" and noted that previous attempts to sell the property had fallen through.
She later asked why they would "blow up a cash sale" on the chance that someone "might have some interest" in the property.
Ax-wielding man
The White Sands opened in 1959 and was promoted as a beautiful place, offering TV, coffee and air conditioning.
As seen in Review-Journal archives, however, the motel's name was in the paper over the years for all of the wrong reasons.
In fall 1959, the Review-Journal reported that a 19-year-old man was cleared by a lie-detector test after he had tentatively been identified as "one of the gunmen who robbed the White Sands motel on the Strip."
In 1970, a California man was assaulted "as he walked from the White Sands Motel," the paper reported. He was beaten, slashed in the stomach with a razor and robbed of $250.
According to other reports in the Review-Journal:
— A guest at the White Sands was charged in 1974 with raping a 16-year-old motel maid.
— AAA sued the White Sands in 1975 and alleged it used the auto club's trademark without permission.
— Police recovered about 13 pounds of narcotics, worth an estimated $1 million, at a hotel and the White Sands in 1977 and arrested five men on drugs and gun charges.
— A man who was shot several times in the head was found dead in a desert lot behind the White Sands in 1980.
Colleli, an Italian immigrant, bought the White Sands in 1986. His daughter, Emanuela Colleli, started working at the motel, but after her father died, her "world revolved around the management of this business," she later wrote in a court filing.
She experienced harrowing events there. As Colleli described, she was punched in the face and "pushed violently to the ground" by a customer who refused to check out. She was also robbed at gunpoint and once encountered a man with an ax who was destroying motel-room doors.
"Many other unfortunate events took place through the years, too many to mention," she wrote in the court filing.
Also, daily management duties "never stopped."
From broken water heaters and plumbing repairs to weather damage, vagrants and break-ins, "it was a constant struggle to keep everything running smoothly," she wrote.
Colleli and her mother agreed to hold onto the property and wait for its value to rise, to maximize the investment. But when they decided to sell, "the economy then crashed and we found ourselves in the middle of a long recession," she wrote.
They decided to close the business. According to a court filing by Colleli's attorney, she operated the motel until the summer of 2007.
'Declaration of imminent danger'
Abandoned properties in Las Vegas are prone to drawing squatters, vandals or vagrants, and it's not uncommon for empty buildings to go up in flames.
The White Sands building is still standing, but problems mounted after the motel closed, Clark County records show.
In 2012, the county received a complaint that a large part of the building's roof blew off during a windstorm. In 2013, county code enforcement issued a notice citing the property's graffiti and accumulation of solid waste, and other notices in 2014 that cited "dead and dying vegetation" and "unsafe and unsightly maintenance."
On May 6, 2015, then-code enforcement chief Jason Allswang emailed several people about a 7 a.m. warrant service at the shuttered motel a week later.
Animal control would be removing cats from the property, with traps left for any felines "not initially captured," he wrote.
"We are trying to keep this as low key as possible as animal issues quickly have a way of becoming front page news," Allswang added.
He indicated he wanted Las Vegas police to help clear the rooms "in case any vagrants are found occupying the structure" and to be on standby "in case any of the animal rescue organizations get wind of what we're doing and try to interfere."
The day of the warrant service, the county issued a "declaration of imminent danger" for the property. It said the "unsafe structure" had criminal activity, and feral cats and kittens "were noted in all units."
Emanuela Colleli's legal counsel, Lowe's law firm, said in a fall 2015 letter to the county that a new fence was installed, and there had since been "no unauthorized intrusions on the property by vagrants, homeless or trespassers."
Their client also installed security cameras on the property, removed all vegetation and "hauled off truckloads of debris that had accumulated on the property over the years," the letter said.
Nonetheless, Clark County's building department issued a memo in fall 2016 that declared the motel structure "a public nuisance."
'Chilling' interest from buyers
The motel kept collecting dust but didn't sell. In early 2021, a court filing sought to remove or replace Colleli as the executor of her father's estate, alleging she had "refused to make a good faith effort to sell" the property.
When she did put it up for sale, the asking price was "far above" the fair market value, "chilling any legitimate interest from potential purchasers," the court filing said.
In fall 2021, Sturman appointed attorney Kennedy "Kenny" Lee as special administrator of the estate. Months later, she granted him authority to sell the shuttered motel property, court records show.
Lowe, who said in court last month that he has been with the estate since the former owner's death, declined to comment, his office said.
Lee declined to comment this past week, saying he would be happy to talk once the court order is finalized.
Clark County's code enforcement division had "a couple of graffiti-related cases" at the property last year, but otherwise there hasn't been a code enforcement case since 2016, county spokeswoman Stacey Welling said.
Photographer Fred Sigman, whose book "Motel Vegas" features the White Sands, in better days, on the cover, said it saddens him to see places such as the White Sands boarded up, "but what do you expect?"
The owner died, the property is awaiting redevelopment, and no one is "going to the expense" of leveling the lot, he said.
That, he added, is "left to the next guy."
Contact Eli Segall at esegall@reviewjournal.com or 702-383-0342. Follow @eli_segall on Twitter.
Cat tales
The White Sands Motel closed well over a decade ago, but it hasn't been empty of guests. Its unwanted lodgers over the years included several feral cats, Clark County records show.
Felines were living at the south Strip property, across from the Luxor, by at least 2009 and established a continuous presence there, said Keith Williams, president of the Community Cat Coalition of Clark County.
He said there were several properties in that area with cats, but as other buildings were torn down, the animals congregated at the White Sands.
According to Williams, the last cat was trapped at the boarded-up motel property in 2019, and it ended up going to a cat sanctuary in Searchlight, some 60 miles south of Las Vegas.
Williams said his all-volunteer group's mission is to trap feral cats, neuter them and return them to where they were found. The goal is to "turn a breeding colony into a retirement community."
Williams said there are still a number of properties on or near the Strip that have cats, and his group, known as C5, has worked with the likes of resorts and recreational facilities.
He noted he can't name them.
"They don't want to be known as the place to go dump your cat," he said.