Alleged Las Vegas con man caught in Utah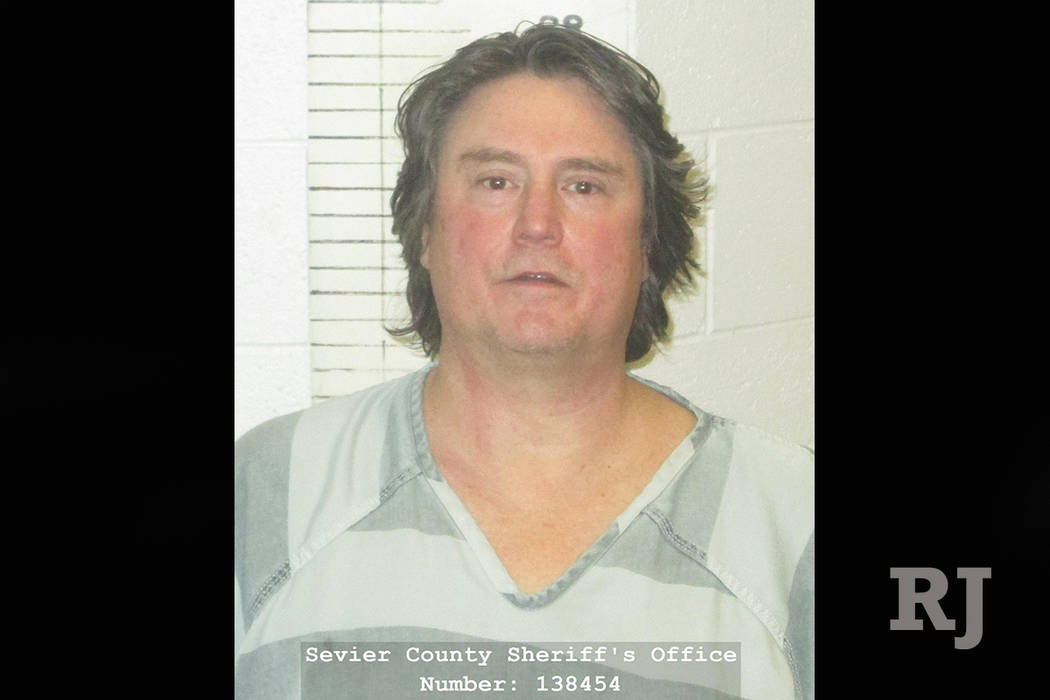 An alleged Las Vegas casino con man on the run from authorities after skipping court this summer was arrested Tuesday in rural Utah.
Mark Georgantas showed up one day around Halloween at a Denny's in Salina, Utah, about 4 miles from Interstate 70, according to Ashton Fugal and her father, Jess Fugal.
Georgantas told Jess Fugal and restaurant workers his name was Todd Wolf.
So when authorities, including Utah sheriff's deputies from Sevier and Millard counties and the Nevada attorney general's office, showed up at the Fugals' home in the small town of Redmond about noon Tuesday and asked for Mark, Ashton Fugal didn't recognize the name, she told the Review-Journal.
Detective Stacy Mickelson showed her a picture of Georgantas, on the lam since August, when he was scheduled to be sentenced for his plea to a charge of stealing from people he met at casinos in Las Vegas. "That's Todd," she told him.
Georgantas heard the knock and tried to hide in the closet, but Mickelson quickly nabbed him.
A convicted felon whose aliases include "Mr. Smooth," "Mark Gigantis" and "Mark G," Georgantas has a documented history of running from the law and people who lend him cash.
In August, District Judge Stefany Miley issued an arrest warrant with a $500,000 bail at the request of a prosecutor who indicated he could seek to pursue habitual criminal status against Georgantas.
That meant a plea deal he accepted last year for a sentence of two to five years in prison on one count of theft was nixed.
Once he is returned to Las Vegas, prosecutors are expected to argue for putting Georgantas behind bars for 10 to 25 years. He has felony convictions in California, where he once abandoned a trial and later escaped from a minimum-security facility through a storm drain.
On paper, Georgantas accepted a deal late last year to pay back nearly half a million dollars in connection with a "pure cash" promise of beating Las Vegas casino pit games. Then he persuaded the judge to postpone his sentencing, initially scheduled for February. He said he needed hip replacement surgery, which was supposed to have been performed in April. He promised to return for sentencing.
Toward the end of October, Georgantas told Jess Fugal that his white Hyundai Elantra had broken down on his way to Colorado, Fugal said.
Fugal offered to let the stranger sleep in a camper in the family's yard.
During his short stay in the town of fewer than 800 people and no stoplight, Georgantas tried to convince the elder Fugal to invest in his gambling. Georgantas promised he could turn a thousand dollars into much more, Fugal said.
Ashton Fugal was suspicious from the start. Georgantas claimed to have a lot of money, but he washed his hair with shampoo from the dollar store, she noticed.
"He was really nice while he was here," she said.
Georgantas mostly hung out at the family's home, they said, occasionally playing blackjack on a laptop while messaging a woman he said was his fiance in Vietnam, and asking Jess Fugal about his bank accounts.
"He didn't get into me in any way," Jess Fugal said. "I don't have any money to be had. He kept asking me, 'Isn't there any way you can come up with something?' I said, 'No I'm flat. You'll have to find somebody else for that.'"
Contact David Ferrara at dferrara@reviewjournal.com or 702-380-1039. Follow @randompoker on Twitter.