Las Vegas jury sentences man to death for murders of wife, hit man
Updated July 5, 2017 - 8:28 pm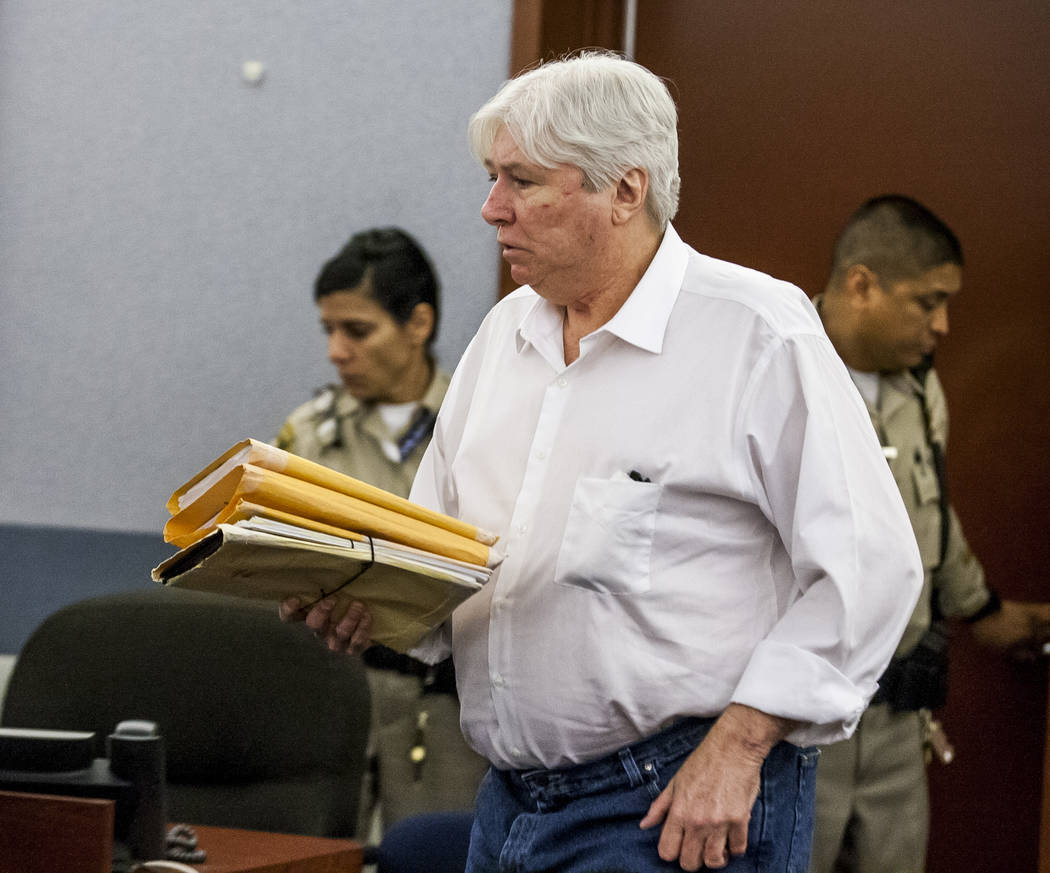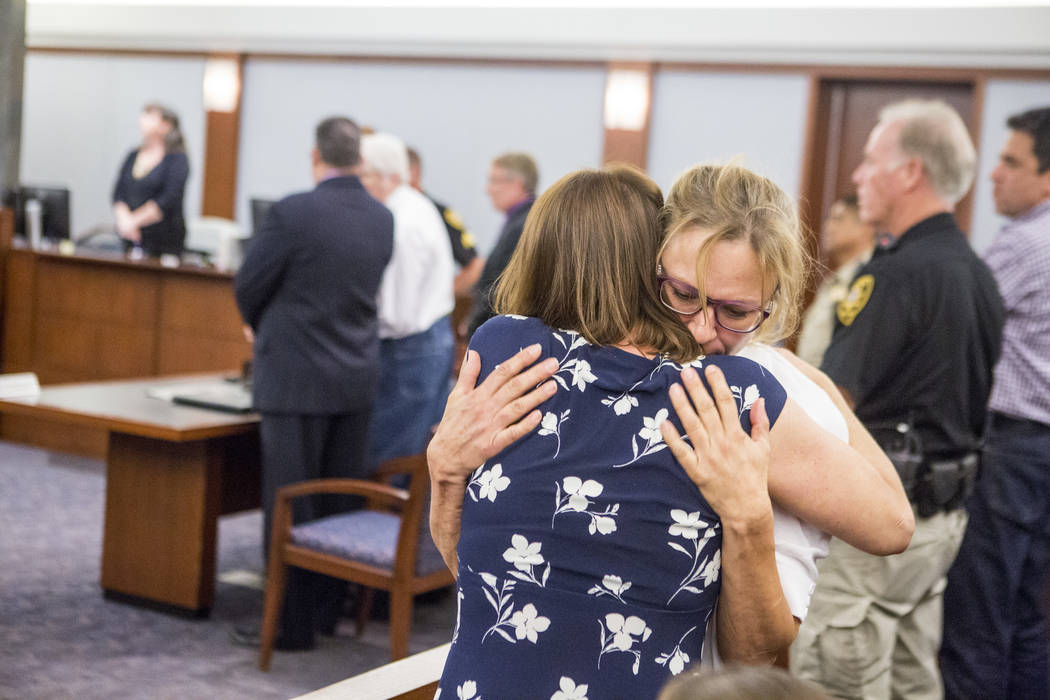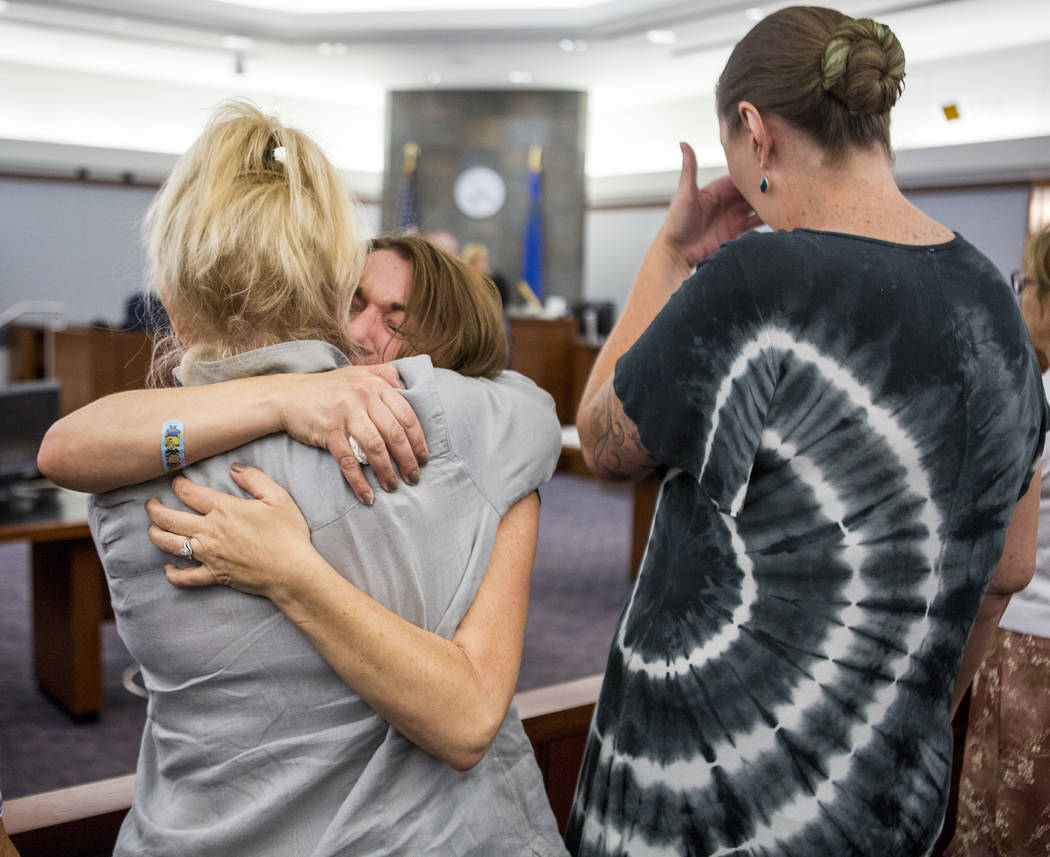 For more than nine years, she waited for punishment for the man who ordered her mother dead and executed the hitman.
"It's been way too long," Colleen Beyer said. "And it's hurt every day."
On Wednesday, a jury decided that Thomas Randolph, 62, should be put to death for having a handyman kill his sixth wife, Sharon Causse, and fatally shooting Michael James Miller, the man he had kill her.
Beyer cried and embraced friends after the sentence was announced.
"I feel that's really what he deserves," Beyer said. "He's a monster. He's one evil, evil monster."
A panel of eight women and four men handed down two death sentences, one for each victim. Randolph showed no emotional reaction, but turned and gave a thumbs up to a television news producer as he walked out of the courtroom.
Last week, the same jurors convicted Randolph of two counts of first-degree murder with a deadly weapon and one count of conspiracy to commit murder.
Randolph had told police that he noticed a man in a black ski mask after finding his wife shot in the head in an entrance hallway of their home in May 2008. He brushed up against the man and shot him five times, he said.
But prosecutors said Randolph's story did not make sense, and they pointed to similarities between the two killings and the death of his second wife.
Clark County District Attorney Steve Wolfson praised prosecutors and detectives who peeled back layers of Randolph's version of events.
"I hope the family and friends of the two people who lost their lives get some comfort and some satisfaction," Wolfson said. "I think justice was done. A death verdict was justice in this case."
Randolph was arrested in the double homicide in January 2009, and it took more than eight years for the case to go to trial.
Prosecutors say Randolph was motivated by greed and stood to gain upward of $360,000 in insurance money from Causse's death. That was less than the roughly $500,000 in insurance money he collected after the 1986 death of his second wife, Becky Gault.
Defense attorneys had argued that Randolph's last marriage was going well before Causse died, and they called Gault's death a "red herring."
A coroner ruled that Gault died by suicide. Randolph ultimately was acquitted after being tried for murder, but he pleaded guilty to tampering with a witness for offering an undercover officer posing as a cellmate a car title and cash to kill the star witness in the Utah case.
In the Las Vegas case, Chief Deputy District Attorney Jacqueline Bluth called Randolph the "worst of the worst" criminals, adding that he poses a danger even from behind bars.
"Shouldn't the death penalty be about the worst of the worst?" the prosecutor said. "It should be saved for those human beings in society who are the worst of the worst."
Randolph's defense attorneys said they plan to appeal the case.
Contact David Ferrara at dferrara@reviewjournal.com or 702-380-1039. Follow @randompoker on Twitter.
Randolph gets death
Jurors who convicted Thomas Randolph on two counts of first-degree murder in the killing of his wife and the man he ordered to execute her found three aggravating factors and two mitigating factors in deciding that he should die for his crimes.
Aggravating factors
— Randolph was convicted of first-degree murder in the death of Sharon Causse
— The murder was committed to receive money
— The killing of Michael James Miller was committed to receive money
Mitigating factors
— Randolph had an opiate addiction
— His life had value to his family
Related
Man facing death penalty wears Tony Romo jersey at Las Vegas courthouse
Las Vegas jury convicts man of planning wife's murder, killing hit man
Double murderer with 6 wives not a sociopath, doctor says
Jurors hear 911 call, watch video re-enactment of killings in Randolph trial