1 dead in shooting at North Las Vegas high school
Updated September 12, 2018 - 7:22 pm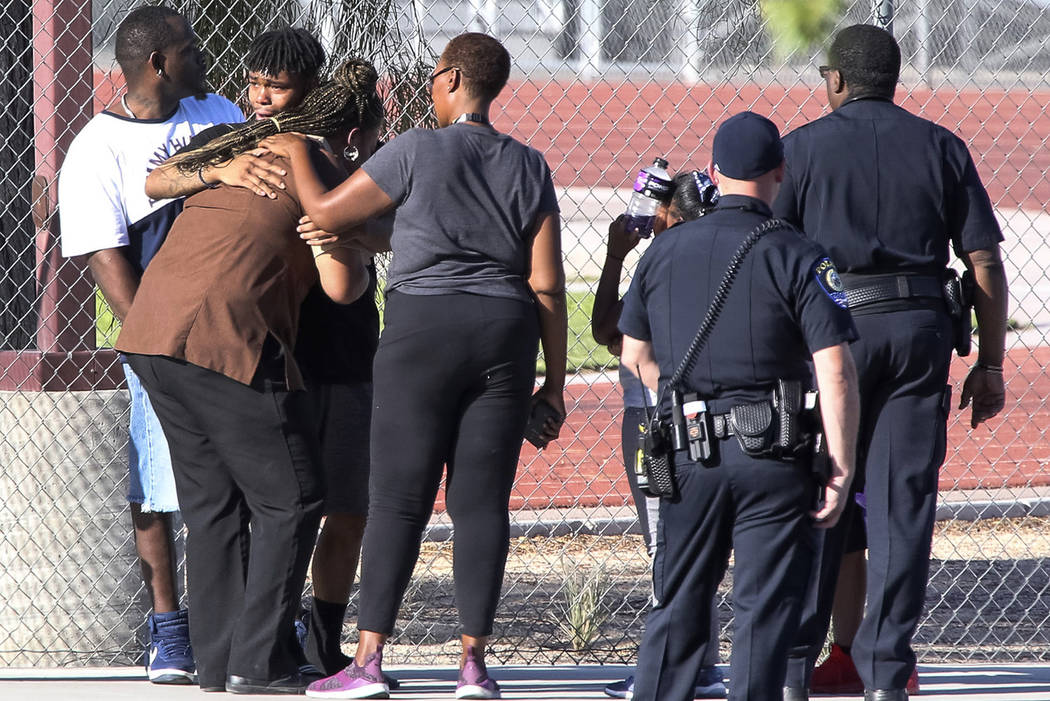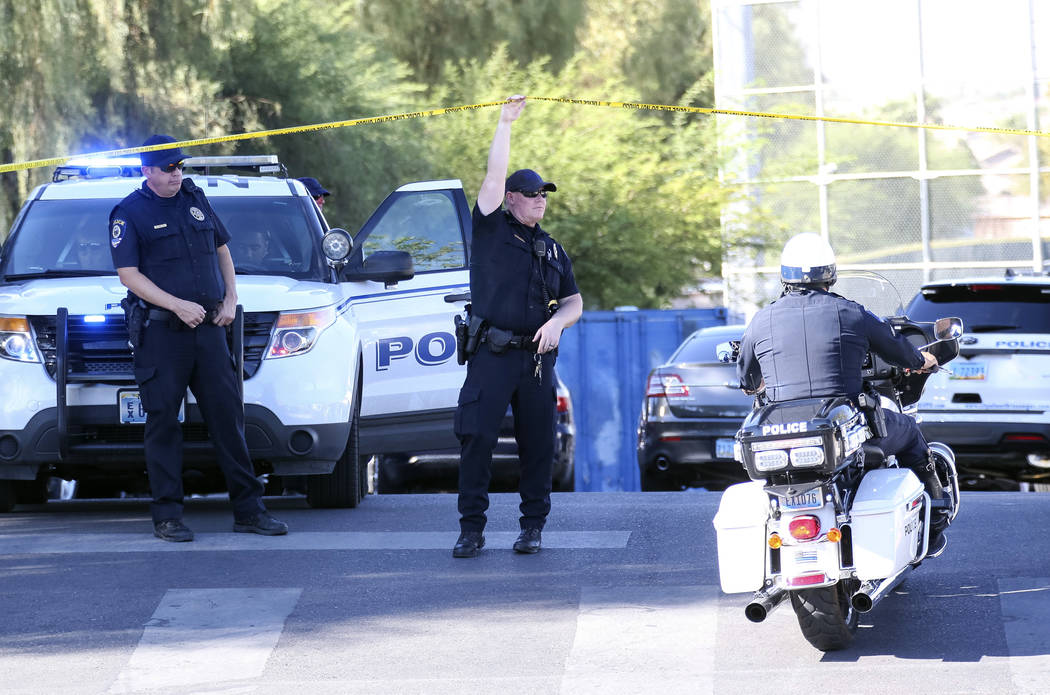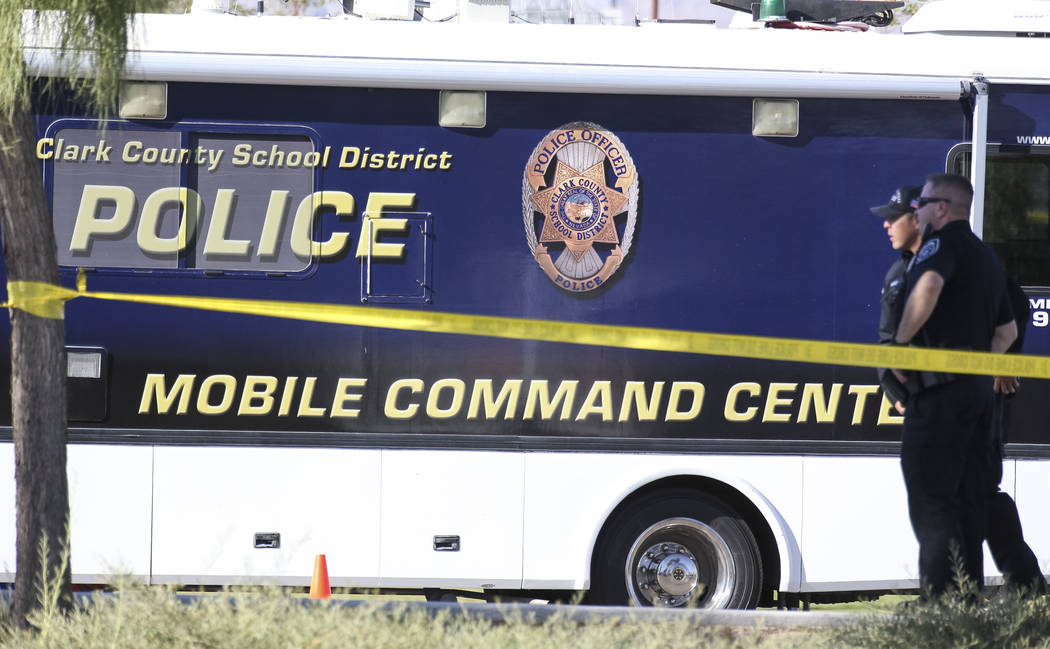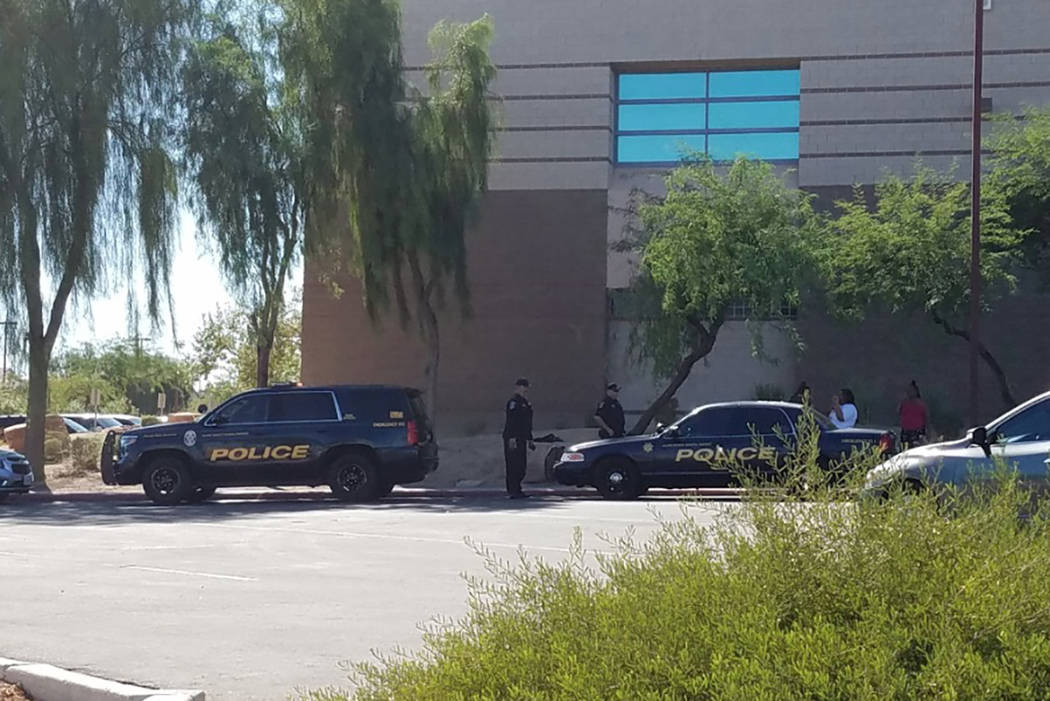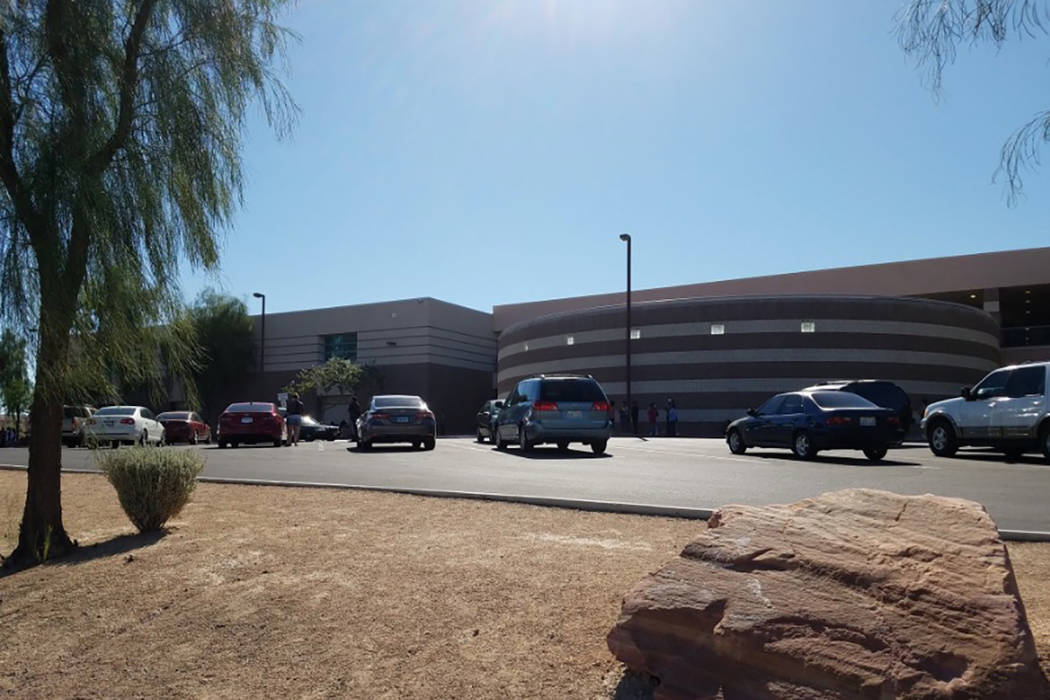 An 18-year-old man died after he was shot Tuesday afternoon outside a North Las Vegas high school, officials said.
North Las Vegas police began receiving "hundreds" of calls at 2:39 p.m. of shots fired near Canyon Springs High School, acting Chief Justin Roberts said during a Tuesday afternoon news briefing outside the school. Police determined that the man was shot near the northwest property line, behind the fencing of a baseball field.
He died at University Medical Center. Police and school officials didn't confirm whether the man was a student at the school.
The North Las Vegas Police Department responded and received support from multiple fire departments, school police and the Metropolitan Police Department, Roberts said.
"The response was exactly how it should be," Roberts said.
No suspect was in custody as of Tuesday night. Roberts said police were interviewing witnesses but were not ready to release information on a possible shooter.
Police said the shooting appeared targeted.
In a statement Tuesday night, new Clark County School District Superintendent Jesus Jara offered condolences to the deceased man's family. Jara announced an increased police presence on and around campus Wednesday, adding that counselors would be available for students and staff.
"I want to thank administrators and teachers who worked quickly to ensure all students were moved into the school safely for our lockdown procedures," the statement said. "Staff members followed their training and kept students calm until the lockdown was lifted."
About 400 students and staff members were still on campus after the school let out at 2:05 p.m. Tuesday, Clark County School District spokeswoman Kirsten Searer confirmed. Most were participating in athletics and other after-school activities or waiting for a late bus. The school, 350 E. Alexander Road, was put in lockdown after the shooting, Searer said.
All the classrooms and hallways were searched before Canyon Springs students were released about 4:45 p.m.
Wilhelm Elementary School, also on Alexander Road, was put on lockdown as a precaution for about 30 minutes. The lockdown was lifted at 3:45 p.m., and students were dismissed, Searer said.
'I thought I was gonna die'
Dozens of students waited outside the school Tuesday evening for their rides home, with school police officers keeping watch nearby. Some students embraced one another; others embraced their parents as they arrived.
Many students gathered in the school's gymnasium while the school was on lockdown. Like many of his classmates sitting in the crowded gym with little to do but wait to go home, sophomore Floyd Strickland called his mom. He had been practicing football when he heard shots fired near the baseball field.
"I said, 'Ma, I was out there on the field and I heard gunshots. I think somebody got shot,'" Strickland recalled while outside the school with his family.
The gunshots sounded close, he said. Fearing for his safety, he ran to the locker room.
"Bullets don't got no names," Strickland said. "I thought I was gonna die."
He spoke to his family on the phone as they drove to the school to pick him up. His aunt, 39-year-old Stephanie Washington, said Floyd was physically OK but probably shaken up.
"I know he was scared when he called," she said.
Parent Christina Ruby, 37, was texting with her 14-year-old son while he was inside the school, hiding under a classroom desk, during the lockdown. He gave her updates as he knew them: first that the school was on lockdown, next that somebody had a gun and lastly that someone had been killed.
Her husband is a teacher, and the couple had prepared their children for the possibility of a person bringing a gun to school, she said. She told him to avoid doors and follow teacher instructions.
"He doesn't usually get scared or worried very often, so I could tell that something was wrong because he wouldn't just text me like that for no reason," Ruby said.
Five guns this school year
More than 2,900 students attend Canyon Springs, which has a law magnet program.
The last on-campus shooting at a Clark County school was in 1990, when a student-on-student shooting at Eldorado High School left one teen dead.
A student was killed near Mojave High School in 2015, in an off-campus, after-school shooting.
This school year, Clark County School District police have confiscated five guns on or near campus, mostly recently on Sept. 4, when a loaded gun was seized from a male student at Mojave High School.
A loaded gun was confiscated Aug. 13, the first day of school, at Green Valley High School; a student at Centennial High School was arrested with a loaded gun Aug. 22; and a student was arrested with a loaded gun at Sierra Vista High School on Aug. 28.
School police broke up a fight involving a gun at Chaparral High School on Aug. 31. A student was not caught with a gun; rather a family member drew the gun during an after-school fight between the students.
During the 2017-18 school year, 18 guns were confiscated at Clark County schools, district police have said. School police last year said students gain access to guns by taking them from their parents or buying them online or on the streets.
A previous version of this story incorrectly reported the status of a weapon used in Tuesday's shooting. Police did not recover a weapon at the scene.
Contact Mike Shoro at mshoro @reviewjournal.com or 702-387-5290. Follow @mike_shoro on Twitter. Contact Meghin Delaney at 702-383-0281 or melaney @reviewjournal.com. Follow @MeghinDelaney on Twitter.