14 shot, 1 killed at hookah lounge party in central Las Vegas
Updated February 28, 2022 - 7:06 am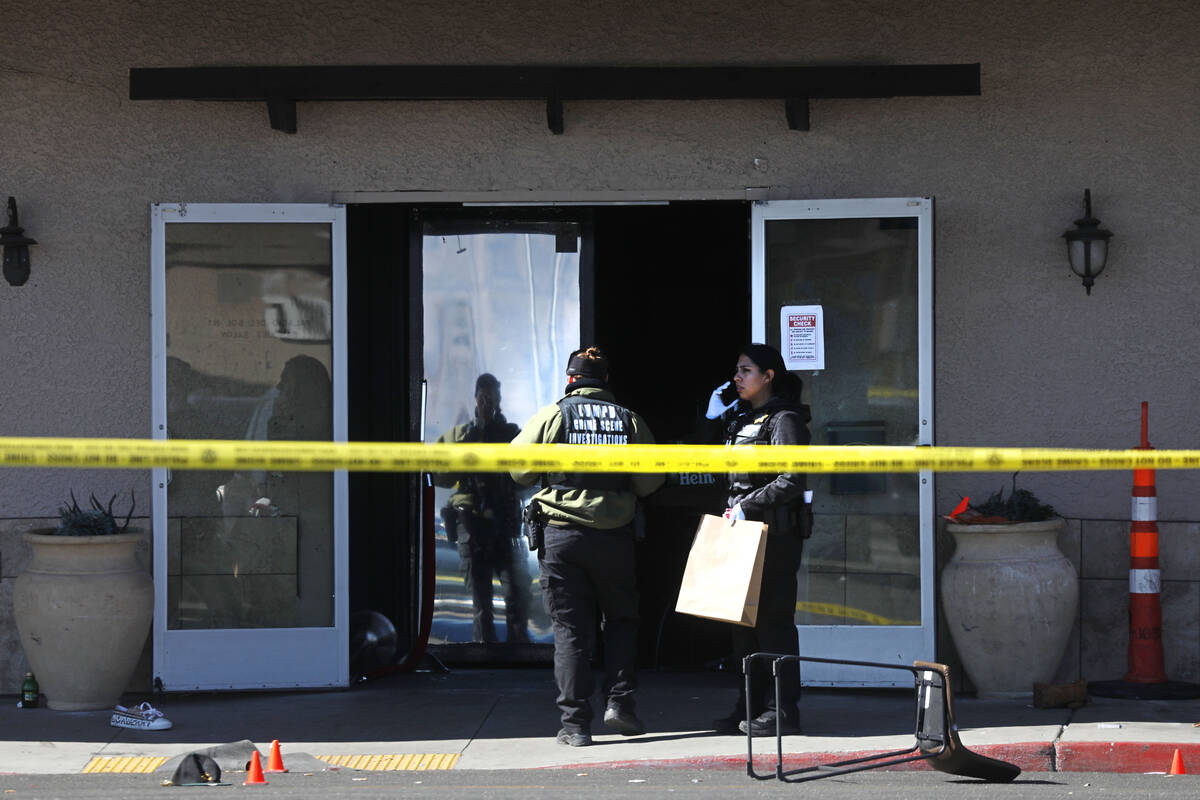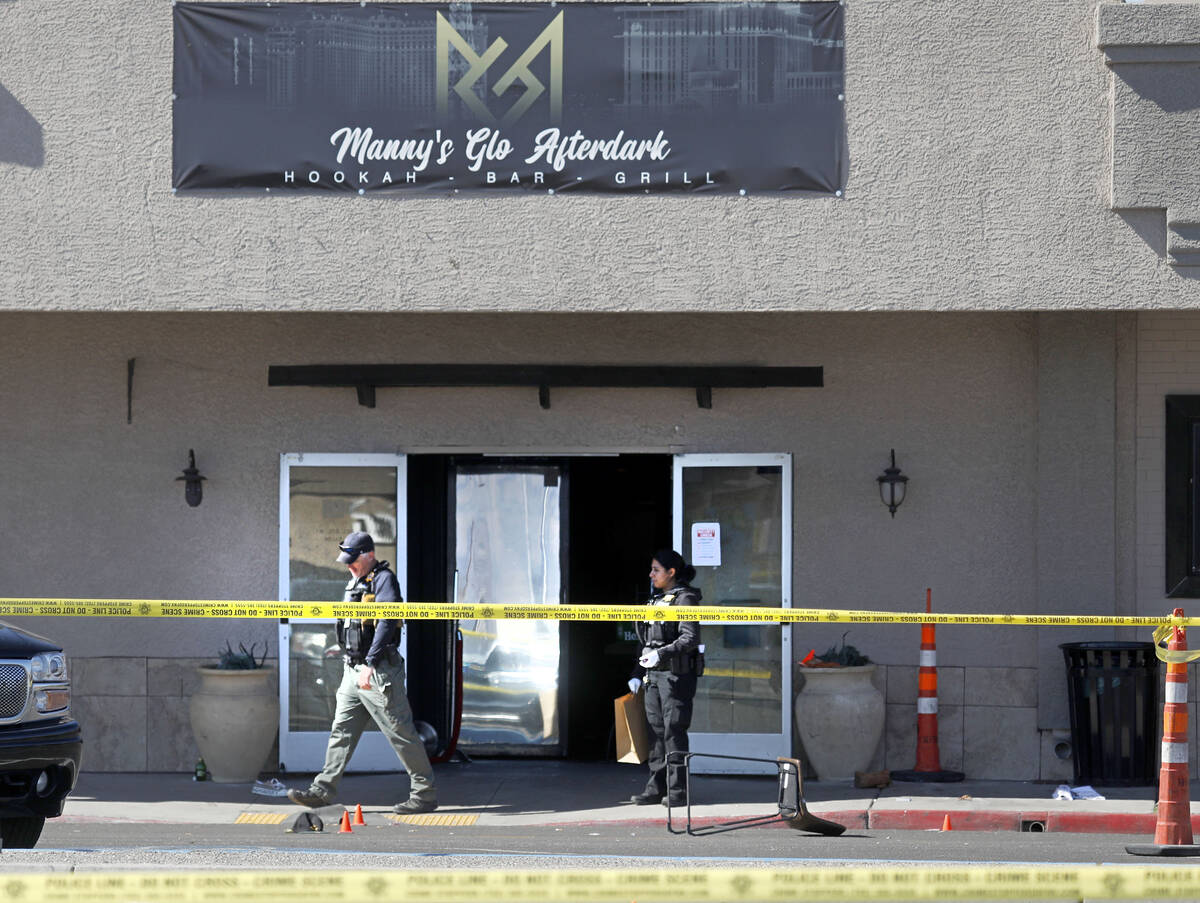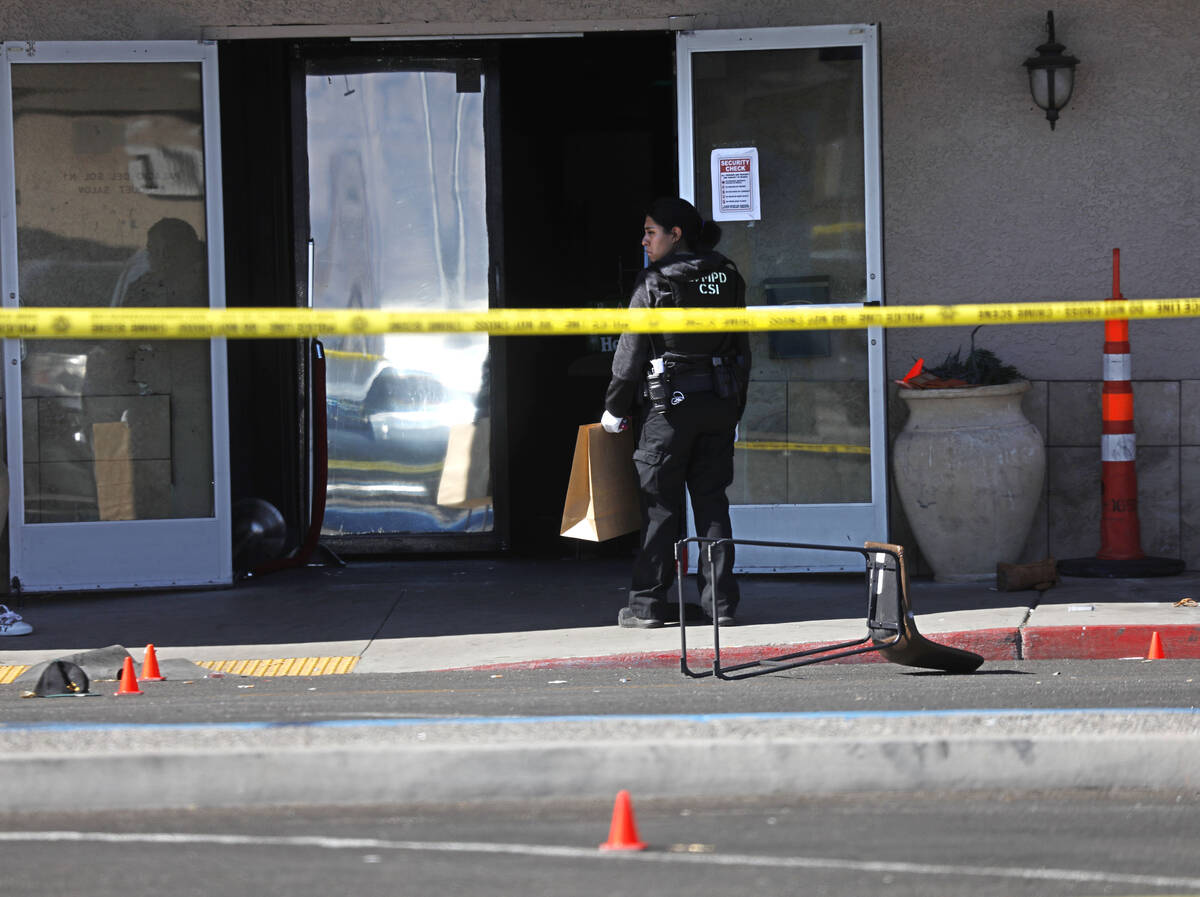 Fourteen people were shot, including one fatally, at a hookah lounge Saturday morning in central Las Vegas.
The Metropolitan Police Department received multiple 911 calls around 3:15 a.m. reporting a shooting at Manny's Glow Ultra Lounge & Restaurant, 953 E. Sahara Ave., near South Maryland Parkway, according to Metro Capt. Dori Koren.
Detectives believe two men started arguing during a party at the lounge, which resulted in at least two guns being fired.
Koren said the 14 people shot were taken to University Medical Center and Sunrise Hospital and Medical Center. One man died, and two people were in critical condition.
Sunrise spokesman Dan McFadden said 12 patients were brought to the hospital. Danita Cohen, chief experience officer at UMC, said the hospital received two patients. The conditions of the patients were not provided.
Saturday's shooting is believed to be the largest in Las Vegas since the Oct. 1, 2017, massacre on the Strip. Sixty people died and hundreds were injured at the Route 91 Harvest festival in the worst mass shooting in modern U.S. history.
Koren did not have information on what kinds of guns were used or a description of a suspect.
"I can assure you they will be caught," he said. "Our agency takes a lot of pride in the fact that our homicide section has the best solvability rate in the country."
Metro did not respond to inquiries Saturday night about the number of suspects or if an arrest had been made.
Koren credited the officers' quick work at the scene, applying tourniquets and performing CPR.
Following the Oct. 1 shooting, each Las Vegas police officer now has access to a medical kit with at least two tourniquets. In addition, two tactical vehicles "heavily supplied with medical equipment" are stationed in each Metro patrol area.
Crime scene grows
By late Saturday morning, half of the large shopping plaza was still cordoned off with police tape. About a dozen cars were parked in front of the hookah lounge. Officers were still discovering evidence and extending the crime scene as stray shell casings were found throughout the parking lot of the Historic Commercial Center District.
About 50 yards from the building, one parking spot was manned by an officer because of a small shell casing with a stain on the pavement around it.
A black SUV parked directly in front of the entrance had a few tiny cones behind it, indicating evidence from the crime. A chair was flipped over in the parking lot, and a few feet away the front doors to the business were ajar.
Calls to the hookah lounge Saturday were not answered.
Around noon outside of the UMC Trauma Center, a black BMW sedan was parked near the entrance with its passenger-side doors open and was surrounded by police tape.
Just over a year ago, a shooting at a different hookah lounge left a 25-year-old man dead. Dorian Bond was shot and killed Feb. 20, 2021, outside the Smoke N Mirrors Lounge, 6020 W. Flamingo Road. Brothers Jaylon and Jeremiah McKenzie were arrested in the shooting.
Initially, Jaylon was charged with murder and Jeremiah was charged with attempted murder. Both were sentenced to probation in December after surveillance footage showed Bond was pointing a gun at Jeremiah's head when Jaylon shot Bond.
Officials' reactions
Nevada lawmakers, including Sens. Catherine Cortez Masto and Jacky Rosen and Rep. Dina Titus, offered condolences on Twitter in response to Saturday's shooting.
"My thoughts are with the victims of this tragedy," Cortez Masto wrote. "I'm grateful for the law enforcement officers and first responders who responded to the scene."
Rosen called the shooting "incredibly distressing." "My thoughts are with those affected by this senseless act of violence," she wrote. "I'm grateful for our first responders who rushed to help."
Titus added: "My thoughts are with the victim, their loved ones, and all those injured in last night's senseless shooting at a hookah lounge. We must do more to end gun violence."
Gov. Steve Sisolak tweeted: "Kathy and I are holding these families close in our hearts and praying for the quick recovery of those injured in this senseless act of violence."
Contact Sabrina Schnur at sschnur@reviewjournal.com or 702-383-0278. Follow @sabrina_schnur on Twitter. Review-Journal staff writer Ricardo Torres-Cortez and intern Jimmy Romo contributed to this report.