Las Vegas shooting victim: Quinton Robbins, Henderson
October 2, 2017 - 9:23 am
Updated October 6, 2017 - 12:27 am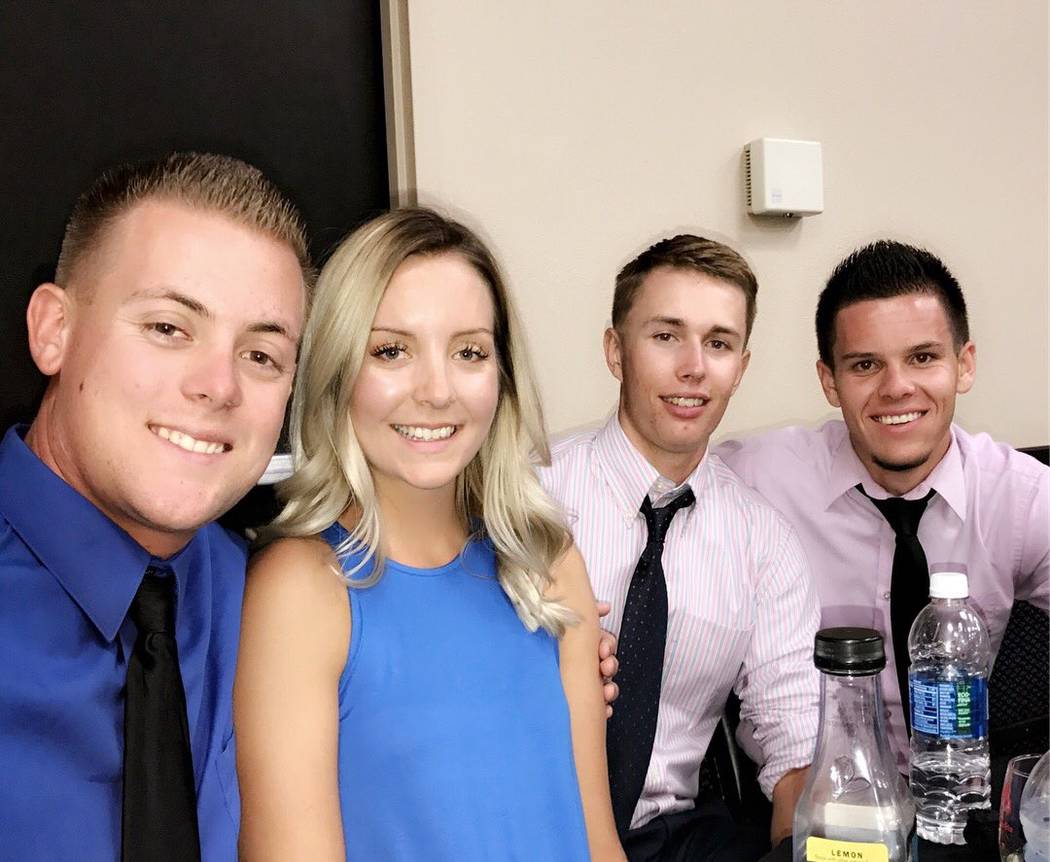 To friends and family, Quinton Robbins had many monikers.
"Quint." "Q-tip." "Sharkboy."
The list of nicknames goes on, according to Robbins' obituary. The Henderson man's private funeral will be held Saturday.
Robbins, 20, was the second-youngest victim killed Sunday in the attack on the Route 91 Harvest Festival in Las Vegas.
"Everybody says when someone passes away that they were the greatest person, but for him … anybody who knew him, they truly knew that that's how it was," his friend and former high school classmate Ally Cooley said.
The oldest of three siblings, Robbins was born to Joe and Tracey Robbins in Henderson on March 2, 1997. A multi-sport athlete and outdoorsman, Quinton Robbins had a passion for golf.
He played basketball and golf at Basic High School, where he graduated in 2015. That summer he studied biochemistry at UNLV.
Robbins worked as a lead recreational assistant for the city of Henderson and coached his little brother's flag football team, Cooley said.
He was a member of the LDS church who spent every Sunday with his family.
Cooley most vividly remembers the strong bond that Robbins had with fellow Basic graduates J.D. Ebert, and Brayden Weaver.
"There were boys trips, golfing, they went to Utah, they've gone to Coeur d'Alene, Idaho," Cooley said. "They were always just laughing."
James DiNicola, a recreation services supervisor for the city of Henderson who was Robbins' supervisor, said Robbins was promoted twice during his time working for the city, and as a lead recreational assistant he oversaw adult sports leagues.
"Not only was that a job, it was also part of his passion," DiNicola said.
Robbins also played in an adult basketball league and managed his flag football and softball teams, DiNicola said.
"He was friends with everybody," DiNicola said. "Not just a coworker, but a friend."
In addition to coaching his brother's team, DiNicola said Robbins also coached a T-ball team for 5-year-olds who called him "Coach Q."
"He wasn't the loud shouting coach type," DiNicola said. "When he was talking to players he would get next to them and make it very personal with whatever instruction he was giving. Just very well liked as a coach, very well respected."
A GoFundMe page set up for Robbins' funeral expenses has surpassed a $15,000 goal, with over $42,000 raised as of Friday afternoon. It is accessible at https://www.gofundme.com/quinton-joe-robbins.
Contact Amelia Pak-Harvey at apak-harvey@reviewjournal.com or 702-383-4630. Follow @AmeliaPakHarvey on Twitter. Contact Michael Scott Davidson at sdavidson@reviewjournal.com or 702-477-3861. Follow @davidsonlvrj on Twitter.