Las Vegas Valley homicides edge closer to 2016 record numbers
December 28, 2017 - 5:37 pm
Updated December 29, 2017 - 12:44 am
A rash of holiday season killings has propelled the Las Vegas Valley closer to last year's record-setting homicide numbers.
Since Dec. 22, 10 people have been killed at the hands of someone else, and all but one death was the result of gun violence.
"People are too quick to go to guns," Metropolitan Police Department homicide Capt. Robert Plummer told reporters Wednesday night.
The spike brings the total number of homicides investigated by Metro so far this year to 166, not including the 58 people who were killed in the Oct. 1 shooting on the Las Vegas Strip. Last year set a record for homicides in Metro's jurisdiction with 168, including two cases the department handled for other agencies.
Metro has been keeping yearly homicide totals since 1990.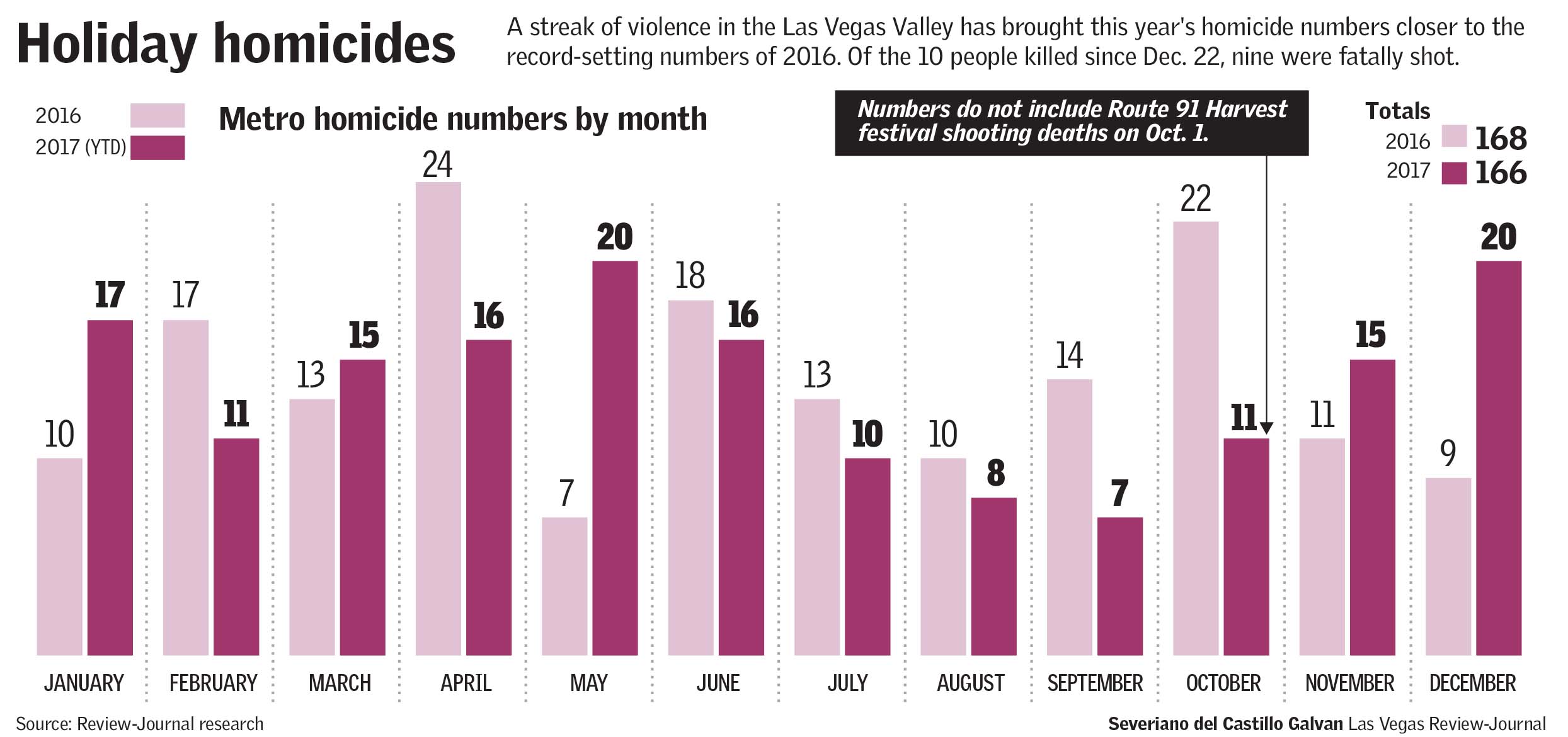 Of the 10 people killed since Dec. 22, three instances were double homicides and one was a triple homicide.
Latest homicides
On Wednesday night, two people were killed and two more were hospitalized after a shooting at an eastern valley apartment complex. Police arrested 46-year-old Clarence Wilson in connection with the slayings. Jawanna Chapman-Doucett, 38, was also arrested and faces a count of sale or transfer of a firearm to a prohibited person.
Police said the four were found shot inside of an apartment.
Earlier in the day, two homeless people who have not yet been identified were found dead with gunshot wounds behind a business on the 2900 block of Washington Avenue, near Rancho Drive. Police have not yet determined a motive or arrested any suspects.
On Christmas Eve, 28-year-old Theresa Helen Henry's body was found in a dumpster in the central valley. The Clark County coroner's office determined her cause of death to be head trauma. Her killer is at large.
Five dead Dec. 22
The streak of violence began around 10:40 a.m. Dec. 22 when the bodies of 58-year-old Renee Simmons and 59-year-old Thomas Dufault were found in an eastern valley home. Investigators later determined each victim had gunshot wounds to the head.
Later that day, a dispute at an eastern valley home led to three people being shot to death. Natasha Henry, 43; Stanley Herring, 39; and Cordell Jones, 34, were killed in the shootings. Suspect Christine Rose Sanchez, 47, was arrested the day after the deadly shootings.
Las Vegas Justice of the Peace Eric Goodman has set a Jan. 26 preliminary hearing for Sanchez.
Clark County District Attorney Steve Wolfson has said he expects his office to review the case against Sanchez to possibly seek the death penalty. Earlier this year, prosecutors dismissed a separate murder case against Sanchez because of a lack of evidence.
Metro's homicide section typically has a solve rate between 75 and 80 percent, department spokesman Larry Hadfield said. Suspects have been arrested in two of the five incidents since last Friday.
"Although the homicide section can't prevent the homicides, we are finding those responsible and putting them behind bars," Hadfield said.
North Las Vegas not immune
A possible triple homicide was under investigation late Thursday outside of Metro's jurisdiction.
North Las Vegas police were investigating the shooting deaths of three adults found inside an apartment on the 2200 block of Carroll Street, near Civic Center Drive and Lake Mead Boulevard.
The shootings would mark the 22nd, 23rd and 24th homicides North Las Vegas police have investigated this year.
Contact Blake Apgar at bapgar@reviewjournal.com or 702-387-5298. Follow @blakeapgar on Twitter. Review-Journal staff writers David Ferrara and Mike Shoro contributed to this story.