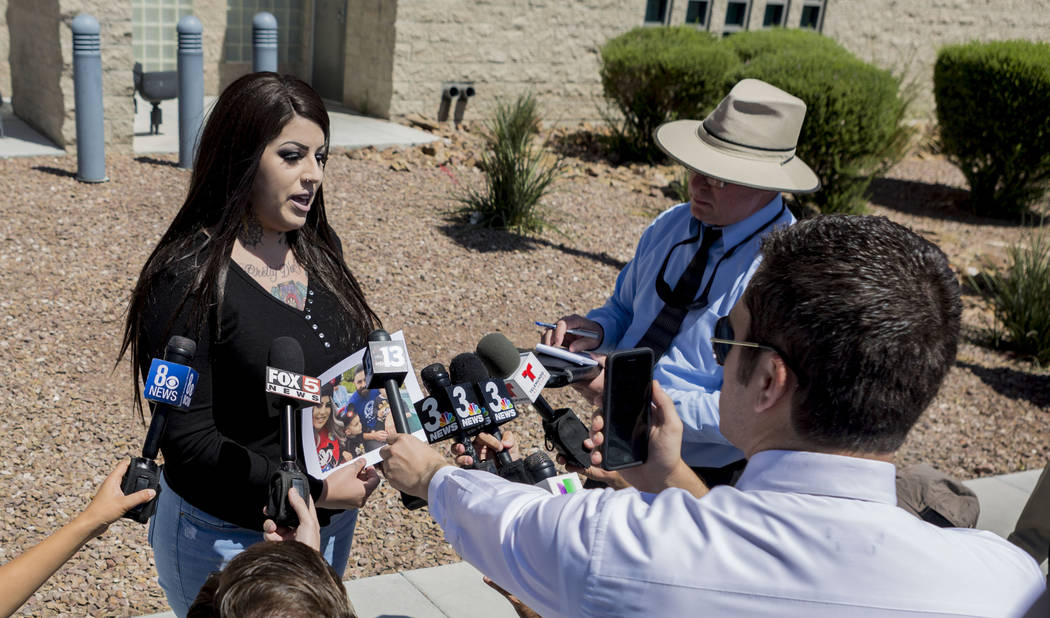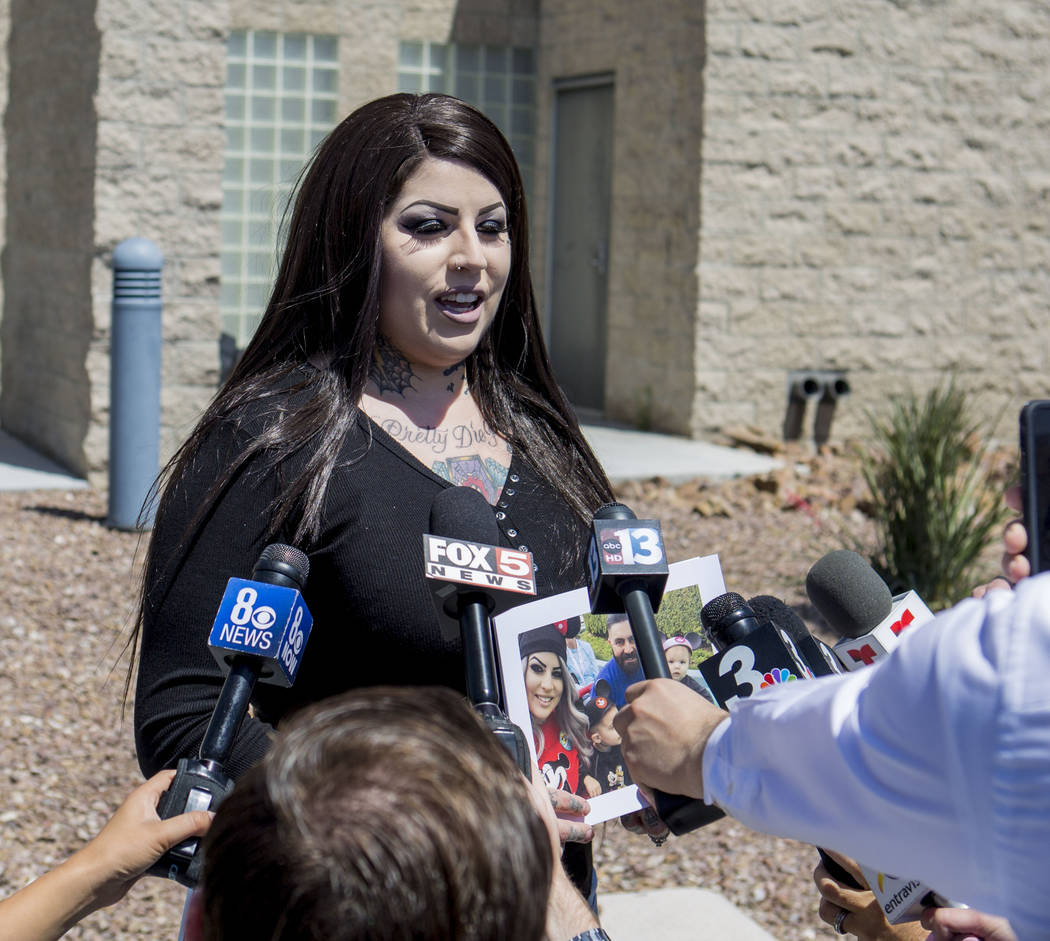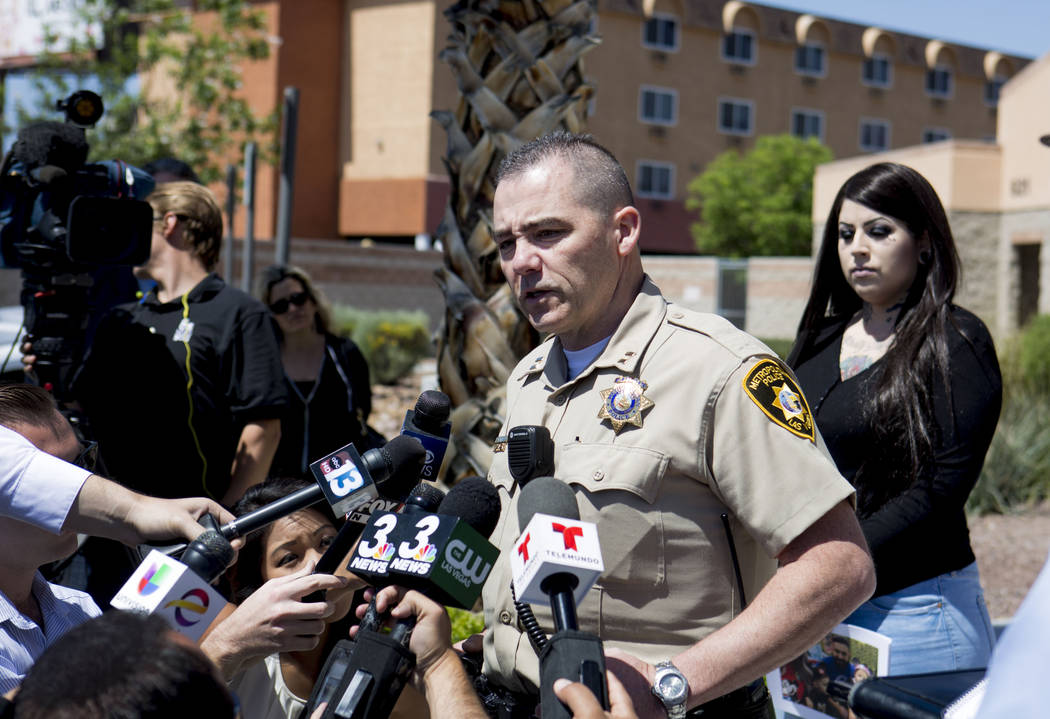 The man accused of killing a downtown Las Vegas bar patron with one punch was released from prison in 2014 after serving time for attempted murder, a Nevada Department of Corrections spokeswoman said Monday.
James Beach, 27, was arrested without incident Sunday on a murder charge, Las Vegas police said. Beach is accused of killing Luis Campos, of La Puente, California, with one punch on April 30 outside Vanguard Lounge, 516 Fremont St.
Julie Campos, the victim's wife, spoke to reporters Monday morning during a news conference at the Metropolitan Police Department's downtown area command.
"I just have a big, huge hole in my heart that's never going to go away for this man," she said. "I don't know what I'm going to do without the guy, but I'm definitely going to raise my children in his honor."
The couple had two children together, and Luis Campos had three children from a previous marriage.
He was visiting his younger brother in Las Vegas to celebrate another brother's bachelor party and was supposed to be the best man in the brother's upcoming wedding.
Witnesses said the attack was unprovoked. Campos was waiting in line to enter Vanguard when two men approached, and one of them hit him.
Luis Campos collapsed and died from the injury four days later at University Medical Center.
His wife said she is trying to stay strong for her children while dealing with the shock of what happened to her husband.
"He's such a strong man. Never would I have thought that just one sucker punch would have snuffed his beautiful light out," she said. "He would always tell me, 'I'm not Superman.'
"But in reality, he was my Superman."
She called it a "tragic" Las Vegas love story: The couple met at a car show in Las Vegas and would have celebrated their third anniversary at the end of May.
"I feel like I never want to come back here again, because my soul is crushed," Julie Campos said, although she told reporters she would come back for Beach's court appearances.
Beach is being held without bail at the Clark County Detention Center. Court records show that he was involved in a 2008 brawl between two groups of men that nearly turned deadly.
He and three other men got into a fight with another group at a house party about midnight on Nov. 15, 2008. Witnesses told police the scene at the party was chaotic and shots were fired, according to court records.
Five hours later, the two groups met in a grocery store parking lot to finish the fight.
Beach fired several rounds during the melee, shooting one man in the heart and another man twice in the groin area.
He later pleaded guilty to charges of attempted murder and battery with a deadly weapon resulting in substantial bodily harm, and he was sentenced to spend two to 10 years in state prison.
Brooke Keast, spokeswoman for the state Department of Corrections, said he served five years and was released in 2014.
Contact Wesley Juhl at wjuhl@reviewjournal.com and 702-383-0391. Follow @WesJuhl on Twitter.
RELATED
Man arrested in 1-punch death outside downtown Las Vegas bar
1 punch outside downtown Las Vegas bar leaves father of 5 dead
'He feels terrible'
James Beach "threw a hit and thought that would be the end of it," Gregory Knapp, his lawyer, told the Las Vegas Review-Journal on Monday.
"Nothing happened beforehand. There wasn't a beef or blowout — none of that. Just a little flare-up, right there. Some words or gestures were read or misread," Knapp said of the seconds before Beach fatally punched Luis Campos outside Vanguard Lounge on April 30. "Now one person is dead, and one person's life is in ruins."
Knapp said his client, who has a child, ran from the scene shortly after throwing one punch because he was trying to avoid a fight or brawl. "It wasn't meant to be a fight in the first place."
After the punch, the attorney said, Beach returned to the scene and went to a nightclub. By then, Campos had been loaded onto an ambulance, and officers had dispersed.
"He had no idea anything was wrong," Knapp said of Beach. "Nothing, until it hit the news. He feels terrible."
Knapp also represented Beach in his 2008 attempted murder case.
Tips lead to arrest
Metropolitan Police Department Capt. Andy Walsh, of the downtown area substation, said Monday that tips began to trickle in after the department released surveillance footage to the public last week. The footage showed two men jogging away from the area where Luis Campos was punched. Patrol detectives worked with the homicide unit to track those tips back to James Beach.