MGM CEO apologizes to employees for not communicating about Oct. 1 lawsuits
Updated July 30, 2018 - 5:29 pm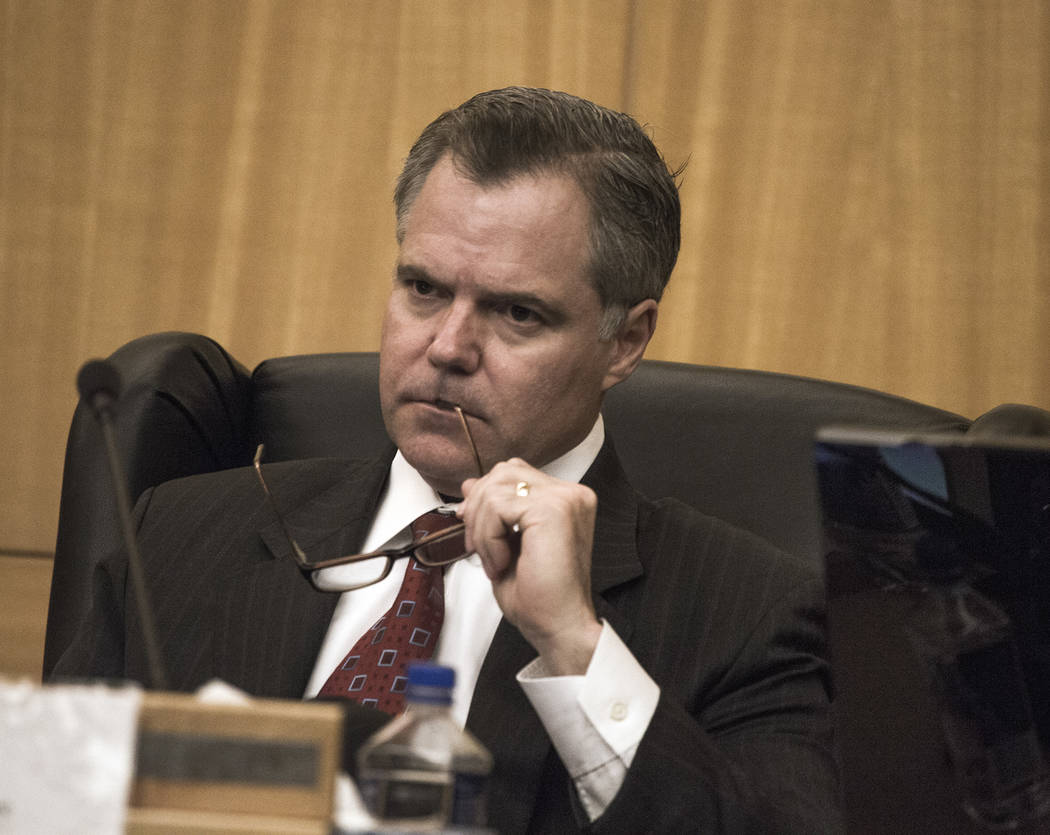 After the company that owns Mandalay Bay sued more than a thousand Las Vegas mass shooting victims, its CEO is apologizing to employees — for not communicating better.
"I first want to express my sincere regret that we did not spend more time explaining what we were trying to accomplish," MGM Resorts International CEO Jim Murren said in a memo sent to staff Friday. "Instead, many of you were left to read media reports which were misleading and truly awful."
MGM filed the federal lawsuits in at least eight different states earlier this month. The move sparked social media backlash and inspired the hashtag #BoycottMGM.
The company was not seeking money from Oct. 1 victims through the lawsuits, but instead was aiming to "allow all cases to come together in one courtroom," Murren wrote.
"We believe this action benefits all victims by providing an opportunity for closure in a swift and fair manner," Murren added in his memo.
The largely unprecedented move of suing several hundred mass shooting victims would probably increase efficiency, legally speaking. But it would also save MGM a significant amount in legal fees, said David Levine, a law professor and expert in civil litigation at the University of California, Hastings College of the Law in San Francisco.
"They want to get it all over at once," Levine said of MGM. "They don't want to spend hundreds of thousands of dollars litigating over and over again on many battlefields."
But regardless of what MGM wants, that's not how it typically works, Levine said, citing more than 50 years of strong legal precedent.
"In a personal injury situation, you let the plaintiffs go first," Levine said. "They get to pick the time and place of the lawsuits initially. 'White goes first in a chess game, red goes first in a checkers game,' — that's the idea."
Then, regardless of the location or level of court, the company has the right to defend itself over and over again against victim claims — in this case, with a 2002 anti-terrorism act it hopes will absolve it of liability.
But MGM is trying to circumvent that process and instead force consolidation in the federal court system.
"If these cases proceed in this manner," Murren wrote in his memo to employees, "victims, which include MGM Resorts employees and families, first responders and witnesses would face the need to testify over and over again, traveling throughout various court rooms across the US in trial after trial."
Levine still said he expects MGM's federal cases to be dismissed.
He said victims may have a hard time succeeding on the merits of their lawsuits against the hotel because of the basic challenge of showing that the mass shooting was something hotel security should have anticipated.
But that will be decided in the future, in what will likely be many different courtrooms.
"The issues on the merits need to be assessed in the lawsuits filed by the plaintiffs, not at a time and place of the choosing of the hotel defendant," Levine said.
Message from MGM chairman to employees by Las Vegas Review-Journal on Scribd
Contact Rachel Crosby at rcrosby@reviewjournal.com or 702-477-3801. Follow @rachelacrosby.