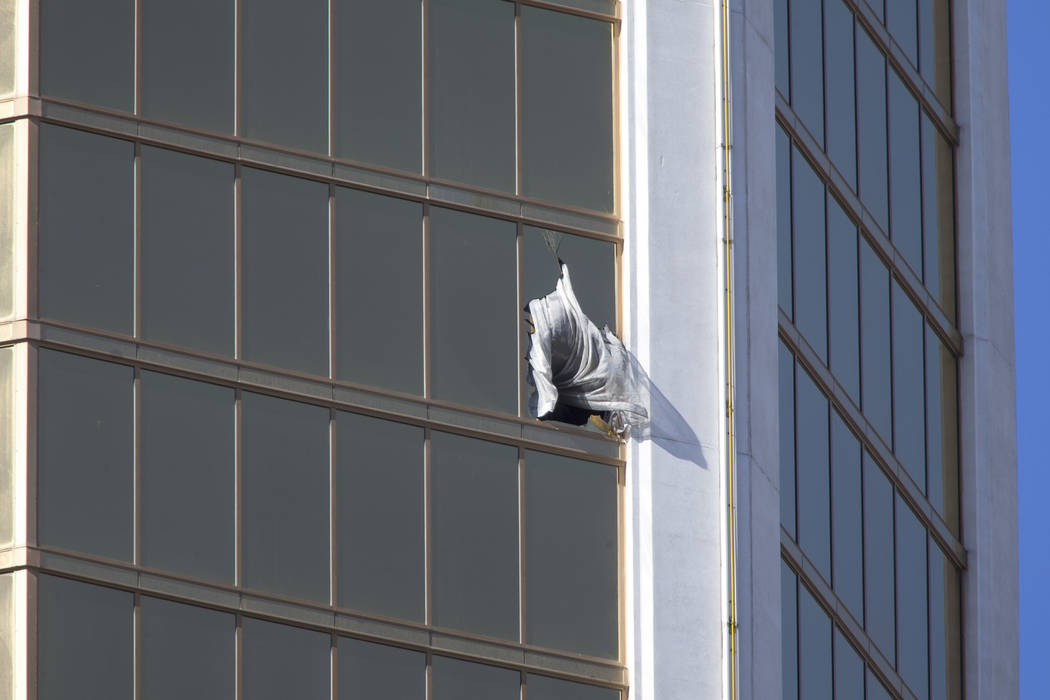 With their little fingers stretched wide and tiny arms held as high as they can reach, the young children run as fast as they can.
Arms up, adults trail behind.
"Thank you, guys," an officer holding a rifle at a New York-New York entrance says as the families run past him late on Oct. 1. "Thank you. Keep going."
The scene was captured in one of 16 new body camera videos that Las Vegas police turned over Wednesday from the Route 91 Harvest festival shooting. It marked the 14th court-ordered release since early May of Metropolitan Police Department audio, video or documents from the attack, which left 58 concertgoers dead and more than 800 injured.
Most of the footage released Wednesday was recorded near the festival grounds or within Mandalay Bay. All of it again illustrated the chaos and terror that so many experienced during the attack and subsequent police response.
In another video, first responders can be seen cutting through a section of pedestrian fencing on the Strip. The new opening allowed officers to lift an injured man up from the protected sidewalk area and over to the roadway, which had been shut down so paramedics and firefighters could set up a triage area.
That section of fencing since has been repaired, a Clark County spokesman said.
Later in the same video, officers spot a figure standing in a stairwell at the nearby Tropicana Las Vegas, holding a rifle. Out of precaution, the officers quickly take cover and order others to do the same — until they learn the figure is a fellow officer.
"It's one of us up there!" an officer shouts.
Preparing for the worst
In another clip, an officer inside a lobby at the New York-New York takes a moment to call a sergeant and relay a personal request.
"We got shot at and stuff," the officer says. "So if anything happens to me, just walk my wife through how to … handle everything."
Down the street at the Luxor, another video shows a team of officers formulating a plan to secure the resort's valet area amid reports of an explosive device in a black Audi.
Before they move in, one Metro officer bends over a parked car with his hands folded in apparent prayer. The Audi ended up being a self-driving car — reported as suspicious because of protruding "electronic equipment" that bomb technicians ultimately realized was part of the autonomous vehicle's navigation system, according to corresponding police documents. No explosive was located.
Another clip shows an officer who appears to be directing traffic near University Medical Center, where many patients were taken that night. She tells several drivers that the hospital is "booked" and that only the critically wounded can enter. Erroneous radio traffic that night had announced that the hospital was at capacity.
At one point, a man in a cab protests.
"My girlfriend is at UMC," he says.
"You can't go," the officer says. "It's too booked. It's closed. There's so much traffic going on right now. This is crazy."
"Can I walk there?" the man asks, hopping out of the vehicle.
"You can walk there," she decides. "Go over there. Use the sidewalk."
Court battle for records
The Las Vegas Review-Journal and other media organizations sued for records related to the mass shooting in the days after the tragedy. Metro fought their release for months.
When the department was forced to comply, Metro began turning over the records in weekly batches of varying size and type.
They come in no particular order, and for three months the department has refused to identify the officers behind the body camera footage it has released. The department also has refused to specify the times the videos were captured.
Police previously released more than 3,000 pages of witness statements and officer reports, as well as 911 calls and other body camera footage. A Review-Journal examination of those records found that many officers experienced communication problems during the shooting response.
The department has said it will turn over more records next week.
Metro released its own final report on the Oct. 1 investigation on Friday. A separate FBI report will not be ready until sometime after the one-year anniversary, according to The Associated Press.
Contact Rachel Crosby at rcrosby@reviewjournal.com or 702-387-5290. Follow @rachelacrosby on Twitter. Review-Journal staff writers Jessie Bekker, Meghin Delaney, Jamie Munks and Wade Tyler Millward contributed to this report.
Related
Final police report on Las Vegas shooting unable to determine motive
Read the final report from Las Vegas police on the Oct. 1 shooting
Cards, notes sent after Las Vegas shooting are on display