Security company names center for Las Vegas shooting victim
December 13, 2017 - 2:15 pm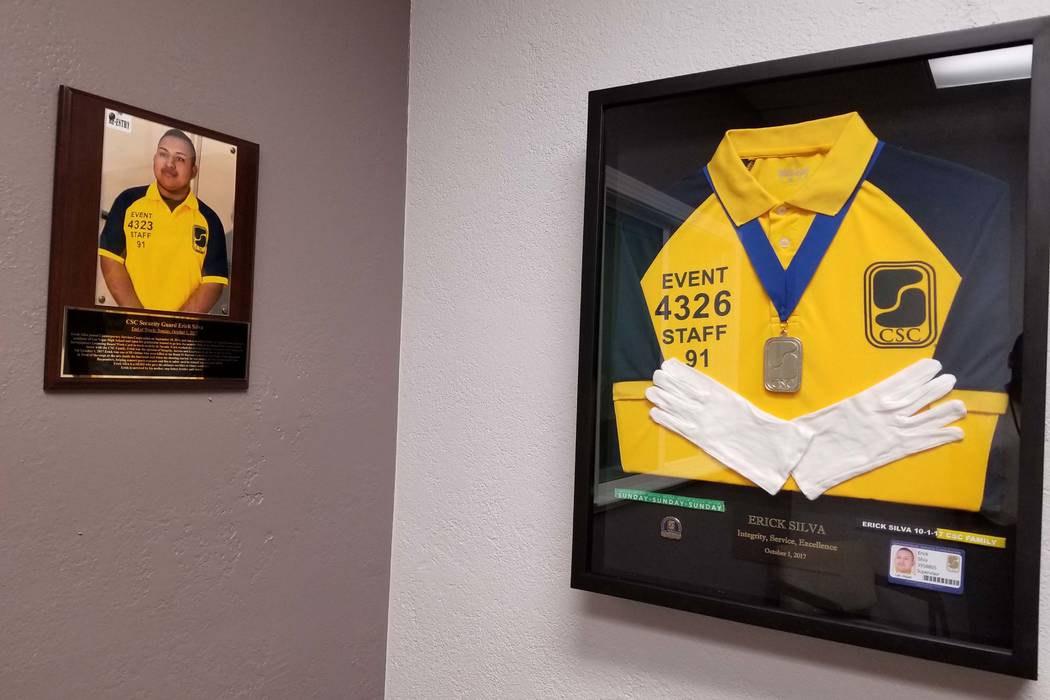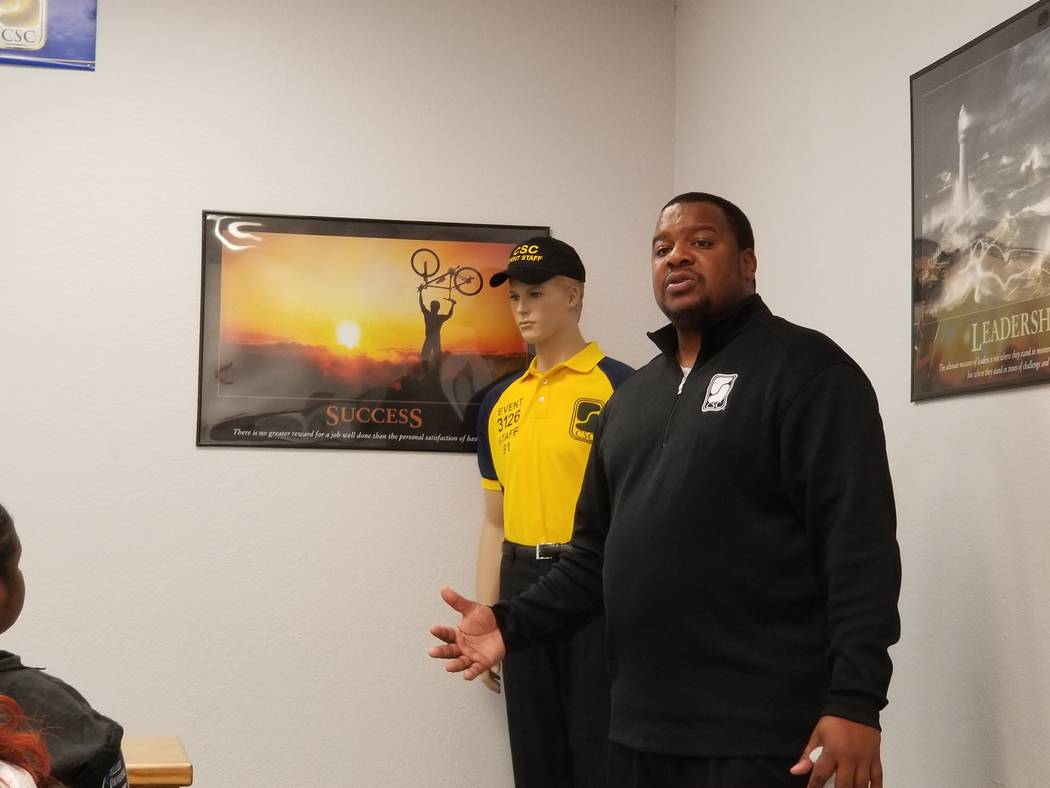 At the classroom doorway, Jay Purves told the room of new recruits to his branch of event security company Contemporary Services Corp. that the night of the Strip shooting proved why their job is necessary.
To succeed with CSC, the room of about 20 new recruits, seated in front of a slideshow presentation, need to stick to their post. They must watch their surroundings, avoid the distraction of the game or concert that brought them there.
"You are there to perform and do a job; you have to do that job seriously," Purves said. "We're the first of the first responders."
The group gathered Tuesday evening was part of only the second recruiting class to go through orientation and get their badges inside the Erick Silva Training Center, named for the CSC guard killed on Oct. 1.
Employer covered funeral
The recruiting class and the CSC workers surrounded themselves with reminders of the shooting.
A banner displayed Silva's name in the orientation room. His badge, gloves and work shirt hung framed in the lobby.
The training center itself stood in a shopping center by the concert venue targeted in the shooting, overlooked by Mandalay Bay where the gunman stayed.
"We stand here and look at it every night," Purves said after the orientation.
Speaking through an interpreter, Angelica Cervantes said she felt happy and honored CSC named the training center for her son. She had talked to him once a day while he worked for CSC. He told her he liked his job.
"It shows how much the company liked him, loved him, looked at him as more than just an employee," she said.
The company paid for Silva's funeral and started a GoFundMe page that has raised about $37,000 so far for Silva's family. Silva worked multiple jobs and provided a major source of income to his family, Purves said.
Purves helped to open the Las Vegas Valley branch about seven years ago, he said. Their employees range from 18 to in their 50s, with a variety of backgrounds from customer service to the military.
Purves, who worked the Route 91 Harvest music festival targeted in the Oct. 1 shooting, served in the Air Force. He had about 200 employees each day at Route 91. Some took time off to heal after the shooting. Others had to quit.
He said he wishes his team was recognized as much as some of the other first responders to Route 91.
Though he declined to discuss ongoing litigation, CSC is named as one of the defendants in lawsuits against venue owner MGM Resorts and concert organizer Live Nation.
'Once in a lifetime'
The local branch is kept up to date on event security measures in regular regional meetings with CSC. He said he'll continue to tell new recruits to be like Silva at and outside of work.
"I'm proud and honored to work with the men and women of CSC," he said. "They're all heroes in my mind."
Sabrina Segoviano took her CSC work badge and headed out into the lobby. Only a week earlier, she'd stood there and read the inscription on a plaque dedicated to the guard.
She found herself wiping away tears as she read of how he helped concertgoers evacuate.
Segoviano, 21 like Silva, said she didn't believe she will face an event like Route 91 while working with CSC.
"That was once in a lifetime," she said.
Contact Wade Tyler Millward at wmillward@reviewjournal.com or 702-383-4602. Follow @wademillward on Twitter.