Tale of 2 shootings: Facts in Texas, hints in Las Vegas
November 7, 2017 - 9:26 am
Updated November 7, 2017 - 6:44 pm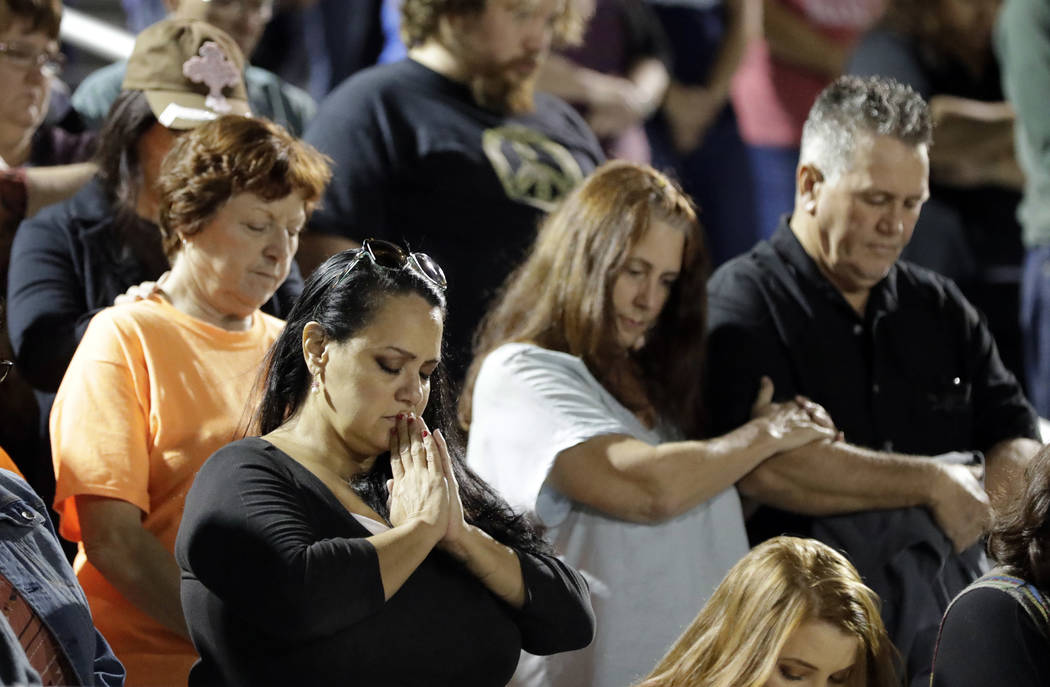 SUTHERLAND SPRINGS, Texas — Investigations into horrific mass shootings here and in Las Vegas continued to diverge Tuesday.
Every passing hour revealed more detail about the seething veteran who carried out a church shooting in the Lone Star State, while questions continue to surround the motivations of the man who massacred concertgoers nearly five weeks ago on the Strip.
Authorities in Texas said Devin Kelley, 26, of New Braunfels, left numerous clues to his volatile and violent personality before carrying out a methodical massacre — including escape from a mental facility and threats made against superiors.
Despite those clues, Kelley legally purchased the guns later used in the attack.
"He is not in any FBI databases," Christopher Combs, FBI special agent in charge in San Antonio, told a news conference here.
The Air Force said federal privacy laws prohibit it from commenting on a police report that the gunman had escaped from a New Mexico mental health facility in 2012. El Paso TV station KVIA first reported the escape.
Air Force spokeswoman Ann Stefanek cited privacy regulations under the Health Insurance Portability and Accountability Act of 1996, which she said apply even though the former airman died from an apparent self-inflicted gunshot.
An El Paso, Texas, police report also said that Kelley made death threats against superior officers. Stefanek said the Air Force was looking into that report.
The Air Force said Kelley was court-martialed for abusing his wife and child in 2012 while he was serving at Holloman Air Force Base. He served time for the offense and was dishonorably discharged in 2014.
However, the Air Force confirmed Monday that it failed to provide notice to the National Crime Information Center (NCIC) database that would have prevented him from purchasing weapons used to carry out the killing at the First Baptist Church on Nov. 5.
The Bureau of Alcohol, Tobacco, Firearms and Explosives said Kelley purchased four weapons from 2014 to 2017 in Colorado and Texas.
Three of those weapons were recovered at the Sutherland Springs church or in Kelley's vehicle after the massacre.
The ATF said it was checking cartridges from Kelley's assault rifle to determine if it was used in any previous unsolved shooting.
Kelley also was named as a suspect in a 2013 sexual assault in his Texas hometown of New Braunfels, about 35 miles from the scene of the church attack.
Deputies were called to Kelley's home in New Braunfels in June 2013 about the rape case and investigated for three months, Comal County Sheriff Mark Reynolds said. But it appeared that they stopped investigating after they believed Kelley left Texas and moved to Colorado. Reynolds said the case was then listed as inactive.
Looking for a motive
Kelley, dressed in a body armor and wearing a black mask with a skull face, attacked the church about 11:20 a.m., firing at least 450 rounds from an semiautomatic assault rifle to kill 26 people and wound 20 others.
The FBI, under search warrant, has retrieved the cellphone used by Kelley, but the contents of that phone were encrypted and remain unknown.
Combs said the phone has been sent to the FBI laboratory in Quantico, Virginia.
Law enforcement officials in Texas said Monday the apparent motive behind the shooting was domestic in nature.
Kelley was involved in a "domestic situation" with his mother-in-law, a parishioner at the church, and texted threats to her shortly before the attack, authorities said. The woman, who has not been identified, did not attend Sunday's service.
Contrast that with the Las Vegas Strip shooting five weeks ago. Law enforcement officials in Las Vegas have said little since the early days of the investigation about what led Stephen Paddock, 64, of Mesquite, Nevada, to carry out the attack.
Clark County Sheriff Joe Lombardo has ceased press briefings on the investigation, though he offered up a hint about Paddock's possible motivation in an interview this past week.
Lombardo told a Las Vegas television station that Paddock had suffered large gambling losses before the shooting occurred.
Still, some lawmen have said they may never know what caused the quiet real estate investor and video poker player to carry out the worst random gun-violence event in U.S. history, which killed 58 people and wounded more than 500.
Police found 23 weapons in Paddock's 32nd floor hotel room. Twelve semi-automatic assault rifles were equipped with "bump stock" devices to accelerate the rate of gunfire to mimic fully automatic weapons.
In the Texas shooting, "There's not evidence of a gun stock being used," said Fred Milanowski of the ATF.
Milanowski said Kelley used a semi-automatic assault rifle that was not equipped with the bump-stock device used by the Las Vegas shooter.
Several bipartisan bills have been filed in Congress to ban or regulate "bump stocks," but neither the House or Senate have scheduled hearings to discuss the politically divisive issue of gun control.
Meanwhile, the Air Force's failure to provide information to the FBI's NCIC about Kelley's conviction prompted U.S. Sen. John McCain, R-Ariz., to pledge a future hearing in the Senate Armed Services Committee.
"It's critical that each of the military services take the steps necessary to ensure that similar mistakes have not occurred and will not occur in the future," said McCain, chairman of the committee.
'Our hearts broken'
While the two shootings grow more dissimilar by the day, there were no discernible differences in emotions unleashed by the carnage in Nevada's most urban corner and rural Texas.
"Las Vegas stands with you with our hearts broken and ready to help in anyway we can," Las Vegas Mayor Carolyn Goodman told Texans in a social media message posted after the killing.
President Donald Trump, answering a question at a news conference in South Korea, said gun control laws may have resulted in more deaths in the Texas massacre because a Good Samaritan used an assault rifle to engage Kelley in a shootout outside the church.
"If he didn't have a gun, instead of 26 dead, you would have had hundreds more dead," Trump declared.
Trump said gun control is "not going to help."
Gun-rights supporters have seized on the Texas church massacre as proof of the well-worn saying that the best answer to a bad guy with a gun is a good guy with a gun. Gun-control advocates, meanwhile, say the tragedy shows once more that it is too easy to get a weapon in the U.S.
"Both sides are following the respective scripts that we have seen many times before," said Robert Spitzer, chairman of political science at the State University of New York at Cortland and an expert on firearms and Second Amendment issues.
Contact Gary Martin at gmartin@reviewjournal.com or 202-662-7390. Follow @garymartindc on Twitter. The Associated Press contributed to this report.