Video captures shooting of Las Vegas police officer on Oct. 1
Updated June 27, 2018 - 7:31 pm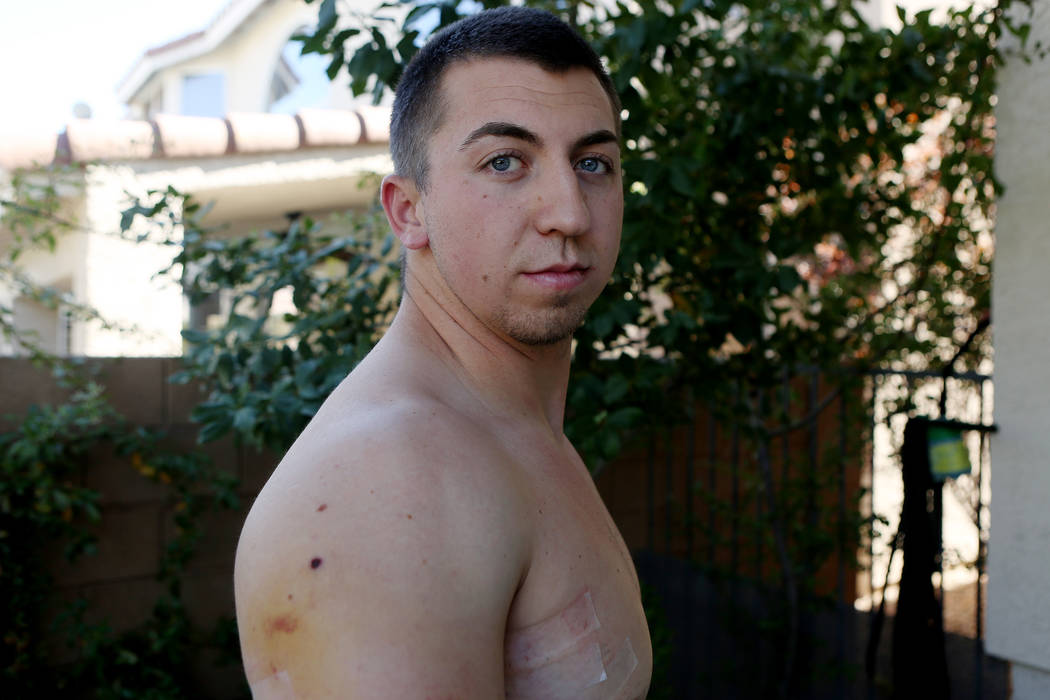 The officers duck behind their vehicles on the south end of the Strip as the bullets rain down from the 32nd floor of Mandalay Bay.
"I'm down! I got shot!" newly minted officer Brady Cook shouts from one side.
The bullet had blown through his biceps and into the right side of his chest. It traveled down, grazing his rib cage, before ripping through his skin again.
It was Oct. 1, and it was only his second night on the job.
In dramatic body camera footage released Wednesday by the Metropolitan Police Department, Cook's field training officer, Josh Haynes, rushes to his side.
"Where, where, where?" Haynes asks the 22-year-old officer. He pushes his way to his trainee. "Move, we got a casualty."
"My arm," Cook replies.
Wet blood had splattered on Cook's knee. Haynes searches for a tourniquet. The cacophony of cracking gunfire continues.
"We need to move you. You need to get to medical," Haynes says.
The two run down Las Vegas Boulevard.
"Keep moving. You're OK," Haynes tells Cook.
He again searches for a tourniquet to stop the bleeding from Cook's arm.
"I gotta get you an ambulance," Haynes tells him as another volley echoes through the sky. "We need a car."
Haynes is running now. The pair find two more officers taking cover behind an abandoned patrol vehicle. The keys are in the ignition.
"Yo, I need your car," Haynes says. "He's shot."
"This ain't my car," an officer replies.
"I'm taking this car," Haynes says as he and Cook get in and race to University Medical Center.
It's silent in the car, aside from the chatter of the radio.
"Shut up," Haynes says to nobody in particular.
He calls in to the dispatcher: "One officer shot, UMC Trauma."
"You got your seat belt on?" Haynes asks Cook. "Talk to me. Keep talking to me."
Cook had graduated from the police academy nine days earlier. He told the Las Vegas Review-Journal in October that he considered himself lucky to be assigned to the same area command as his father, Metro officer Matt Cook, and identified Haynes as his field training officer.
The two arrived on the Strip after 10 p.m., having just stepped out of their vehicle to patrol the Strip near the Flamingo when the call came in.
Video footage shows them joining three other units stationed outside the Route 91 Harvest festival grounds, where 58 concertgoers would be killed that night.
Cook catches a bullet in his right arm around 10:08.
In the patrol car, on the way to the hospital, Haynes encourages the young officer to give him random information. His name. His officer ID number. The names of his two horses.
Is his dad proud of him? Cook says he is.
They'll call him when they get to the hospital, Haynes says. They drive for around seven minutes before arriving at University Medical Center.
"How many girlfriends do you have, bro? Only one?" Haynes asks as he races to the hospital. "Is she sexy?"
"Yeah, she is," Cook replies.
"You like being a cop?" Haynes asks.
"I do," Cook says.
"This is why we do it, right?" Haynes asks. "I'm a little jealous you caught that round and I didn't, my brother. I'm proud of you."
Contact Briana Erickson at berickson@reviewjournal.com or 702-387-5244. Follow @brianarerick on Twitter.
Related
Video shows officers waiting in hallway during Las Vegas shooting
Cop shot in Las Vegas Strip shooting was on his second day