O.J. Simpson calls Las Vegas 'the No Hate Zone of America'
Updated March 17, 2018 - 10:12 pm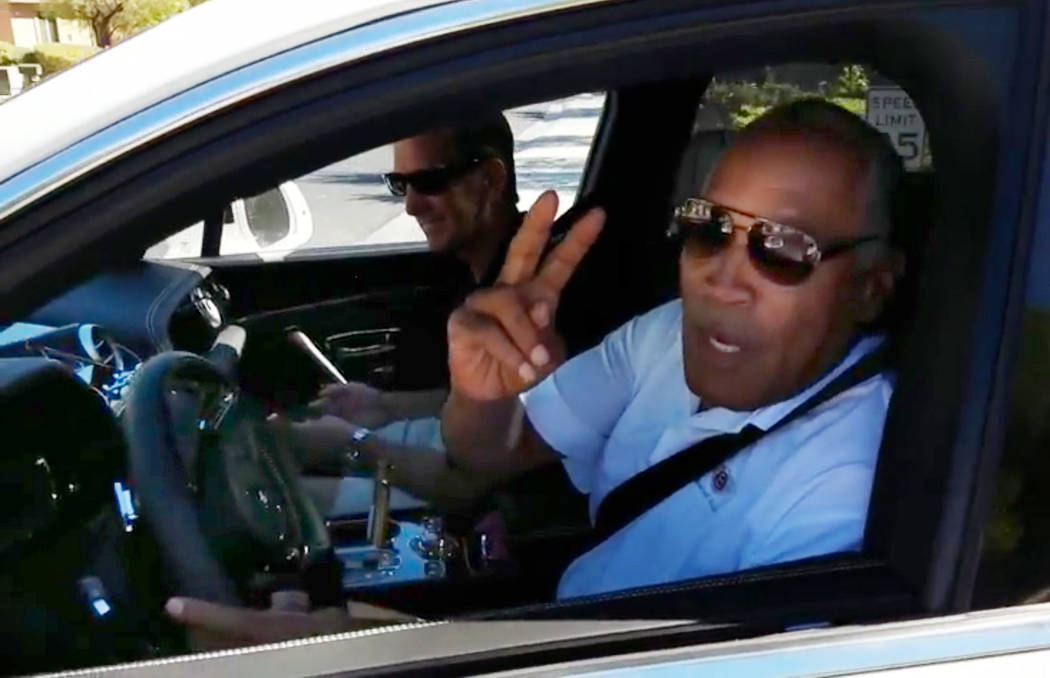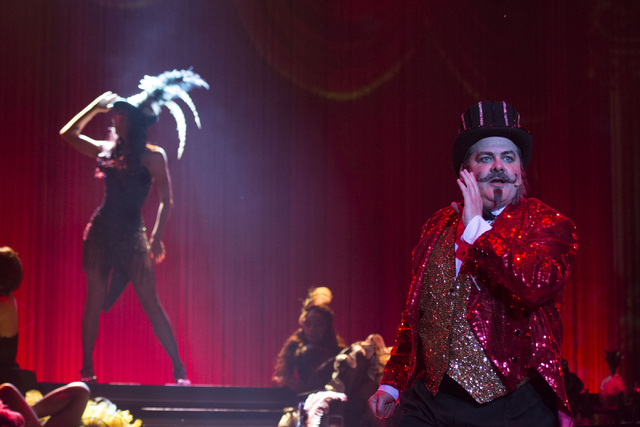 Alert the Las Vegas Visitors and Convention Authority: O.J. Simpson has bestowed a new nickname on Las Vegas.
"I consider this the No Hate Zone of America," Simpson said during an interview with the Buffalo News published Friday. "Everybody here seems to love their life. The Summerlin area is so positive."
Simpson reportedly still lives just off the second hole of Red Rock Country Club in a 5,000-square-foot home owned by Simpson's friend of more than 20 years, venture capitalist James Barnett. Simpson has lived in Red Rock since Oct. 1, when he was released from Lovelock Correctional Center after serving nine years for armed robbery after he attempted to reclaim sports memorabilia from a hotel room at Palace Station in 2007.
The extensive interview, covering three hours, was conducted Monday and is posted as a series on the Buffalo News website. The author is veteran sports journalist Tim Graham, who covers the Buffalo Bills (and who also worked for the Las Vegas Sun in the 1990s). The agreed-upon ground rules were no video, no sensationalized pre-publicity for the interview and that questions be restricted to Simpson's playing career.
Thus, there were no direct questions about the disgraced former NFL star's role in the 1994 murders of his ex-wife, Nicole Brown Simpson and her friend Ronald Goldman. But Simpson does obliquely refer to the murders and 1995 criminal case just after Fox aired a 2006 interview titled "If I Did It" last Sunday to promote the book of the same name.
Simpson seems to hypothetically refer to the murders as if he committed the acts, for which he was tried and acquitted. He says to his friend and former Bills defensive end Sherman White, who calls Simpson during Monday's interview, "Listen, if I confessed 12 years ago, you would have heard about it 12 years ago!"
Simpson's counsel is pursuing legal action against the Cosmopolitan of Las Vegas for the well-publicized incident at the casino in November. He was reportedly escorted off the property for being drunk and disorderly (an account he disputes, adding that tests for drugs and alcohol in his system have come back negative).
Simpson still hits the scene, through. Matching Instagram posts from the NFL playoffs, Simpson was spotted hanging at the Buffalo Bills' bar Moon Doggies Bar & Grill on Jan. 7 as the Bills lost to the Baltimore Ravens. He wore a replica No. 25 jersey of running back LeSean McCoy, an ardent fan of Simpson's running style. Simpson also has been seen frequently in Summerlin and surrounding areas, at Wahoo's Fish Tacos at Boca Park, Grape Street Cafe and Wine Bar in Downtown Summerlin, and at La Casa Cigars & Lounge, where three weeks ago he randomly happened upon a "guy's night out" cigar confab organized by Planet Hollywood magician Murray Sawchuck.
Simpson tells the Buffalo publication he plans to live in Las Vegas indefinitely.
"I have no plans to leave any time soon, and my kids love coming here. My daughter came in for the second time from Florida and stayed five weeks," he says. "My son is coming for the third time from Florida. They love visiting me here, and you always get old friends with noooo problem, coming to Las Vegas."
'Baz' hits 500
"Baz — Star Crossed Love," the residency show at Palazzo Theater, turned in its 500th performance on Thursday night. The show marked the debut of Allie Trimm as Daisy, replacing Ruby Lewis.
The other main players in the talent-rich lineup: Original cast member Timyra-Joi (Juliet), Anne Martinez (Satine), Tiffany O'Connor (Myrtle), Savanna Cross (Fran), Jaclyn McSpadden (Satie), Ian Brininstool (Romeo), Bill Evans (Maestro), Brad Standley (Christian), Patrick Ortiz (Rowdie), Nick Petris (Henri), Doug Carpenter (Gatsby) and Kiril Kulish (Scott). The swings who need to sing it all, every character, are Paul Johnson, Jenna Nicole Gillespie and Ron Remke.
Aside from the Broadway-caliber performances, "Baz" is known for (spoiler alert!) its uniformly fatal closing segment. But those who track such stats report 3,000 on-stage kisses in its 500-show history at Palazzo, and 75 uses of the word "love."
'X' notches the deuce
On the topic of anniversaries, the topless revue "X Country" celebrated No. 2 at Harrah's Cabaret on Tuesday night. It was the send-off, at least temporarily, for cast member Chloe Vashaw, who has been hired to perform in Moulin Rouge in Paris for the next six months.
Close observers to the performance notice a locket worn by cast member Olivia Franz in her stripper-pole number. The photo inside is of Angela Stabile, who founded show producer Stabile Productions with her husband, Matt Stabile. The shot is of Angela in her days at "Crazy Girls" at the Riviera, where she was an original cast member — and took copious notes about how to stage her own show one day.
Cool Hang Alert
And a biggie, as piano great and accomplished sports bettor Kenny Davidsen celebrates his fifth anniversary at 8:30 Sunday night at Copa Room at Tuscany Suites. I do recall when Davidsen launched his "BowTie Cabaret" nights at what was then known as T-Spot lounge. His success is a testament to strong word-of-mouth accounts across VegasVille.
As usual, the show is no-cover, with Martinez and Jassen Allen co-hosting. Singers set to sing include Enoch Augustus Scott, Lisa Marie Smith, late of "Baz"; Lannie Counts of Santa Fe & The Fat City Horns, Vinny "Vin A." Adinolfi of Bronx Wanderers; Valerie Witherspoon of 'Fantasy" and "The Cocktail Cabaret"; longtime stand-up comic and singer/songwriter Dennis Blair, a regular at Davidsen's shows; Ashley Fuller of "Alice"; broadcast legend and accomplished crooner Al Bernstein; and, naturally, Kenny's opera-singing mother, Rita Davidsen.
John Katsilometes' column runs daily in the A section. Contact him at jkatsilometes@reviewjournal.com. Follow @johnnykats on Twitter, @JohnnyKats1 on Instagram.