10 best things to do in Las Vegas this weekend — Oct. 13-15
October 13, 2017 - 3:16 pm
Grab a bite
Pizza is the latest food to get in on the pumpkin-spice trend. Metro Pizza's is topped with spiced butternut squash, roasted apple, whipped goat cheese, toasted pepitas and a drizzle of walnut oil. It's $27.50 and is available only at the Metro location at 6720 Sky Pointe Drive, through the end of the month. Learn more here.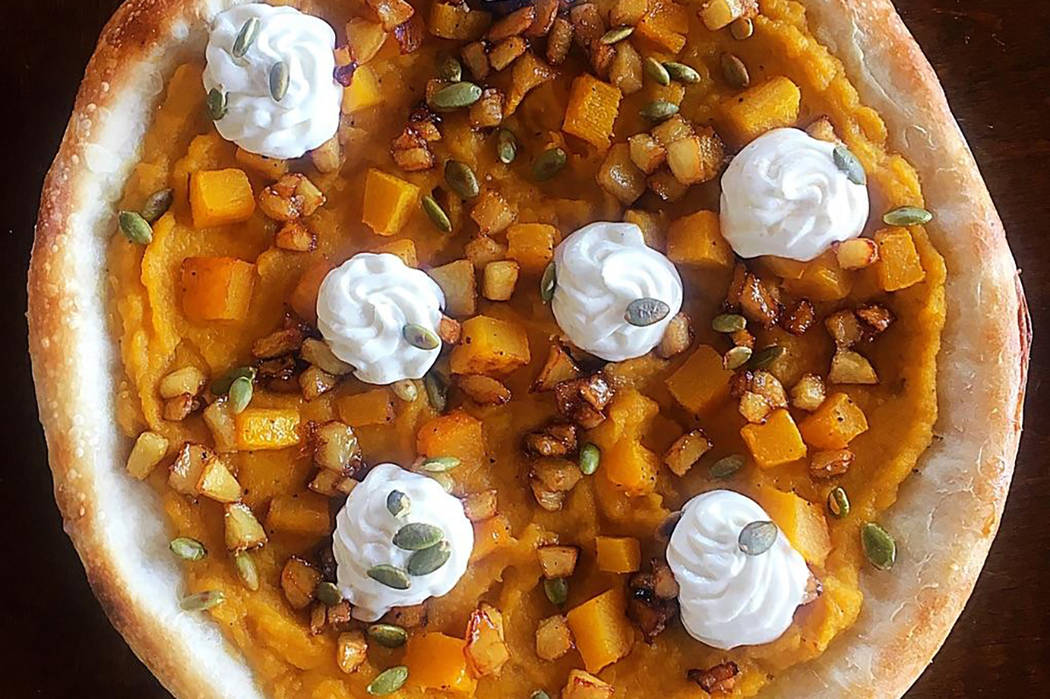 Metro Pizza
Get a drink
With pumpkins in season and Halloween in the air, Friday the 13th is a perfect time to try the seasonal Smashed Pumpkin cocktail from the new Lakes-area Salud Mexican Bistro and Tequileria. Available through the end of November, this is as much a dessert as it is a cocktail, with a hearty dose of sugar masking the bite of tequila. See how it's made here.
Rock out
What keeps Bob Dylan on the road for a hundred dates a year? The simple answer is, it's just what he does.
He may not play the hits quite like you remember them, but continuing on in his way has kept one of the greatest songwriters of all time excited about making music and touring as he nears 80. Catch him at 8 p.m. on Saturday at The Chelsea at The Cosmopolitan. Read more about Bob Dylan here.
U.S. musician Bob Dylan performs during on day 2 of The Hop Festival in Paddock Wood, Kent on June 30th 2012. (Ki Price Reuters)
See a show
The Southern Nevada Bluegrass Music Society has announced that the inaugural Viva Las VeGrass Festival will donate all gate ticket sales to the Las Vegas Victims' Fund. The event, subtitled Green Initiative Bluegrass Festival will feature music by local and national bluegrass groups. Attend the fest at Craig Ranch Regional Park Friday through Sunday. Read more about Viva Las VeGrass here.
Catch a movie
Visually, "Blade Runner 2049" is every bit as stunning as "Blade Runner" was for its time. The filmmakers also take the original's theme of what it means to be alive to new levels and the pacing is methodical and deliberate. A wondrous work of filmmaking, "Blade Runner 2049" is something you can get lost inside for darn near three hours. Read the full review here.
Downtown
Artifice, 125 First St. in the Arts District, will celebrate Friday the 13th by hosting Black Cat Cabaret. The evening promises "magic, music, dance and more" from Veronica Manhattan, Neon, Robin Hearts and others. The show kicks off at 8 p.m. See more downtown events here.
Renaissance Festival
The Age of Chivalry Renaissance Festival kicks off today at Sunset Park. The fest features jousting tournaments, live combat battles, period demonstrations and food and drink vendors. Dress as your favorite Renaissance character and prepare to make merry. Tickets are $10-15 and the fest runs through Sunday.
Support local businesses and those affected by the shooting
A number of businesses have launched fundraisers or are offering free food to first responders and those directly affected by the mass shooting on the Strip.
Kabob Express will donate 50 percent of sales after 3 p.m. through Saturday to Las Vegas Victims' Fund. Also, free meals for first responders.
Blondie's Sports Bar & Grill will donate $5 to the Las Vegas Victims' Fund for every bucket of beer purchased during October.
See the full list of participating businesses here.
Free nature walks
Save Red Rock and Escape Adventures are teaming up to offer free nature walks in Red Rock Canyon. Victims, families, first responders and anyone saddened by the Las Vegas shooting is welcome to join for a moment of "peaceful solitude." Call 702-596-2953 to schedule.
Seek mental wellness
UnitedHealthcare and Southwest Medical Associates are offering a free help line staffed by mental health specialists open 24/7, 866-342-6892. Resources are also available at liveandworkwell.com.
Vegas PBS has a Resources to Help Families Cope web page at vegaspbs.org/kids-families/resources-help-families-cope
Congregation Ner Tamid (55 N. Valle Verde Parkway) is hosting Vegas Strong in Song at 5:30 p.m. Sunday in collaboration with Temple Sinai. The nondenominational concert will feature 14 Jewish composers and performers. Admission is free and all donations will go to victims of the tragedy.