Las Vegas chef helps create a $250,000 dream kitchen
Updated March 14, 2018 - 1:13 pm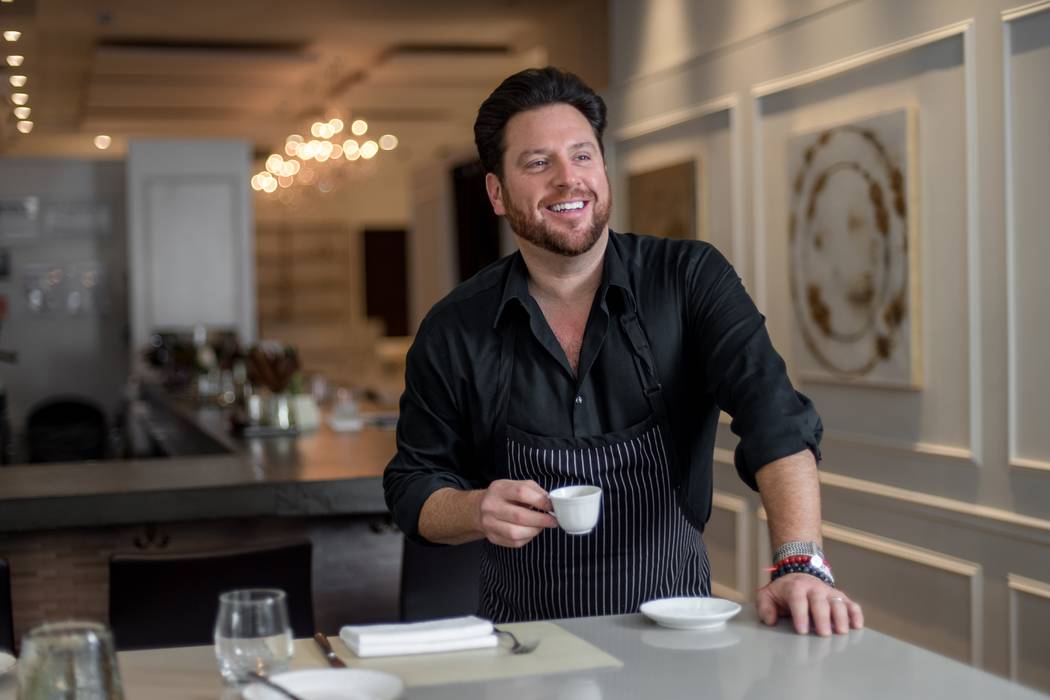 Food Network star chef Scott Conant, who recently opened Masso Osteria at Red Rock Resort, worked with designer Shea McGee to create a $250,000 chef's dream kitchen, which the Food Network will give away to one lucky viewer. We can dream, can't we?
You can tour the collaboration at foodnetwork.com/fantasykitchen, but here are a few details about Conant's ideal kitchen: a 60-inch range, two dishwashers, refrigerated drawers, a custom-built pizza oven, pot filler and wine fridge, in an atmosphere of tumbled painted brick, mixed metals and open shelving. For a chance to win the $250,000 that the network says could be used toward such a kitchen, visit geniuskitchen.com and/or foodnetwork.com to enter by April 16.
For recipes and other details, visit foodnetwork.com/fantasykitchen or watch "The Kitchen" on the Food Network at 11 a.m. Saturday and March 24.
Rare cognac for the sipping
Brian Howard of Sparrow and Wolf has secured three bottles from chef Andre Rochat's private collection of cognac and Armagnac to sell at the restaurant. They include a bottle from Jacques Hardy's private collection — dated 1848 — before he established his cognac company, a bottle of Pedro Ximenez PX 1961, which Howard describes as "super-aged" and "like molasses," and relatively young 1964 Armagnac. A 2-ounce pour of the Hardy will run you $400 ($300 less than Rochat was charging), or you can purchase it by the milliliter for $35.
Emphasis on diversity
Those who nominate and select the winners of the James Beard Awards were given a new guideline this year. They were asked to ensure nominees possess "the values of respect, transparency, diversity, sustainability and equality," according to The New York Times. The #MeToo movement is leaving its mark on the industry; additionally, the James Beard Foundation's Women's Leadership Programs are committed to the advancement of women in the industry. Progress is being made; the Times reported that 40 percent of the semifinalists are women this year, compared to 27 percent a year ago. Finalists will be announced Wednesday, and winners on May 7 in Chicago.
Chefs go head to head
The Back of the House Brawl competition returns this weekend after its winter hiatus. Two downtown chefs, Justin Kingsley Hall of The Kitchen at Atomic and Josh Clark of The Goodwich, will vie for the pepper grinder trophy. The party starts at 10 p.m., when the food trucks start serving in the parking lot of Herbs and Rye, 3713 W. Sahara Ave. The contest starts at 1 a.m.
Water, water (from) everywhere
In the what-will-they-think-of-next department: A company called New York WaterMaker will debut a system at the International Pizza Expo next week at the Las Vegas Convention Center that they say can molecularly copy any region's water. No more lamenting that it's impossible to replicate those New York bagels.
Travel Channel in town
Travel Channel's "Food Paradise" will shoot at Bandito Latin Kitchen & Cantina on Saturday. If you want to check it out, and maybe even end up on TV, head to 325 Hughes Center Drive between noon and 3 p.m.
A previous version of this story misidentified Sparrow and Wolf's chef Brian Howard.
A previous version of this story misidentified cognac from Jacques Hardy's private collection.
Contact Heidi Knapp Rinella at Hrinella@reviewjournal.com or 702-383-0474. Follow @HKRinella on Twitter.