Happy New Year! Las Vegas welcomes 2023 — BLOG
December 31, 2022 - 3:54 pm
Updated January 1, 2023 - 2:52 am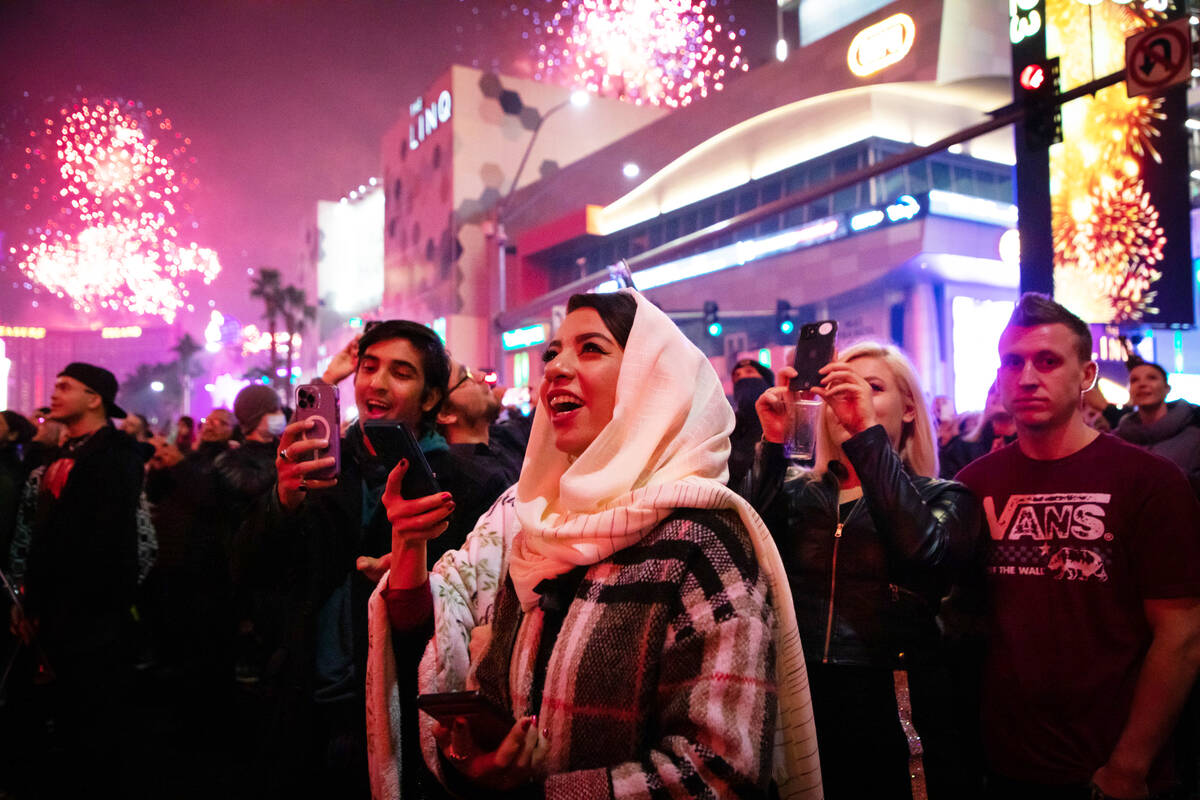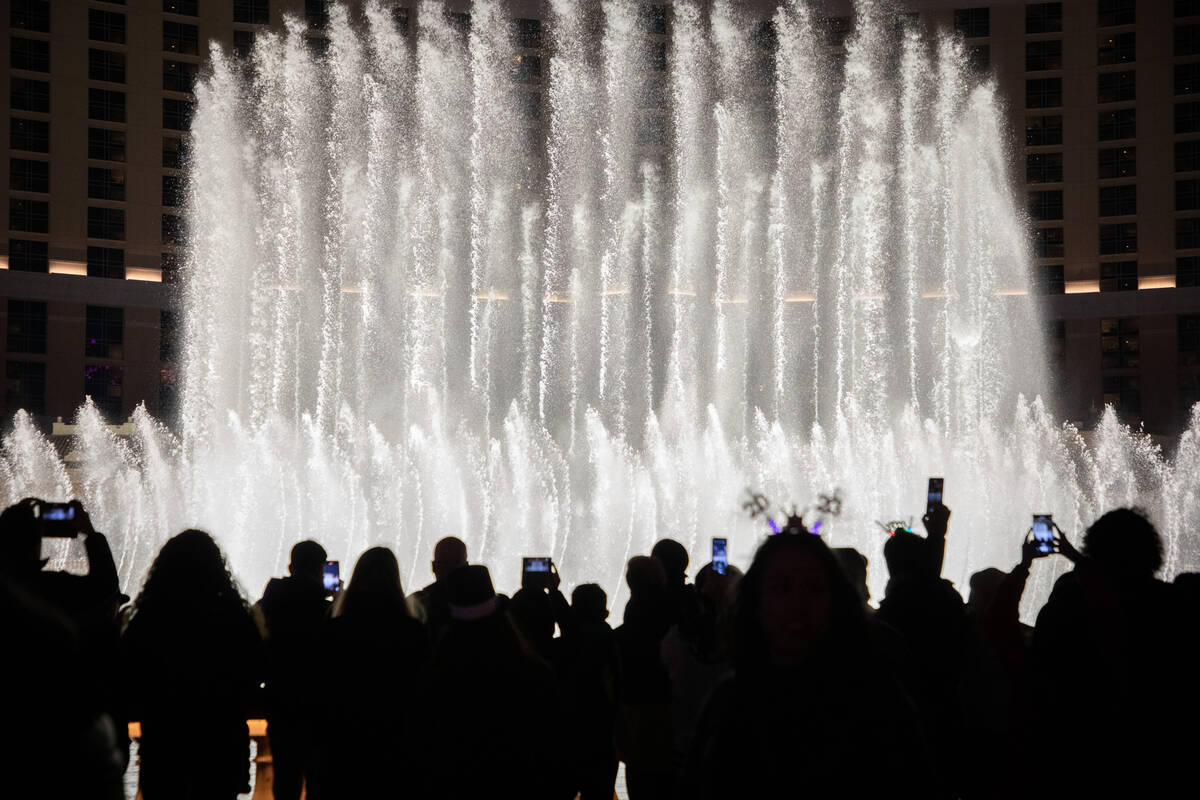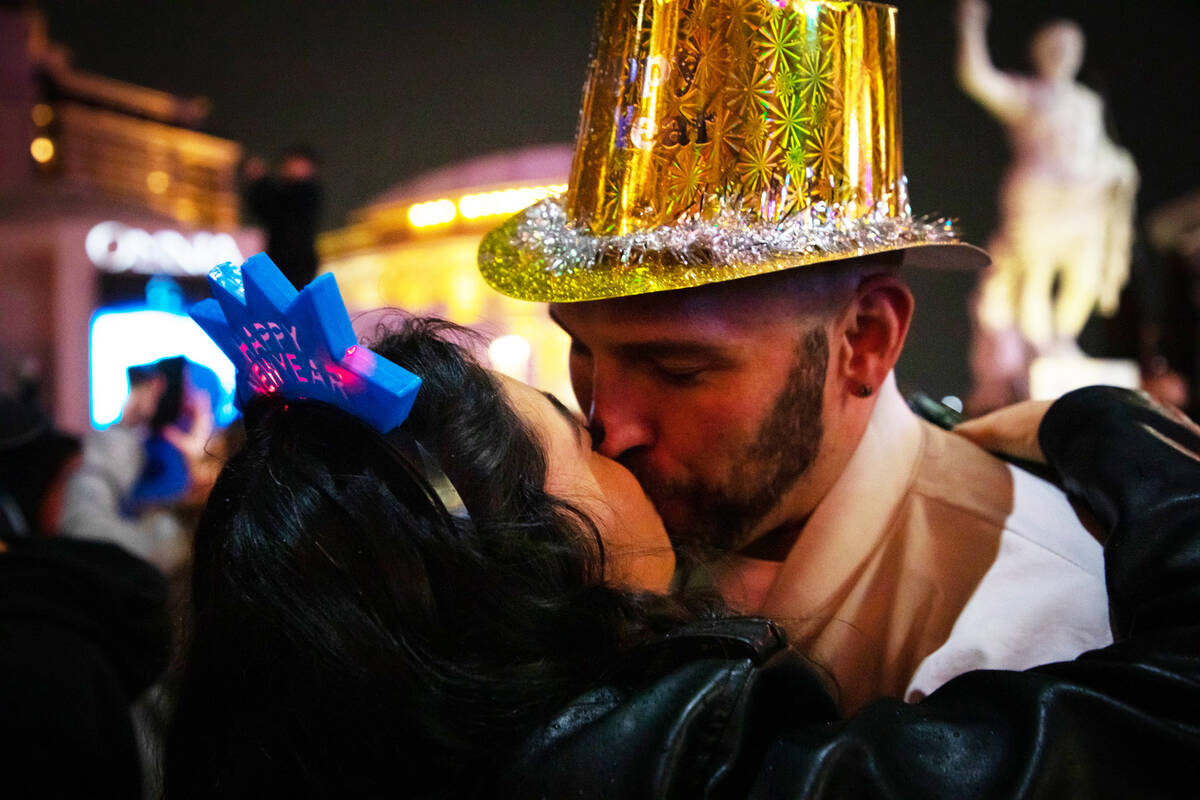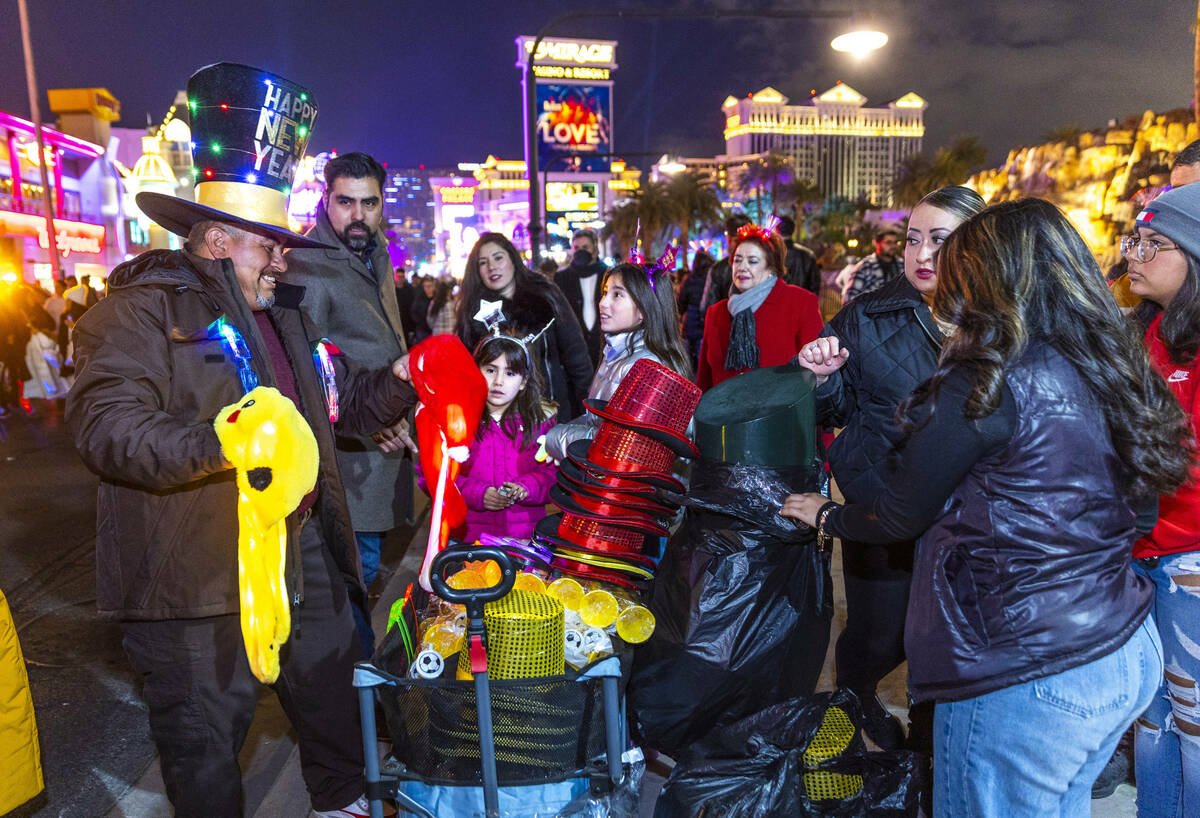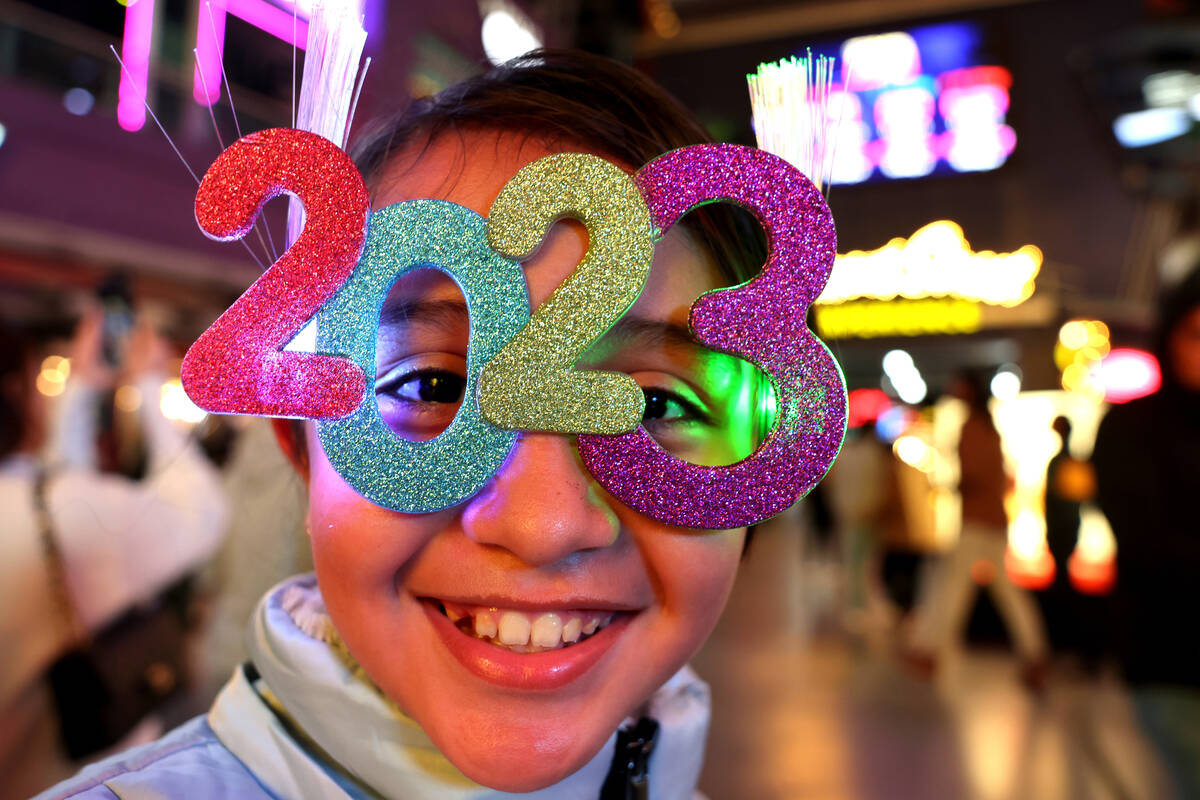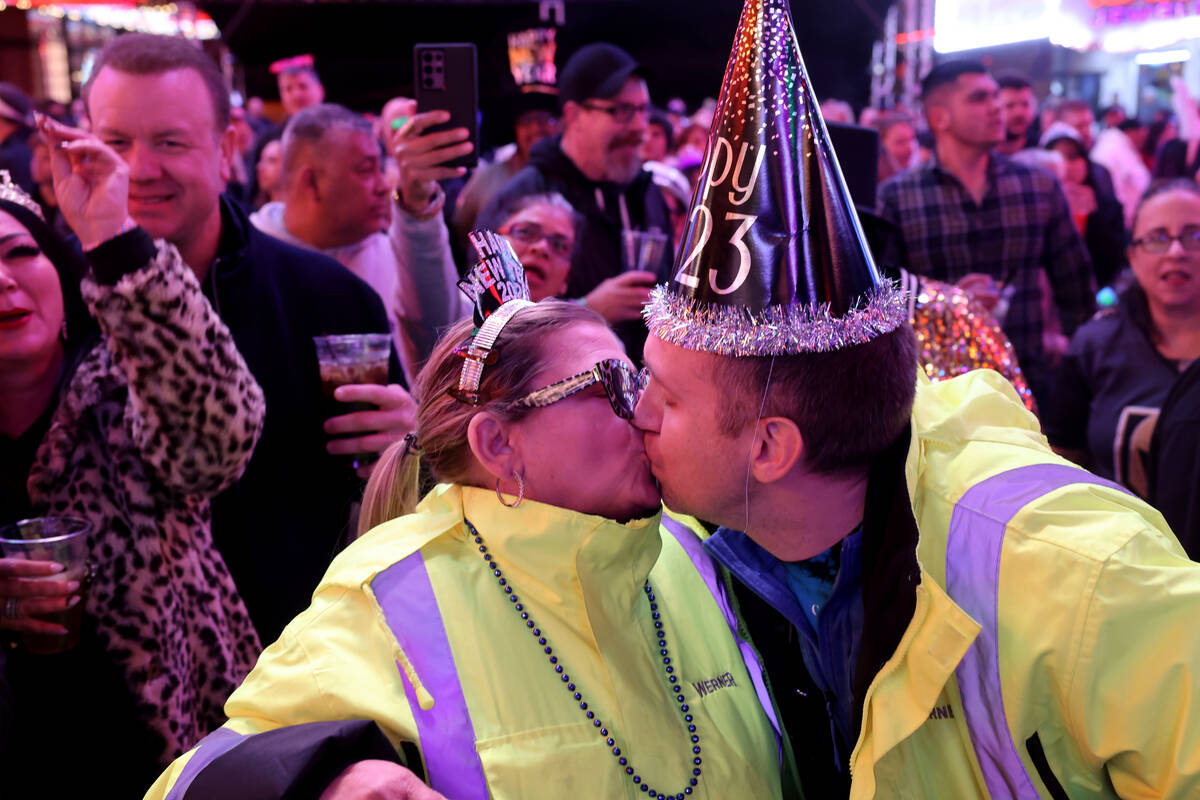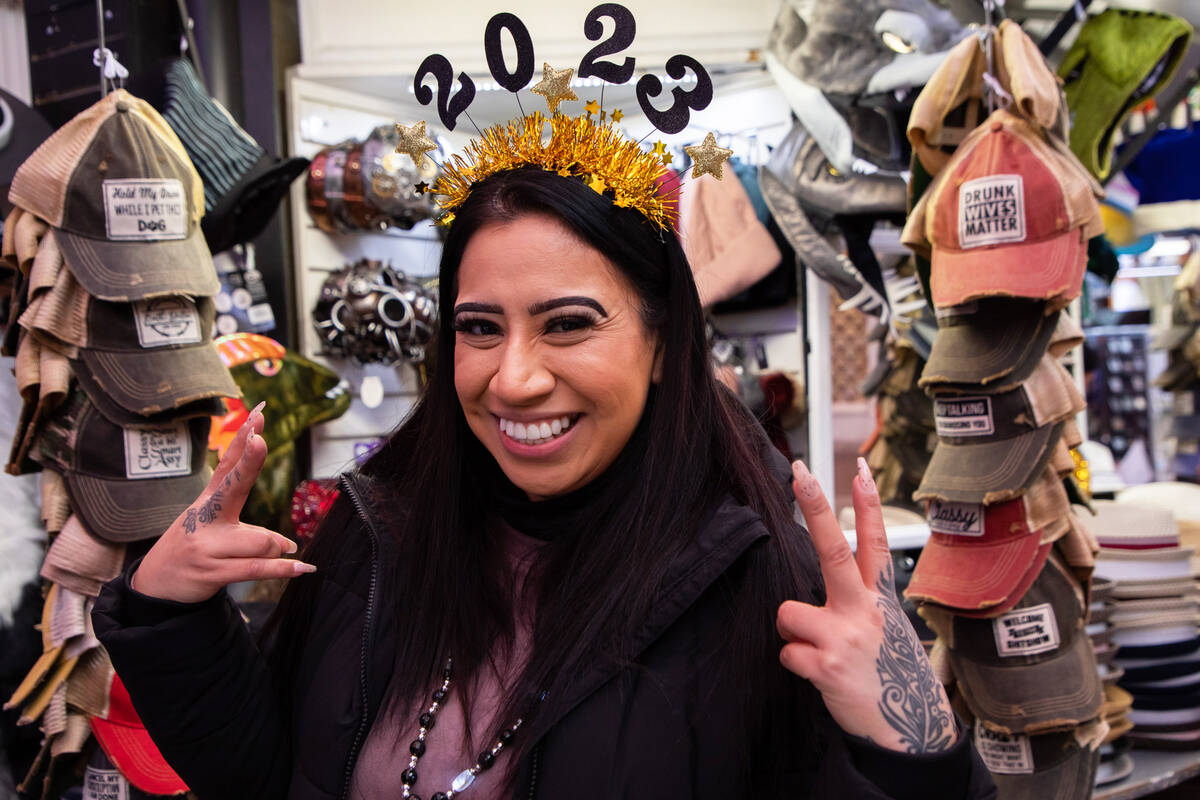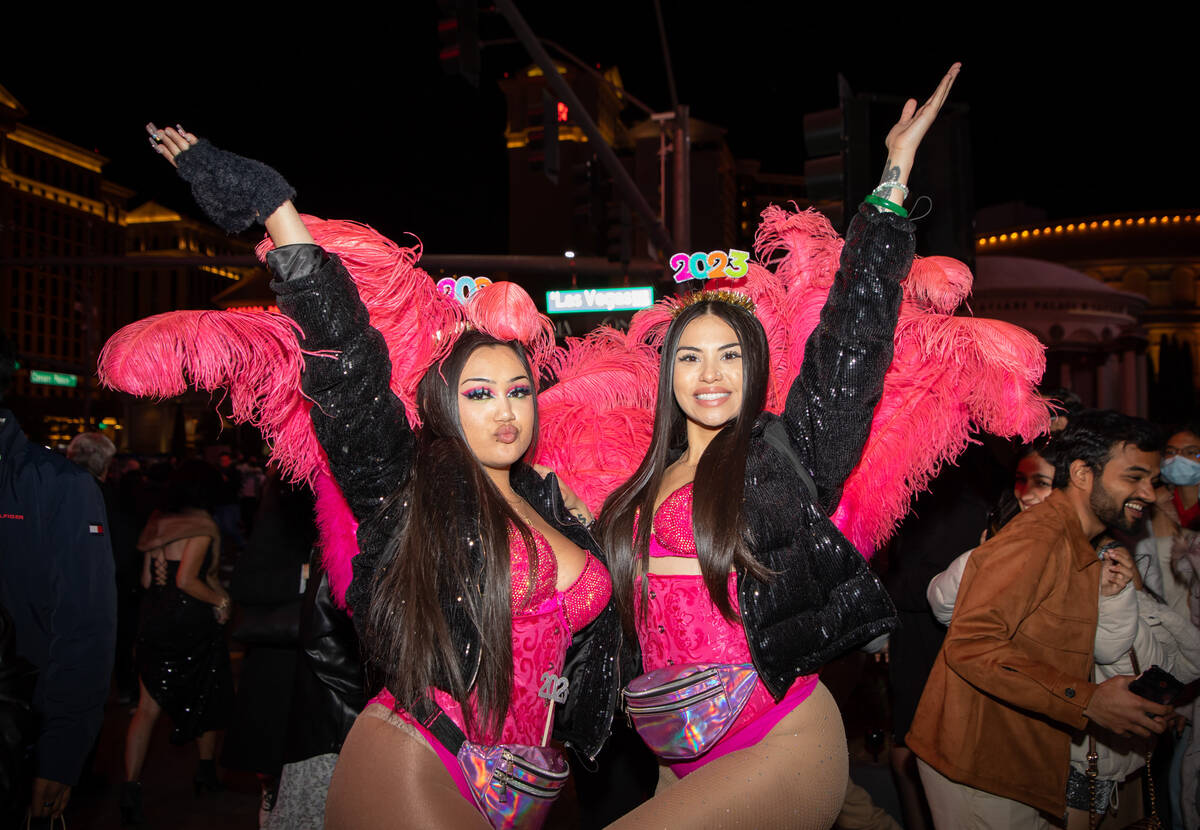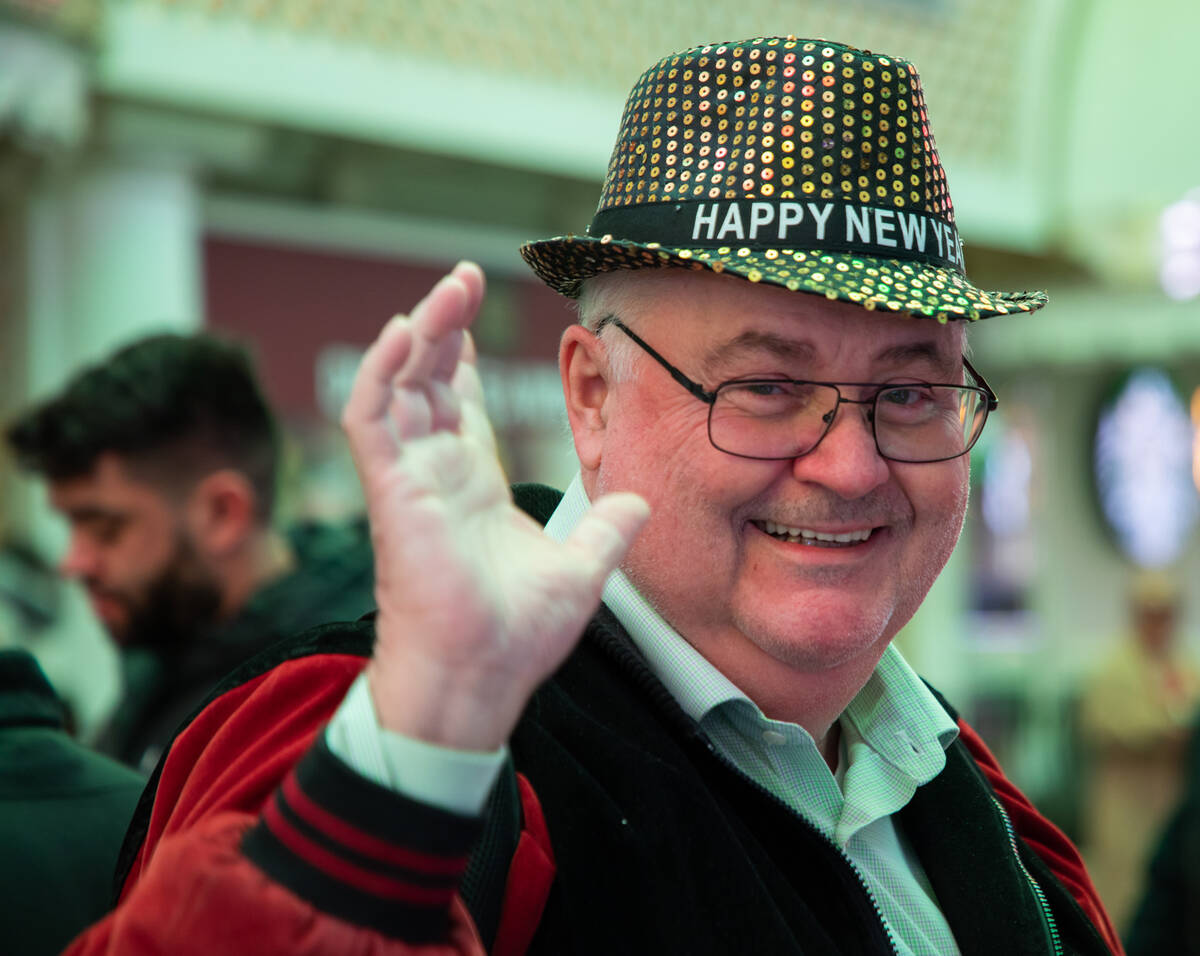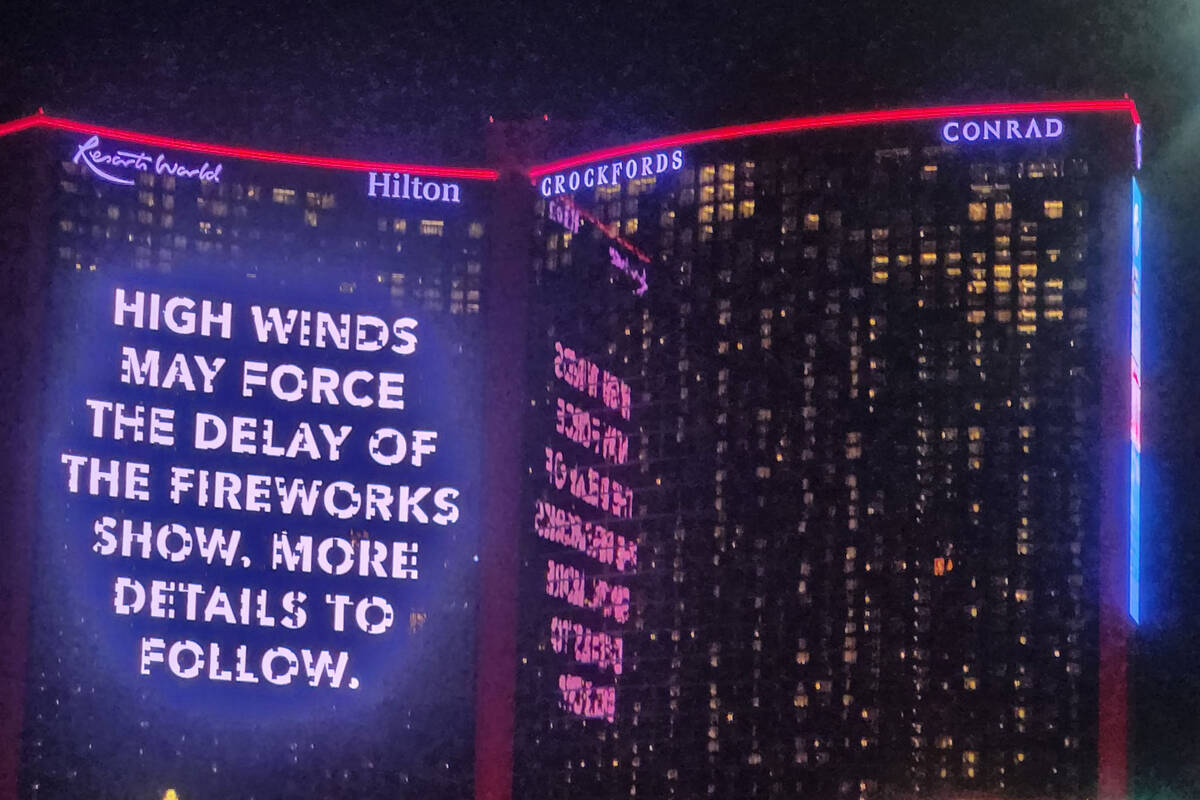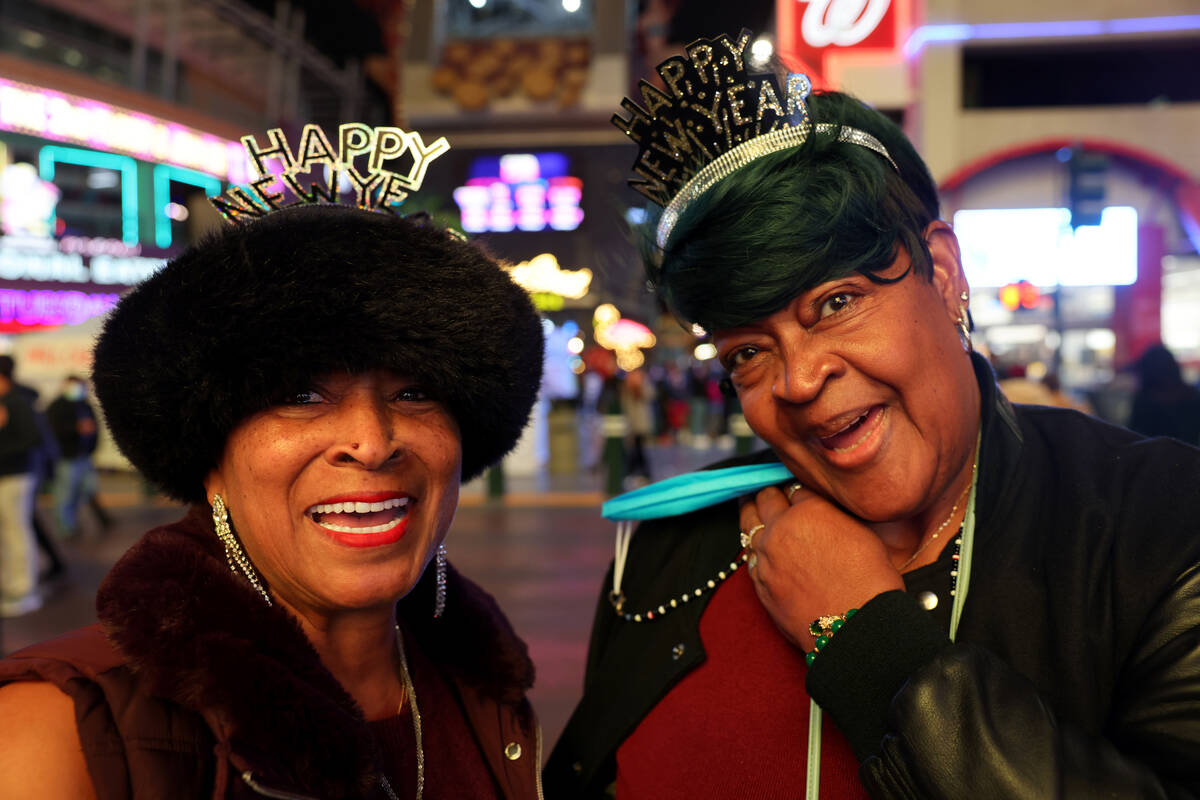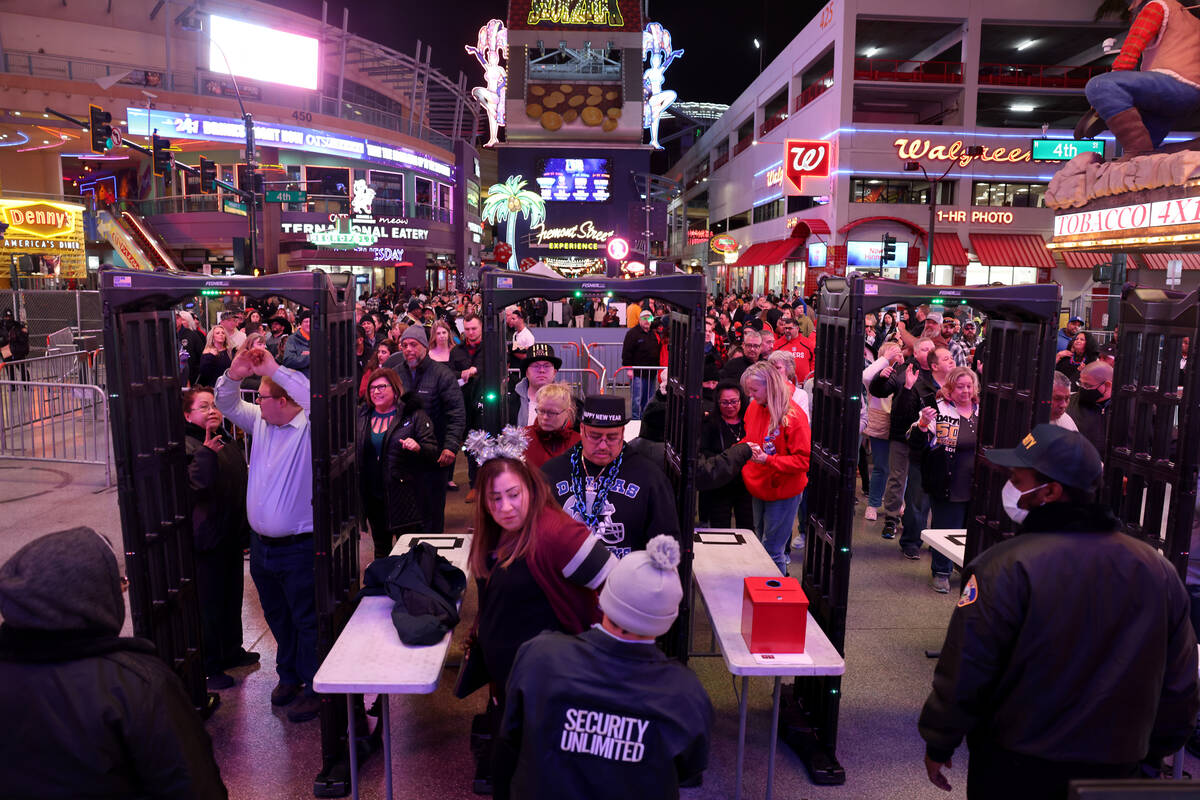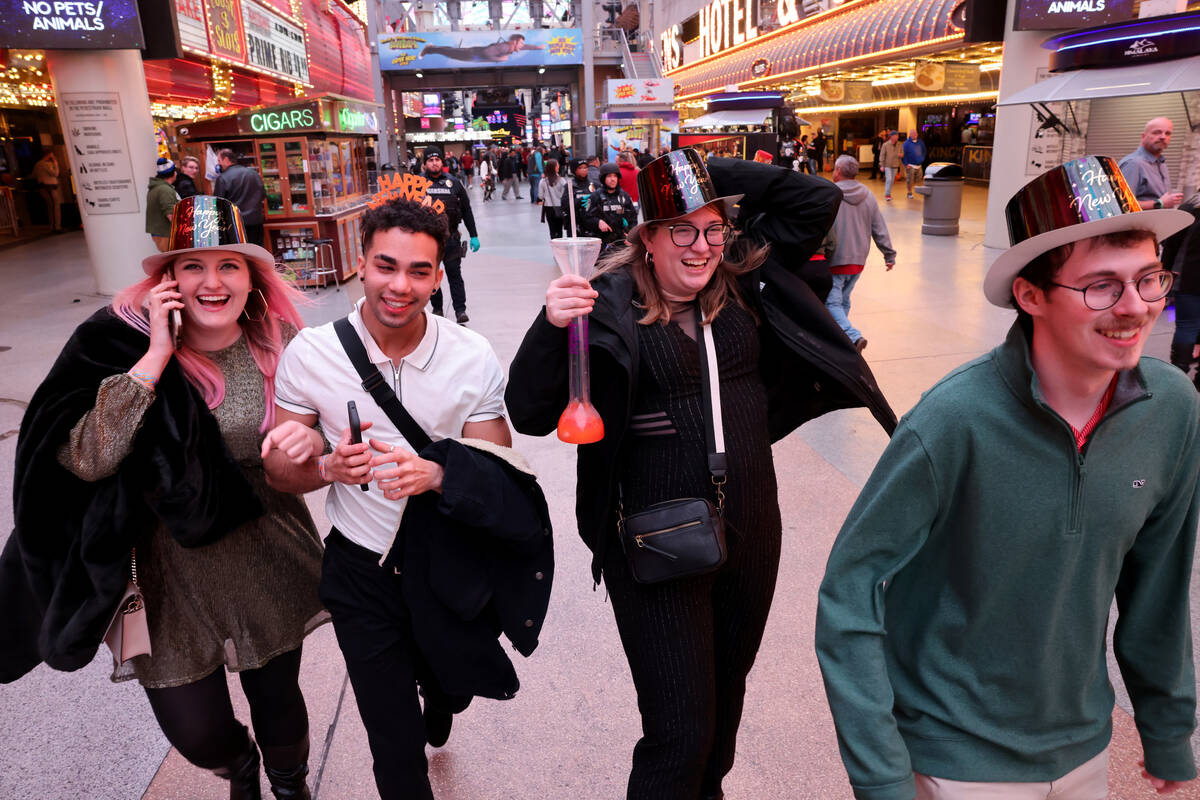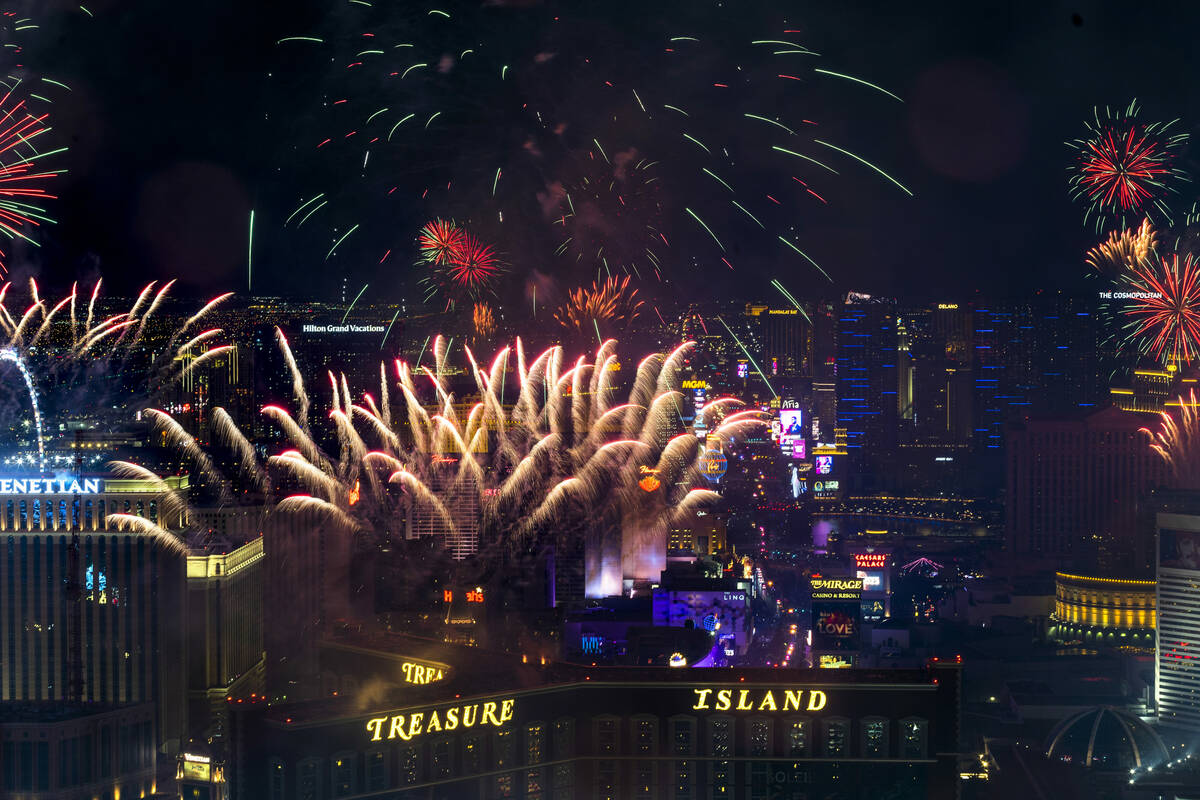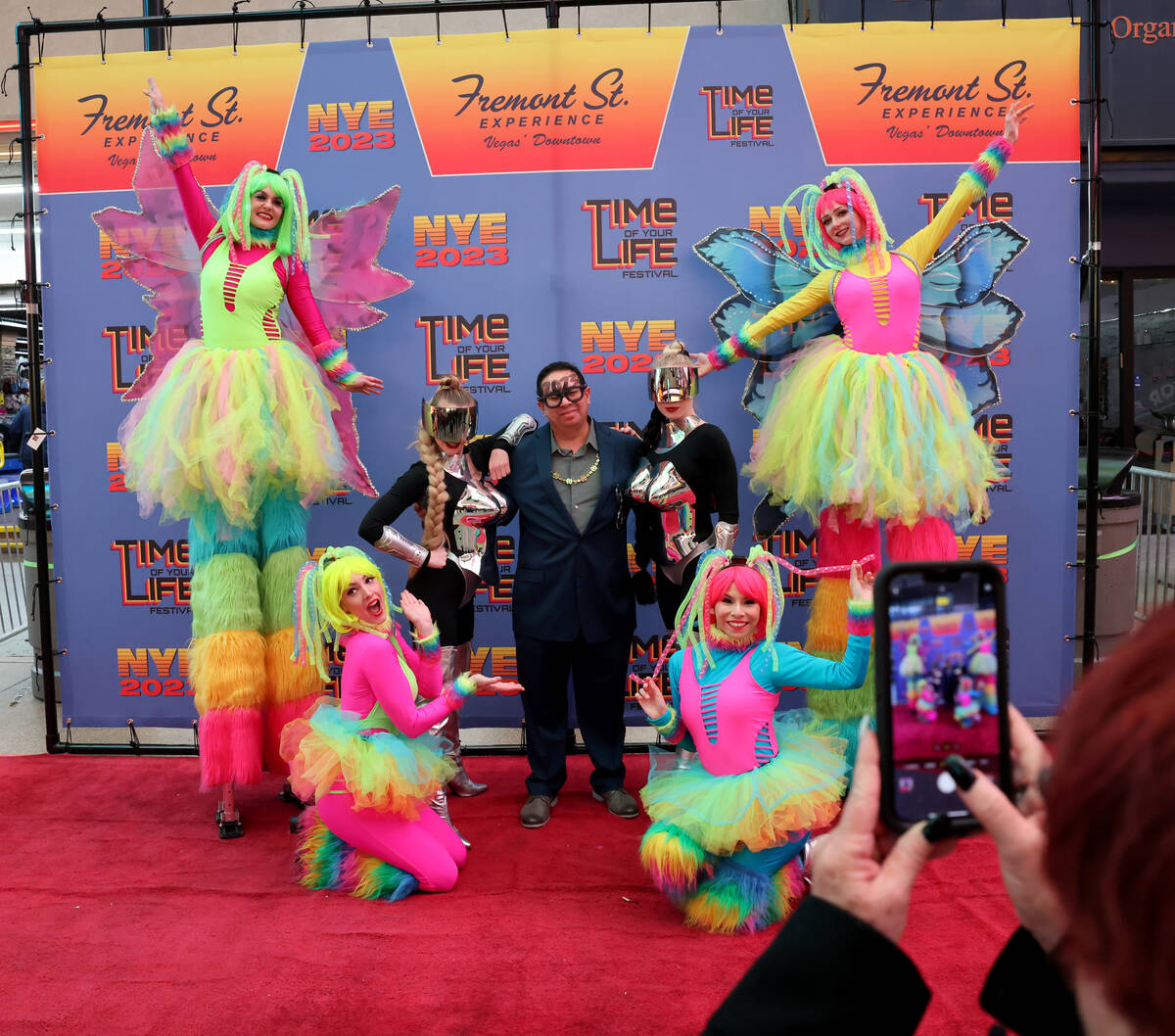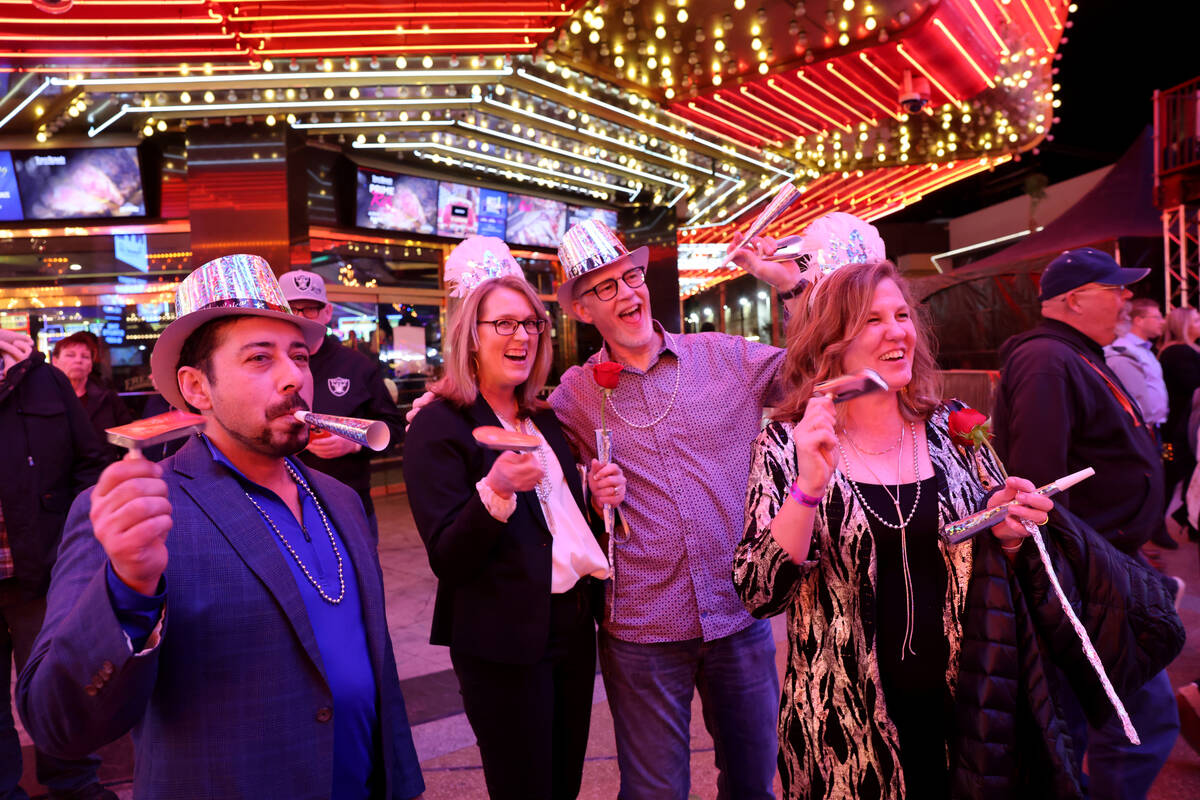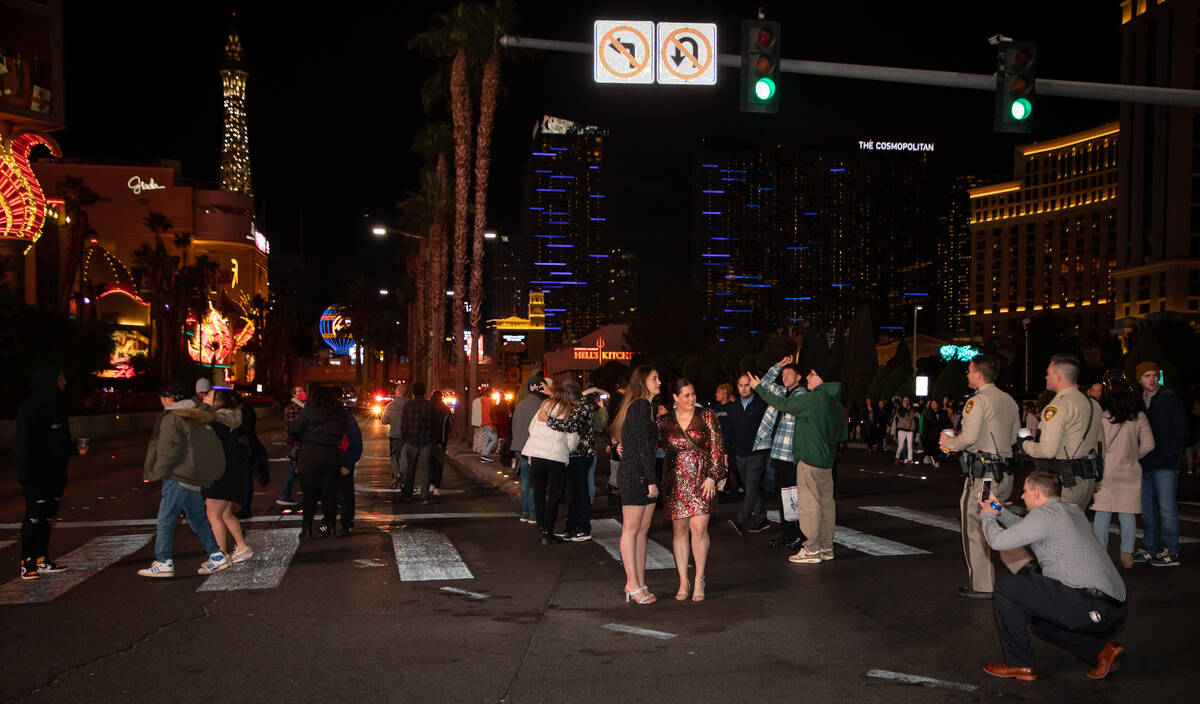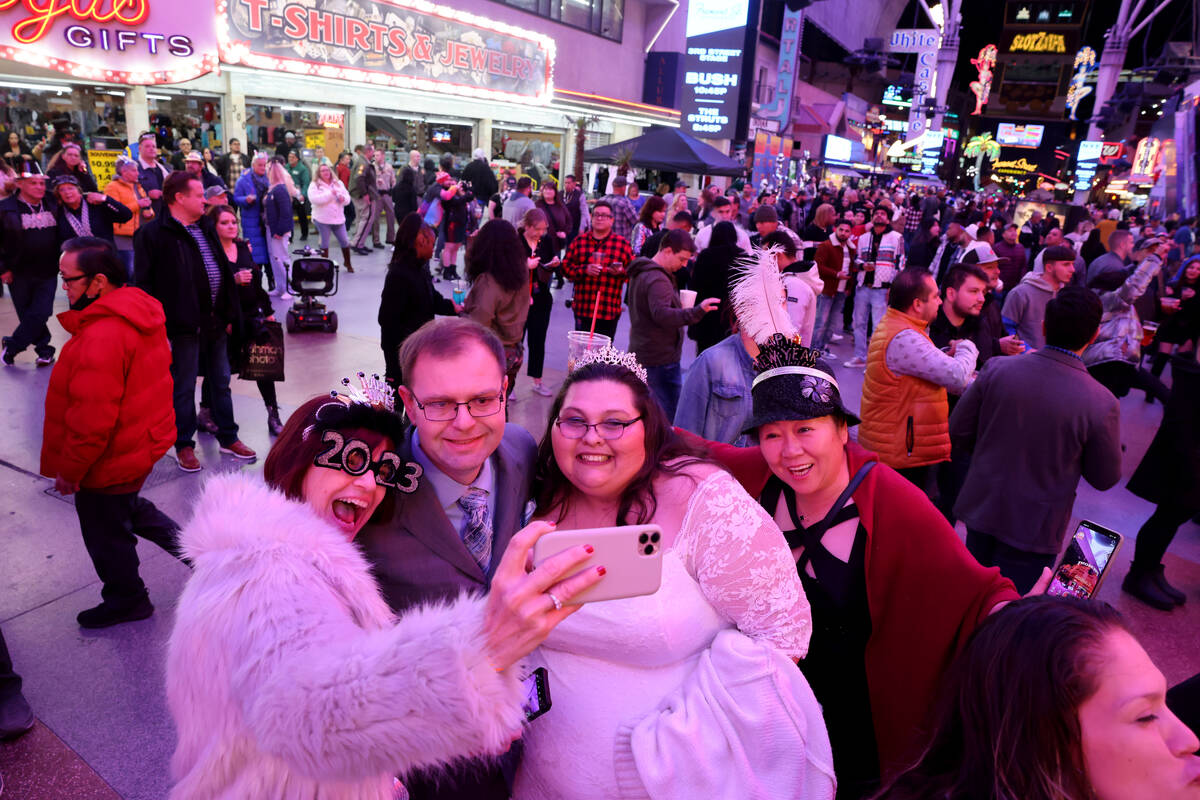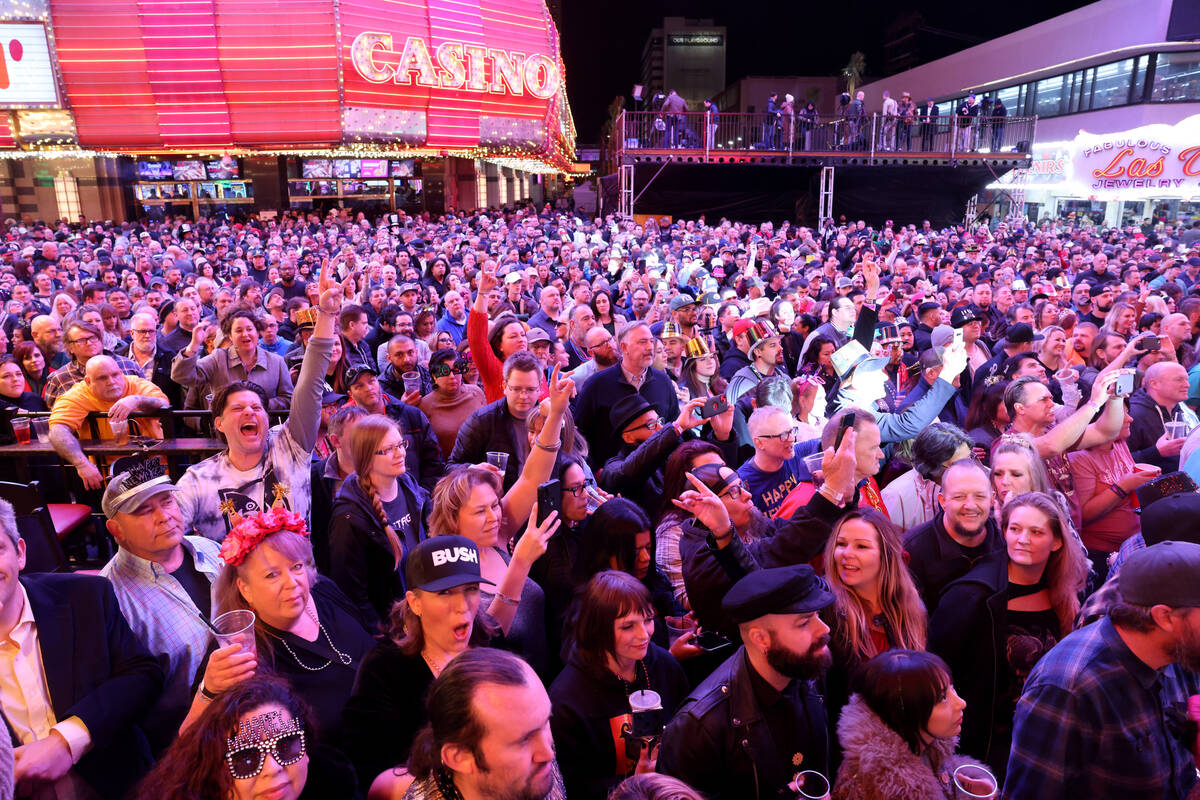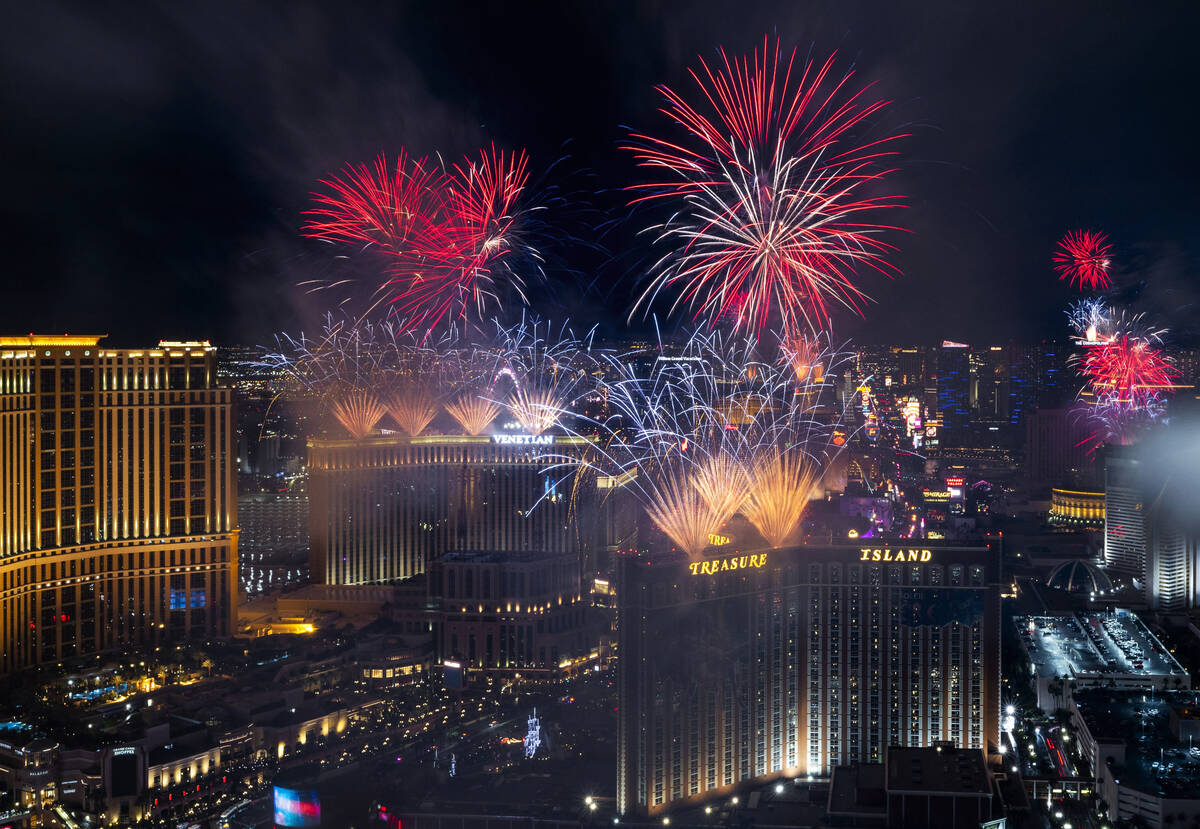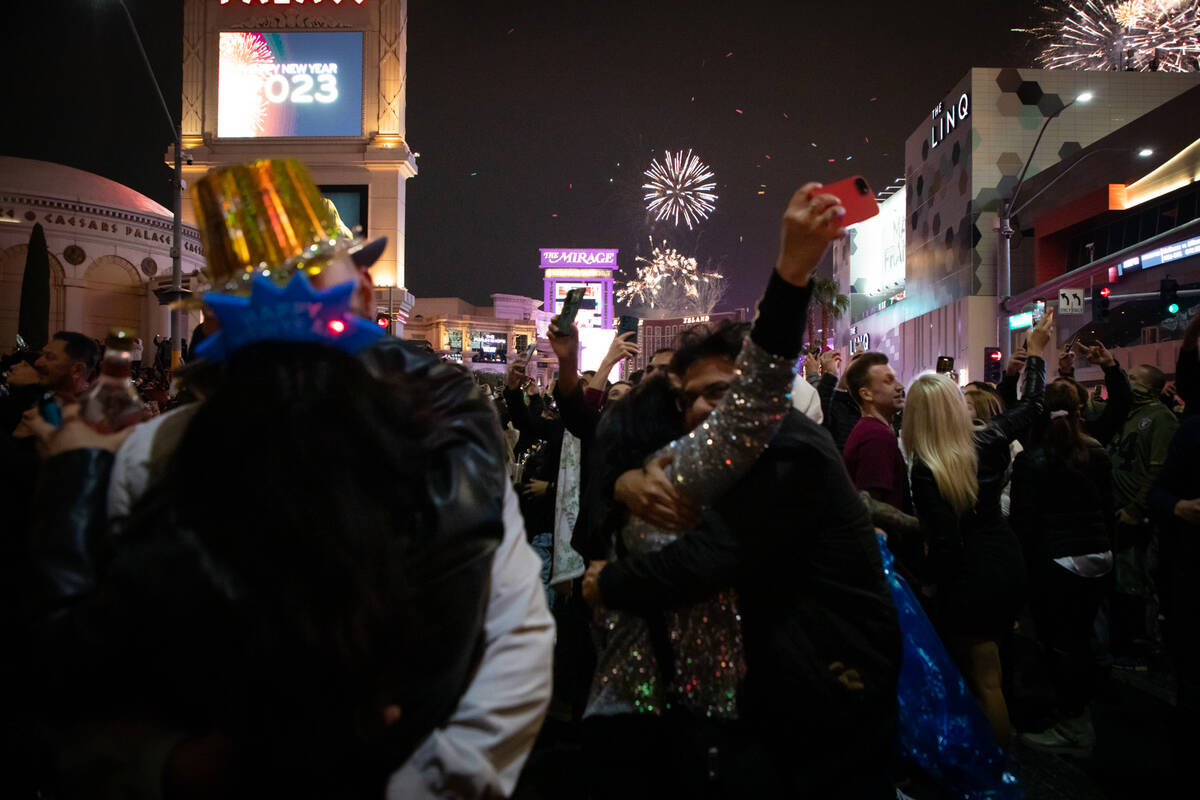 The Las Vegas Review-Journal team scattered across the city on New Year's Eve bring you the latest as America's party capital rang in 2023. Check below for a recap of the night of fun, fireworks and a little bit of rain from the Strip and the Fremont Street Experience.
12:58 a.m.
Late night bites
At the end of a long night of celebrating, people placed their orders at the kiosks in Resorts World's Famous Foods Street Eats.
People are ordering some late night bites at the food court in Resorts World, a great way to wrap up the night. pic.twitter.com/K71pIFoNlG

— Jessica Hill (@jess_hillyeah) January 1, 2023
Even though most places had closed, partygoers were able to order a burger at Burger Barn, a great way to wrap up the night and a great way to start the new year.
Some people sitting in the dining area were not eating at all, but resting their feet and catching up with social media on their phones.
— Jessica Hill
12:31 a.m.
Hell yeah 2023
Rain — and the completed fireworks show — pushed revelers into the Caesars Palace lobby.
"Can I get a 'hell yeah' everybody?" a woman chanted repeatedly.
— McKenna Ross
12:25 a.m.
'It's awesome'
As the fireworks began lighting up the night sky above the MGM Grand, the crowds in front of New York New York started cheering — but perhaps none more than one young man who got up on a garbage can with infectious enthusiasm.
"It's awesome," said Jonathan, 25, afterward, who hugged a reporter in a New Year's greeting but also was persuaded by some friends not to give his last name before the friends pulled him away.
Thousands of other revelers joined in a loud and boisterous countdown from 10, as the numbers appeared on the MGM Grand sign, before shouting a huge chorus of "Happy New Year!"
Moments later, the fireworks started. The light rain that had been threatening held out until after the fireworks were done, and by 12:25 a.m., it was fully raining on the Strip.
— Brett Clarkson
12:15 am
Wedding anniversary
Vincent and Diana Cook rang in the new year and their fifth wedding anniversary while watching fireworks being shot off from The Strat, despite the rain.
"It's a tradition for us to travel to celebrate our anniversary, and we came to Vegas because we didn't think it was going to rain," Vincent Cook said.
The couple made the trek to Las Vegas from Raleigh, North Carolina, and said they were impressed by multiple resorts shooting off fireworks.
"It felt like a contest … or a boxing match between the casinos," Vincent Cook said.
— Sean Hemmersmeier
12:05 a.m.
Good views
Hundreds gathered outside Resorts World Las Vegas to ring in the new year and watch the fireworks show. From outside the casino, partygoers could see a full view of the fireworks display down the Strip. Horns honked in celebration as cars drove past.
At the end of the show, people clapped and cheered.
Cristina Casasola, who is visiting Las Vegas from Mexico for 15 days, said in Spanish that she was hoping for more from the fireworks show. She and her friends spent the evening inside Resorts World. For the rest of the trip, she has no plans.
— Jessica Hill
12 a.m.
Drones take flight
Atop the Plaza in downtown Las Vegas, fireworks and light-up drones adorned the chilled, drizzly sky. A group of about 20 people took photos, cheered, and exchanged hugs and kisses.
The drone show counted down to 2023 before the colorful explosions took place. The crowd gathered at the Fremont Street Experience could be heard roaring more than 20 stories below.
Happy New Year, Las Vegas! #NYE2022 pic.twitter.com/fH8OZvs05K

— Ricardo Torres-Cortez (@rickytwrites) January 1, 2023
The show organizers contracted by the Plaza, "Fantasy Drone Shows," featured 150 drones that shifted into Las Vegas themed shapes: wine glasses, playing cards and the iconic "Welcome to Fabulous Las Vegas" sign.
— Ricardo Torres-Cortez
12:00 a.m.
Happy New Year!
Las Vegas rings in 2023 with fireworks above the Strip.
11:40 p.m.
Woman arrested
A woman was taken away in handcuffs near the Metropolitan Police Department's community interaction kiosk at Resorts World Las Vegas and the McDonald's on the Strip.
She was yelling for people to record the situation.
Police removed her small son from her arms and put him in a separate car. She yelled that her son had a dirty diaper and needed to be changed.
A Black woman, she yelled about how police were part of the problem, calling out "no justice, no peace."
— Jessica Hill
11:40 p.m.
More rain
Rain is coming down at Resorts World Las Vegas and farther south on the Strip. It's also raining again on Fremont Street.
11:30 p.m.
Rain expected to move southeast
The National Weather Service said in a tweet that it had received reports of light rain in the northwest valley and downtown. The rain is expected to move southeast.
— David Wilson
11:30 p.m.
Traffic cones going up
Road crews are putting up cones to block traffic in both directions on Las Vegas Boulevard from the intersection of Main Street and St. Louis Avenue to Sahara Avenue, in preparation for the midnight fireworks.
— Sean Hemmersmeier
11:18 p.m.
Mood grows more festive
Crowds are gathering on the steps in front of New York New York in anticipation of the fireworks that are to be set off from the MGM Grand across the street.
As the night gets later, and the revelers imbibe more beverages, some things are becoming noticeable on the Strip. First, the ratio of random celebratory screams and yells per minute is fast increasing. But more people are smiling and laughing. People aren't necessarily trying to get somewhere now. They're settling in and having a good time.
"We're literally all just waiting for the fireworks," says a tourist named Maria from Miami, who declined to give her last name.
"Wooooooooo!" shouts some guy with a 3-foot long funnel full of some colorful alcoholic beverage, a necklace of Christmas lights around his neck.
"Yeaahhhh!" screams another one.
Second, the mood is definitely more festive. The party is on. This isn't the pregame anymore.
There have been sightings of people vomiting. And the smell of marijuana is as thick as the gray clouds that have dropped some rain farther north.
So far, no rain at Tropicana Avenue and the Strip.
"It's 100 percent going to rain," Maria said.
And she was right. The first drops were felt at 11:10 p.m. But the rain so far is light.
— Brett Clarkson
11:05 p.m.
Concertgoers unfazed by rain
The crowd for the Bush concert at the Fremont Street Experience doesn't seem to mind the raindrops falling on them. Only one umbrella is spotted in the crowd.
Leah Klein of Las Vegas held a clear umbrella high above the tightly packed crowd in front of the Third Street Stage during the short shower.
.@bushofficial is here.#NYE2022 #NYE2023 #LasVegas pic.twitter.com/bPLrUjePJt

— Lorraine Longhi 🌵 (@lolonghi) January 1, 2023
— K.M. Cannon
11:03 p.m.
Downtown rain
Rain is falling on Fremont Street in downtown Las Vegas.
— Lorraine Longhi
11 p.m.
Rapping up the old year
Inside Fuego, a Resorts World nightclub, rapper Pitbull brought hundreds of partygoers to their feet an hour before the new year.
Attendees wore headbands with light-up ears or light-up hats that said 'Happy New Year' as Pitbull worked the stage, starting off the performance with "Don't Stop the Party."
He started a chant with the crowd, asking, "Who came to party?" with the crowd responding, "We came to party."
People danced on a podium as a 360-degree camera moved around them, and women on stilts in long dresses posed for photos with guests.
— Jessica Hill
10:59 p.m.
Rain starts
Raindrops start falling near The Strat on Las Vegas Boulevard.
— Sean Hemmersmeier
10:48 p.m.
Fireworks shows on track
Clark County announces in a tweet that final preparations are underway for the midnight fireworks show, as long as the weather continues to cooperate. Clark County fire personnel are overseeing the launch site at each resort.
Weather-permitting, final preps are under way inside the @GrucciFireworks command center overlooking the Las #Vegas Strip for #NewYear2023. Keeping our fingers crossed that winds will cooperate. @ClarkCountyFD staff is at each resort launch site to ensure a safe show. pic.twitter.com/EN8iryEh5X

— Clark County Nevada (@ClarkCountyNV) January 1, 2023
— David Wilson
10:30 p.m.
A celebration for all
Jason Smetters sat and took a break from celebrating the New Year festivities in between bands performing at the Third Street Stage on Fremont Street.
The festivities downtown come with more accessibility and attentive staff and security for Smetters, who is legally blind and uses a walking stick.
"The common problem I run into is people not paying attention," Smetters said, citing past instances when unsupervised toddlers have run into him on the Strip.
Smetters, who is visiting from Chicago, also said the cold wind and forecasted rain that had locals on full alert doesn't compare to the cold weather back home.
"If you hear them saying they had to light railroad tracks on fire, then it's cold," he said, laughing.
— Lorraine Longhi
10:15 p.m.
Visitor from Honduras
A Honduran man said he stuck to his relatives in the United States after he learned they would be celebrating New Year's on the Strip.
"I stuck to them like super glue after I found out," Elvin Hernandez said in Spanish.
As he walked up and down Las Vegas Boulevard on New Year's Eve, he was excited to learn from a reporter that a fireworks display was planned for the Strip.
— Jimmy Romo
10:15 p.m.
'Gavin, Gavin, Gavin'
Michael Montoya and Kathy Glover are longtime fans of rock band Bush. They were front and center awaiting the band's set underneath the Fremont Street Experience canopy.
Excitedly, they said it was their first time seeing the band live, and that learning they were playing on New Year's Eve pushed them to make the trip from Castle Rock, Colorado.
"We don't want to go anywhere else," Montoya said about the trip, calling Las Vegas "the very best place" to see the band.
"Gavin, Gavin, Gavin," chanted Glover, referring to the band's frontman, Gavin Rossdale.
— Ricardo Torres-Cortez
10:15 p.m.
49er fans
Christian Cervantes and Irene Martinez were clad in San Francisco 49ers gear when they finished their dinner at The Strat and prepared to head to the Strip.
Although they're supporting the 49ers in Sunday's game, they haven't gotten tickets but could watch it in a casino, since they made the trip from Southern California to Las Vegas to see what the city is like on New Year's Eve.
"I've visited a lot since Vegas is cool, but there's definitely a lot more people out tonight," Cervantes said.
— Sean Hemmersmeier
9:45 p.m.
Live music downtown
British rock outfit The Struts and Jamaican reggae band The Wailers were among the first of several bands to play live music Saturday night across three stages on Fremont Street.
Struts lead singer Luke Spiller gave several affectionate callouts to their fans across the pond, saying "God bless you, America" and telling the crowd to "move your Yankee feet."
"I wanna hear you sing. I wanna see you dancing because it's New Year's Eve, baby," he said.
— Lorraine Longhi
9:33 p.m.
Help for Las Vegas police
The National Guard is on the Strip.
"We're just here to help Metro," one guardsman said as tourists lined up to take photos with the machine gun-wielding soldiers in front of the MGM Grand.
It was a bit of a surreal sight seeing the National Guard's military vehicles parked under the Las Vegas Boulevard sign and the replica Statue of Liberty sign at New York New York.
— Brett Clarkson
9:31 p.m.
Partiers pose at the glam cam
Chihuahua, Mexico, residents Grecia Rodríguez and Erandy Soto danced along to Bad Bunny while an iPhone on a 360-degree swiveling rig spun around them, capturing their joyous dancing as a crowd gathered to see how the booth worked. The two came to town just for the night and saw the photo booth as a unique memory.
"It looks like ones in Hollywood," Soto said. "We thought it looked fun. It's Vegas."
— McKenna Ross
9:20 pm
Wind could delay fireworks
On the Strip in front of Mandalay Bay, the surging gusts shook the palm trees and lent some evidence to the big sign in front of the hotel that warned, "High winds may force the delay of the fireworks show."
According to the National Weather Service's Las Vegas forecast office, there was possible rain in the forecast for New Year's Eve with the drops expected to start falling right at midnight.
It rarely rains in Las Vegas, but of all the times for it to rain, right at midnight on New Year's Eve seemed like perfectly bad timing.
"It's pretty cool," said Jenn Varian, a National Weather Service meteorologist, referring to that freakish timing.
But if any rain does fall, it was expected to be light, and an added bonus would be that the rain itself would actually weaken the wind gusts blowing through the Las Vegas Valley in the hours leading up to midnight.
"Right now it's about 25 to 30 mph gusts," Varian said.
For context, a tropical storm is characterized by winds of at least 39 mph, so while Las Vegas' strongest gusts weren't quite that high, they were still unusually powerful.
— Brett Clarkson
9:15 p.m.
'Another great year'
Las Vegas resident Erica Threet is looking forward to seeing the city and "bringing in 2023 right," she said. She just wants to be in the moment, she said.
Threet moved to Vegas in September from Alaska, and before that she lived in Hawaii. While she misses Hawaii, she loves Las Vegas for its resources.
This was a great year, she said, and she hopes she will have good health in 2023.
"Just to have our health and have another great year," Threet said. "(To) be able to fulfill another year of dreams and goals."
— Jessica Hill
9:13 pm
FaceTiming with the East Coast
Several revelers walking on the Strip FaceTimed with loved ones on the East Coast, wishing them a happy new year, blowing kisses and flashing glimpses of what 2022 still looks like from this side of the country.
— McKenna Ross
8:55 p.m.
Hardheaded
Three men in patterned suits with motorcycle helmets that resemble disco balls reflect the bright lights of the casinos outside The Mirage. Their girlfriends laugh at the crowd's reactions behind them.
"Our girlfriends picked this out for us," Will Roberson said, wearing a Pac-Man-themed suit, a motorcycle helmet covered in disco ball glass and athletic sunglasses.
Martha Anderson, one of the girlfriends, said that when the guys end up falling on their heads tonight, she could at least rest assured that they would be protected.
But Jake Silvers laughed and said that with all the shattered glass, there might be a sharp mess to clean up.
The group travels from Yuma, Arizona, to Las Vegas annually for New Year's Eve.
— Jimmy Romo
8:55 pm
'A new beginning'
As the thick stench of marijuana wafted on the pedestrian bridge over Tropicana Avenue just east of the Strip, Jameil Avery, 46, was selling $1 waters and $2 sodas out of a cooler as the prelude to the partying was beginning to take hold.
"It's kind of festive," Avery said. "It's the pregame stage."
Avery, who has been selling beverages on the Strip for about eight months, called 2022 "humbling" and is hoping for a 2023 in which everybody comes together for a more peaceful world.
"New Year's Eve is a new beginning, a new start," Avery said.
He said he's been meeting people from all over the world and all over the United States on the bridge. And the people just kept coming.
With the atmosphere heating up by the minute, somebody else on the bridge yelled, appropriately enough, "It's Vegas, baby!"
— Brett Clarkson
8:30 p.m.
Newlyweds ring in the new year
As Tim and Becky Cocchia waited for The Struts to play on the Third Street Stage downtown, waving a $7 2023 sign from Party City, they were celebrating an occasion other than the new year.
The Phoenix couple were married the day before at the Vegas Weddings chapel downtown.
When asked why they chose Las Vegas for their nuptials, Tim Cocchia responded "Why not? It's the best place to come."
— Lorraine Longhi
8:24 p.m.
Decked out in pink
The crowd has yet to gather on the Strip, but that makes a California couple in pink stand out.
In a pink furry coat with more pink accents is Sonya and her partner, Ed, who wears a pink velvet hat with a pink shirt under his blazer and pink shoes. They declined to give their last names.
"We don't always dress like this," Ed said. "But it's New Year's!"
They'll be attending the Raiders game Sunday.
"We're big Raiders fans" Ed said.
— Jimmy Romo
8:20 p.m.
Outside The Strat
Surress Walla traveled to Las Vegas from Tempe, Arizona, to celebrate the new year by going clubbing. But before heading out, he made sure to get a picture in front of the city of Las Vegas sign just outside The Strat.
"I wanted to since it's telling people where you are, and it's beautiful." Walla said.
— Sean Hemmersmeier
8:15 p.m.
Dapperly dressed
Inside Resorts World Las Vegas, partiers played giant beer pong with trash can-size red Solo Cups and basketballs. Couples took photos in front of the giant orb near Zouk Nightclub.
Dapperly dressed men and women in tuxedos and dresses walked around, waiting to ring in the new year. A few people wore masks while carrying the famous oversized drinks around the casino.
— Jessica Hill
8 p.m.
A selfie with Julius Caesar
Two locals take a selfie in the middle of the Strip and Caesars Palace Drive with the statue of Julius Caesar in the background.
As the streets are blocked off for New Year's, tourists and locals take to the streets awaiting the fireworks and festivities.
Jaime, who declined to give his last name, and his girlfriend were visiting his mom in Las Vegas from Long Beach, California.
Normally, "this is a time to stay away from the Strip," he said.
But when his girlfriend found out there would be fireworks, she thought it would be great to see her boyfriend's mother and the fireworks for New Year's.
— Jimmy Romo
8 p.m.
'Here to have fun'
As live music from bands like The Struts and the Wailers gets ready to kick off, Rolando Espinoza is leading a troupe of four dancers decked out in futuristic, holographic jumpsuits — reminiscent of the French electronic music duo Daft Punk – to hype up the throngs of visitors.
#NYE2022 getting into full swing on Fremont Street @FSELV.

Live music from bands like @bushofficial, @TheStruts, @sugarrayband, @TheRealSHG and @TheWailers will play across three stages tonight. https://t.co/4NPoEdiVFl pic.twitter.com/TdSabAj7df

— Lorraine Longhi 🌵 (@lolonghi) January 1, 2023
The dancers, part of the entertainment agency Champagne Creative Group, attract attention everywhere they go on Fremont Street, with visitors stopping to take photos of them.
Espinoza said the dancers have been performing for 17 years all over the country, including six years with the Fremont Street Experience. It's his job to keep the dancers safe, but some of the revelers are still shy around the dancers at this point in the night.
He said to wait until 10 or 11 p.m., when things will get "crazy."
"The reality is that a lot of people just want to have fun, and we're here to have fun with them," Espinoza said.
— Lorraine Longhi
7:55 p.m.
'It's festive here'
Revelers in downtown Las Vegas shot second looks at the group of men wearing Christmas-lights as necklaces underneath their fancy coats.
New Year's Eve in Las Vegas has become a tradition for the San Francisco group that became friends in nursing school.
"It's festive here," Joe Doruelo said.
The 29-year-old said the group enjoys the fact that Las Vegas stays open during the festivities.
"Aside from fireworks, you can do a lot of things here," he added.
They said they were on the way to the Strip to ring in the new year there.
— Ricardo Torres-Cortez
7:45 p.m.
Road reminder
Las Vegas police reminded drivers that Spring Mountain Road is open eastbound and westbound at the Strip. In addition, Tropicana Avenue is open in both directions at the Strip.
— David Wilson
7:31 pm
$10 hot dogs
Vendors line the sidewalk outside the Bellagio fountains. In English and Spanish, they promote glowing and spinning toys, flashing headbands and 2023 accessories. A food vendor feverishly cooks tacos and hot dogs. Priced at $10 for a frank, it's not much relief from the $10 slice of pizza available at Caesars Palace's food court.
— McKenna Ross
7:26 p.m.
More road closures
The Regional Transportation Commission tweeted a slew of road closures that included Flamingo Road closing between Valley View Boulevard and Koval Lane until 2 a.m.
Flamingo also is closed at the Strip until 2 a.m. The Strip is closed from Spring Mountain Road to Tropicana Avenue.
— David Wilson
7:25 p.m.
'It's a good time'
Brenda and Michelle Woodward got engaged one New Year's Eve six years ago. On Saturday, both wore festive cone hats and 2023-shaped glasses as they wrapped up dinner at Evel Pie.
They were heading into the Fremont Street Experience to ring in Jan. 1 for the second consecutive year.
"It's crazy. It's fun. We love it," Michelle Woodward said.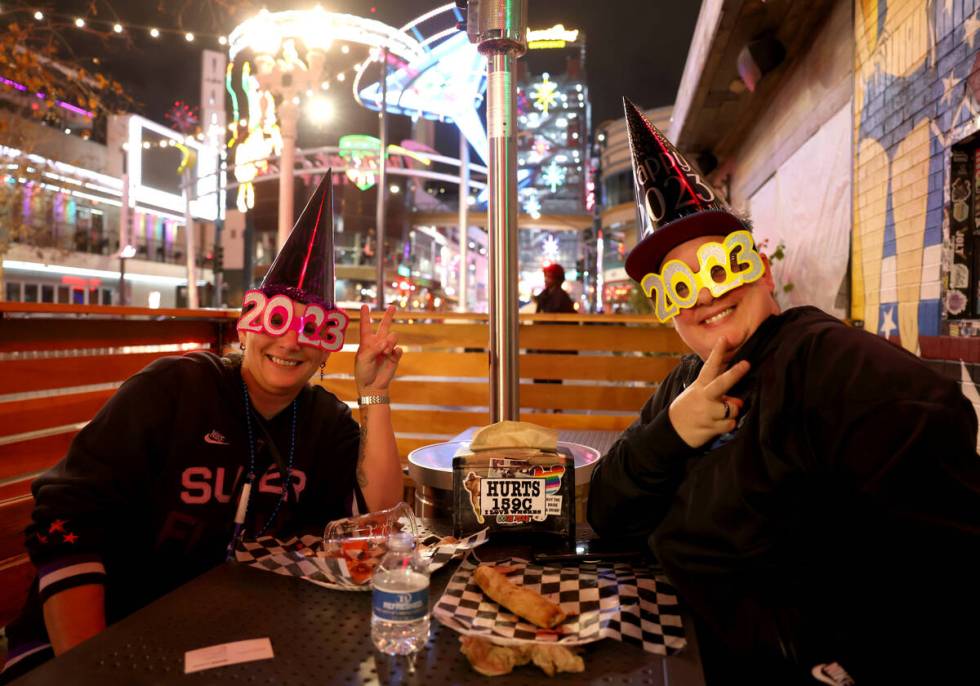 The local couple regularly celebrates the occasion in the tourist corridor, including the Strip, and highly recommend that others do the same.
"I think you have to make it out here," Michelle Woodward said.
"At least once in your life," Brenda Woodward added. "It's a good time."
— Ricardo Torres-Cortez
7:25 p.m.
Holiday favorites
At Resorts World's "Enchant on the Strip" attraction, visitors buy hot chocolate and clam chowder, take selfies in front of the Christmas displays, ice skate in a rink and watch performers sing.
Seemingly at random, a pair of marching band drummers march through the stalls and past a color guard marching with a flag. Snow from a snow machine flutters in the air, adding to a winter wonderland facade.
— Jessica Hill
7 p.m.
'OK to stick out'
Outside the Golden Nugget, Ethan Klohn and his brothers strolled down Fremont Street wearing matching sequined suits: one yellow, one pink and one blue.
"It's OK to stick out," Klohn said of the coordinating looks.
The Dallas brothers have visited Las Vegas before, but Klohn said they opted to spend New Year's Eve downtown in part because of the prime people-watching opportunities.
— Lorraine Longhi
6:45 p.m.
So much to do
Adonis Banipalsin and his parents, Sarkis Banipalsin and Mari Takiyeh, were amazed by the Christmas lights at "Enchant on the Strip." They saw the attraction from their hotel room and had to check it out before comedian Kevin Hart's performance. They also are looking forward to the fireworks show to ring in the new year.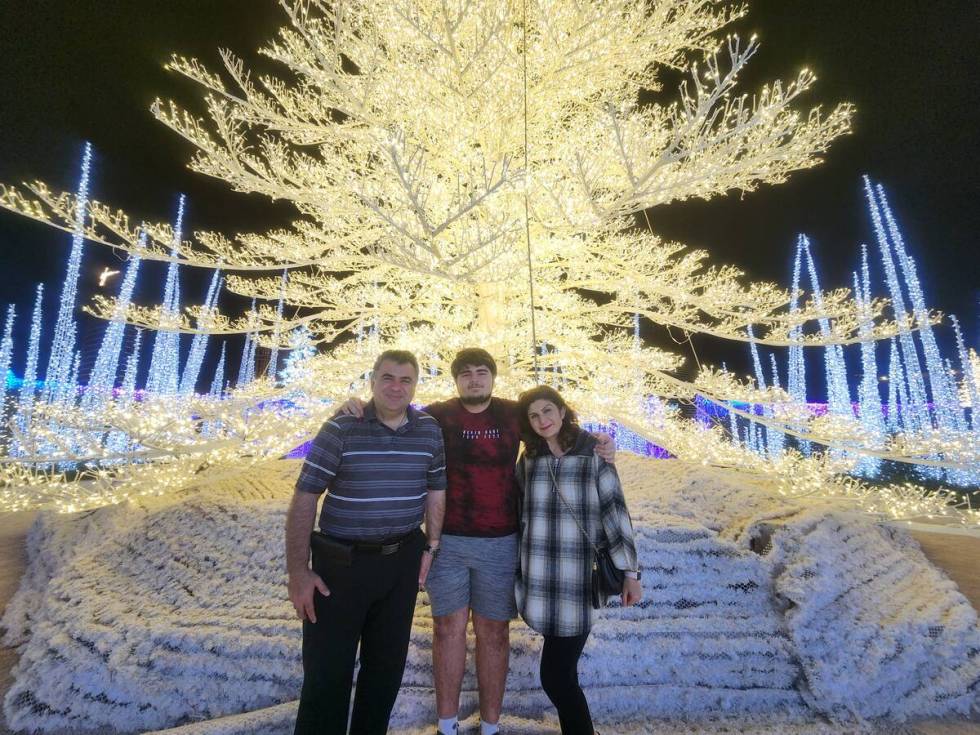 Many people think Las Vegas is only gambling and drinking, Adonis Banipalsin said, but "you have all these beautiful monuments, all the shows, things to explore."
The family is in town until Monday, and plans to see a Cirque du Soleil show and another light display before leaving.
"It's amazing how much stuff there is to do in Vegas," Adonis Banipalsin said.
— Jessica Hill
6:44 pm
New Year's birthday
Visitors mill about the gingerbread display of the Bellagio Conservatory & Botanical Gardens — so many it's hard to navigate through the strollers and outstretched arms taking selfies.
Tucked along one of the banks, South Bend, Indiana, residents Katelin Husband and Brandon Robinson took their own selfie in front of a Christmas tree display. The couple thought the destination was a perfect place for New Year's festivities.
"It's Vegas — and it's her birthday," Robinson said.
— McKenna Ross
6:30 p.m.
Downtown roads close
Ahead of the "NYE Time of Your Life Festival" at the Fremont Street Experience in downtown Las Vegas, Fourth Street between Carson and Ogden avenues and Casino Center Boulevard between Carson and Ogden were closed.
The roads are scheduled to reopen at 5 a.m. on Sunday.
— Lorraine Longhi
6:30 p.m.
Winter wonderland
Peter, an off-duty employee at Resorts World Las Vegas who declined to give his last name, was with his daughter at the "Enchant on the Strip" attraction 5½ hours before the new year. He is looking forward to seeing comedian Kevin Hart perform tonight, as well as watching the fireworks with his daughter. This is his fourth New Years in Las Vegas, and he said the weather is much better tonight than last year.
"It was pretty cool," Peter said of the Enchant maze, where visitors can meander through a maze of Christmas lights. Live musicians perform in the area as visitors sip on drinks and eat snacks, with bright Christmas lights surrounding them.
"I just loved seeing all the lights," his daughter said.
— Jessica Hill
6:01 p.m.
Roads begin closing
The Metropolitan Police Department tweeted, "Roads are beginning to shutdown in preparation for #vegasnye."
According to the tweet, Interstate 15 offramps at Flamingo Road were closed, as well as southbound Las Vegas Boulevard, or the Strip, at Spring Mountain Road and Las Vegas Boulevard northbound at Tropicana Avenue.
— Carri Geer Thevenot
5:04 p.m.
Rain expected around midnight
Wind gusts in the Las Vegas Valley coming from the south were around 20 mph, according to National Weather Service meteorologist Jenn Varian.
She said the wind would be picking up over the next few hours with wind gusts between 25 and 30 mph.
"It won't be long lasting. You would just get a gust here and there," Varian said.
Around midnight gusts are expected to be less frequent and will drop back down to 20 mph.
"That's when light rain is going to move in, unfortunately, right around midnight," Varian said.
She said it's possible that the rain might miss the Strip.
"It's going to hit Mount Charleston and kind of go around us so that's possible, but we are expecting light rain at least if not at midnight definitely overnight," Varian said.
Around 5 p.m. the temperature at Harry Reid International Airport was 58 degrees and was expected to drop to 55 degrees by midnight, according to Varian.
— David Wilson
3:35 p.m.
Road closures planned
As 400,000 partygoers are set to descend on the Strip to celebrate New Year's Eve, here is the latest information on transportation and prohibited items:
Road closures on the Strip between Spring Mountain Road and Tropicana Avenue (which covers the Strip from Treasure Island to the MGM Grand) are set to start at 6:30 p.m. and by 8 p.m., all traffic will be shut down in the area.
The offramps around Flamingo Road and Interstate 15 are set to be closed in both directions beginning at 5 p.m.
All roads are expected to reopen by 6 a.m. on Sunday.
The Metropolitan Police Department noted that the situation on New Year's Eve is fluid and that changes to road closures could happen "without notice," according to a department social media post.
The Regional Transportation Commission is offering free rides on its bus routes from 6 p.m. on New Year's Eve to 9 a.m. on New Year's Day. The RTC also is modifying certain bus routes around downtown Las Vegas and the Strip for New Year's Eve. More information on these changes can be found on the RTC website.
Free rides for all! 🚌#RTCSNV is offering FREE #transit rides from 6 p.m. on New Year's Eve to 9 a.m. on New Year's Day. To help ensure safe roadways, transit riders can board any vehicle on any of our bus routes free of charge. Make the safe choice this #NYE and ride with us. pic.twitter.com/vzcdRkyo7S

— RTC Southern Nevada (@RTCSNV) December 28, 2022
The city of Las Vegas also announced that Lyft will be offering a $5 discount for rides around the city for customers if they use the promo code: NYESAFERIDE22. This discount will be valid until 6 a.m. Monday.
Several items are banned for the holiday celebration on the Strip, including coolers, strollers, large bags, glass and metal containers. A curfew will prohibit those under 18 from being in downtown Las Vegas and on the Strip without a parent or guardian on New Year's Eve.
— Sean Hemmersmeier
— New Year's Eve in Las Vegas: A guide to fireworks, concerts and parties
— Top 10 concerts in Las Vegas for New Year's Eve weekend