Nevada charter schools will create their own reopening plans
Updated July 1, 2020 - 3:13 pm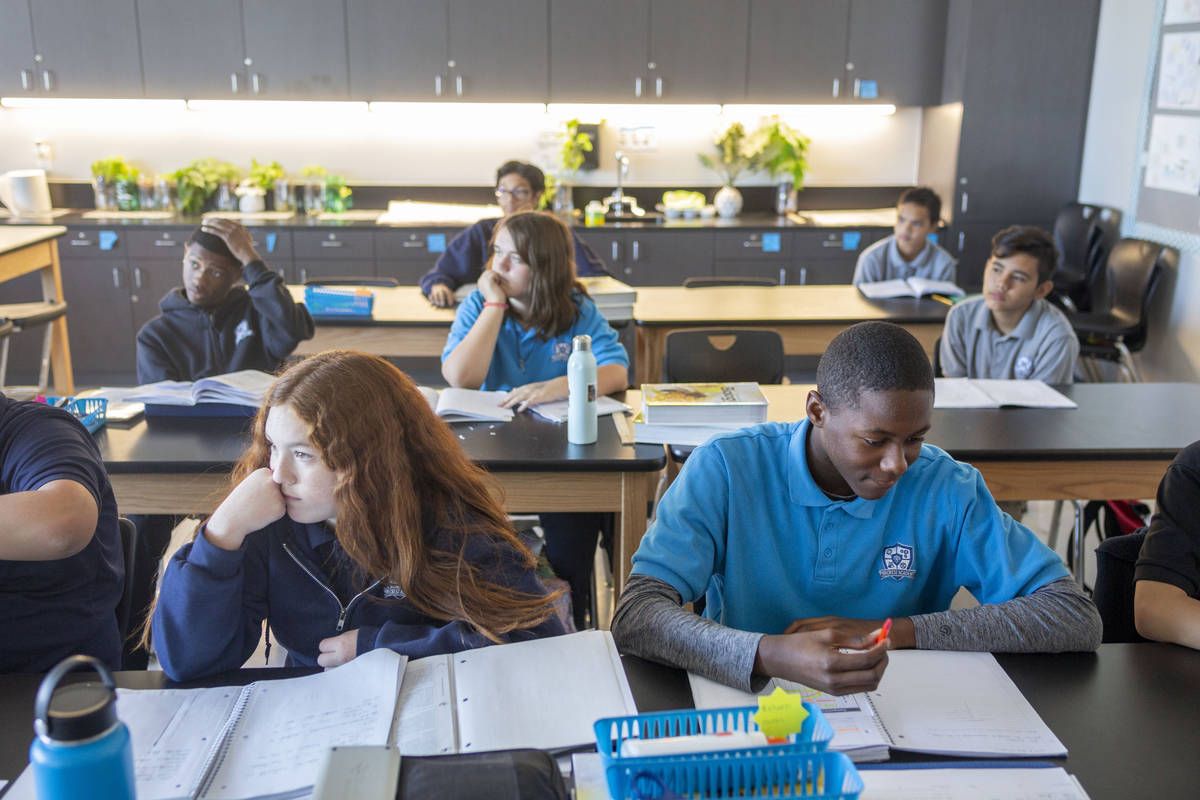 The Nevada State Public Charter School Authority board decided Friday that each individual school it sponsors will develop its own reopening plan for the upcoming school year amid the COVID-19 outbreak.
The board voted unanimously to approve a procedure for how schools, which serve approximately 50,000 students in total, will submit their plans.
The planning process for schools is complex, charter authority Executive Director Rebecca Feiden told the board, noting there is a lot of information from state directives to filter through.
"We know there is also a lot of uncertainty that our schools and our communities are dealing with," she said.
Under the procedure approved Friday, each school will develop a plan and submit it to its governing board for approval no later than 20 days before the school year is scheduled to start.
Once a plan is approved by a school's governing board, charter authority staff will review it to ensure it's in compliance with state requirements and will submit it to the Nevada Department of Education.
Charter authority staff believe each school's governing body is equipped to make the best decision about reopening plans, Feiden said, noting that Nevada's charter schools are in different geographic areas and use different teaching models.
Charter schools have the option of using in-person instruction while following social distancing, providing distance education only or using a hybrid format that combines both.
Schools are being asked to prepare for multiple scenarios, including ones in which the state is still in Phase Two of its reopening plan or where restrictions have been eased further, Feiden said.
Board member Tamika Shauntee Rosales asked if the authority will have enough time to review school reopening plans, particularly if there's a problem with a plan.
"Certainly, it's a quick turnaround on our part," Feiden said, but noted she doesn't anticipate any problem with reviewing the plans in time. She said she doesn't recommend an earlier deadline for schools because the situation with the pandemic is fluid.
On Tuesday, the Clark County School District released its reopening proposal, and the School Board heard a presentation Thursday night. The board won't take action on the plan until July 9.
During the meeting, the board also:
—Heard an update on distance learning numbers.
During distance learning this spring, 144 students couldn't be reached, Feiden said, noting some of those students may have moved.
—Authorized American Preparatory Academy Las Vegas to not renew its contract with educational management organization American Preparatory Schools.
It also directed the school to work with SPCSA staff in areas such as academics and finances during the transitional period.
Jason Guinasso, attorney for American Preparatory Academy Las Vegas, told the board the school paid the educational management organization $997 per student, for a total of about $1.6 million, per year.
The school's board voted unanimously June 11 not to renew its contract with American Preparatory Schools, effective July 31.
—Approved a request from Explore Academy Las Vegas to add eighth grade for the upcoming school year.
The school is slated to open in August and has been approved to serve up to 330 students. It was originally planning to serve sixth, seventh and ninth grades for its first year, but school officials said it was hard to meet enrollment goals during the pandemic.
The school is occupying former private school Far West Academy's building on North Rancho Boulevard.
The school is the second Explore Academy campus, replicating a model used in Albuquerque, New Mexico.There are shorter courses and they're infused with real-world applications.
Executive director Gretchen Larsen told the Review-Journal on Friday that about 50 students are enrolled thus far and they're hoping to end up with around 100. The school plans to add a grade level each year, up through 12th grade.
—Heard an update on Girls Athletic Leadership School (GALS) Las Vegas.
In May, the SPCSA board approved adding seventh grade to help boost enrollment for the upcoming school year.
Now, 55 students are enrolled — 15 of whom are seventh-graders. The school's targeted enrollment is 135.
"The GALS LV Board of Directors and our school leaders will continue to put forth every effort to launch for the 2020/2021 school year but will only do so in a manner that is fiscally responsible," school executive director Jennifer McCloskey said in a June 22 letter to the SCPSA board.
—Approved a request from Nevada State High School to open an additional campus — in the north valley — in time for the 2021-22 school year.
The school is opening two new campuses this fall: one in northwest Las Vegas and a second campus in Henderson.
—Approved a request from Beacon Academy of Nevada to open its second Las Vegas campus — this one in the east valley — for the 2021-22 school year.
The board also approved the alternative high school's request to implement a dual credit program, which will allow students to earn college credits while in high school.
—Approved a contract between the SPCSA and Democracy Prep at the Agassi Campus in Las Vegas, a former state Achievement School District school.
—Approved an extension for a new charter school application for TEACH Las Vegas from a July 15 deadline to no later than Oct. 1 due to the COVID-19 pandemic.
Contact Julie Wootton-Greener at jgreener@reviewjournal.com or 702-387-2921. Follow @julieswootton on Twitter.