Henderson council OKs rates for firms representing officials in suit
Updated August 8, 2018 - 2:11 am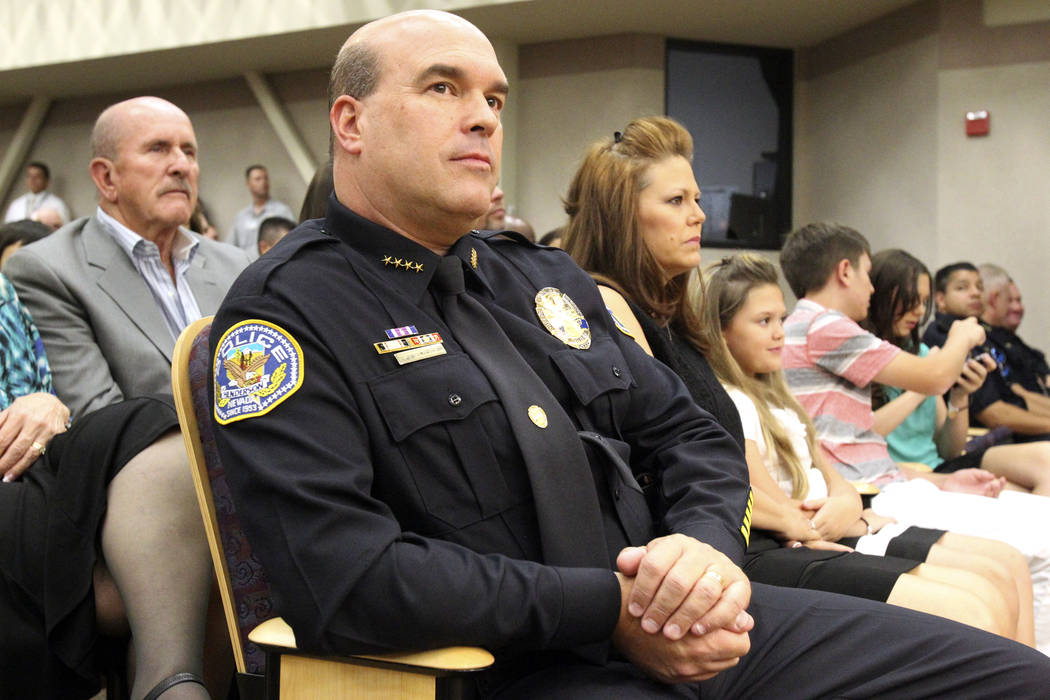 The Henderson City Council on Tuesday night approved compensation rates for several independent law firms that will represent city officials named in a lawsuit filed by former police chief Patrick Moers.
The lawsuit, filed in Clark County District Court in June, accuses Mayor Debra March and other city officials of soliciting false sexual misconduct allegations against Moers and damaging his reputation. He seeks more than $50,000 in damages.
The city is enlisting the help of several law firms at a rate of $350 per hour for attorneys and $100 per hour for paralegals. The firms are Garman Turner Gordon LLP; Peterson Baker PLLC; Holley, Driggs, Walch, Fine, Wray, Puzey, and Thompson; and Snell and Wilmer LLP.
"The City of Henderson has a statutory obligation to provide legal representation to current or former employees named in this lawsuit whose actions fall under the scope of their existing duties or those they would have performed while employed by the City," City Manager and CEO Richard Derrick said in a statement. "The City retained these law firms to fulfill its statutory obligation and will stand by its current or former employees in defending them against this meritless lawsuit."
City spokesman David Cherry said the law firms were brought in to represent numerous defendants to mitigate any potential conflicts of interest. The city has a budget for all outside counsel, he said.
March abstained from the vote.
Moers left the department in May 2017 after signing a separation agreement. The city allowed him to cash out more than $163,000 of unused paid time off and kept the reason for his departure concealed. He would not have been paid if he had been fired.
Former Deputy Chief Bobby Long left the department at the same time and has not sued officials.
The Las Vegas Review-Journal reported in January that Moers was forced out after the city hired an outside law firm to investigate sexual harassment complaints.
In a special meeting earlier Tuesday, Henderson's newly appointed city attorney, Nicholas Vaskov, was sworn in. His contract, which includes an annual salary of $200,000, was approved last month.
He replaces Josh Reid, who left the position on June 1.
Vaskov previously served as city attorney for North Las Vegas, and most recently the Nevada System of Higher Education's general counsel and vice chancellor for legal affairs.
Contact Blake Apgar at bapgar@reviewjournal.com or 702-387-5298. Follow @blakeapgar on Twitter.
RELATED
Henderson's ex-police leaders get nearly $400K for separation
Sexual harassment probe forced out ex-Henderson police chief, sources say