Residents anxious about future of closed Legacy Golf Club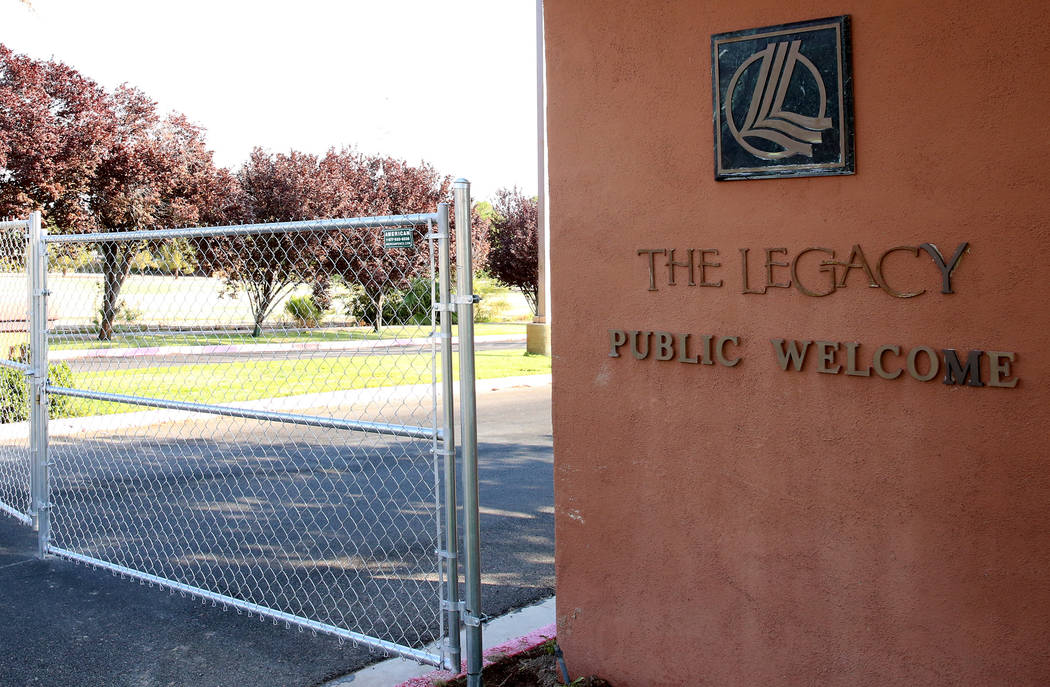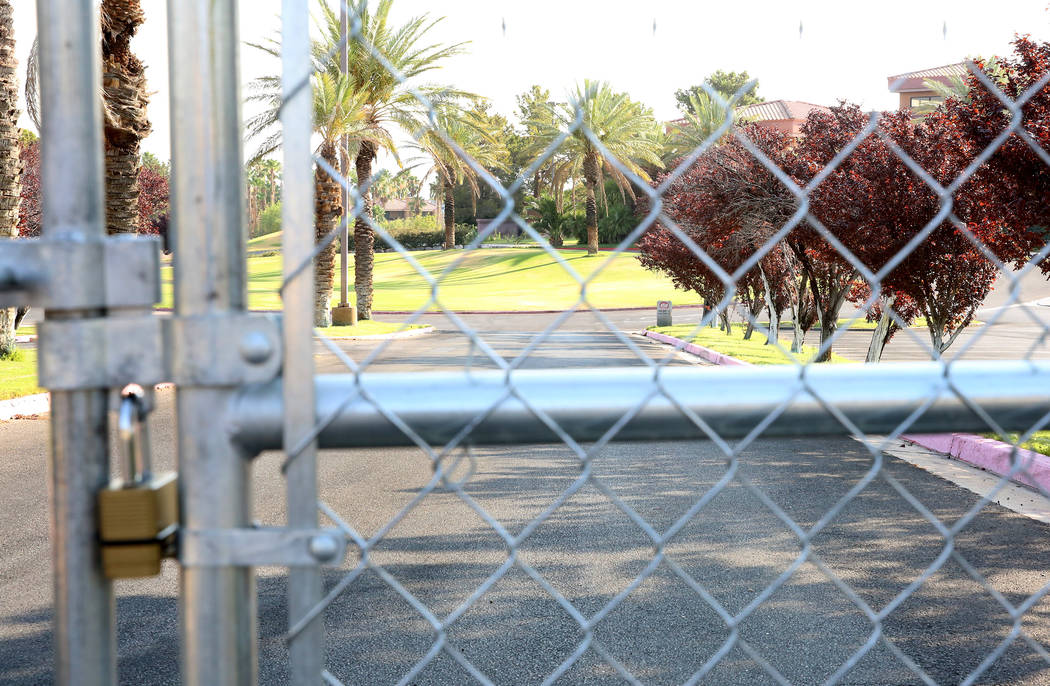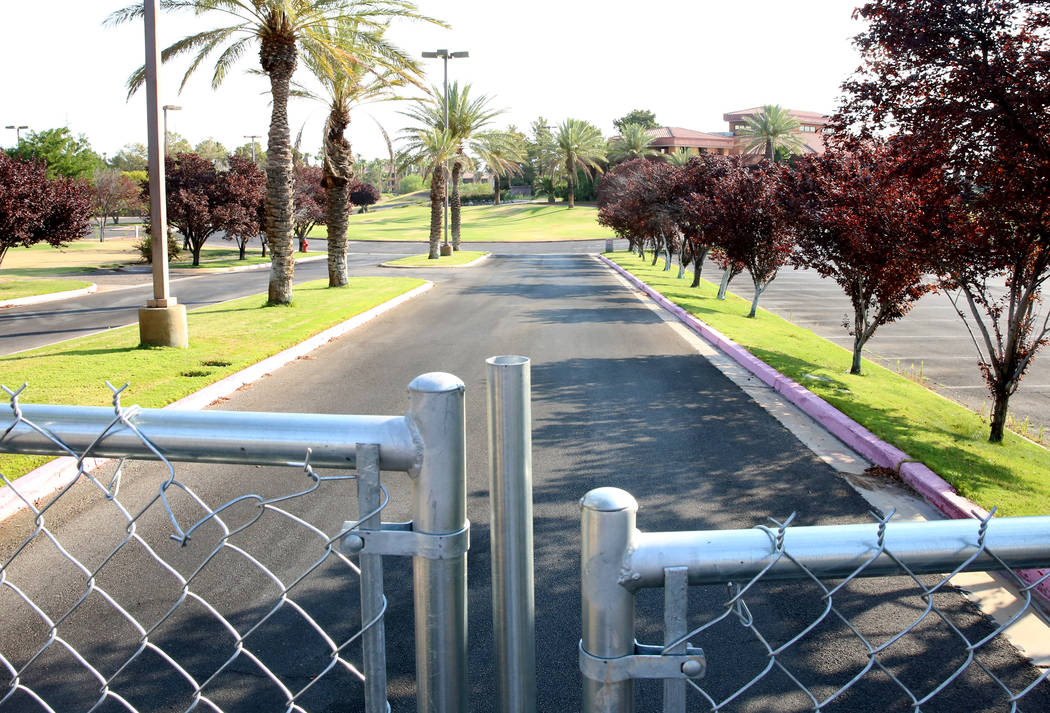 Henderson residents living in homes surrounding the recently purchased Legacy Golf Club are voicing displeasure about its closure and uncertainty about future uses.
Tom Sarnelli, a board member of the Grand Legacy Homeowners Association, told members of the Henderson City Council last week that he has been inundated concerns from residents upset about the golf club's purchase on July 3 and its closure the next day.
"The Legacy Golf Club is not obsolete," Sarnelli said during the Tuesday meeting. "We believe that it's not just the heart of Henderson or Green Valley, but it is the pride of Green Valley and we want to keep it that way and we're going to continue to do what we can on our part to keep it that way."
Tracy Connor, a resident and a real estate agent with Realty ONE Group, said she is concerned not only about potential effects on the property value of her house, but also about the property value of her listings.
Many people are now hesitant to look at homes for sale near or on the Legacy course because of uncertainty about future development, she said.
"This directly affects our biggest investment," Connor said. "It's just a waiting game right now. It's very frustrating for us."
Henderson resident Larry Workman said he was looking to buy a home on Legacy and thought he found the "perfect place," but now has concerns about what the future may hold.
"The view of this house is beautiful, but it just doesn't make sense to buy there right now," Workman said. "I don't think they'll make it a public park — it only makes sense to develop residential. If they do that, then there goes the view from that house and added to that will be two to three years of jack hammering."
Elizabeth Trosper, a spokeswoman for the new owners, said the owners — Georges Maalouf and Eddie Haddad — plan to meet with homeowner association boards in the area starting this week.
"They want to introduce themselves and give residents an opportunity to ask questions," Trosper said. "They also want to talk about what it is they would like to see be developed in the area if it's not a golf course. Their intent is to develop a partnership with the neighborhood."
Henderson officials plan to meet with the new owners Monday.
The city recently notified the owners that the fence now surrounding the closed golf club is out of compliance, according to city spokesman David Cherry.
The owners did not apply for a permit for the fence, and the fencing that was used is not allowed, he said. They will be fined and issued a citation if the issue is not corrected by Thursday, he said.
City officials also are closely monitoring to ensure the property complies with all applicable ordinances.
"Residents who contact the city are being provided with any relevant information and staff is following up on any reports that are provided regarding the condition of the property," Cherry said in a statement. "Since no applications have been received related to any potential development of the property, city officials are not being asked to make any determinations about future uses for the Legacy Golf Club at this time."
Club drew other bids
At least two other buyers put in bids to buy Legacy and keep it a golf course.
John Gafford, broker owner of Simply Vegas Real Estate, said he and Christopher Shelton, CEO at Velocity Acquisition Capital, LLC, submitted a bid to buy the property.
"We had a good, solid plan that would help the golf course make money," Gafford said. "It would've made everyone happy."
Gafford said he met with the new owners to discuss the plan, but "they were not interested."
Thomas Burke, CEO and owner of Chimera Golf Club in Henderson, said he also made a bid to buy Legacy with the intention to keep it a golf club.
"We believed that Legacy would have made a great 'sister' course to Chimera," Burke wrote in an email.
Legacy was reportedly sold for $5.6 million, according to a sales deed filed with the Clark County recorder's office.
Contact Sandy Lopez at slopez@reviewjournal.com or 702-383-4686. Follow @JournalismSandy on Twitter.
Related
Legacy Golf Club members can apply for refunds
New Legacy Golf Club owners want to meet with neighbors
Henderson officials 'concerned' about plans for Legacy Golf Club
Legacy refund concerns
Some Legacy Golf Club members are concerned about when they'll receive refunds for their memberships, now that new owners of the Henderson property have closed it.
Local golfer Nick Altiere said he's not only upset about the abrupt closure, but wishes he had received a notice. He paid $3,500 for a yearlong membership, which started in February.
"I play golf daily, so when I pay for a year and they shut down they're taking money out of my pocket because now I'm forced to pay somewhere else," Altiere said. "After filling out the form twice, they haven't even tried to reach out to me. I don't know when I'll get my refund."
A spokeswoman for the new owners said members should visit thelegacygc.com and fill out a form to start a refund process.
Elizabeth Trosper said the new owners are waiting for O.B. Sports, the previous manager of the golf club, to provide a closing financial report that reflects all gift card activity and membership status.
"Once they have that report, they are set up to begin refunds immediately," she said.