150 officers attend graduation for son of fallen Las Vegas officer — VIDEO
Updated June 10, 2017 - 11:14 pm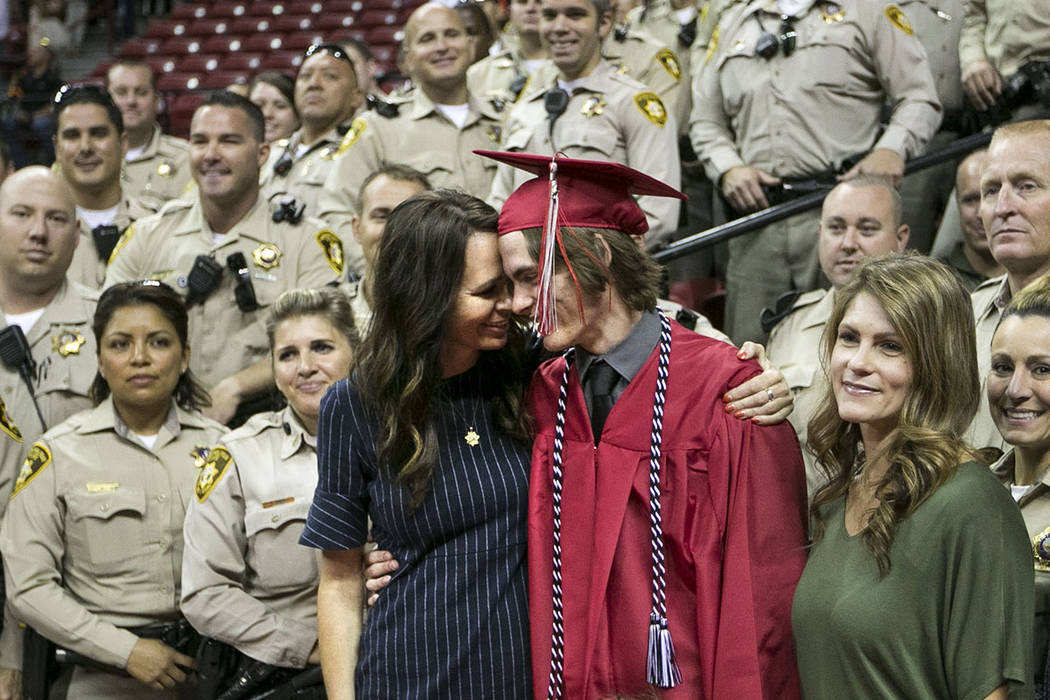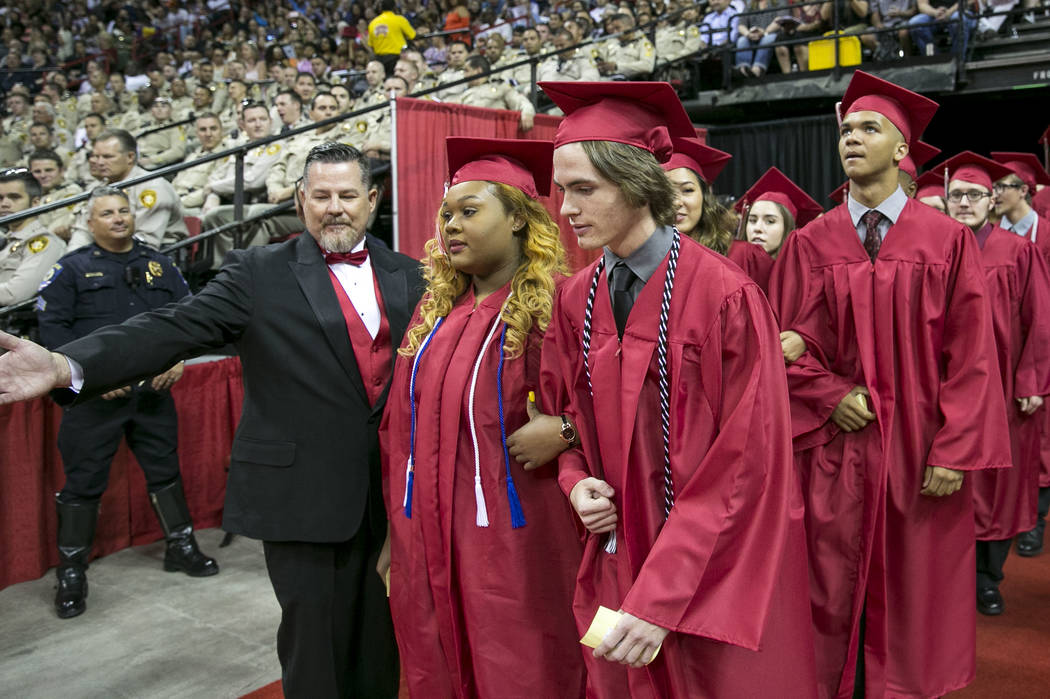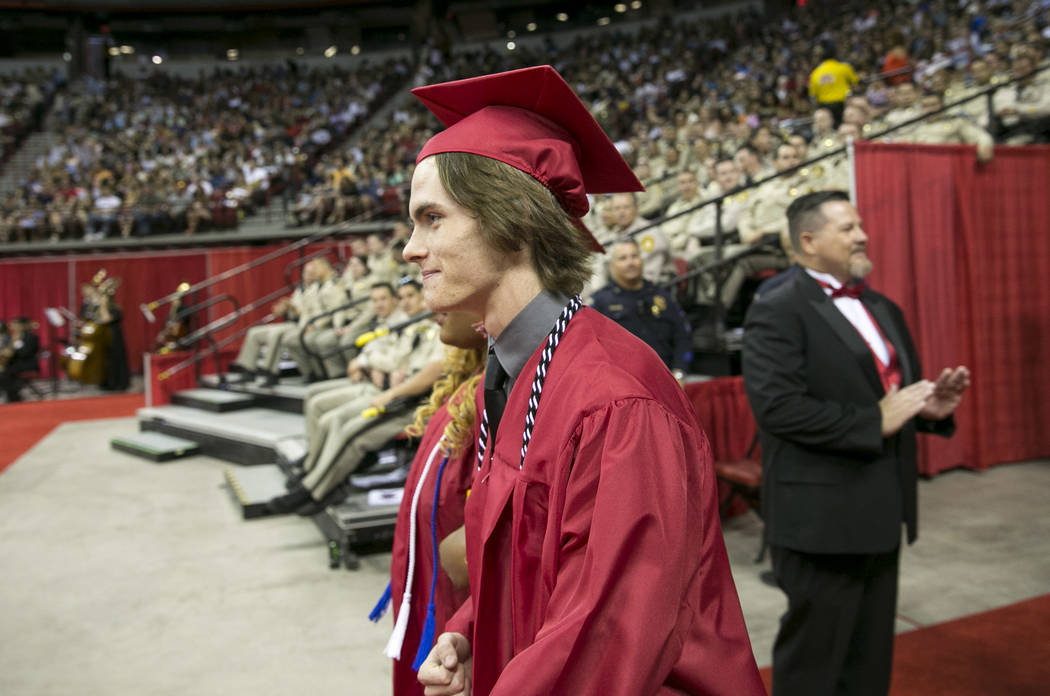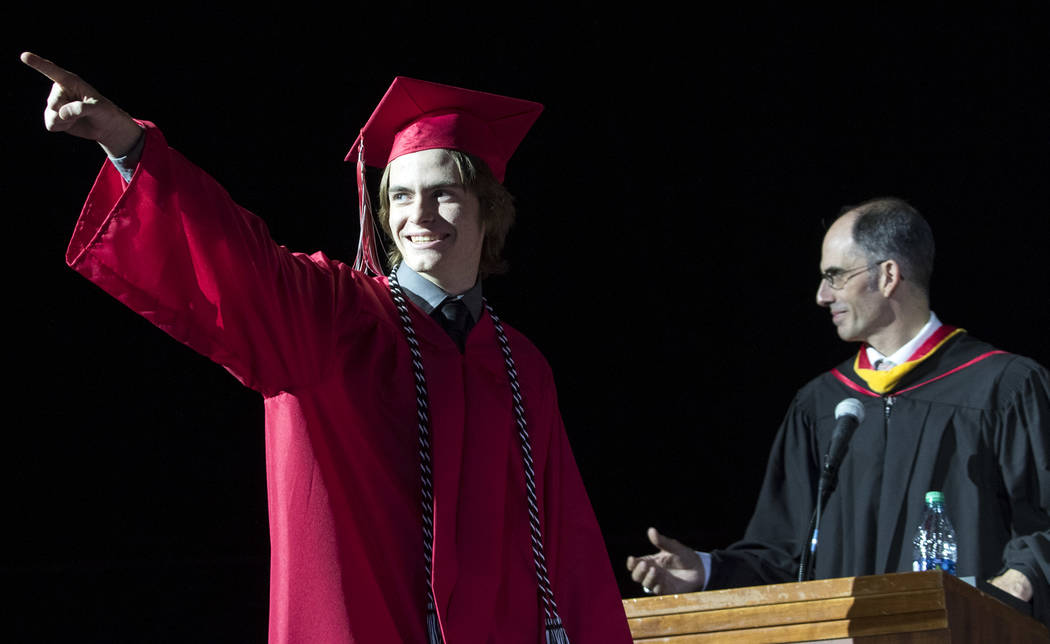 About 150 uniformed police officers stood in unison to clap and cheer as 17-year-old Daxton Alyn Beck walked across the stage at the Thomas & Mack Center to receive his Arbor View High School diploma Saturday.
Daxton's graduation came just three years and two days after his father, Alyn Beck, and Igor Soldo, both Metropolitan Police Department officers, were gunned down while on their lunch break at a restaurant.
Though his father was not present to see him accept his diploma, the officers were volunteering as stand-ins at the ceremony in support of Daxton, his family and his father's legacy, the Police Department said in a release.
"We think it's important to show the entire community that we haven't forgotten about officer Beck and officer Soldo," said 53-year-old Scott Nicholas, who is vice president of the officers' union, the Las Vegas Police Protective Association. Nicholas attended the graduation with his wife, a corrections officer with the Police Department.
"For me it was more about letting him know he has extended family, and that we're all here for him," Jessica Nicholas said. "Just to show him that he's never alone."
"It's been just over three years since the senseless murder of these two officers and we don't want their children to think we've forgotten him or his services to this community," Scott Nicholas said. "It's very emotionally charging for us to be here and to see his success as he grows up as a young man.
"It's not just this event, but anything in the future as well, whether it's weddings or college graduation or anything else," he said. "We just want him to know that his dad was important to us."
Officer Tim Gross said that he was friends with Alyn Beck and that the pair worked on the same squad for several years.
"He was just a good guy … a damn good officer," Gross said. "I hate to be here for this, I have to be honest with you. Because I wish he could be here for him."
"But we're here out of respect … to let him and his family know that 'You're not forgotten. You weren't just a one-year blip on the screen. It's forever.'"
Before the ceremony, Nicole Beck, Daxton's mother, walked through the stands at the arena, greeting and accepting hugs from the dozens of officers seated in her section. Her blue eyes brimmed with tears as she spoke about her son, his achievements and the show of solidarity from the department.
"The support is amazing from the Metro officers," she said, pausing to look at the uniformed officers sitting behind her. "I appreciate that they're willing to come out and support, and — it's making me emotional — it's really neat. And I know it means a lot to Daxton."
As Arbor View's orchestra, in which Daxton's 14-year-old sister played cello, performed an instrumental version of "Sweet Child O' Mine" by Guns N' Roses, Beck talked about her son's achievements, including competing on Arbor View's varsity swim team for two years, running on the track team and participating in the school's biomedical program.
"It's been a bit of a roller coaster, but he's a very resilient kid," Nicole Beck said. "I'm super proud of everything that he's been through, and that he has gotten to this point. He's just been such a strength to me. He's an awesome kid."
After the last name was called and the graduates had turned the tassels on their red and silver caps, Daxton was escorted to the back of the arena by two officers. The rest of the officers poured out of the stands and onto the red carpet to greet him.
Beck, who studied biomedical sciences and psychology during high school, said his first move as a high school graduate will be to serve a mission beginning in late August for the Church of Jesus Christ of Latter-day Saints.
As for what's in store after his mission, "I'm not entirely sure yet," he said after the ceremony, a lei with folded money and two black and white cords draped around his neck. "I'm moving on with my life and taking a great leap forward."
As his classmates were led out of the arena, he walked amid the sea of tan-uniformed officers, who had stood in unison, and clapped and cheered as he'd walked across the stage earlier. The officers patted him on the back, congratulated him and pulled him into hugs.
"They've always been there supporting me, so having them here is just a big get-together of support," he said. "It's just mind-boggling."
Moments later, Beck beamed as he stood at the front of the crowd of officers and posed for a group photo, one hand clutching his diploma, the other wrapped around his mother's waist.
Contact Kimber Laux at klaux@reviewjournal.com. Follow @lauxkimber on Twitter.
Officers Alyn Beck, 41, and Igor Soldo
Officers Alyn Beck, 41, and Igor Soldo, 31, were gunned down on June 8, 2014, as they dined at a CiCi's Pizza in the northeast valley.
The pair was ambushed on their lunch break by Jerad and Amanda Miller, a married couple who espoused anti-government, anti-police views, and who were armed with five guns and about 200 rounds of ammunition.
After killing Beck and Soldo and taking their guns, the Millers retreated to a nearby Walmart. Jerad Miller fired one shot into the air and called for a revolution.
A bystander at the store, Joseph Wilcox, was armed with a concealed weapon, and followed Jerad Miller through the store and tried to intervene. Wilcox, 31, aimed his gun at Jerad Miller, but was shot from behind by Amanda Miller and died at the store.
Metro officers arrived at Walmart and exchanged gunfire with the Millers. Officer Zack Beal, who attended Daxton Beck's graduation ceremony Saturday afternoon, shot Jerad Miller in the chest, killing him. Amanda Miller turned a gun on herself and was taken to University Medical Center where she died.
Related
Las Vegas officers killed in ambush remembered 3 years later
Scholarships awarded in memory of 2 Las Vegas police officers
Official: Police, not wife, killed Jerad Miller
Justice Department releases report on 2014 ambush that left two Metro officers dead
Experts: Couple in Las Vegas police ambush displayed classic anti-government ideologies