Project Neon is 40 percent done, a year after work began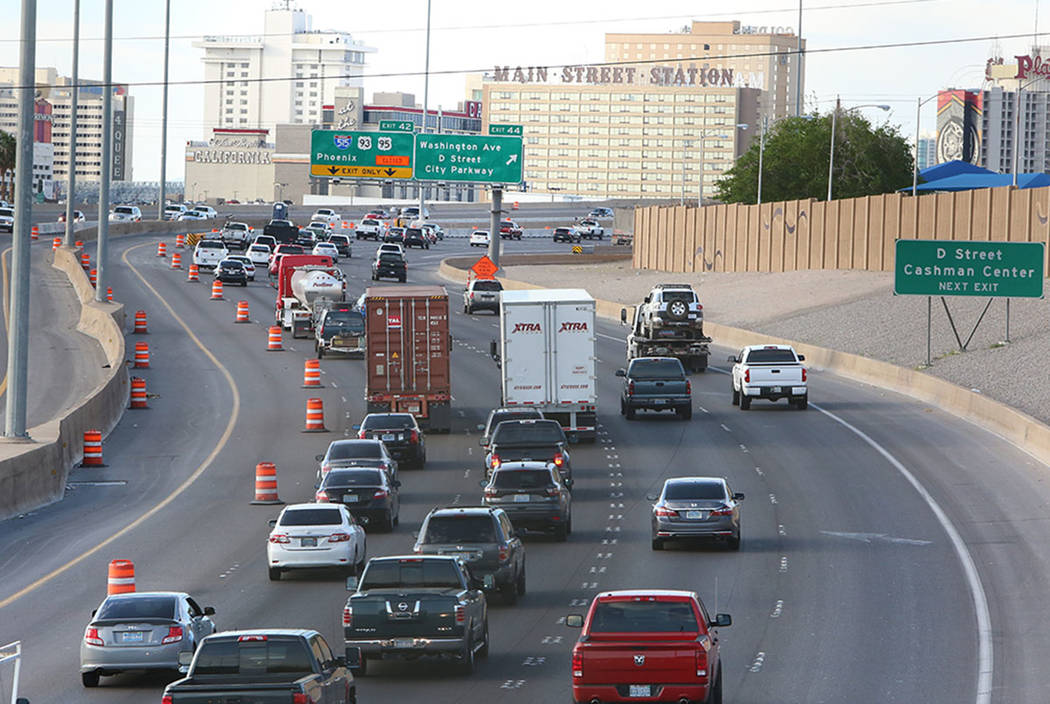 The $1 billion widening of the Spaghetti Bowl freeway interchange, known as Project Neon, is 40 percent complete one year after construction began, the Nevada Department of Transportation said Wednesday.
Roughly 400,000 man-hours of work are logged so far, without any injuries as work proceeds on Nevada's largest transportation infrastructure project, NDOT project manager Dale Keller said.
Keller also said work is nearly complete to transform Martin Luther King Boulevard into an "enhanced feeder-like roadway" for Interstate 15 and U.S. Highway 95.
So far, crews have built more than 1 mile of reinforced flood control, demolished 43 structures, laid 17 miles of utility lines, used 607 tons of reinforcing steel and poured 6,342 cubic yards of concrete, NDOT spokesman Tony Illia said.
However, commuters can still expect a series of lane restrictions and ramp closures around the Spaghetti Bowl until construction concludes in summer 2019.
Over the next two years, crews will build an 81-foot-tall flyover ramp for high-occupancy vehicles. When completed, the new carpool ramp will have one lane for drivers headed from southbound U.S. 95 to southbound I-15 and another connecting northbound I-15 to northbound U.S. 95. The two-way concrete ramp, measuring 2,606 feet long, will be accessible from the center lane of both freeways.
Crews will also switch on a dozen new active traffic management signs that will adjust speed limits to help reduce accidents and stop-and-go traffic for the 300,000 vehicles that travel daily between the Spaghetti Bowl and Sahara Avenue.
Contact Art Marroquin at amarroquin@reviewjournal.com or 702-383-0336. Follow @AMarroquin_LV on Twitter.
Project Neon after one year
2: bridges completed
9: bridges under construction
35: new man holes
43: structures demolished
46: girders set
77: width, in feet, of the state's longest digital traffic sign installed on U.S. Highway 95
Source: Nevada Department of Transportation
Related
Work to restrict US 95 on-ramps at Decatur, Valley View
Las Vegas Boulevard ramp to US 95 narrowed until July 21
'Big Squeeze' shifting lanes at Spaghetti Bowl interchange
Project Neon app designed to help Las Vegas motorists navigate construction