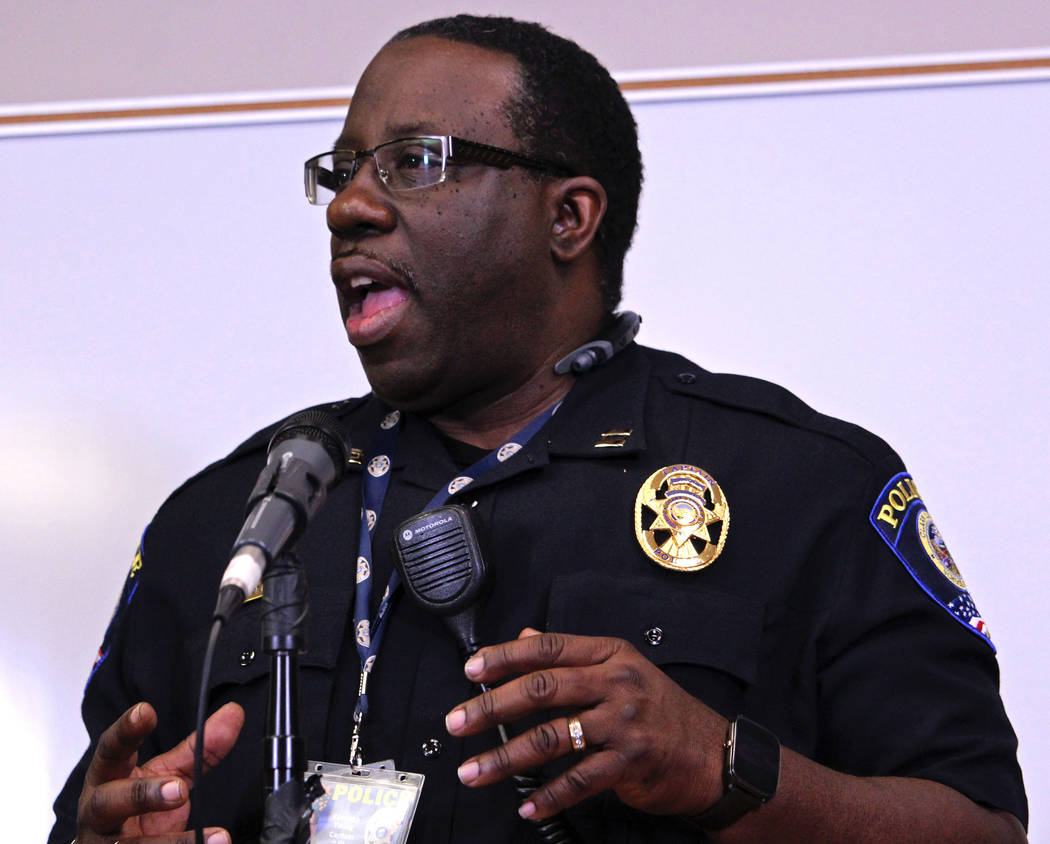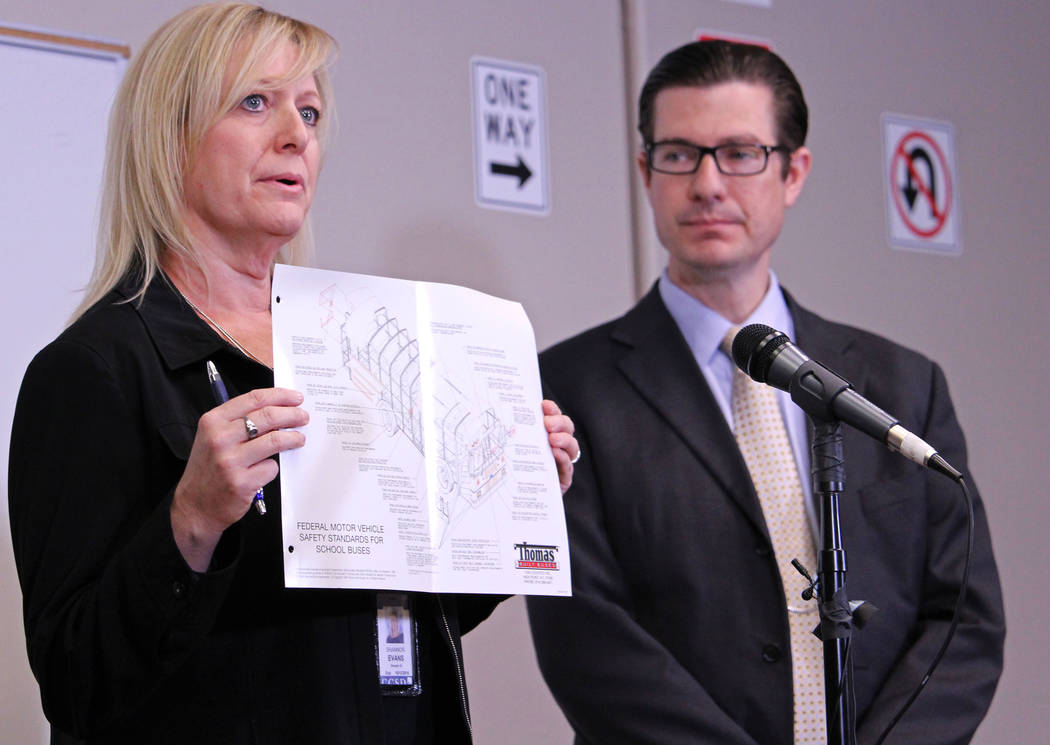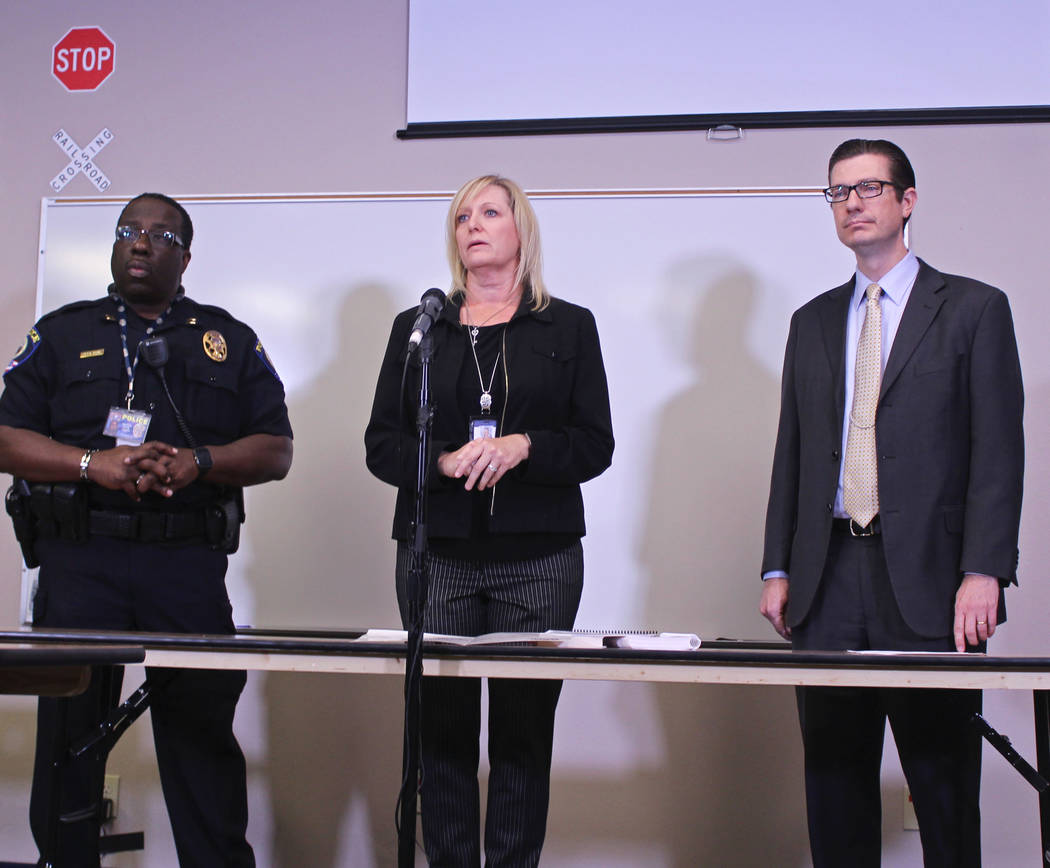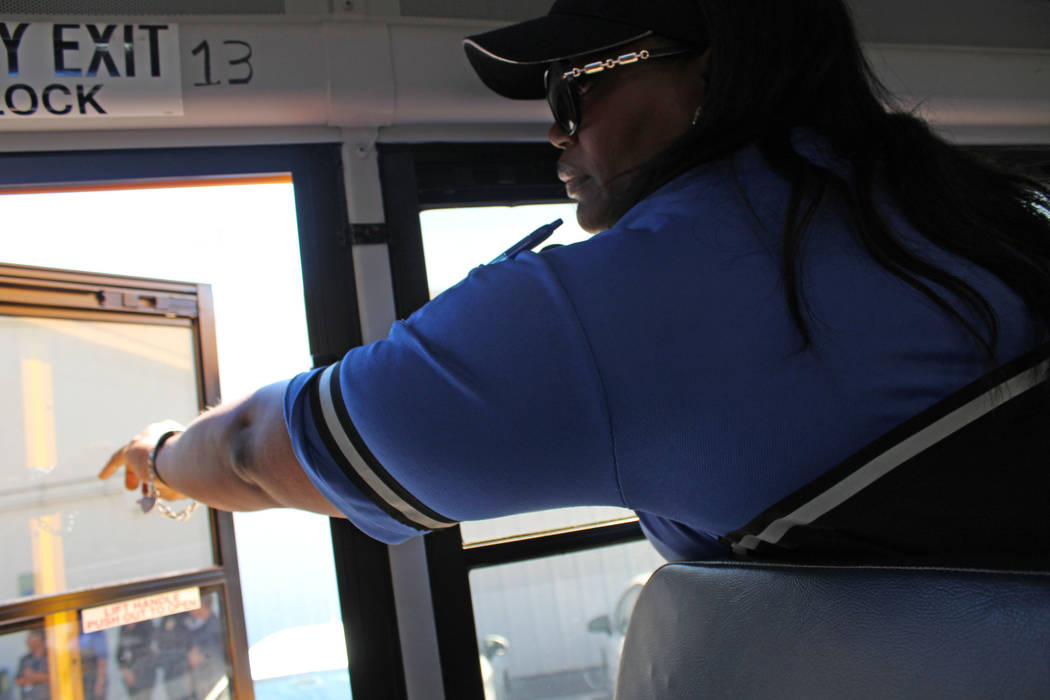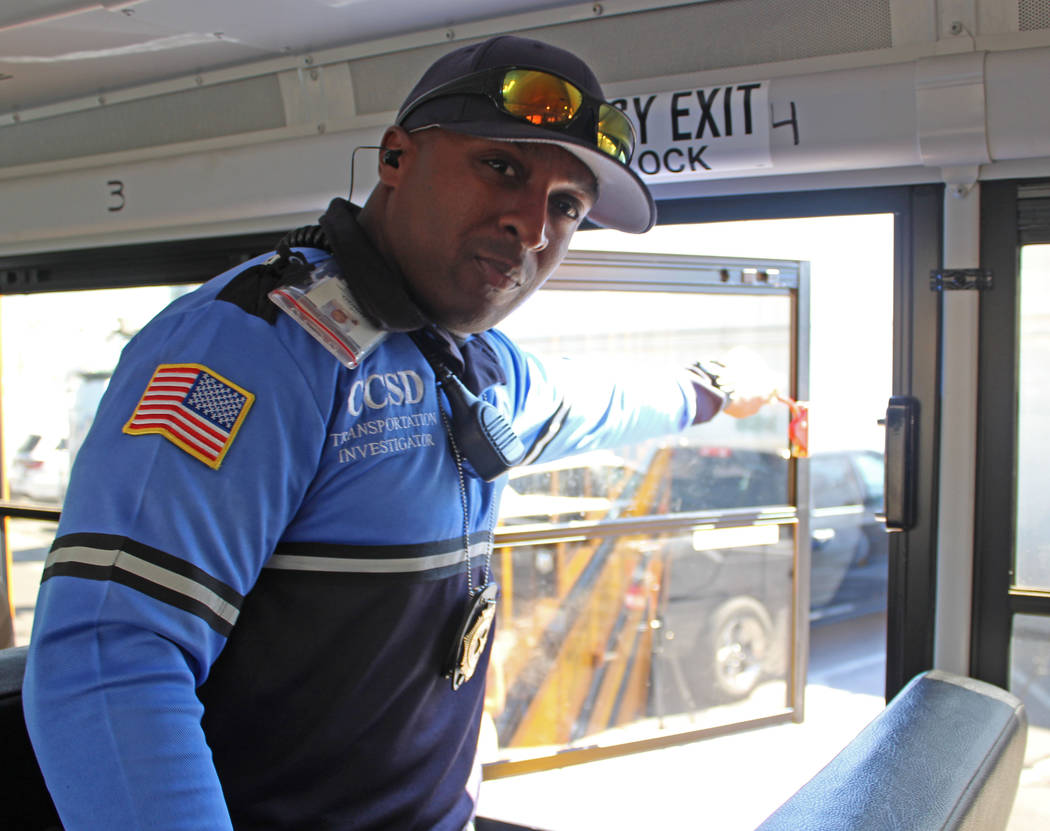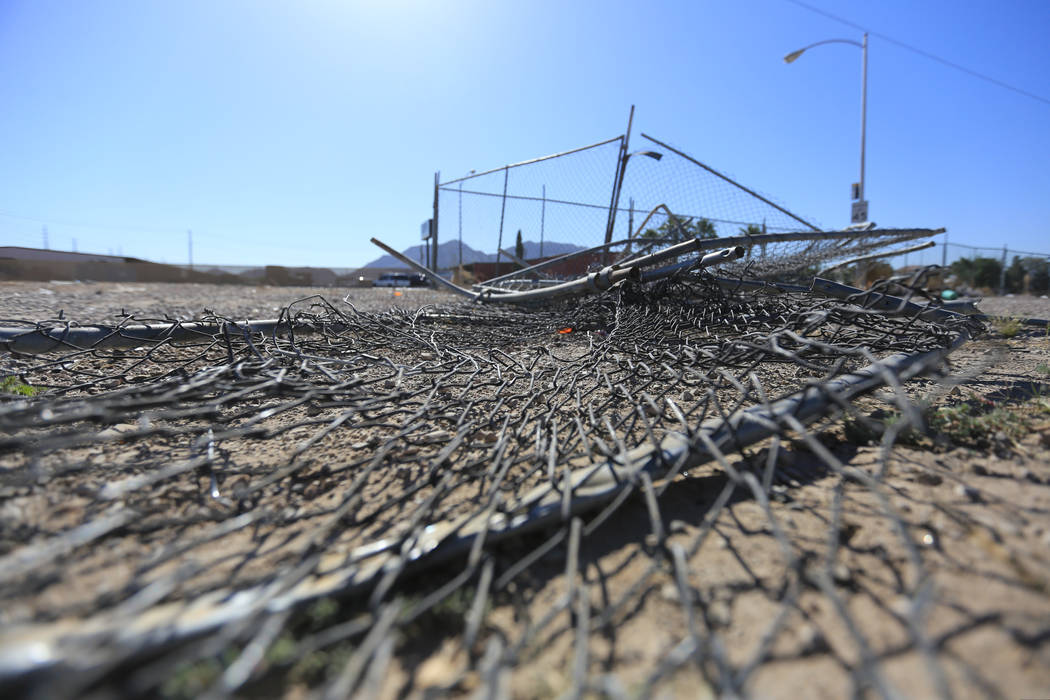 The Clark County School District sought to reassure parents that school buses are safe following a collision Thursday morning that left one person dead and sent more than a dozen students to area hospitals.
Shannon Evans, the school district's transportation director, held a media briefing Friday morning to review bus safety features and driver training.
"Our buses meet every safety standard," Evans told reporters, holding up a diagram of bus specifications.
The accident occurred about 8:30 a.m. Thursday, when the school bus bound for Bailey Middle School was struck on its side by a white sedan near Nellis Boulevard and East Carey Avenue. The sedan ran a red light before hitting the bus, and the impact caused the bus to roll onto its side, Las Vegas police said.
The collision partially crushed the front wheels of the sedan under the bus's back wheels. Both vehicles traveled together until the sedan separated, police said. The bus then rotated, crashed through a chainlink fence and drove into desert landscape before tipping onto its left side.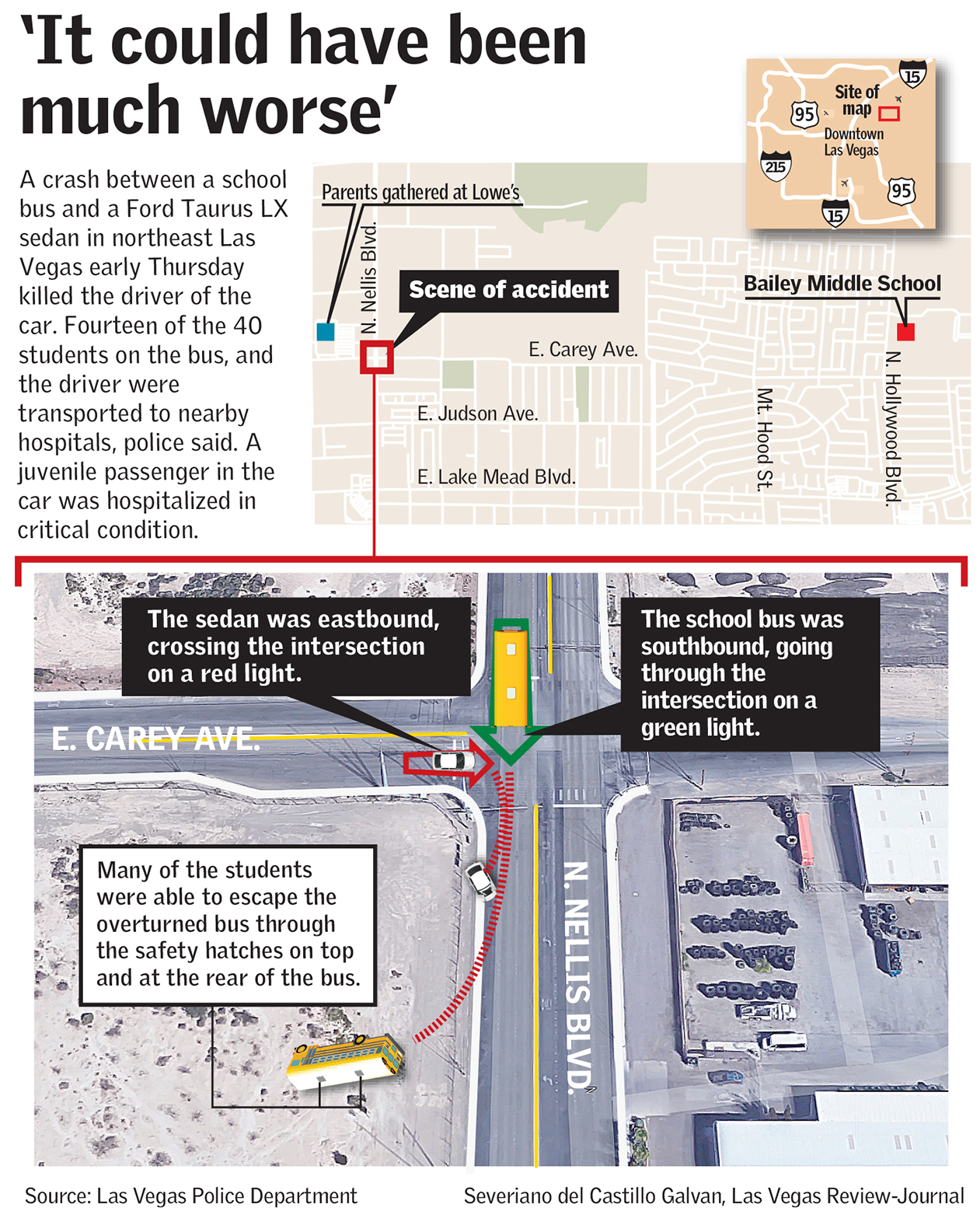 Maria Castillo, the sedan's 70-year-old driver, was killed in the crash, according to her son, Erick Castillo.
The woman's 10-year-old granddaughter, Priscilla Castillo, who was sitting in the passenger seat, was hospitalized at University Medical Center's trauma unit Thursday in critical condition, where she remained Friday. They had been on the way to school when the crash happened.
Priscilla suffered a critical head injury and hadn't regained consciousness as of Friday afternoon, said Erick Castillo, who is her uncle. She and her grandmother were extremely close.
"We're handling it as best we can," he said Friday while sitting with his niece at UMC. "We lost our mom and we're fighting for our niece. It's pretty hard."
A GoFundMe page the family created for the girl's medical expenses had raised $2,480 as of Friday afternoon.
School district police Capt. Ken Young said Friday that 14 of the 40 students on the bus during the crash were hospitalized with moderate injuries. The bus driver, Dawn Rice, 40, also suffered moderate injuries. The district indicated all had been released from the hospital as of Friday.
Evans said Thursday's crash will be used as an example in future driver trainings.
"What you saw yesterday was a driver following procedure," she said. "Those students were trained how to get off that bus."
Rice was involved in one other crash, which Evans described as minor, in her 13 years as a school bus driver. The woman works on the district's "extra board" as there is no permanent driver for that route, the district said.
Drivers have to make it through 35 hours of driving in the field and 40 hours of classroom instruction during training, and Evans said the district's standards are such that only about 60 percent of potential drivers make it onto the roads.
Students are prepped for emergency scenarios during the first week of school, and each route is required to run two evacuation drills each school year, Evans said.
When asked if the district supported proposed legislation requiring students to use seat belts, Evans declined to take a side. But she said the district would immediately comply with any new statutes.
"The school bus industry is highly regulated," she said. "We don't wing it."
District school buses have been involved in about 400 "accidents" since July 1, but officials said that includes everything from minor dings to serious collisions.
Las Vegas Review-Journal reporter Rachel Crosby contributed. Contact Wesley Juhl at wjuhl@reviewjournal.com and 702-383-0391. Follow @WesJuhl on Twitter.