Carson City woman wins $50K at 2nd 'Vax Nevada Days' raffle
Updated July 15, 2021 - 7:20 pm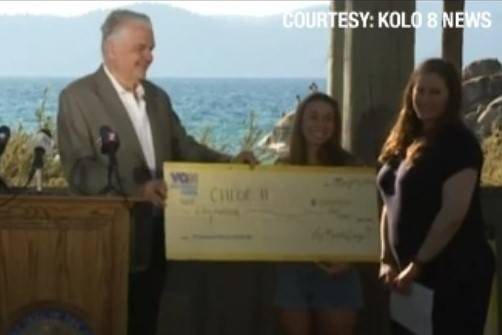 Gov. Steve Sisolak stood in front of shimmering waves Thursday evening while he announced the winners of this week's "Vax Nevada Days" at Sand Harbor-Lake Tahoe Nevada State Park.
Thursday's winners included five Las Vegas students between 12 and 17 years old who won $5,000 or $20,000. The grand college prize of $50,000 was awarded to a Henderson student identified as Hunter.
Among the adult winners, six were residents of Southern Nevada — but the biggest winner Thursday was Chloe, a Carson City resident and recent graduate of Carson High School, Sisolak said while presenting her a $50,000 check.
Sisolak told a story about calling one of the winners, who has been encouraging all of her friends to get the vaccine for a chance to win cash.
The ceremonies, which Sisolak said are meant to entice more Nevadans to get the COVID-19 vaccine, are awarding $5 million in cash, college tuition and other prizes to vaccinated Nevada residents.
Data from the Southern Nevada Health District shows more than 51 percent of eligible residents had been vaccinated as of Thursday.
Winners will be announced each Thursday through Aug. 26, when the winner of the $1 million grand prize will be announced.
Vaccinated Nevada residents are automatically included in the raffle, state officials have said. Although most residents won't win a prize, Sisolak has said, "Every person is a winner if they get vaccinated."
At the first ceremony on July 8 in North Las Vegas, an elementary school teacher from North Las Vegas won a $250,000 cash prize and a 15-year-old from Las Vegas won a $50,000 tuition prize for post-secondary education, among other winners.
Contact Sabrina Schnur at sschnur@reviewjournal.com or 702-383-0278. Follow @sabrina_schnur on Twitter.
PARTIAL LIST OF WINNERS
$50,000 cash prize
— Chloe H., Carson City
$25,000 cash prizes
— Rosemarie V., Las Vegas
— Beverly R., Las Vegas
— Jacquelin C., Carson City
$1,000 cash prizes
— Sue D., Las Vegas
— Theresa W., Reno
— Madisen R., Reno
— Wendy P., Las Vegas
— Charles W., Henderson
— Darryl L., Minden
— Dana V., Minden
— Hannah L., Las Vegas
$50,000 college savings plan
— Hunter M., Las Vegas
$20,000 college savings plans
— Bernardo L., Las Vegas
— Kyle M., Clark County
— Jonah H., Reno
$5,000 college savings plans
— Vanetria M., Las Vegas
— Ethan A., Las Vegas
— Langdon I., Reno
— Steven M., Fallon
— Samuel R., Las Vegas
— Jaeden B., Las Vegas