Las Vegas bars expect boost from soccer league expansion
August 22, 2017 - 9:10 am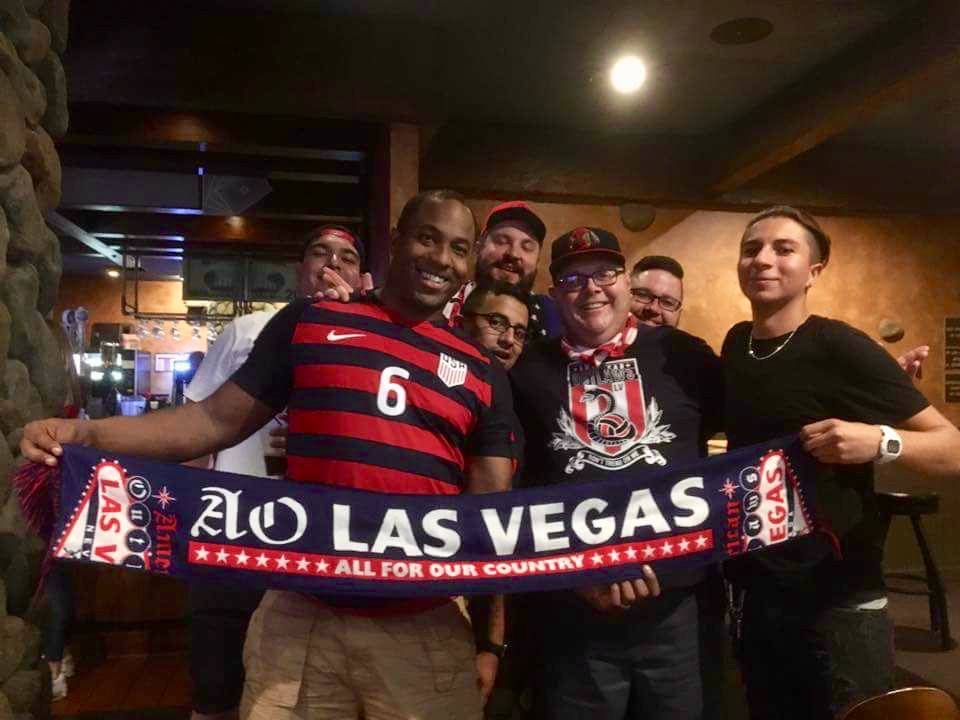 Soccer-backer bars and supporters are celebrating the recent announcement of the United Soccer League's expansion in Las Vegas, and fans say it signals a big step in making the sport more mainstream.
The valley's soccer fan base has grown steadily over the past decade, said Steve Engler, president of the American Outlaws Las Vegas chapter, an unofficial supporter group for the U.S. men's and women's national soccer teams.
The national group formed in 2007 and has over 175 chapters worldwide. Las Vegas got its chapter in 2011, and Engler joined a year later.
"When I joined, it was less than a handful of us around a table at McMullan's (Irish Pub)," he said. The group started filling the back room during watch parties. During the 2014 men's World Cup, "we took over not only all of McMullan's, but it spilled out into the parking lot," Engler said, laughing.
The announcement of Las Vegas' team, which has yet to be named, got all 250-plus members of the Las Vegas Outlaws "very, very excited," he said. The USL is a men's soccer league with 30 teams in the U.S. and Canada, started in 2011.
"(USL) is in places with smaller venues; they're still big markets, but smaller venues that really focus on soccer," Engler said. "They feel a bit more homegrown and local."
For bars that host watch soccer watch parties, the expansion also has been warmly welcomed.
"All of the new sports are going to be huge for Las Vegas, psychologically and financially," said Ron Schultz, owner of Crown & Anchor British Pub. While Schultz's restaurant caters more to international soccer fans, U.S. soccer matches get screen time as well.
"It's going to give us a sort of unification that we never had before," Schultz said. And it will be good for bars and restaurants in the area, which will benefit from people who want to come out and support their home team, he said.
For Jackson's Bar & Grill, the expansion presents untapped opportunity. Jackson's has been a Green Bay Packers bar for about 10 years and "just got into soccer," owner Brian Slipock said.
The American Outlaws moved its Gold Cup watch parties to Jackson's in July.
"The patriotism these fans show is amazing," Slipock said. "They stand for the national anthem. Throughout the game they have drums … The entire time of the game it's just high energy. It's amazing to be here and watch."
The USL season begins in February. Slipock plans on hiring more bartenders, servers and cooks in January to prepare for game nights.
"It looks like soccer is kind of taking over as a big sport over here and overall in America," Slipock said. Major League Soccer plans to add four teams within the next five years, and in 2014 signed an eight-year TV deal with ESPN, Fox Sports and Univision. In 2016, the league announced it had broken attendance records for the third straight year, drawing 7 million fans to 330 matches and averaging over 21,000 attendees per game.
Las Vegas has made unsuccessful attempts at luring in a Major League Soccer expansion team. Engler thinks USL might be the key.
"I know that the MLS is moving away from placing expansion teams where they don't have a built-in fan base," Engler said. "This (USL) is definitely a massive step one."
Engler and friends also support UNLV's soccer teams. Having a minor league team in town could present more opportunity for the male UNLV players, he said.
"We will probably see a lot of UNLV guys make an easy step from here to there," Engler said. "For a lot of these guys that may not have had a chance to move further, they now have a local option to try out for."
Contact Madelyn Reese at mreese@viewnews.com or 702-383-0497. Follow @MadelynGReese on Twitter.
Popular soccer bars in the southwest valley
Crown & Anchor British Pub: 4755 Spring Mountain Road
Jackson's Bar and Grill: 6020 W. Flamingo Road
McMullan's Irish Pub: 4650 W. Tropicana Ave.
World Cup hosting bid
On Aug. 15, the United Bid Committee of the United States, Mexico and Canada announced that it submitted its bid to host the 2026 World Cup. The committee asked 44 cities, inclucing Las Vegas, across the three countries to declare interest in hosting by Sept. 5.
The committee will review submissions and create a shortlist by late September. It intends to submit 20-25 venues in its final bid to FIFA. The association will make its decision in June.
If selected, games would be held at the planned stadium of the Las Vegas Raiders, set to be complete by 2020. The staidum will have a regular reason capacity of 65,000 that can be expanded to 72,000.
The United States last hosted the World Cup in 1994. Morocco in North Africa is the only other country to make a bid.