Use of drones on rise for Las Vegas police, rescue agencies
December 26, 2017 - 9:30 am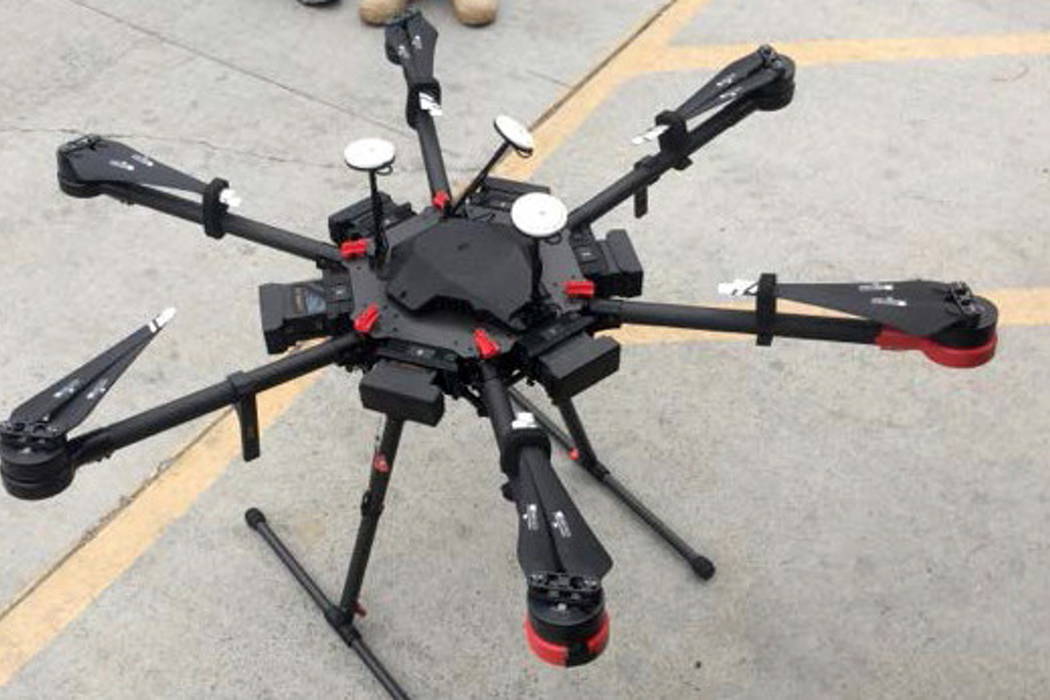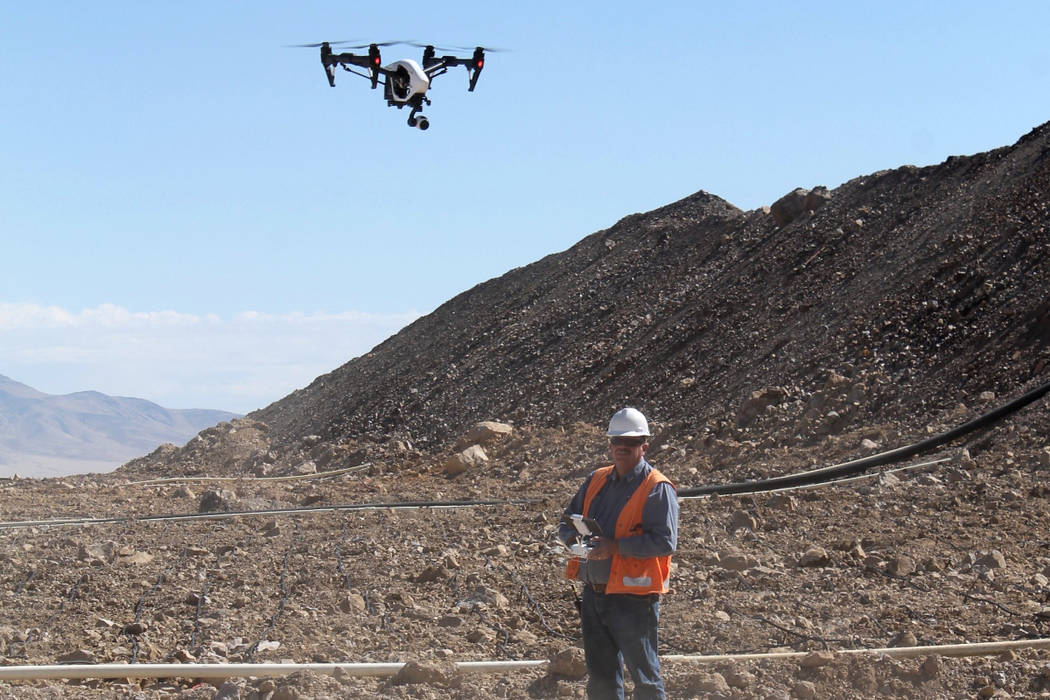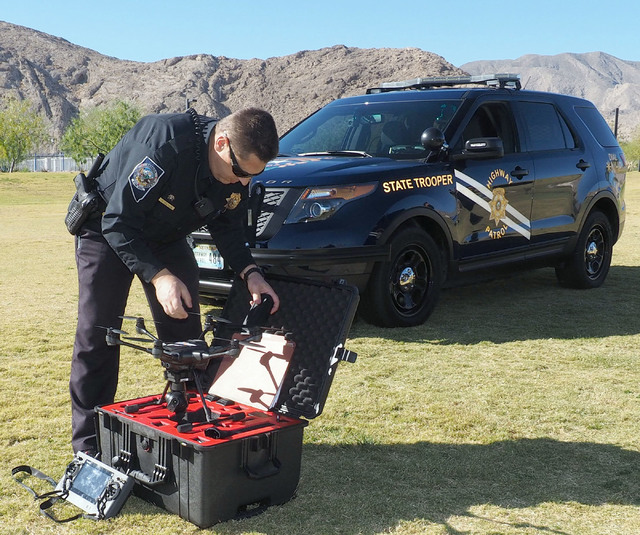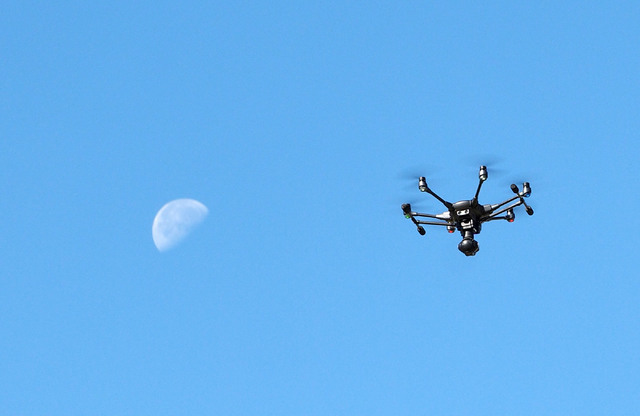 After the Oct. 1 shooting, Metropolitan Police Department officer David Martel helped map the scene at the Las Vegas Village, where 58 people were fatally shot and more than 500 were injured.
Unlike other investigators, he wasn't surveying from the ground but the air. Martel was using one of Metro's five drones from Chinese manufacturing company Yuneec International, a popular drone maker.
"It really saves money when it comes to the helicopters," Martel said. "With the helicopter it's about $400-$1,000 an hour for them to pick up a (crime scene investigator) and take aerial pictures of the scene. Now it's maybe 20 bucks a week for us."
Metro is one of several emergency services agencies using drones in Southern Nevada for things like crime-scene reconstruction and search and rescue. Martel is the agency's small UAS (unmanned aircraft systems) program manager.
Drones provide better aerial photos than helicopters, Martel said, because it can hover much closer to the scene and provide more detail. The department used a drone for collision reconstruction after a fatal crash at East Flamingo Road and South Eastern Avenue on Dec. 13.
It took about three years for the department to acquire the drones and put them into service in October, Martel said. Since the Federal Aviation Administration updated regulations governing drones and streamlined the certification process in August 2016, the use of unmanned aircraft has expanded exponentially. Prior to the change, the FAA required a pilot's license. To get around that, commercial drone operators had to apply for a time-consuming and costly waiver. Pilots now are required to pass an aeronautical knowledge test at an FAA-licensed center.
The Nevada Highway Patrol was the first law enforcement agency in the state to fly drones after receiving approval from the FAA in October 2016. The drones were obtained in order to map accident scenes with photo and video, improving safety for first responders and allowing for faster road reopenings, the agency told the Review-Journal.
There are over 17,000 law enforcement agencies in the U.S., Martel said, and fewer than 4,000 use drones.
"It's coming to the point where pretty much every agency will probably have one or look into getting one," he said.
Red Rock Search and Rescue has been using drones for about a year, according to one of the group's founding members, Robert Ferraro. Ferraro also works with the Yuma County Sheriff's Office in Arizona. Using a drone to sweep the area, Ferraro aided the rescue of a woman who got lost near Mittry Lake, north of Yuma, last year. A helicopter was then sent out to retrieve the woman.
"What was cool about that mission wasn't that she was hard to find. She wasn't," Ferraro said. "Time is critical in those situations. The tools these drones (have) made it a super efficient search."
It took less than 30 minutes to locate her with the drone and retrieve her, he said.
The Clark County Fire Department does not have a drone but plans on acquiring one, said county spokesman Dan Kulin.
"The drone could be used to assist with a variety of department operations, including fire investigations and planning for special events," Kulin wrote in an email.
During his opening keynote at the InterDrone conference at the Rio in September, Michael Huerta, administrator of the FAA, ticked off the ways unmanned aerial systems played a part in helping the Houston area recover after Tropical Storm Harvey.
"A railroad company used drones to survey damage to a rail line that cuts through Houston. Oil and energy companies flew drones to spot damage to their flooded infrastructure," Huerta said. "Unmanned aircraft helped a fire department and county emergency management officials check for damage to roads, bridges, underpasses and water treatment plants that could require immediate repair."
Some public pushback over drone use by government entities centers around the fear of invasion of privacy.
"We take everybody's privacy very seriously," Martel said. "We're not using these to invade privacy or use them for surveillance purposes unless we have a warrant."
Contact Madelyn Reese at mreese@viewnews.com or 702-383-0497. Follow @MadelynGReese on Twitter.
Nevada as a testing ground
As one of seven Federal Aviation Administration-designated test sites for unmanned aerial systems, Nevada is able to host companies looking to test different technologies that aren't yet federally regulated.
The FAA estimates that there will be 2.5 million commercial drones operating in the United States by the end of 2017.
A recent study showed that the 89117 ZIP code in the west Las Vegas Valley is home to the most registered hobbyist drone users in the country, at 672 registrations.
The technology has been applied to industries across Nevada. This year at the Marigold Mine in Valmy, east of Elko, SSR Mining has begun to use drones to make topographic maps, photograph leach pads and to inspect problem areas.
NV Energy used drones to inspect power lines for the first time in November 2016.