'Ghost bike' placed in Summerlin to memorialize fallen cyclist
Updated June 17, 2017 - 3:52 pm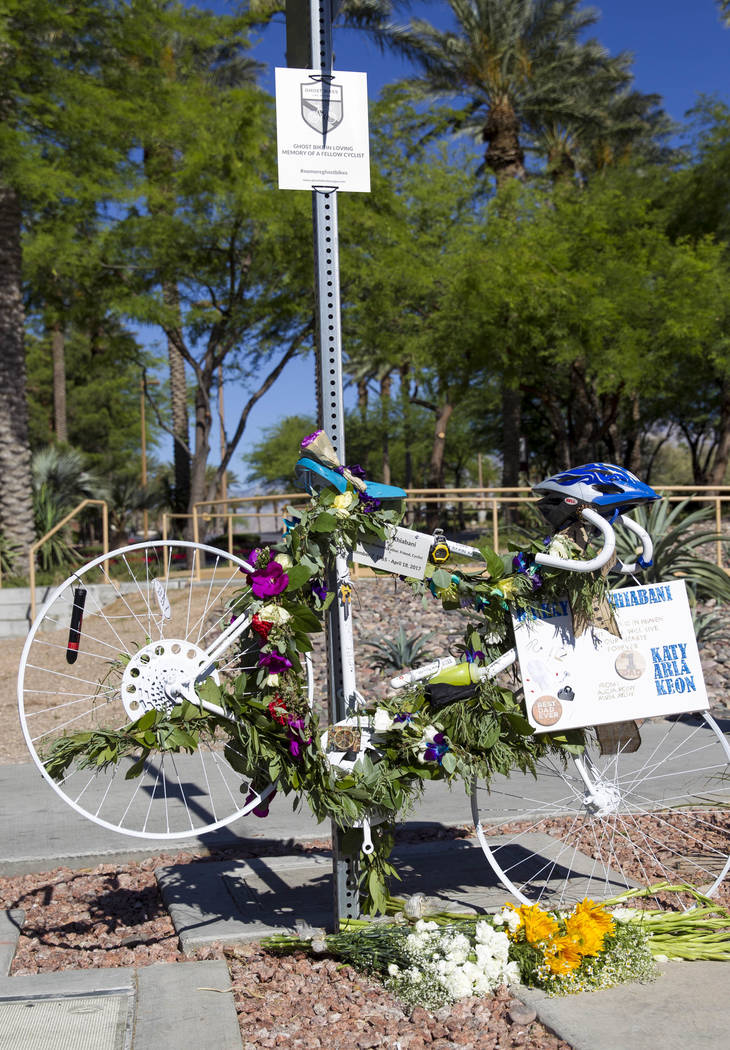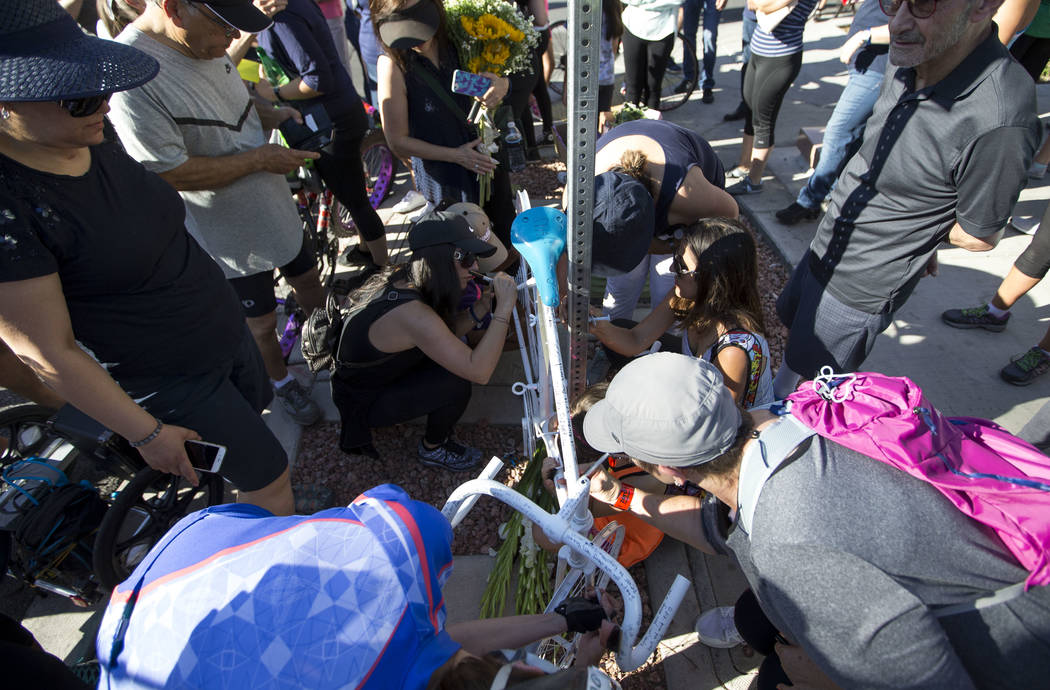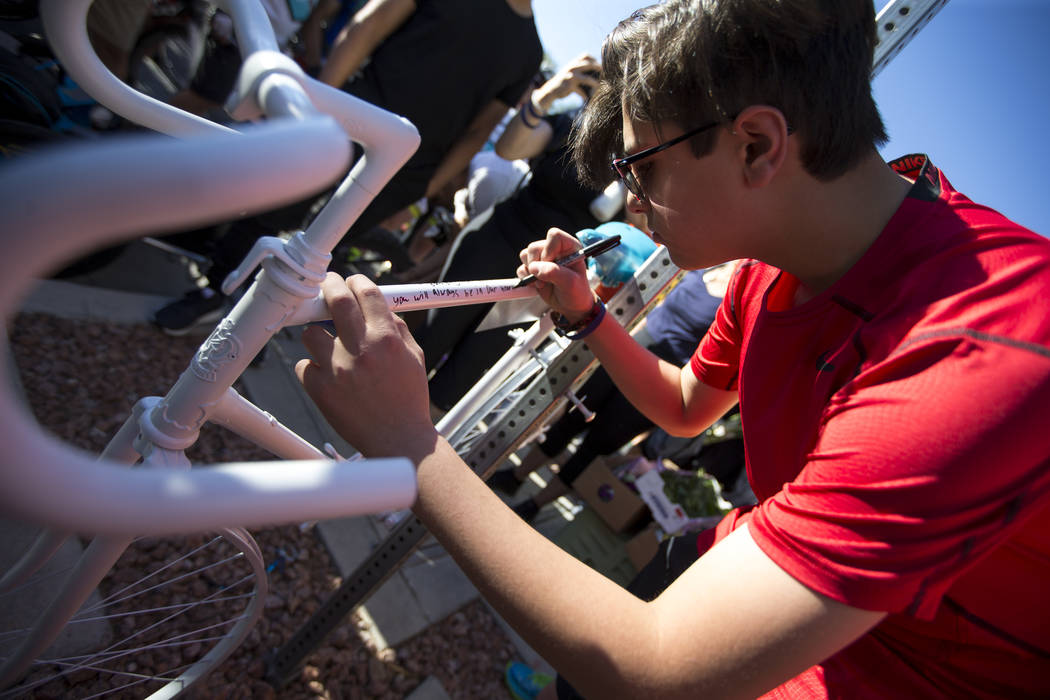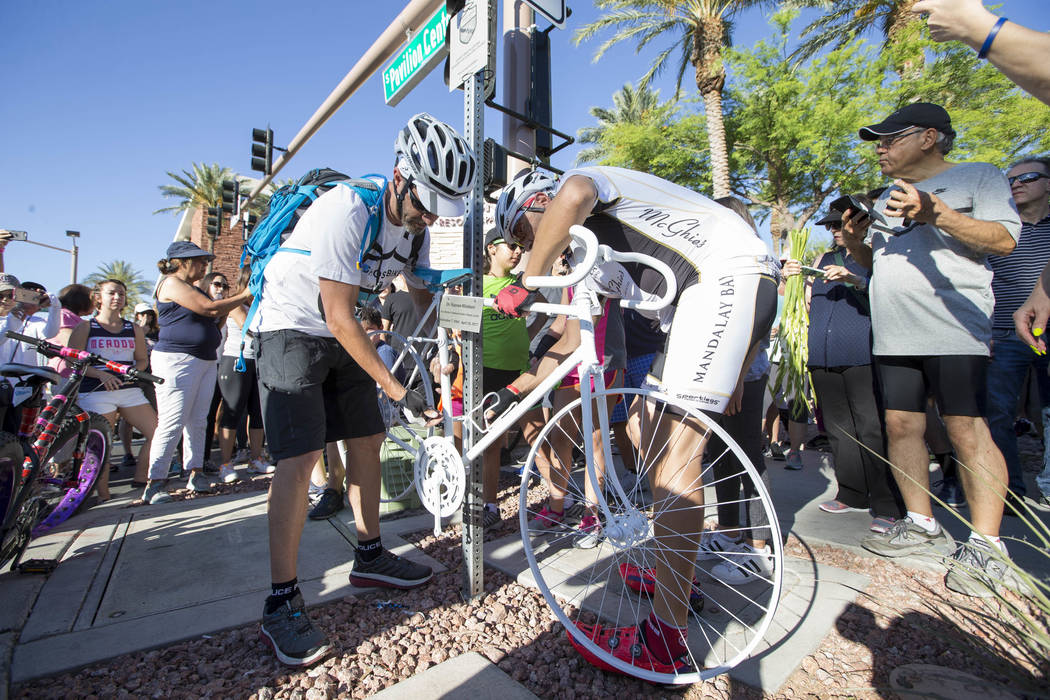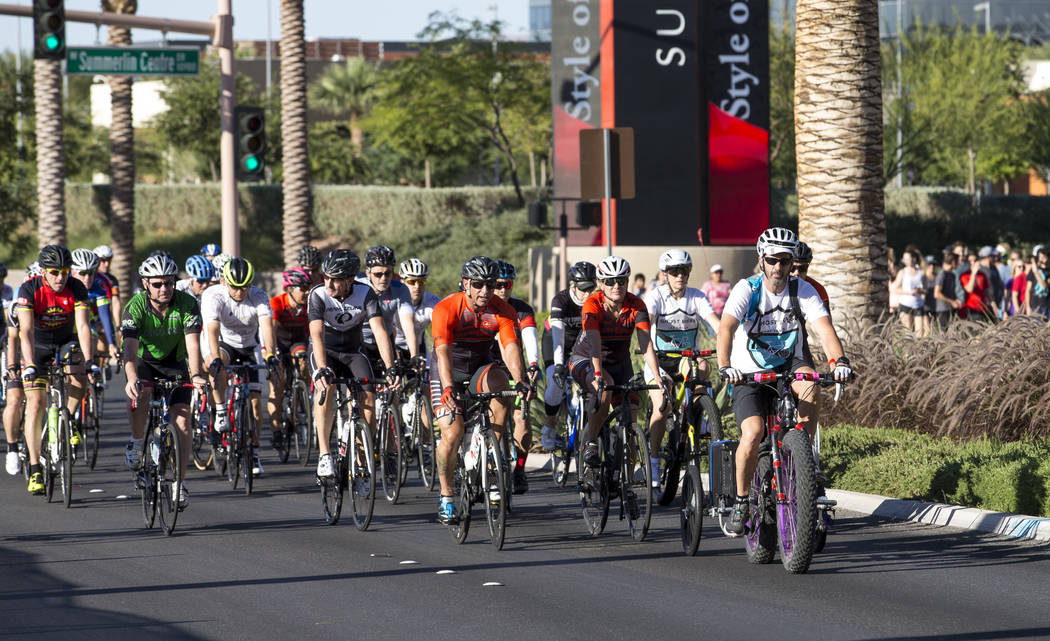 About 400 cyclists gathered in Summerlin on Saturday morning to place a "ghost bike" commemorating a cyclist who was struck and killed by a tour bus earlier this year.
The cyclist was 51-year-old Kayvan Khiabani, a Las Vegas reconstructive hand surgeon who was a professor at the University of Nevada, Reno School of Medicine and chief of hand surgery at University Medical Center.
Khiabani died April 20 when he accidentally veered to the left while cycling alongside a Motor Coach Industries bus. He lost control and fell under the bus.
"The point is that we don't want to do this anymore," said Dax Timbol, a member of local cycling club 702 Shifters and Ghost Bikes volunteer.
"We hear about it every week, it seems like, that another cyclist has been hit."
Timbol said the local Ghost Bikes branch focuses on remembering fallen cyclists and educating drivers and riders to prevent crashes.
"We're trying our best to do our part," he said. "Our goal is zero — zero accidents. No more."
Ghost Bikes Las Vegas is an extension of a worldwide volunteer effort to make drivers and cyclists more cautious on the road. On Saturday, they placed a white bicycle at the intersection of South Pavilion Center Drive and West Griffith Peak Drive, near where Khiabiani was struck.
"He was a very good surgeon and an amazing father and husband. He was always smiling," said Kathy King, an administrator at the Specialty Surgery Center, one of the places Khiabani practiced.
Saturday's cyclist group, which included Khiabani's friends and family, cycled or walked from Downtown Summerlin to the corner where he was struck.
After the ghost bike was placed, some group members continued on to a longer ride in Khiabani's honor.
"There's a lot of people who are going to really miss him," King said.
By Nevada law, vehicles must allow at least 3 feet of space when passing bicyclists; if possible, drivers should yield an entire lane. Cyclists usually stick to bike lanes, which are safer, but are also permitted to use a full lane to travel on roads that lack bike lanes, Timbol said.
Ghost Bikes Las Vegas plans to place at least two more memorials for cyclists this year for Matthew Hunt and Cara Cox, cyclists killed in car crashes in 2015.
According to the National Highway Traffic Safety Administration website, bicyclists accounted for 2 percent of all traffic deaths and 2 percent of all crash-related injuries nationally in 2014.
"We want to stay safe, but we want our families to feel secure, too," Timbol said.
"This movement will go on."
Contact Max Michor at mmichor@reviewjournal.com or 702-383-0381. Follow @MaxMichor on Twitter.