Sheriff: Las Vegas police had reasonable suspicion to stop Michael Bennett
September 29, 2017 - 12:36 pm
Updated September 29, 2017 - 8:04 pm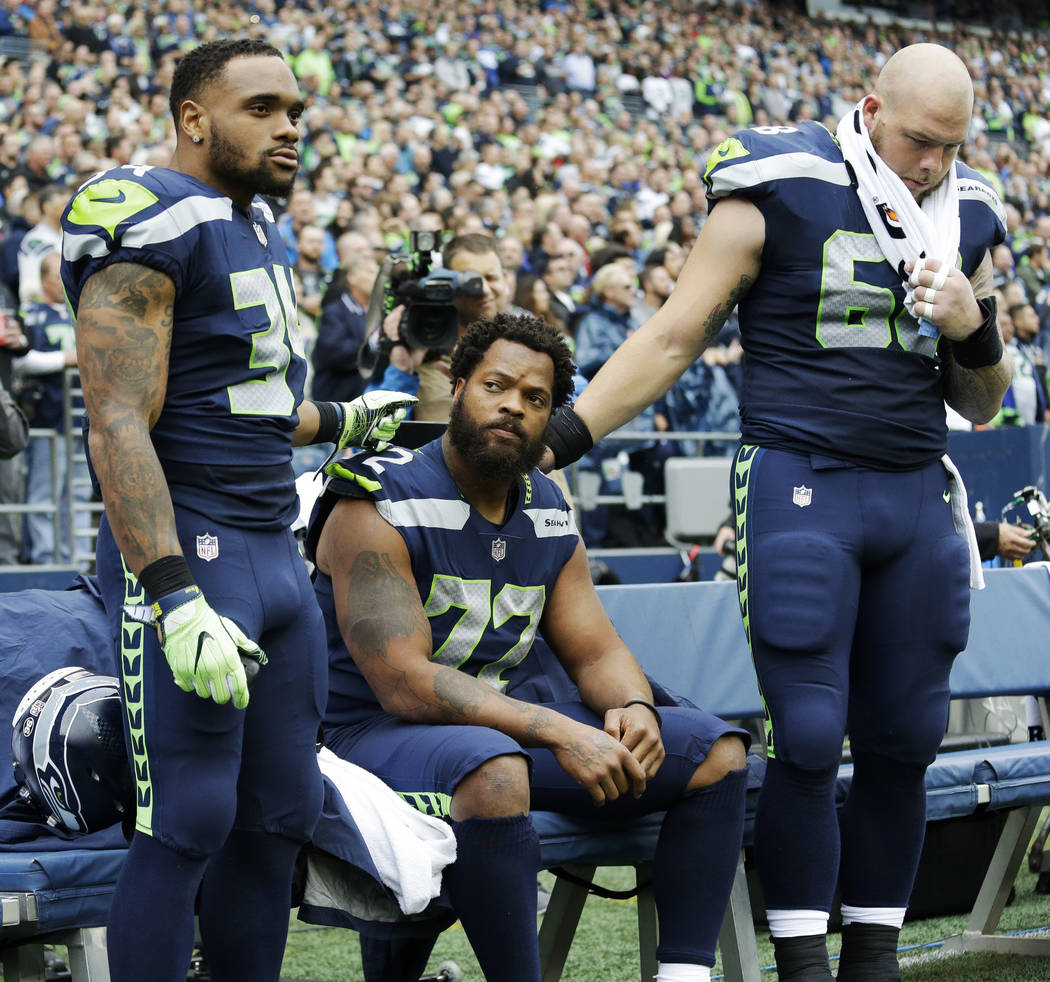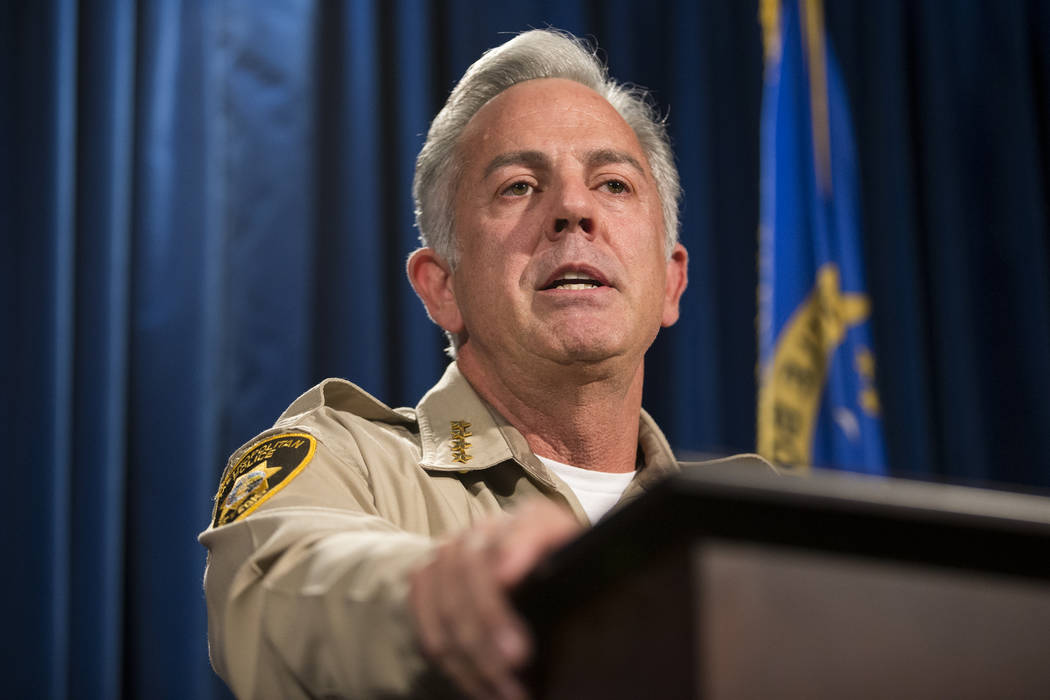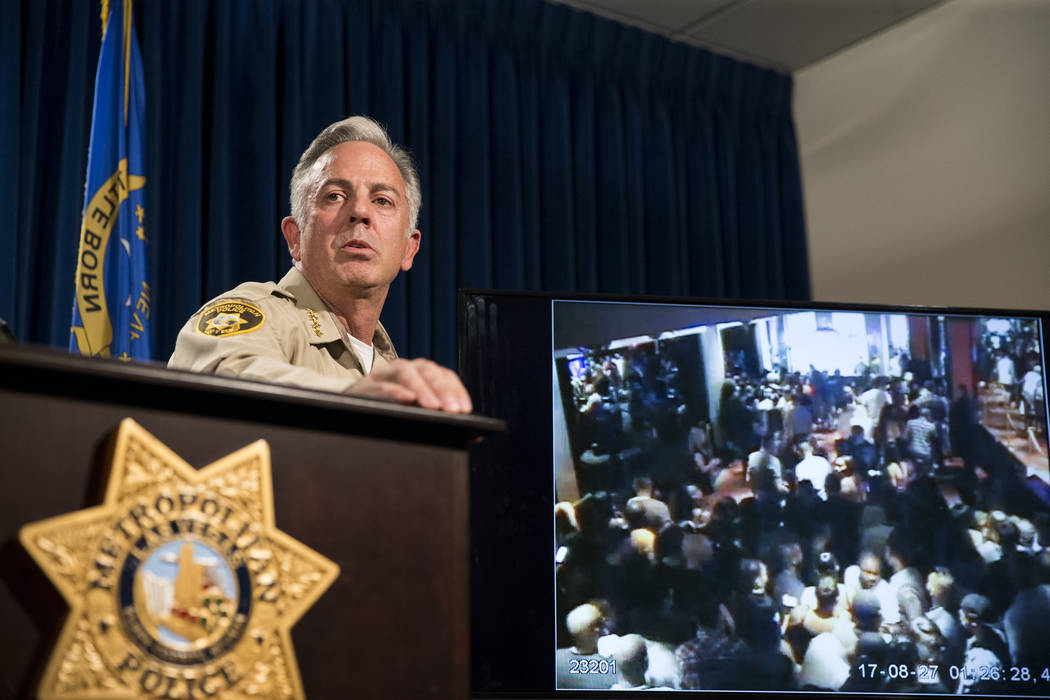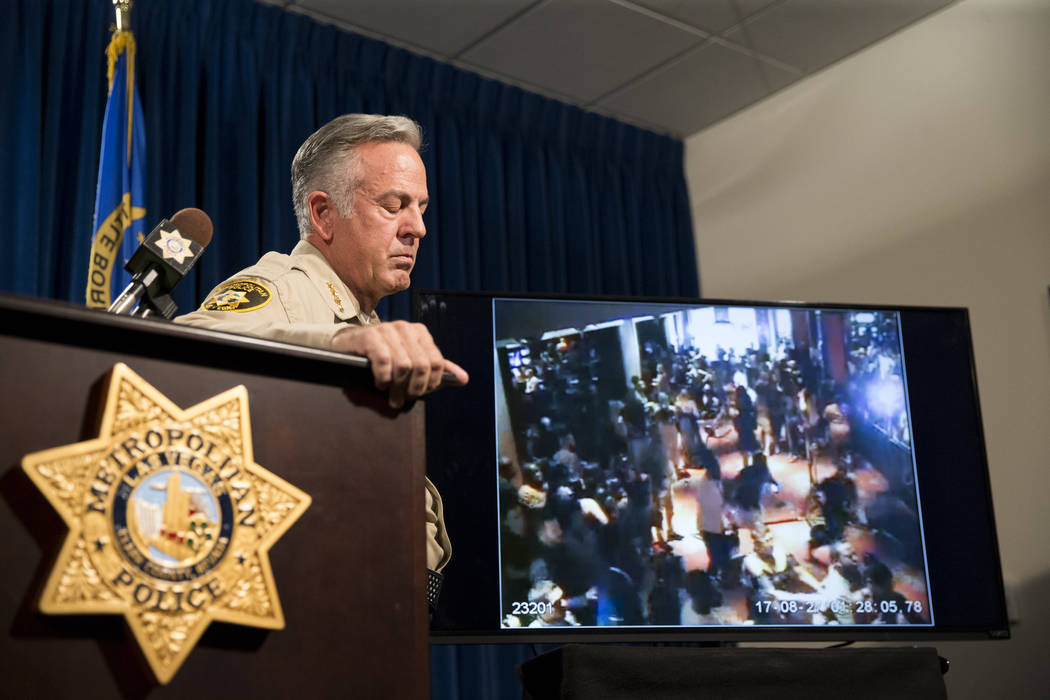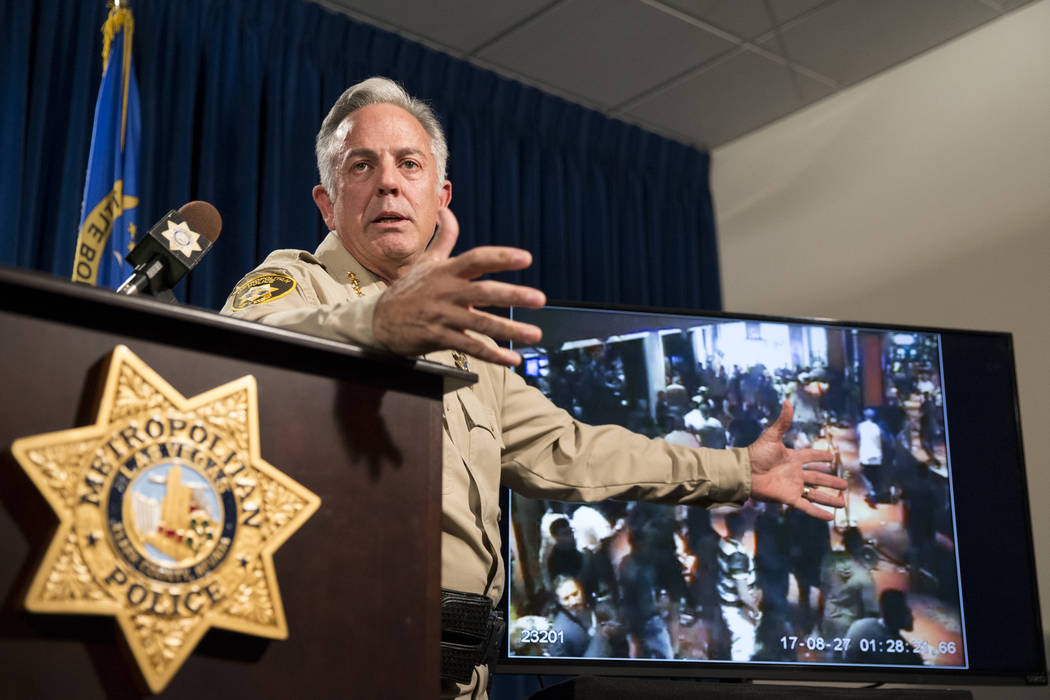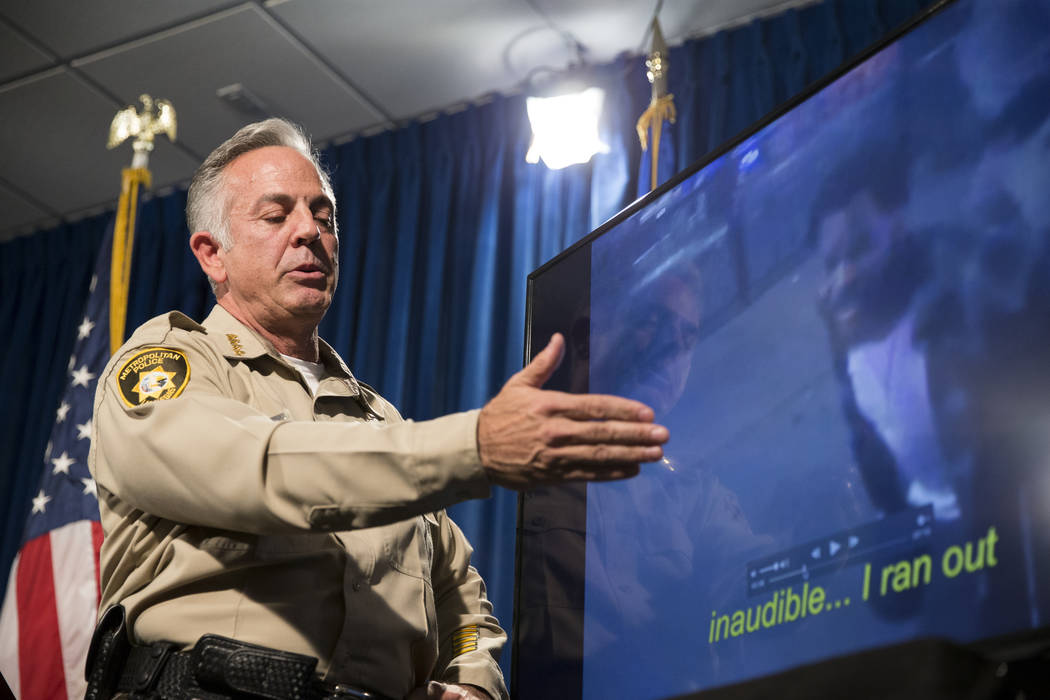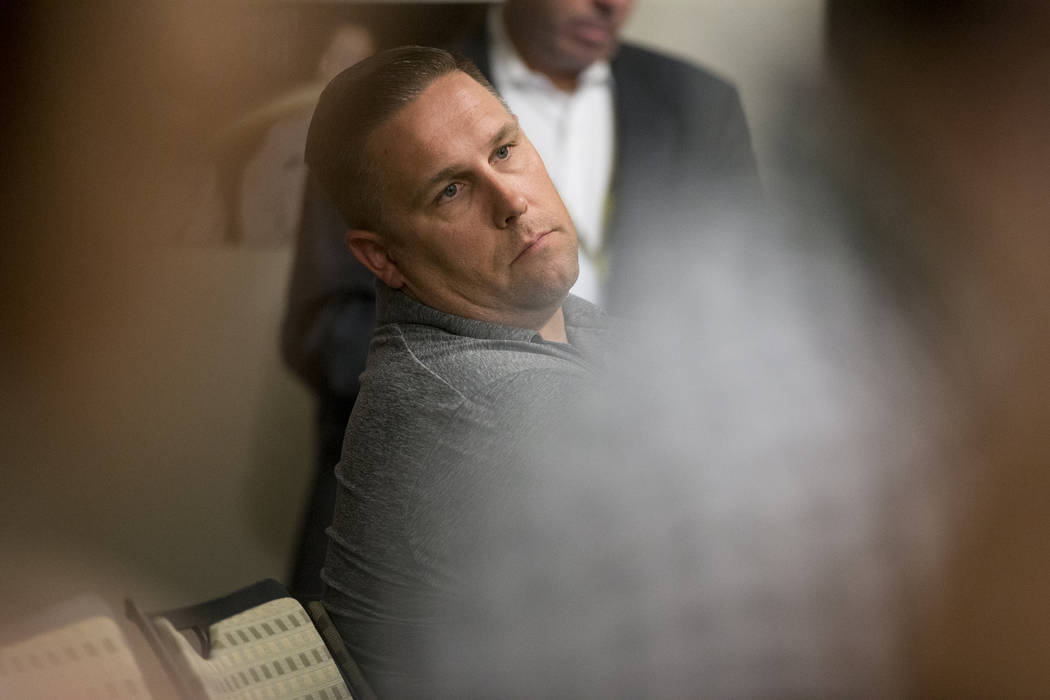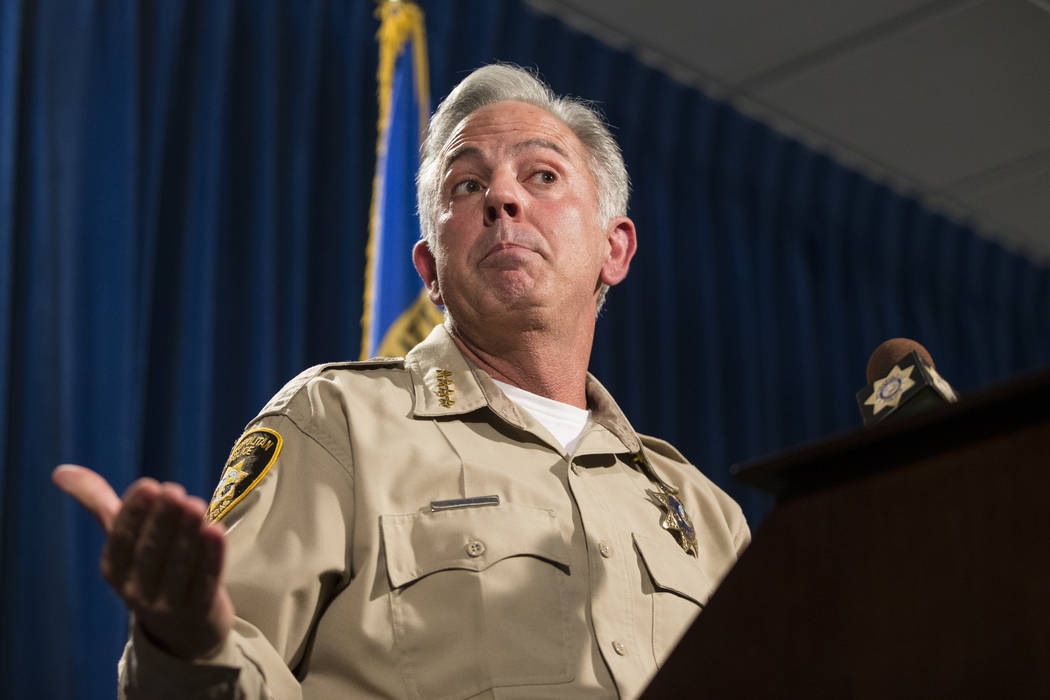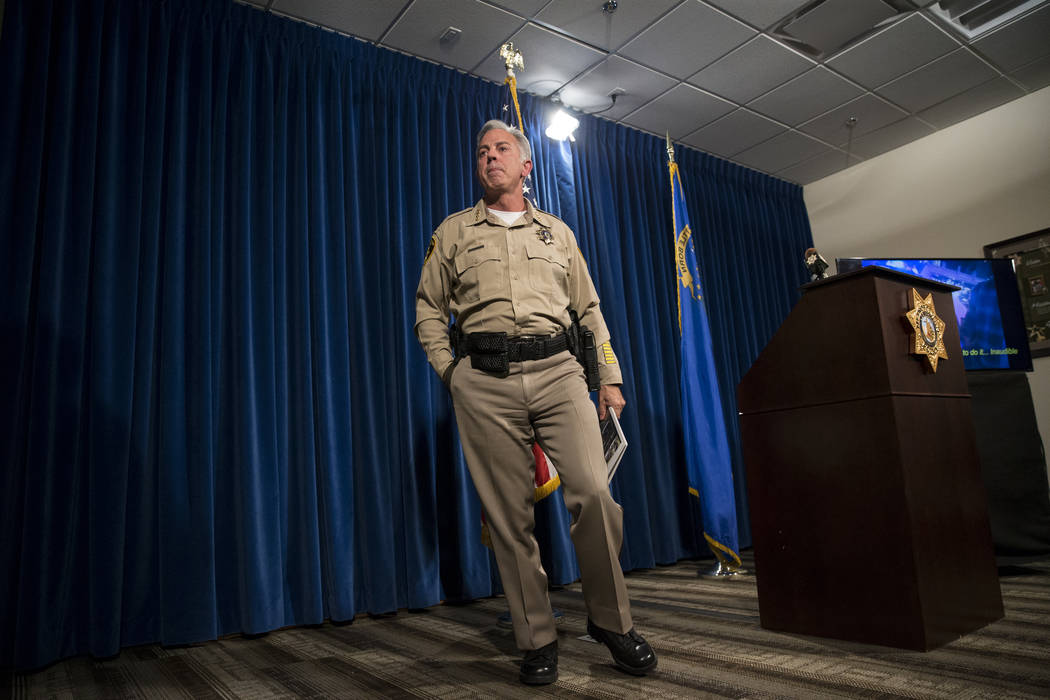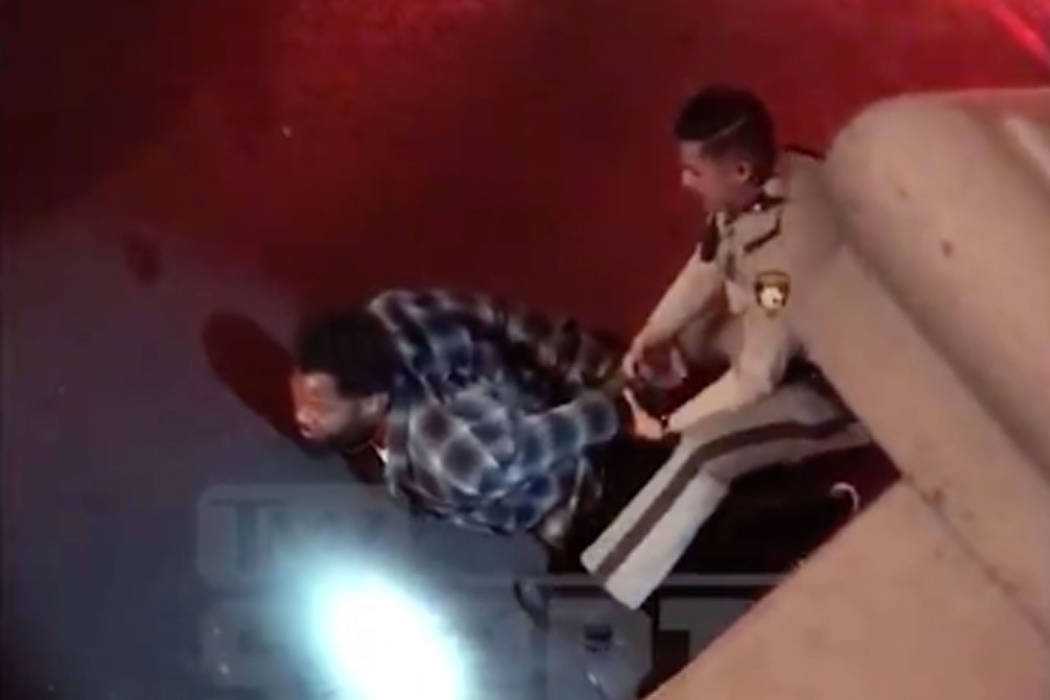 Metropolitan Police Department Sheriff Joe Lombardo said Friday that officers had "reasonable suspicion" to stop NFL player Michael Bennett in August after a shooting was reported on the Strip.
"They did what they were trained to do," Lombardo said during an afternoon news conference.
The sheriff emphasized that Bennett did nothing wrong when Metro officers detained him outside The Cromwell, 3503 Las Vegas Blvd. South, the morning of Aug. 27. Lombardo said Bennett was detained for 10 minutes because he ran from a reported shooting inside the hotel while police commanded people to stay down.
Bennett, a Seattle Seahawks defensive lineman, attracted national attention after he accused Las Vegas police of using excessive force and of targeting him because he's black.
At Friday's news conference, Lombardo said he understands being detained and suspected of a felony can be alarming, and he insisted he wasn't trying to disparage Bennett.
He then praised the officers involved in the incident for their bravery in responding to a reported shooting.
"I believe they acted appropriately and professionally," he said.
Spokesman Jay Rivera previously said the officer who detained Bennett during what turned out to be a falsely reported shooting told his supervisors he forgot to turn on his body camera prior to the stop. Lombardo confirmed that information Friday.
Metro again denied race was a factor in detaining Bennett. Lombardo said one of the detaining officers was Latino and many of the other people around Bennett were black and not detained.
Bennett's attorney, John Burris, reiterated Bennett's position that he was racially profiled, adding he is a socially conscious person who is aware of implicit bias.
"That's what Michael believes," Burris said.
Local NAACP chapter member Gary Peck said he didn't know whether race played a role in Bennett's detaining, but the department's response to such a high-profile incident hadn't done enough to quell those concerns.
Peck also criticized the department's claim an officer's identity determined whether there was bias. He said people can engage in bias regardless of identity, and Metro's comment shows the department doesn't understand racism as a systemic and cultural issue.
"Oh, he's black and it's a Latino officer, so c'mon, of course race isn't involved?" Peck said. "Honestly, the department is better than that."
Camera footage
The sheriff said the department reviewed 861 videos, including security footage and body camera footage from other officers, and determined that 193 videos were relevant to the investigation.
Lombardo played Cromwell security footage of people ducking to the ground after confusing the sound of stanchions hitting the floor with gunshots. Other footage showed Bennett and others running out of the hotel, with Bennett keeping his head down.
Body camera footage showed police placing a visibly distressed Bennett into the back of a patrol car outside the hotel. The footage shows him pleading with officers to explain why he was being detained and telling police an officer held a gun to his head and threatened to shoot him.
"I almost lost my life, man, for no reason," Bennett told officers in the video.
Lombardo said police had found no evidence officers told Bennett they would shoot him or a gun was pointed at his head, adding an officer did have his gun out while trying to detain Bennett.
Bennett is seen telling police an officer asked why he ran and jumped over a wall.
"Somebody shooting, man," Bennett said. "I got three daughters. I want to go home and see my kids."
As the video was playing, Lombardo stopped the tape to point out officers didn't know who they had detained for most of the incident.
After several minutes sitting in the back of the car, police ask for Bennett's name. He gave his name and told officers to look up who he was. One of the officers matched his face to a Google image search, apologized and let him walk free.
Police eventually let him go as they realized the call of a shooting was unfounded, Lombardo said.
More reaction
Burris said he wasn't surprised Metro justified the stop, adding police didn't meet the standard of reasonable suspicion to detain Bennett.
He said the footage shown supported Bennett's accusations, and he questioned why Bennett was stopped for running, while others also ran.
Lombardo said a formal complaint was filed within the last three days.
Shortly after the press conference, Las Vegas Police Protective Association President Steve Grammas said he was hoping the officers involved could put the incident behind them. Grammas, who is representing the officers, called Bennett's accusations "outlandish" and said they defamed every officer in the department.
He said didn't know why Bennett would consider this a racially biased incident without speaking to him personally.
He doubled down on a previous call for Bennett to apologize to Metro and its officers for the accusations.
"Now more so than ever," Grammas said. Alex Cherup, the group's vice president, said he was still troubled with Bennett's allegations of an officer pointing a gun at his head, regardless of whether Metro had reasonable suspicion to detain him.
ACLU of Nevada director Tod Story said Bennett, as a black man aware of systemic racism, had the right to be afraid for his life. He said the press conference didn't confirm or dispel Bennett's claims of excessive force because the detaining officer didn't activate his body camera in accordance with Metro guidelines.
Story said Metro must continue to earn the public's trust through transparency and accountability.
"Because of a failure to follow policy, we may never get the answer," he said.
Contact Mike Shoro at mshoro@reviewjournal.com or 702-387-5290. Follow @mike_shoro on Twitter.
Body camera policy
The Metropolitan Police Department's body camera policy instructs officers to turn on their body-worn cameras before attempting to stop someone or responding to a call. Jay Rivera, Metro spokesman, said the detaining officer should have turned his on before stopping Bennett.
Rivera said the detaining officer is on regular duty. Lombardo said the officer could face discipline for failing to turn on his body camera, but wouldn't elaborate on what form that discipline would take. He said any discipline wouldn't be public information.
ACLU of Nevada director Tod Story called on police to make it public whether the officer would face discipline for failing to turn on his body camera.
Metro's code of conduct has no policy specifying discipline for body camera body violations. Instead, Metro officers work within the existing code of conduct, Las Vegas Police Protective Association President Steve Grammas said.
The department would not release its code of conduct to the Las Vegas Review-Journal, saying it was a personnel document.